New York Colleges:

Cincinnati Bearcats
March, 14, 2013
3/14/13
2:53
PM ET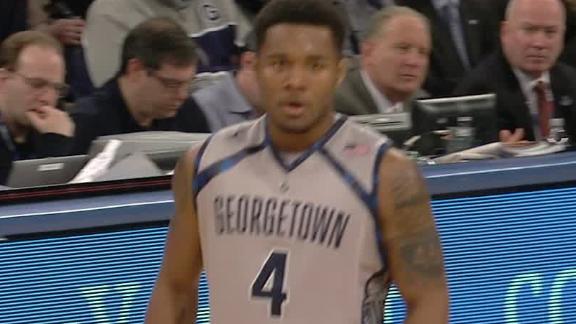 NEW YORK --
What it means:
Georgetown moves on to the Big East semifinals, and remains in play for a No. 1 seed in the NCAA tournament. Cincinnati is currently projected to receive an at-large berth, but it's no lock.


The Bearcats rallied after falling behind big in the first half (see below), but the Hoyas ultimately cruised to victory in the first of four quarterfinals at Madison Square Garden on Thursday,
winning 62-43
.
Georgetown (25-5, 14-4), ranked No. 5 in the country, has now won 13 of its past 14 games. Cincinnati (22-11, 9-9) is listed as a No. 11 seed in the latest edition of ESPN.com's Bracketology, but will have to sweat it out until Selection Sunday.
The turning point:
Georgetown jumped out to a 16-point lead, 24-8, with 5:37 remaining in the first half, after back-to-back 3-pointers by Big East Player of the Year
Otto Porter Jr.
and freshman
D'Vauntes Smith-Rivera
. Cincinnati went more than seven minutes without scoring a single point. But then the Bearcats got hot from deep, making four treys in the closing minutes -- three by
Cashmere Wright
-- to draw within five, 29-24, at intermission.
Cincinnati opened the second half on a 9-2 run, taking a two-point lead, 33-31, on another Wright jumper with 16:22 to play. But then Georgetown scored seven points in a row to re-take control of the game -- five by Smith-Rivera. The Bearcats never got closer than five points again. A putback, again by Smith-Rivera, pushed the lead to 12, 51-39, with 5:14 left. The Hoyas put them away from there.
Star watch:
It was a true team effort by Georgetown. The Hoyas had three players in double figures -- Porter (18 points, 11-for-11 from foul line),
Markel Starks
(14) and Smith-Rivera (13).
Jabril Trawick
chipped in nine points.
Wright led Cincinnati with 14 points, and
JaQuon Parker
added 12.
Sean Kilpatrick
-- the fourth-leading scorer in the Big East this season (17.3 ppg) -- scored just four points, shooting 2-for-12 from the field and 0-for-8 from beyond the arc. It was a day to forget for the Yonkers, N.Y., native, playing very close to home.
Number crunch:
The shooting percentages of the two teams were strikingly similar, until the final few minutes, when Cincinnati was hoisting up quick shots and Georgetown was cleaning up at the foul line. The difference? Georgetown had 10 more attempts from the field, thanks to an 11-7 advantage on the offensive glass, and 15 turnovers by the Bearcats. The Hoyas gave the ball away just nine times.
What's next:
Georgetown, the No. 1 seed, will play the winner of No. 4 Pittsburgh versus No. 5 Syracuse, on Friday at 7 p.m. ET.
Cincinnati returns home to await its postseason fate.
March, 13, 2013
3/13/13
2:19
PM ET
What it means:
In the first of four games at Madison Square Garden on Wednesday, No. 9 seed Cincinnati advanced to the Big East tournament quarterfinals, defeating No. 8 seed Providence, 61-44.
The Bearcats (22-10, 9-9) likely sealed an NCAA tournament at-large bid with the win. The Friars (17-14, 9-9) are almost certainly eliminated from NCAA tournament contention.
The turning point:
Cincinnati came out with great energy at both ends of the floor, and Providence couldn't buy a bucket in the early going. The Bearcats led by as many as 18 in the first half, 26-8, after back-to-back treys by
JaQuon Parker
. But the Friars closed the half on a 12-3 run to get back in the game, trailing by just eight, 31-23, at intermission.
Providence scored the first four points of the second half to close within four -- but that's as close as it would get. The Friars hung around for most of the second half, but could never get within one possession. Cincinnati finally expanded its lead to double-digits again, 49-39, on Parker's conventional three-point play with 4:15 remaining. Parker added two more free throws 20 seconds later to make it 51-39, and the Bearcats salted the game away from there.
Star watch:
Sean Kilpatrick
, the fourth-leading scorer in the Big East (17.3 ppg), hit his average, with 12 of his 17 points coming in the second half. Parker finished with 15 points and also had 10 rebounds.
Kadeem Batts
had 14 points to pace Providence.
Bryce Cotton
, the leading scorer in the conference (19.6 ppg), scored just 12, shooting 5-for-17 from the field and 0-for-7 from 3-point range.
Number crunch:
Providence didn't shoot as badly as South Florida did in the opening round Tuesday night -- but it was close. The Friars were 18-for-64 from the field (28.1 percent), and 1-for-16 from beyond the arc (6.3 percent).
What's next:
Cincinnati will play No. 1 seed Georgetown, Thursday at noon. The Bearcats lost at home to the Hoyas, 62-55, on Feb. 15.
Providence likely will receive an invitation to the NIT.
March, 10, 2012
3/10/12
11:16
PM ET
Overview:
Louisville is your Big East tournament champion, for the second time in four years.


The No. 7-seeded Cardinals, who won the title in 2009 and lost in the championship game to UConn last year, defeated No. 4 seed Cincinnati on Saturday night, 50-44 -- the Cardinals' fourth win in four days here in New York.
Cincinnati (24-10), playing in its first-ever Big East championship game, falls short, but should still feel very confident heading into next week's NCAA tournament after defeating Georgetown and Syracuse the past two days here.
Louisville (26-9), after a lackluster finish to the regular season, losing three of its past four, now enters the Big Dance with a world of momentum.
Turning point:
The first half of this game wasn't pretty, to say the least. Louisville led 24-14 at intermission. Against Syracuse on Friday night, Cincinnati shot 8-for-13 from 3-point range in the first half. Tonight? The Bearcats were 0-for-9.
Cincinnati had a chance to cut the deficit to four with 12:12 left in the game, but Dion Dixon missed a pair of free throws. Louisville swiped the momentum right back when Kyle Kuric was fouled by Sean Kilpatrick on a 3-point attempt -- Kuric made all free throws to make it 37-28. That was the beginning of a 10-0 run to give the Cardinals their largest lead, 44-28 with 8:28 remaining.
Just when the Bearcats looked all but dead, they rallied down the homestretch. Cincinnati cut it to 48-44, and JaQuon Parker had two free throws with 28.7 seconds left to make it 48-46 -- but he missed both. Louisville closed it out from there.
Key player:
Chris Smith had a game-high 15 points for Louisville, and Kuric added 13. But Peyton Siva was Louisville's most valuable player this week, and that continued on Saturday. Siva's numbers were a little more modest against Cincinnati -- 10 points, five assists, four rebouds -- but he was the co-pilot of this championship ship, along with coach Rick Pitino.
Siva was named the Most Outstanding Player of the tournament.
Cashmere Wright led the Bearcats with 16 points.
Key stat:
Cincinnati has been a poor free throw shooting team this season, and it cost them in a big way tonight. The Bearcats made just one of seven attempts, including those misses at critical times mentioned above.
Miscellaneous:
This is the first time in Big East tournament history that the championship game did not feature at least one founding member. The times they are a changin'. ... This was the fourth time in the past seven years that a team seeded No. 7 or lower has won the Big East tournament.
What's next:
Selection Sunday -- both these teams will hear their names called tomorrow.
March, 9, 2012
3/09/12
9:18
PM ET
Thoughts on Cincinnati's
71-68 upset of Syracuse
on Friday:
Overview:
Cincinnati is going where no Cincinnati team has gone before -- and Syracuse suddenly looks near-invincible no more.
In a stunning upset, in front of a sold-out crowd of 20,057 mostly Syracuse fans, No. 4 seed Cincinnati defeated the previously 31-1 and top-seeded Syracuse Orange 71-68, and advanced to its first Big East tournament championship game.


The Bearcats led from wire to wire and held off the Orange down the stretch. Syracuse will still be a No. 1 seed in the NCAA tournament next week, but won't be quite as intimidating now.
Cincinnati (24-9) has its NCAA stock on the rise after back-to-back wins against Georgetown and Syracuse in New York.
Turning point:
Cincinnati came out about as hot as you can get -- the Bearcats connected on eight of their first 10 3-point attempts and led by as many as 17 points in the first 20 minutes. Syracuse cut the deficit to 12, 35-23, at halftime.
Syracuse gradually whittled down the Cincinnati lead in the second half, all the way down to five -- and at one point Brandon Triche had two free throws to cut it to three with 4:10 left, but missed both, which was huge.
The two biggest shots of the game were a pair of corner treys by
Sean Kilpatrick
. The first, with 5:21 left, pushed Cincinnati's 55-50 lead to 58-50 and gave the Bearcats some much-need breathing room in the middle of Syracuse's push. The second, with 1:47 remaining, appeared to be the dagger, extending the lead from 62-55 to 65-55.
Syracuse made it interesting in the final seconds, thanks in large part to some missed free throws by Cincinnati. The Orange actually had the ball down 69-66 with 15 seconds left, but the Bearcats smartly fouled
Dion Waiters
before he could get off a game-tying 3-point attempt. Waiters made his two free throws, but then Cincinnati was able to inbound the ball, avoid a foul, and threw it ahead for a dunk to wrap things up.
Key player:
Cincinnati big man
Yancy Gates
had just three points in the first half, when his team was lights-out from beyond the arc. But he he came up huge in the second half, with 15 points, cleaning up off the glass after some misses from the perimeter. He also had seven rebounds.
Kilpatrick, his teammate, also had 18 points and hit those two huge 3-pointers. The White Plains, N.Y., native will surely treasure doing this in front of the home crowd forever.
Waiters did everything he could to carry Syracuse on his back, with 28 points off the bench, including shooting 7-for-10 from 3-point range.
Key stat:
Cincinnati, which shot just 2-for-21 from 3-point range in its double-overtime win over Georgetown on Thursday, shot 10-for-22 from beyond the arc against Syracuse.
Syracuse, which turned the ball over just four times in its win over UConn on Thursday, had 15 turnovers against Cincinnati.
Miscellaneous:
Former U.S. president Bill Clinton was in attendance for the game, seated courtside.
What's next:
Cincinnati will play the winner of No. 3 seed Notre Dame versus No. 7 seed Louisville in the Big East title game, at 9 p.m. Saturday.
Syracuse heads back north to lick its wounds and get ready for the Big Dance.
March, 8, 2012
3/08/12
5:13
PM ET
Overview:
Our first game of the day, between Syracuse and UConn, was going to be tough to beat
But this one did it.


Cincinnati, the No. 4 seed,
ousted No. 5 seed Georgetown 72-70 in double overtime
-- a game that was ugly for most of regulation, but then thrilling in the final minutes and the extra periods.
The Bearcats (23-9) advance to the Big East semifinals, while the Hoyas (24-7) go home with just one win in this tournament. Both teams' spots in the NCAA tournament are already secure.
Turning points:
Too many to count. Georgetown led 30-24 at the half, and the second half went back and forth. Georgetown increased its lead to nine, 36-27; Cincinnati closed to 36-35. Georgetown went up 49-38; Cincinnati cut it to 52-51, and then went ahead 53-52 on a
Yancy Gates
tip-in with 37 seconds left. But with the score 54-52, Georgetown freshman
Otto Porter
connected on a short jumper with 3.6 seconds left to tie the game, and we ended up in overtime.
In the first overtime, Georgetown had the ball trailing 64-62 with 12.9 seconds left coming out of a timeout, but was struggling to find a good look. With the clock winding down, center
Henry Sims
drove down the lane from the top of the key and laid it in at the buzzer -- a beautiful move, especially for a big man -- to tie the score at 64.
In the second overtime, with the score knotted at 70, Cincinnati's
Cashmere Wright
drove the lane and banked it in to make it 72-70 with 7.6 seconds left. After a timeout, Georgetown went the length of the floor and tried to make magic one more time -- but Sims' jumper from the top of the key was off the mark.
Key player:
Gates came alive for the Bearcats in the second half and the two overtimes, finishing with 23 points and eight rebounds. He scored 10 of Cincinnati's final 11 points in regulation.
For Georgetown, Sims has nothing to hang his head about. The senior, who had 20 points and 13 rebounds against Pittsburgh on Wednesday, followed up that performance with 22 points and 15 rebounds on Thursday.
Key stat:
Georgetown shot just 8-for-15 from the foul line -- a couple more made free throws could have made all the difference.
Amazingly, Cincinnati shot just 2-for-21 from 3-point range, yet pulled out a victory.
What's next:
Syracuse and Cincinnati will tangle at 7 p.m. ET Friday. The teams played once during the regular season -- a 60-53 Syracuse win in Cincinnati. The Orange were without starting center
Fab Melo
.
Georgetown returns home and gets ready for Selection Sunday.
November, 19, 2011
11/19/11
3:25
PM ET
Recap
|
Box score
|
Photos
PISCATAWAY, N.J. -- A quick take on Rutgers' 20-3 win over Cincinnati on Saturday afternoon at High Point Solutions Stadium, highlighted by
Jawan Jamison's
200-yard day:
WHAT IT MEANS:
Rutgers wins its third straight game and improves to 8-3 on the season, 4-2 in the Big East. More importantly, the Scarlet Knights now own at least a share of first place in the conference with just one regular-season game remaining. Rutgers is trying to win its first Big East championship and BCS bowl bid.
THE SKINNY:
Rutgers led 10-3 at intermission after dominating time of possession during the first half, holding the ball for 20 minutes and 26 seconds. Much of that came on the Scarlet Knights' 23-play, 82-yard drive that took up the majority of the second quarter, but only resulted in a 19-yard field goal. Rutgers' first-quarter touchdown came after Cincinnati quarterback
Munchie Legaux
was sacked and fumbled deep in his own end.
The Scarlet Knights took firm control of this game on their first drive of the third quarter -- a 94-yard march, their longest drive of the season. It ended with Jamison's second TD run of the game, giving Rutgers a 17-3 lead.
San San Te
tacked on a 43-yard field goal early in the fourth quarter. Cincinnati never mounted a serious comeback challenge.
TOTAL DOMINATION:
Stat sheets don't get much more lopsided than the one from this game. Rutgers finished with 23 first downs; Cincinnati had just 11. Rutgers had 385 total yards of offense; Cincinnati had just 225. And the Bearcats' numbers, meager as they were, were padded in the fourth quarter when Rutgers had a big lead and was just trying to prevent big plays.
Cincinnati came in averaging 37.1 points per game -- the No. 15 scoring offense in the country. But the Bearcats were without starting quarterback
Zach Collaros
, who was injured last week against West Virginia.
ON THE RUN:
Rutgers wideout
Mohamed Sanu
, who set the Big East single-season record for receptions last Saturday against Army, had a quiet day -- just four catches for 29 yards. The Scarlet Knights did most of their damage on the ground. Jamison, a redshirt freshman, was outstanding, finishing with 34 carries for 200 yards and the two scores.
Cincinnati boasted the second-best rushing defense in the country coming in, giving up just 81.4 yards per game on the ground. Rutgers had the third-
worst
rushing offense in the country. Talk about an unexpected result.
WHAT'S NEXT:
Rutgers plays at UConn next Saturday at noon -- a win will guarantee the Scarlet Knights at least a tie for the Big East title. As for the conference's automatic BCS bid? That will depend on the fates of other teams -- particularly Louisville and West Virginia, both of whom beat Rutgers earlier this season and would hold the head-to-head tiebreaker over the Scarlet Knights.
Both Louisville and West Virginia also currently have two conference losses.
March, 10, 2011
3/10/11
9:01
PM ET
Recap
|
Box score
|
Photos
NEW YORK -- Here is a quick take on No. 4 Notre Dame's 89-51 win over Cincinnati in the Big East quarterfinals Thursday night.
WHAT IT MEANS:
Second-seeded Notre Dame (26-5) is headed to its second straight Big East semifinal, and the fourth in school history, after it disposed of the Bearcats for the second time this season.Last season, the Fighting Irish lost to eventual champion West Virginia in the conference semifinals. Seventh-seeded Cincinnati (25-8) is still searching for its first trip to the conference semifinals and is now 3-5 overall in the tournament.
The 38-point margin of victory was the second largest in conference history, only behind Syracuse's 41-point win in 1999.
"Well obviously Notre Dame played tremendous tonight and we obviously were at our worst, they were at their best," Cincinnati head coach Mick Cronin said.
HOW THE GAME WAS WON:
It might seem quite simple, but Notre Dame simply executed and shot much better than the Bearcats. Notre Dame finished at 56.1 percent shooting while Cincinnati was at 32.8 percent. Cincinnati seemed to struggle to find good looks while Notre Dame passed to find the open man or worked inside for a layup.
For example, after leading 40-30 at halftime, Notre Dame scored on 11 straight possessions to open the second half and take a 62-43 lead with 13:25 remaining. While Cincinnati may be the league's best defensive team, holding teams to 58. 2 points per game in Big East play, it couldn't stop the Fighting Irish. The Bearcats never truly challenged Notre Dame in the second half as the Irish kept padding to their double-digit lead.
"I thought we did a good job of making decisions when they pressed us to get open looks when we had numbers advantages," Notre Dame head coach Mike Brey said. "It's good to play well on that floor because we would like to keep playing here for a while."
THEY MAKE IT RAIN:
Notre Dame lived up to its reputation as the league's best 3-point shooting team as it drained 9-of-19 3-point shots in the victory, including eight in the first half. The Fighting Irish hit a league-best 39.2 percent of its shots from deep during the regular season. Cincinnati didn't have nearly as much luck, hitting just five of its 22 attempts.
WHY HE WON THE AWARD:
In his first game since being named the Big East Player of the Year,
Ben Hansbrough
scored 23 points to pace the Fighting Irish. He was one of four Notre Dame players in double digits.
UP NEXT:
Notre Dame meets the winner of Louisville vs. Marquette with a spot in the championship game on the line. Cincinnati is almost certainly assured a big in the NCAA tournament with its 25 wins.
March, 9, 2011
3/09/11
9:29
PM ET
Recap
|
Box score
|
Photos
NEW YORK -- A quick take on Cincinnati's 87-61 win over South Florida on Wednesday evening at Madison Square Garden:
WHAT IT MEANS:
Seventh-seeded Cincinnati (25-7) used a suffocating defense and strong play inside to top No. 15 seed South Florida. With the win, the Bearcats earn a trip to the Big East quarterfinals for the second straight season. They will face a red-hot Notre Dame team on Thursday night.
The Irish, favored by many to win the tournament, have won 11 of 12 -- but if Cincinnati can duplicate its effort against South Florida on Thursday, Mike Brey's team will have its hands full. The Bearcats held a double-digit lead for the entire second half on Wednesday and limited South Florida to 36 percent shooting. The Bearcats boasts plenty of size (three regulars are at least 6-9) and have won six of seven.
No. 15 South Florida, which upset No. 10 Villanova on Tuesday night in the first round, finishes the season 10-23.
THE SKINNY:
Cincinnati limited South Florida to seven made baskets in the first half, jumping out to a 32-24 lead at the break. The Bearcats slowly and methodically built on their lead after halftime. They used a full-court press to keep South Florida out of sync and got consistent production from
Yancy Gates
and their guards. Cincinnati shot 57 percent from the floor for the game and hit five of 13 attempts from beyond the arc.
STAR WATCH:
Gates was effective and efficient, hitting 10 of 11 shots en route to a game-high 25 points. Guard
Dion Dixon
had 21 and hit 3 of 4 from downtown. White Plains product
Sean Kilpatrick
had 12 off the bench.
August Gilchrist
led the Bulls with 16. He also had 16 in the Bulls' first-round upset over Villanova.
Shaun Noriega
, who had 22 points against Villanova, finished with just 12 points on 4-of-9 shooting.
NUMBER CRUNCH:
South Florida shot 29 percent in the first half and hit just 20 shots of its 55 shots for the game. That kind of defensive effort is nothing new for Cincinnati, which held opponents to a Big East-low 58.6 points per game. That is also the fourth-lowest total in the nation.
WHAT'S NEXT:
Cincinnati plays second-seeded Notre Dame at 7 p.m. on Thursday. The Bearcats lost 66-58 to Notre Dame in South Bend on Jan. 19.
Ben Hansbrough
and
Tyrone Nash
each had 13 to lead Notre Dame. Kilpatrick led Cincinnati with 16.
February, 13, 2011
2/13/11
2:35
PM ET
Recap
|
Box score
WHAT IT MEANS:
St. John's improves to 15-9 on the season, and 7-5 in the Big East. The Red Storm get revenge for a 53-51 loss to Cincinnati at Carnesecca Arena on Jan. 22. More importantly, they pick up their first road victory since New Year's Day at Providence, and move one step closer to making the NCAA Tournament for the first time since 2002.
Two more wins in their final six regular-season games, and St. John's will finish at least .500 in Big East play -- that should be enough to punch their Dance ticket. Pretty soon, we may be talking about what seed the Johnnies will get, as opposed to whether they'll get in the tournament.
Cincinnati drops to 19-6, and 6-6 in the Big East.
THE SKINNY:
Each team made a big run in the first half -- Cincinnati's 10-0 run turned a 9-4 deficit into a 14-9 lead, but St. John's responded immediately with a 15-0 run, giving the Red Storm a 24-14 advantage. St. John's led 35-30 at halftime -- the Red Storm should have been up more considering how well they shot the basketball, but the Bearcats buried seven 3's and had a bunch of offensive rebounds.
St. John's came out strong to start the second half, and took its biggest lead -- 52-40 -- on a
Dwight Hardy
3-pointer with 8:59 remaining in the game. Believe it or not, that was St. John's last made field goal of the game. Cincinnati led 57-54 with under 90 seconds remaining, but St. John's showed some resiliency, getting a couple of key stops and scoring enough points from the foul line to snatch the victory from the jaws of defeat. A desperation 3-point heave by
Sean Kilpatrick
wasn't close at the buzzer.
ISN'T IT IRONIC?
In St. John's loss to Cincinnati last month, the Red Storm shot 12-for-26 from the foul line -- that essentially cost them the game. This time around, they were saved by their free throw shooting. St. John's was 9-for-12 from the charity stripe overall, and 7-for-10 in the final nine minutes of the game, after scoring their final field goal.
The biggest two makes were by
Malik Boothe
with 42 seconds remaining, which gave St. John's a 58-57 lead. But Boothe got a big assist from Cincinnati's
Rashad Bishop
-- Boothe actually missed the front end of the 1-and-1 the first time around, but Bishop was called for a lane violation.
GOOD NEWS/BAD NEWS:
On the bright side,
Justin Brownlee
scored 16 points for St. John's -- that equals his point total from the past three games combined. The Red Storm cannot just rely on Hardy (who had a team-high 18) -- they need a second big scorer to step up in order to win games, and Brownlee is the best candidate.
Perhaps Brownlee's fractured thumb is feeling better, or he is getting more used to playing with the injury. Either way, he was much more aggressive on Saturday, and much more effective.
On the dark side, Cincinnati dominated St. John's on the glass, collecting a whopping 15 offensive rebounds. Also, Cincinnati made 11 3-pointers -- but the Bearcats cooled off in the second half, making just four of 15 attempts after intermission.
WHAT'S NEXT:
St. John's plays at Marquette on Tuesday. Cincinnati hosts No. 15 Louisville on Wednesday.
February, 12, 2011
2/12/11
8:07
PM ET
Here are three things to watch in Sunday afternoon's game between St. John's (14-9, 6-5 in Big East) and Cincinnati (19-5, 6-5) at the Fifth Third Arena in Cincinnati, Ohio.

Tip-off will be at noon ET, and the game will air locally on MSG.

EARLY ENERGY? The Red Storm will be just 63 hours removed from a huge victory over No. 9 UConn at Madison Square Garden -- a win after which many pundits placed St. John's in the Big Dance for the first time since 2002. But Steve Lavin's bunch still has plenty of work to do. They need three more wins in their final seven regular-season games to finish .500 (9-9) in the Big East, which would be very significant come Selection Sunday. They might still get in at 8-10, but do you really want to take that chance?

Watch and see if St. John's has intensity early, or if there is a hangover from the UConn victory. It won't help that it's a road game, and an early tip-off.

CHARITY STRIPE: St. John's will also be looking for revenge, after Cincinnati's 53-51 win over the Red Storm at Carnesecca Arena on Jan. 22. That game essentially came down to one thing: free throws. St. John's shot an abominable 12-for-26 from the foul line, and it cost them a W.

Overall, St. John's has been much improved at the foul line this season -- as a team, the Red Stom are shooting 70.9 percent, up from 65.2 percent a season ago. They'll need to knock down a few more against the Bearcats this time around.

It would also be nice not to get swept by Cincinnati, a team that it could conceivably be alongside on the bubble, if St. John's struggles down the stretch.

ENCORE? Dwight Hardy has been absolutely sensational for St. John's of late. He has set career highs in scoring the past two games -- 32 points against UCLA, followed by 33 against UConn. And that's not to mention 26 against Duke on Jan. 30.

Can Hardy post a career-best for the third straight game? Not likely -- especially considering this figures to be a relatively low-scoring game. But it'll be fun to watch him nonetheless, as he continues to grow in confidence and blossom as a player.
January, 22, 2011
1/22/11
6:13
PM ET
Recap
|
Box score
NEW YORK -- A quick take on St. John's 53-51 loss to Cincinnati on Saturday afternoon at Carnesecca Arena in Queens:
WHAT IT MEANS:
St. John's falls to 11-7, and 4-4 in the Big East, after a crushing defeat to a team it will quite possibly sit alongside on the bubble come March. Cincinnati improves to 17-3, and 4-3 in the conference.
BACK AND FORTH:
The first half of this game was a tale of two runs. With the game tied at 13, St. John's zipped off on an 8-0 spurt. But that was followed by a 15-1 Cincinnati run to end the half; St. John's did not have a field goal in the final 6:22 before intermission.
The second half was a seesaw battle all the way through. The game came down to the final sequence. With St. John's up one, 51-50, Cincinnati had the ball with 27.6 seconds left --
Yancy Gates
scored from the block with eight seconds remaining and got fouled. After Gates hit the free throw, St. John's pushed the ball down the floor, but
Dwight Hardy
missed a runner from the right wing, and the putback went awry.
ACHILLES HEEL:
St. John's cost itself this game at the free throw line, plain and simple. The Red Storm shot a cringe-inducing 12-for-26 from the charity stripe -- that's deadly in a game against a quality opponent. Hardy, a 90.7 percent free throw shooter, missed a critical front end of a 1-and-1 with the Red Storm up 51-50 and 34 seconds remaining.
THE BIG THREE:
St. John's top three scorers -- Hardy,
Justin Brownlee
and
D.J. Kennedy
-- had only four points combined in the first half. Hardy and Kennedy picked it up some in the second half, both finishing with 10 points. But Brownlee scored only three points in this game.
BRIGHT SPOT:
Carnesecca Arena was sold out (5,602 fans), St. John's first sellout since Feb. 22, 2009, against Seton Hall. But the crowd certainly did not go home happy.
WHAT'S NEXT:
St. John's plays at No. 23 Georgetown on Wednesday night. The Red Storm beat the Hoyas 61-58 at Madison Square Garden on Jan. 3. Cincinnati hosts Rutgers on Wednesday night.
January, 21, 2011
1/21/11
1:56
PM ET
Here are three things to watch in Saturday afternoon's game between St. John's (11-6, 4-3 in Big East) and Cincinnati (16-3, 3-3) at Carnesecca Arena.
Tip-off is at 4 p.m., and the game is available
on ESPN3.com
(local blackout rules apply). The game will also air locally on SNY.
CONNECT FOUR:
Cincinnati is No. 4 in all of Division I in two categories: scoring defense, and turnovers per game. The Bearcats have allowed opponents to average just 56.7 points per game against them, and are committing only 10.5 turnovers per contest.
What does that mean for the Red Storm? They need to treasure the basketball on Saturday. They need to take smart, high-percentage shots in their half-court offense, and they need to avoid giving the ball away. St. John's has been good in the turnover category this season, but committed a season-high 25 against Louisville on Wednesday.
LOCAL FLAVOR:
The Bearcats' top two scorers are 6-foot-3 junior guard
Dion Dixon
(12.7 ppg) and 6-foot-9 junior forward
Yancy Gates
(11.5 ppg). But keep an eye on
Sean Kilpatrick
, a 6-foot-4 redshirt-freshman guard originally from Yonkers, N.Y. Kilpatrick was a three-time all-state player at White Plains High School, is averaging 10.1 points per game off the bench.
CRITICAL JUNCTURE:
Every game is important this time of year, but this is one is particularly crucial for these two teams. Cincinnati started the season 15-0, but has lost three of its past four -- albeit against No. 7 Villanova, No. 4 Syracuse and No. 16 Notre Dame, all on the road. St. John's is coming off a brutal 88-63 loss at No. 15 Louisville.
Both of these teams will likely finish in the middle of the pack in the Big East -- but that can be good enough to make the Big Dance. St. John's and Cincinnati could both very well find themselves on the NCAA Tournament bubble, and their two games against each other (they play again on Feb. 13) could make a huge difference. Expect high intensity from both squads.