New York Colleges:

D.J. Kennedy
April, 8, 2011
4/08/11
6:05
PM ET
St. John's senior forward
D.J. Kennedy
, who suffered a torn anterior cruciate ligament in his right knee in the team's Big East tournament loss to Syracuse on March 10, had successful surgery on that knee on Wednesday.
Kennedy officially began his rehabilitation on Friday.
"I am happy that I was able to have a successful surgery, and to be able to finally start therapy to work toward getting back on the court," said Kennedy, whose projected recovery time is six-to-eight months. "I am looking forward to the hard work I'm going to have to put in to come back stronger and better than before."
Kennedy has aspirations of playing professionally, now that his St. John's eligibility is complete.
Click here
to read more.
March, 16, 2011
3/16/11
10:32
PM ET
DENVER -- St. John's forward D.J. Kennedy, who tore the ACL in his right knee in the Big East tournament and will not be able to play in the NCAA tournament, said on Wednesday that he may address his teammates prior to their first-round game against Gonzaga on Thursday night.

"I don't have anything planned yet, but I'll probably say a few words," Kennedy said. "I'll just see what comes to mind at the time."

Kennedy continues to look like he's handling this devastating blow about as well as anybody could. He was even joking around with his teammates in the locker room before Wednesday afternoon's open practice, teasing Sean Evans for getting so much TV camera time.
March, 11, 2011
3/11/11
2:34
PM ET
NEW YORK -- On the morning after
D.J. Kennedy's
college career ended in the most heartbreaking of fashions, I couldn't help but think back to another Thursday afternoon, just two weeks ago.
A handful of reporters, including myself, were at Taffner Field House on St. John's campus, speaking to
Steve Lavin
and some of the players prior to their upcoming road game against Villanova.
Kennedy was asked if he believed this St. John's team was a team of destiny.
"I like to believe everybody has their time," Kennedy said. "I feel like this is our time right now. I feel like we waited three years -- this is our senior year, I feel like finally all the pieces of the puzzle are coming together. I definitely feel like we have a special thing going on."
Yes, it did feel like that at certain points this season. The dramatic last-second win over Pittsburgh. The knockout in the final minutes at Nova. But destiny took a cruel twist on Thursday afternoon at Madison Square Garden.
A day after losing, albeit valiantly, to Syracuse, and losing Kennedy for the rest of the season, the Red Storm were knocked down two rungs, from a No. 4 seed to a No. 6 seed, on
ESPN's Bracketology
.
That's a big difference. Just look at the current projected bracket. That's the difference between playing a Patriot League Team or Ivy League in the first round, versus a team from, say, the SEC or ACC. That's the difference between playing a lower seed in the second round, versus likely playing a team that's seeded significantly higher.
But facts are facts. And the selection committee
will
take into account Kennedy's injury when it places St. John's on a seeding line.
As I wrote after Thursday's game
, St. John's could still win some games in this year's Big Dance. But without their starting swingman, they're also more vulnerable to getting beat -- coming up just short, in a game or a possession or a moment where D.J. Kennedy might have been the difference.
But on this Friday morning, as we all get ready to watch an exciting pair of Big East semifinals and then get ready for Selection Sunday, all I can think about it is how D.J. must be feeling right now.
Kennedy, a Pittsburgh, Pa. native, agreed to join this St. John's program when it was down in the dumps, hoping to lead it back to prominence -- and he has. Not only that, he finished his Red Storm career 12th in school history in scoring (1,504 points), 11th in rebounding (781), and is one of only three players in St. John's history to amass 1,450 points, 750 rebounds and 150 steals -- the others being
Malik Sealy
and
George Johnson
.
Kennedy led St. John's in virtually every major statistical category a season ago -- points, rebounds, assists, you name it. But this season perhaps his greatest attribute was his selflessness -- allowing his own numbers to suffer, and allowing
Dwight Hardy
and
Justin Brownlee
to emerge and flourish in Lavin's new offensive scheme, becoming more of a third wheel -- although a vital one.
"I've wanted to play in the NCAA tournament since I picked up a basketball in grade school, and this is a real blow," said Kennedy in a statement released by St. John's on Thursday night, after learning of the severity of his injury. "I am disappointed on a personal level, but I am happy that I will be with my teammates on the road during the tournament, supporting them the way they always support me."
Just one more example of Kennedy being a great teammate.
Mission accomplished, D.J. Your school is going back to the Big Dance for the first time in nine years, and you had a heck of a lot to do with it.
Try to enjoy the ride. You earned it.
March, 5, 2011
3/05/11
10:26
PM ET
Recap
|
Box score
NEW YORK -- A quick take on St. John's 72-56 win over South Florida on Saturday night at Carnesecca Arena in Queens.
WHAT IT MEANS:
On Senior Night, St. John's finished off what has been an impressive regular season at 20-10, and 12-6 in the Big East. The Red Storm finish tied for third in the conference with Louisville and Syracuse, but will be the No. 5 seed in the Big East tournament because they lost head-to-head against both. This is St. John's first 20-win season since 2002-03, and the first time it has collected 20 wins in the regular season since 1999-2000.
South Florida finishes the regular season at 9-22 overall, and 3-15 in the Big East. The Bulls will be the No. 15 seed in the conference tourney.
THE SKINNY:
St. John's trailed for most of the first half; the Red Storm took the lead briefly late at 30-29 on a
Dwight Hardy
trey, but a
Shaun Noriega
rebuttal gave South Florida a 32-30 lead at intermission. St. John's had a difficult time attacking USF's 2-3 zone -- the Johnnies didn't shoot a single free throw in the first half.
The Johnnies attacked the zone more aggressively in the second half -- they were in the bonus with 13:48 remaining in the game, and were 18-25 from the foul line. The game remained tight through the first 10 minutes -- in fact, South Florida led 47-44 with 9:36 left. But St. John's eventually wore down USF and pulled away, propelled by timely treys by Hardy and
Paris Horne
.
SWEET EMOTION:
The pregame ceremony honoring the nine St. John's senior players, along with four senior managers and former player
Rob Thomas
, was touching.
Justin Burrell
was the most emotional of the players, tearing up and slamming his fist to his chest as the crowd cheered him. A sold-out crowd of 5,602 chanted for each player as he was introduced, and chanted "Thank you, seniors!" at the end.
ONLY APPROPRIATE:
This was one of St. John's most balanced efforts of the season offensively. Four players -- all seniors -- finished in double figures.
D.J. Kennedy
led the way with 16, Hardy had 14,
Justin Brownlee
had 13 and Horne had 11.
Sean Evans
added nine points, and
Malik Boothe
had five assists. St. John's is 10-0 this season when four or more players crack double figures.
WHAT'S NEXT:
St. John's has a bye in the first round of the Big East tournament -- the Red Storm will play the winner of No. 12 seed Seton Hall versus No. 13 seed Rutgers on Wednesday afternoon at approximately 2:30 p.m. at Madison Square Garden. South Florida will play No. 10 seed Villanova on Tuesday at 7 p.m.
November, 6, 2010
11/06/10
10:37
PM ET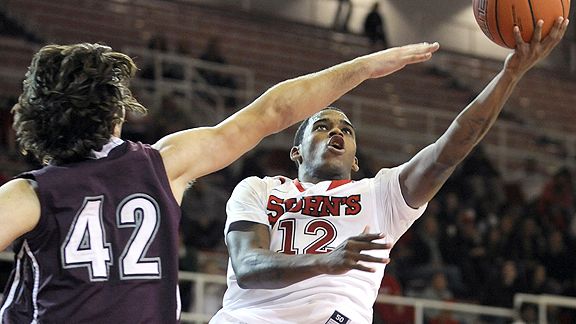 AP Photo/Bill Kostroun
NEW YORK -- It was a startling sight indeed --
Steve Lavin
walking onto the floor a few minutes before tipoff, sans his trademark hair gel.
And, as if that wasn't jarring enough, moments later Lavin donned a set of black-rimmed eyeglasses -- adding a professorial aspect to his customary television-friendly appearance.
The eyeglasses only stayed on briefly, but Lavin should have considered keeping them on -- if only to get a closer look at the many good things his new team did on the floor Friday night.
True, it was against an overmatched opponent -- tiny Westmont College, from Santa Barbara, Calif. and the NAIA. Nonetheless, the Red Storm were very impressive, winning their exhibition game at Carnesecca Arena by a beyond-lopsided score of 100-42.
The team had a new look too, despite the fact that St. John's returned 10 seniors. Lavin elected to go with two starters who started the bulk of the games last season -- point guard
Malik Boothe
and swingman
D.J. Kennedy
. Shooting guard
Dwight Hardy
and forward
Justin Brownlee
, are also senior, but only started five games between them a year ago -- Lavin said last week he has been extremely impressed with both Hardy and Brownlee in the preseason. And the fifth starter was the team's lone freshman, the first recruit Lavin landed after taking the job in March, forward
Dwayne Polee
.
Guard
Paris Horne
(who started 32 of 33 games last season) and forward
Sean Evans
(31 of 33) came off the bench.
At any rate, the new starting five didn't waste any time giving the crowd of 2,774 something to cheer about -- by the first media timeout, with 15:49 left in the first half, St. John's led 16-0, and all five Red Storm players had scored. Frankly, the game was over right there -- but this being the Johnnies' one and only exhibition game of the preseason, they continued to pour it on, trying to work out the kinks prior to their season-opener at St. Mary's on Nov. 16.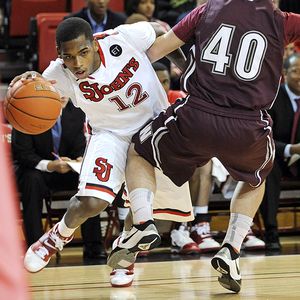 AP Photo/Bill Kostroun
Dwight Hardy was one of five St. John's players who scored in double-figures on Friday night.

The score was 59-20 at halftime, and the second half only provided more of the same. St. John's pushed the ball offensively at every opportunity, and applied pressure on defense whenever possible, having their guards pick up the opponent's ball-handler in the backcourt. Westmont simply had no answer.
"Clearly it was a step in the right direction, building from our scrimmage against Manhattan in two areas," Lavin said after the game. "And that was sharing the basketball -- 30 assists [is] a good indication of that. … And then I liked the fact that Dwight Hardy and D.J. Kennedy -- two players who are clearly going to be very productive and go-to weapons for us -- they had a quiet night in the first half, but they didn't force. They kept their poise, they did other things to help us. They contributed with their passing, their screening. And most importantly they didn't get their head down, didn't let that bother them."
Hardy -- the team's second-leading scorer last season -- finished with 15 points for the game, including three treys. Kennedy -- the team's leading scorer a year ago -- had 10 points, but was perfect from the field (3-for-3) and from the foul line (4-for-4).
Brownlee was the leading scorer on the night, with 18 points, including a couple of monster dunks. Boothe had 12 assists, six steals, and only two turnovers. And Polee chipped in 12 points on 6-of-9 shooting.
Polee said he felt comfortable starting in his first college game. "Coach, he just wants me to go out and play my game -- play hard, get rebounds, and play defense," Polee said. "That's what I'm here to do."
Lavin said he didn't talk to the team at all about his decision to start Polee prior to the game. "There was no formal announcement on it, or it wasn't something we ran by the seniors or asked for their approval on," Lavin said. "It's just that Dwayne was playing well."
"[Polee's] fit in well since he's been here -- he pays attention to detail, he's hard-working," said Hardy. "I think as a freshman he did a great job tonight."
The truth is, pretty much everyone on St. John's looked good on Friday night -- including Lavin, even without any hair product.
We'll see how he, and his team, look in 10 days' time, on the road against a much more competitive opponent.
"I'm really pleased with the way in which the kids have responded overall," Lavin said. "But it's early, and we've got a long way to go, and that's what we talked about in the locker room.
"This was just a baby step. We can't make any more or less of it than a baby step."