New York Colleges:

D'Angelo Harrison
November, 26, 2013
Nov 26
9:12
PM ET
NEW YORK -- A few quick thoughts on St. John's 65-47
win
over Longwood on Tuesday night at Carnesecca Arena:
What it means:
St. John's (4-1) won its fourth straight but played its second poor game in a row. The Red Storm had to scrape past a Longwood team picked to finish last in the Big South and missing its leading scorer due to injury. Not good. Not good at all.
The turning point:
Believe it or not, it took St. John's more than six minutes to score a point.
Chris Obekpa
finally broke the shutout with a dunk at the 13:50 mark. The Red Storm trailed most of the first half but scored the final four points to take a 27-23 halftime lead.
St. John's took a double-digit lead for the first time, 38-27, on a
God'sgift Achiuwa
dunk with 12:11 remaining. But Longwood did not wilt. The Lancers were still within seven, 44-37, with under eight minutes left. But a
D'Angelo Harrison
conventional three-point play made it 50-37 with 6:11 to go, and the lead never dipped back to single digits after that.
Star watch:
Harrison finished with a team-high 18 points but had a poor shooting night -- 6-for-19 from the field, and 3-for-11 from 3-point range.
Sir'Dominic Pointer
was the only other St. John's player in double figures, with 11 points off the bench.
Jakarr Sampson
scored just three points, shooting 1-for-8 from the field (although he did have 11 rebounds). Freshman
Rysheed Jordan
, returning from a one-game suspension, came off the bench and scored four assists and eight points in 17 minutes, shooting 2-for-7.
Number crunch:
St. John's shooting numbers as a team were brutal: 22-for-59 overall (37.3 percent), 3-for-19 from long distance (15.8 percent) and 18-for-30 from the foul line (60 percent). The Red Storm did tie a school record with 15 blocks.
What's next:
St. John's switches boroughs from Queens to Brooklyn when it faces Penn State on Friday in the semifinals of the Barclays Center Classic. Tipoff is at 7 p.m.
November, 8, 2013
Nov 8
11:00
AM ET
St. John's begins its 2013-14 season Friday night against 20th-ranked Wisconsin, in Sioux Falls, S.D. -- by far the most challenging opener in Steve Lavin's four years as coach.
That seems fitting, since this season feels like a final exam, testing whether Lavin really can turn this once-storied program around.
"If we stay injury-free and we continue to develop at the pace that this group has, I feel we'll have the opportunity to do something special come March," Lavin said at the Red Storm's media day on Oct. 10.
[+] Enlarge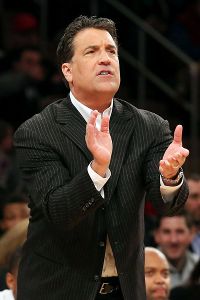 Anthony Gruppuso/USA TODAY SportsSteve Lavin needs to get the Johnnies to the Sweet 16 or he probably never will.
A return to the NCAA tournament would be nice, but that's not special enough. This team needs to make the Sweet 16. Anything less would be a disappointment.
Lavin was hired in March 2010, with St. John's having been absent from March Madness for eight consecutive years. He and his staff did an excellent job with the roster he inherited in year one, guiding the team to a 21-12 record and a return to the Big Dance.
The train went off the rails in year two. Lavin missed most of the season after being diagnosed with prostate cancer. The roster was wafer-thin and full of freshmen. Assistant coach Mike Dunlap did an admirable job under the circumstances, but the team still finished 13-19.
Thankfully Lavin made a full recovery, and St. John's made some progress in year three. The Red Storm improved to 17-16, but again missed the NCAA tournament.
We've now reached year four. The deck is full. No more excuses.
To put things in some perspective, Kentucky, the preseason top-ranked team in the country, has nine players who made ESPN's Top 100 as high school seniors. Michigan State, ranked No. 2, has eight of them.
St. John's is close behind with six -- three juniors (
D'Angelo Harrison
,
Sir'Dominic Pointer
,
Jamal Branch
), two sophomores (
Jakarr Sampson
,
Chris Obekpa
) and one freshman (
Rysheed Jordan
). That group -- along with
Orlando Sanchez
,
Phil Greene IV
,
Max Hooper
and
God'sgift Achiuwa
-- is good enough to make some serious noise over the next five months.
Harrison is one of the best perimeter scorers in the country. Sampson, at 6-foot-8, can score inside and out. Branch is an outstanding passer, and Pointer is an even better finisher. Obekpa led the nation in blocked shots as a freshman, and Jordan is the most-hyped St. John's freshman since
Felipe Lopez
.
They've got talent, they've got balance, and they've got plenty of minutes under their belt, other than Jordan. "It's time to win here," Harrison told me on Oct. 10 -- and he's right.
Wisconsin will be very tough, even on a neutral floor. But after that, St. John's plays its next 11 games in the five boroughs -- either at Carnesecca Arena, Madison Square Garden or the Barclays Center. They should win every one of them, with the exception of a game against No. 8 Syracuse at MSG on Dec. 15.
Big East play commences on New Year's Eve at Xavier, and the Red Storm -- picked to finish fifth in the conference's preseason poll -- can compete with Marquette, Georgetown and Creighton for the league title.
To be frank, barring major injuries, anything less than an NCAA tournament bid would be a disaster.
St. John's hasn't won a game in the Big Dance since 2000. It hasn't won two since 1999, when Ron Artest (now
Metta World Peace
), Marvis "Bootsy" Thornton,
Erick Barkley
& Co. advanced to the Elite Eight, losing by just three points against Ohio State with a chance to make the Final Four.
That team had three players go on to the NBA -- Artest, Barkley and
Lavor Postell
. This team could have even more. But there's no time to waste. Sampson flirted with the idea of leaving after winning Big East Rookie of the Year last season. Harrison could make the leap with another big year. And if Jordan is as good as advertised, he could be one-and-done.
Lavin has proved he can recruit elite talent to St. John's -- an accomplishment in and of itself. But now he needs to coach 'em up.
If he doesn't win -- and win big -- this season with the Red Storm, he probably never will.
October, 10, 2013
Oct 10
9:12
PM ET
St. John's held its annual preseason media day on Thursday afternoon at Carnesecca Arena -- 23 days before its first exhibition game versus San Francisco State, and 29 days before its regular-season opener against Wisconsin.
The players sounded very confident, and coach Steve Lavin was cautiously optimistic --
click here
to read my main story from the event.
Here are some other newsworthy items:

Injury roundup:
D'Angelo Harrison
is sitting out practice right now with a hamstring injury, but neither he nor Lavin sounded very concerned about it. Harrison said he expects to return to practice next week.
On the bright side, fellow junior guard
Phil Greene
said he feels 100 percent, after having surgery to repair a torn labrum in his hip in the spring. Greene played through the hip injury all of last season. And junior guard
Jamal Branch
said he feels 100 percent as well, after suffering a knee injury in February that caused him to miss four games.
When asked what returning player or players have improved the most during the offseason, Lavin immediately singled out Branch, and mentioned Greene as well.
Speaking of Lavin:
The head coach said he feels great, and he sounded fired up as he gets ready to begin his fourth season at the helm of the Red Storm.
This is a pivotal season for Lavin in his tenure at St. John's -- more on that in the coming weeks.
Where's Rysheed?
It was a little disappointing that St. John's did not make freshman
Rysheed Jordan
available to the media Thursday.
Lavin is clearly being protective of his prize freshman. "When you have a player as special as a Rysheed Jordan, who went through some tough times here, just on a personal level, with some issues his mother has faced, in terms of her health, and some other personal items -- it's a little like with your children," Lavin said. "You have a sense, you have a feel, it's instinct, like teaching and coaching, similar to managing people, you know what's best for them in a given situation. So we're just gonna wait."
"He's in a really good place with his academics, his health and his maturation," the coach added. Lavin said he plans to keep Jordan under wraps, mediawise, until around Christmas, right before conference play begins.
Mad Max?
St. John's was one of the worst 3-point shooting teams in the country last season, ranked No. 338 out of 345 Division I schools in 3-point field goals made per game (3.6).
Transfer
Max Hooper
, a 6-foot-6 sharpshooter from Carmel Valley, Calif., was brought in to change that.
Hooper barely got off the bench as a freshman at Harvard two years ago, playing just four minutes in two games. But he's confident he can make a significant impact with the Red Storm.
"I set my bar for what I want to achieve on a daily basis, and as a whole, very high," Hooper said. "But I feel like playing against guys like the roster we have here, guys who are so athletic and talented, I just have gotten so much better on a daily basis. ... I've put in a lot of work, and I'm just excited for the lights to finally be on, and ready to perform."
Encore?
Sophomore center
Chris Obekpa
led the nation in blocked shots per game as a freshman (4.03 BPG). I asked him how he was going to improve on that this year.
His answer? Win the national defensive player of the year award.
He said he's also been working hard on his offensive game, including adding a hook shot to his repertoire. We'll see how much he's improved come November.
March, 14, 2013
Mar 14
1:12
AM ET
A once-promising St. John's season may be over, five days before Selection Sunday.
The Red Storm were eliminated from the Big East tournament on the first full day of action Wednesday, losing their opening game to Villanova,
66-53
.
St. John's was in the NCAA tournament mix as late as the final week of February, but the Red Storm (16-15, 8-10) have lost five games in a row.
"Our goal is always to win the Big East championship and then win the tournament championship," St. John's coach Steve Lavin said. "But you look back, and there's a reason we were picked 12th in the league."
St. John's was actually picked to finish 10th in the conference's preseason poll. But the Red Storm, despite their youth, were tied for third in the conference at 6-3, after finishing off January with five straight wins.
[+] Enlarge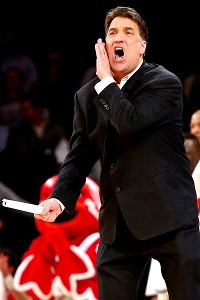 Debby Wong/USA TODAY SportsSt. John's has lost its first Big East tournament game two years in a row, but coach Steve Lavin remains "bold on the future."
The schedule got tougher after that, but the Red Storm were still on the NCAA bubble after beating South Florida on Feb. 20. Things unraveled from there.
The losing streak began with a 63-47 defeat against Pittsburgh, here at the Garden on Feb. 24. But the real turning point came five days later, when Lavin announced he was suspending leading scorer
D'Angelo Harrison
(17.8 ppg) for the rest of the season for conduct detrimental to the team.
St. John's was already offensively challenged -- one of the worst teams in Division I in 3-point field goals per game, and free throw percentage. Losing Harrison, the fourth-leading scorer in the entire conference, was a crippling blow.
The game against Villanova on Wednesday was typical of the team's play without Harrison. The Red Storm played hard, and were a pain in the neck on the defensive end. But they just didn't have enough firepower on the other end, shooting 35.6 percent from the field (21-for-59) and 2-for-11 from beyond the arc (18.2 percent).
Freshman forward
Jakarr Sampson
, the only other player on the team averaging in double figures, scored 13 points, but shot just 5-for-18. Sampson didn't get the same looks without Harrison drawing defenders' attention.
"I felt like I had a lot of heat on me," Sampson said.
"They're not as explosive with him [not] on the floor," Villanova coach Jay Wright said. "That's a big loss."
St. John's hung tough for a while -- the game was tied at the half, and the Red Storm were still within five with less than seven minutes remaining -- but down the stretch, they just couldn't keep up.
Villanova, which leads Division I in free throw attempts and makes per game, shot 19-for-23 from the foul line. St. John's was just 9-for-14.
"I think the physicality allowed them to get into the bonus and to get to the foul line and convert from there," Lavin said.
The NCAA tournament is clearly out of the question now. Next question: Will St. John's even garner an invitation to the NIT?
After the Red Storm's overtime loss to Marquette last weekend to end the regular season, Lavin said he'd be surprised if they don't get an NIT bid. But a team on a five-game losing streak, and without its top player available, isn't very attractive.
St. John's could also receive an invitation to the lesser-known CBI or CIT. But those tournaments get even less respect than the NIT.
In the bigger picture, St. John's has now been eliminated in its first game of the Big East tournament for the second year in a row. Lavin was hired to return St. John's to prominence and make the Red Storm a perennial NCAA tournament participant. But after a surprising at-large bid in his first season, St. John's has missed the Big Dance the past two years.
Nevertheless, Lavin continues to express confidence in the program.
"I'm bold on the future," Lavin said, "and the fact the whole team is coming back, the group of people, the character, the work ethic, their talent, and we're moving in the right direction."
But Sampson could bolt for the NBA -- he didn't commit to coming back next season after receiving the Big East Rookie of the Year award earlier this week, saying he wanted to weigh his options. Harrison could return -- or he could opt to turn pro as well, or transfer to another school.
In truth, the future of St. John's basketball is very much up in the air, five days before Selection Sunday.
Only one thing's for sure -- the Red Storm won't be dancing this year.
March, 13, 2013
Mar 13
9:58
PM ET
NEW YORK -- A quick look at Villanova's
66-53 victory
Wednesday night over St. John's in the Big East tournament at Madison Square Garden:


What it means:
Villanova is headed to the Big East quarterfinals -- and the NCAA tournament. St. John's is headed to the NIT at best.
Villanova (20-12) might not have needed this win, but it should seal an at-large bid to the Big Dance. St. John's (16-15), which was an NCAA bubble team until late February, has now lost five games in a row and is 0-4 since the suspension of leading scorer D'Angelo Harrison.
The turning point:
You can divide the first half in two. Villanova jumped out to an 18-6 lead on a
JayVaughn Pinkston
layup with 9:37 remaining. But St. John's outscored the Wildcats 18-6 the rest of the half, capped off by a
Christian Jones
lay-in with 32 seconds left. The game was tied at 24 at intermission.
The game remained tight early in the second half. St. John's was still within five, 50-45 with just under seven minutes remaining, after five straight points by
Phil Greene
. But Villanova responded with seven consecutive points to match its largest lead, 57-45, and put the game away from there. The Red Storm played well defensively, but they just couldn't match the Wildcats at the other end.
Star watch:
Mouphtaou Yarou
had a big game for Villanova with 18 points, shooting 9-for-10 from the field. Freshman point guard
Ryan Arcidiacono
scored 15 points but committed eight turnovers. Pinkston had 12 points and nine rebounds.
Greene had 16 points to lead St. John's.
Jakarr Sampson
, named the Big East Rookie of the Year on Tuesday, had 13 points and nine rebounds but shot just 5-for-18 from the field.
Number crunch:
St. John's struggled in the shooting department without Harrison, yet again. The Red Storm were 21-for-59 from the field (35.6 percent), 2-for-11 from deep (18.2 percent) and 9-for-14 from the foul line (64.3 percent). They also uncharacteristically committed 17 turnovers.
What's next:
Villanova will play No. 2 seed Louisville on Thursday at 7 p.m.
St. John's goes home and waits to see if it gets invited to the NIT, CBI or CIT.
March, 9, 2013
Mar 9
9:06
PM ET
In a season full of ups and downs, St. John's reached its highest peak on Saturday yet still walked away disappointed.
Missing two of their top three players and trailing No. 15 Marquette by nine points with less than two minutes remaining, the Red Storm made a near-miraculous comeback to send the game into overtime. But the afternoon ended in heartbreaking fashion, when
Vander Blue
scored a driving layup off the glass at the buzzer, giving the Golden Eagles a 69-67 victory.
Buzz Williams' bunch clinched a share of the school's first-ever Big East championship. Steve Lavin's squad suffered its fourth defeat in a row and finished the regular season in 11th place.
"Really proud of our players for a valiant effort," Lavin said. "And yet, naturally, we're very disappointed we weren't able to come away with a victory."
St. John's was without both leading scorer
D'Angelo Harrison
and its best all-around player,
Sir'Dominic Pointer
. Lavin benched Harrison for the rest of the season last week for conduct detrimental to the team. Pointer was serving a one-game suspension by the Big East for his fight with Notre Dame's
Cameron Biedscheid
at the end of a loss in South Bend on Tuesday.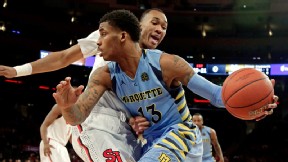 AP Photo/Richard DrewSt. John's narrowly missed out on what would have been a miraculous comeback Saturday afternoon.
Yet St. John's jumped in front of Marquette 23-15 with 8:20 remaining in the first half, thanks to eight early points from
Jakarr Sampson
.
But when Sampson -- the Red Storm's only other double-figure scorer for the season besides Harrison -- exited with two fouls shortly thereafter, St. John's had no replacement for him offensively. Marquette closed on a 13-2 run and led 28-25 at halftime.
The Golden Eagles continued their onslaught early in the second half, scoring the first nine points and leading by as many as 14 at 41-27. Lavin used two timeouts in less than two minutes. It would have been easy for the undermanned Red Storm to pack it in.
Instead, they gave the Madison Square Garden crowd of 12,474 a thrilling finish.
"We kept saying it the whole game -- just stick with it, keep fighting," point guard
Phil Greene
said. "Play hard, play aggressive, and good things will happen."
Greene was the catalyst, scoring 14 of his game-high 20 points after intermission. St. John's was back within three at 44-41 with 12:13 remaining. And even when the Red Storm fell behind by nine again, 63-54 with 1:53 left, they didn't quit. Instead, they clawed back to within two, and then
Jamal Branch
's layup with 27 seconds left pushed the game into overtime.
St. John's had its chances in the extra period. With the game tied at 67 and less than a minute left in OT, both
Felix Balamou
and Greene missed jumpers that would have given the Red Storm the lead. Then, Blue ended the affair with a gorgeous sweeping lay-in over the outstretched arm of St. John's' shot-blocking extraordinaire
Chris Obekpa
.
"It's really hard," forward
Christian Jones
, who scored a career-high 10 points off the bench, said. "After being down by however much, and then fighting back, and then just being there tied in overtime, and then just coming up short in the end. It's really hard."
"No one in our locker room is satisfied with moral victories," Lavin said. "So we try to learn from this, build on the positives and improve upon the areas that hurt us."
There were positives, to be sure. Greene shot 9-for-15 and displayed outstanding leadership, putting the team on his back in the second half. Sampson, a leading candidate for Big East Rookie of the Year, had another strong performance with 17 points, seven rebounds and four steals.
Obekpa, the second-leading shot-blocker in the country, added seven more swats to his season total. Branch tallied eight assists with just one turnover. And Jones, buried on the bench for most of the season, showed he can contribute at this level.
On the other hand, St. John's sorely missed Harrison's 3-point shooting -- the Red Storm were two for 16 from beyond the arc. And they shot just five for 13 from the free throw line.
But if the box score revealed guts, this short-handed St. John's team would have registered off the charts.
"It's hard to grade losses. It stinks no matter what," Lavin said. "But there are aspects that you see in a team's growth or development, and I think today our kids demonstrated fight."
"We played our hearts out tonight," forward
Amir Garrett
said.
Nevertheless, it's been a very disappointing finish to the season. St. John's won five games in a row to wrap the month of January. Just two weeks ago, the Red Storm were still an NCAA Tournament bubble team.
Now, St. John's (16-14, 8-10) will be fortunate just to make the NIT.
Next up? A matchup with Villanova in the Big East tournament on Wednesday, with the winner facing Louisville the following night.
"If we can play the level of basketball that we're capable of, we're gonna be in games both this coming week and the following week, wherever the postseason takes us," Lavin said.
Or the season could end on Wednesday against the Wildcats.
As we saw on Saturday, a valiant effort isn't always enough.
February, 2, 2013
Feb 2
9:09
PM ET
WASHINGTON -- A loss is bad enough. But this was a brutal day for
D'Angelo Harrison
and
Jamal Branch
.
Harrison had the worst game of his career, and Branch suffered what could be a serious knee injury, in St. John's
68-56 loss to Georgetown
.
[+] Enlarge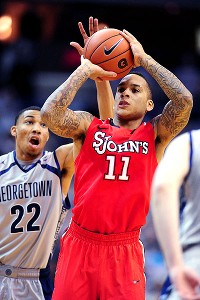 Evan Habeeb/USA TODAY Sports D'Angelo Harrison was benched for the final 8:52 against Georgetown after shooting 0-for-9 from the field.
Branch missed the final 17:08 of the game after going down in a tangle under the basket and having to be carried off the floor by teammates. (For the latest on Branch,
click here
.)
Harrison was benched for the final 8:52 after shooting 0-for-9 from the field, 0-for-6 from 3-point range.
"D'Angelo was having a tough game," said St. John's coach Steve Lavin. "So to me it made more sense to go with the group that was playing well and was competitive."
The Red Storm were very competitive at the start, jumping out to an early 7-3 lead. But the Hoyas shot 58.6 percent (17-for-29) in the first half, outrebounded St. John's 21-9, and led 39-28 at intermission.
Georgetown never let the lead dip under eight points in the second half, despite shooting 33.3 percent (10-for-30) after the break.
"I thought in the first half Georgetown really dominated, kind of had their way with us, basically pushed us around," Lavin said. "I thought in the second half we matched their physicality, but we had buried ourselves."
After the game, the two teams nearly came to blows in the postgame handshake line, but were separated.
"It was nothing too serious," Harrison said. "Just arguing, just talking trash, that's really all. ... Tempers flared. It's part of the game."
Harrison wasn't the only St. John's player who struggled. The Red Storm shot 20-for-63 as a team (31.7 percent). The lone bright spot was little-used reserve
Marco Bourgault
, who played in place of Harrison late and scored a career-high 12 points in 13 minutes.
"That's an inspiration for all of us," Lavin said. "He's been lower than a snake's belly -- came here from junior college expecting to play, he's gotten zilch run, had nothing but splinters in his fanny, and he stepped up today and had a hell of a game."
Harrison entered the day 17th in Division I in scoring (19.7 ppg). His previous season low was seven points, in the first meeting between these teams on Jan. 12. This time around he scored a career-low two points, and said afterward that he couldn't recall ever having a game in which he didn't hit a single shot.
Georgetown, among the top defensive teams in the country, allowed Harrison to catch the ball as opposed to denying him on the perimeter. But the Hoyas' length appeared to bother him on several attempts.
"Not necessarily," said Harrison when asked if Georgetown did anything in particular to bother him. "If I would have hit my first three shots, they were clean looks, it would be a different ballgame."
"I think we just got lucky. He's fun to watch as a fan, not as an opposing coach," said Georgetown coach John Thompson III. "Our guys happened to do a good job and he just happened to have two bad games. I don't think there's a secret formula."
To his credit, Harrison was not sulking about his benching after the game. "It's a team sport, it's not about one person," he said.
Lavin said he's not worried about his star's psyche. "As a freshman, maybe I would have," the coach said. "But he's showed a breakthrough on his maturity, in terms of bouncing back from a tough loss or a performance where he doesn't find his offensive rhythm."
Harrison will bounce back, there's no doubt. The question is, will we see Branch suit up for St. John's again this season?
The preliminary diagnosis is a sprained left knee, but further tests could reveal a more serious injury.
Since becoming eligible in late December, Branch had emerged as a key component -- one of the team's primary ball-handlers, as well as its third-leading scorer (9.0 ppg).
He appeared to be capable of even more as he got more comfortable, but now may be lost after playing just 10 games.
As for the team as a whole, the Red Storm were much more competitive than they were when Georgetown blew them out at Madison Square Garden three weeks ago. But they still saw their five-game winning streak snapped, and will continue to hear critics chirping that their 6-4 Big East record is due to a favorable early-season schedule.
Harrison had a message for them after the game.
"I think we're still one of the top five (teams) in the Big East," Harrison said. "We'll take it, and we'll get ready for UConn (on Wednesday).
"We feel like we can beat UConn. So we're gonna be ready for UConn."
October, 23, 2012
10/23/12
8:38
PM ET
A few more tidbits from St. John's media day, which was held Tuesday at Carnesecca Arena:
• In terms of the eight new players on the St. John's roster, much of the attention has gone to forward JaKarr Sampson, center
Chris Obekpa
and guard Jamal Branch -- all ranked among the ESPN 100 as high school seniors.
[+] Enlarge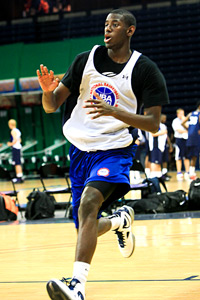 Davide De Pas/ESPN.comJaKarr Sampson
But Lavin singled out
Christian Jones
on Tuesday, gushing about him on multiple occasions.
"Christian Jones has probably been as consistent as any player on the team," Lavin said. "With his playmaking on the interior, his brute strength at the rim in terms of finishing, his nimble feet, his speed to run rim to rim, his ability to get above the square and flush 'em home -- he is really, really special."
Jones, a 6-foot-7, 222-pound forward, was the final player of the recruiting class to come aboard. "He's gonna be a real treat for our fans to watch," Lavin said. "We didn't know coming in the degree he could help right out of the gate."
• Lavin revealed last month that sophomore guard
D'Angelo Harrison
would move from shooting guard to point guard this season, at least some of the time.
This despite the fact that Harrison led the team in scoring a season ago (16.8 ppg), buried 79 3-pointers, and set the St. John's freshman scoring record.
Lavin was asked about that move on Tuesday.
"He's one of those rare individuals that has a real knack for scoring, but I think his ballhandling, his decision-making, his playmaking ability is underrated," Lavin said. "For us, when D'Angelo has the ball in his hands, good things happen."
• Lavin said both Harrison and fellow sophomore guard Phil Greene have been bothered by some nagging injuries in the preseason -- Greene to his hip, Harrison to his foot -- but neither injury appears serious.
Lavin also talked up Greene to the media. "Before Phil's hip labrum issue, he came back and hit the ground running," Lavin said. "He was on a tear offensively."
October, 17, 2012
10/17/12
3:27
PM ET
The Steve Lavin comeback tour continued Wednesday, as the St. John's coach worked the room at Big East Media Day at the New York Athletic Club.
Lavin was absent from this event one year ago, after undergoing surgery to treat prostate cancer just two weeks before.
"Cancer-free, and feel 100 percent better than I did at this time last year," Lavin said Wednesday. "And probably 75 percent, in terms of where I'd like to be in terms of stamina. But that's natural -- that's a normal [amount] for this stage. It's pretty common."
Lavin missed almost all of last season -- returning for four games in November, but then stepping away again for the duration, feeling he had come back too soon.
The coach reflected on that decision Wednesday. "I wasn't gonna be able to coach the team, fully recuperate, and sign eight players," Lavin said. "So we chose two of the three that we felt would (best) move the program forward -- which was to fully recuperate and focus on my health, and then to focus on a strong recruiting class."
He did add eight new players -- including forward
JaKarr Sampson
, center
Chris Obekpa
and guard Jamal Branch -- all ranked among the ESPN 100 as high school seniors. He has four returning starters, including guard
D'Angelo Harrison
, who was named to the preseason All-Big East second team on Wednesday. Yet St. John's was picked to finish 10th in the 15-team conference in the preseason coaches poll.
"I think where we're picked at this point makes sense, it's logical -- because coaches, members of the media who follow our team, understand how difficult it is to win big when your roster is dominated by underclassmen," Lavin said. "So naturally, because of our youth, people are picking us toward the bottom of the conference."
"We're very enthused about our roster, in terms of personnel and the complementary pieces," Lavin added. "But we're also realistic and we understand there's a maturation process. ... What will determine whether we have a successful season will be how quickly we mature, come of age, and learn to do the things that it takes to be successful at this level."
With so many freshmen and sophomores on the team, Lavin said he will try to simulate game conditions in practice as much as possible in the weeks leading up the Red Storm's regular season opener against Detroit on Nov. 13. That includes having referees present, wearing game uniforms and turning on the scoreboards.
"We'll get to the point even where we have a pregame talk in the locker room -- pregame meal, pregame talk in the locker room, then we'll have our position meetings which we do, and then we'll take the court," Lavin said. "That way we get 15 to 20 games in before we've ever tipped it up against Detroit."
He hasn't chosen a starting lineup, but plans to take advantage of his team's depth -- a stark change from last season, when the Red Storm had a six-man rotation down the stretch.
"If we stay injury-free, I think we'll have the ability to rotate fresh players onto the court, and as a result of our style of play, we could wear down opponents in a cumulative fashion over the course of the game," Lavin said. "We want a baseline-to-baseline attacking style of basketball."
Harrison, who averaged 16.8 points per game last season and broke the school's freshman scoring record, plans to prove some people wrong.
"It was lower than I thought," said Harrison, when asked about St. John's ranking in the preseason poll. "But definitely motivation for all of us, cause we're definitely gonna be better than 10th in the Big East."
The Big East did receive a record 11 bids to the NCAA tournament just two seasons ago. But St. John's can't count on that happening again.
The Big Dance, Lavin said, remains the target. "Every year our goal is to make the NCAA tournament," Lavin said. "And that's the way it should be at St. John's."
October, 17, 2012
10/17/12
11:35
AM ET
The Big East is hosting its annual men's basketball media day here in New York, and tipped off the day by releasing its preseason coaches poll and All-Big East teams.
Louisville, coming off its Big East tournament title and Final Four run a year ago, is the unanimous pick to win the league. Senior guard
Peyton Siva
was named the preseason Player of the Year.
As for the locals? St. John's was picked to finish 10th in the 15-team conference this year. Rutgers was right behind the Red Storm at 11th, with Seton Hall coming in 14th.
In terms of the preseason all-conference teams, St. John's guard
D'Angelo Harrison
was the only local player honored, being named to the All-Big East second team.
Click here
for the full preseason poll, and
here
for the individual awards.
February, 1, 2012
2/01/12
10:55
PM ET
Recap
|
Box score
WHAT IT MEANS:
St. John's continues its improved play, winning its second Big East game in a row, sandwiched around a close loss at Duke last Saturday. Leading scorer
Moe Harkless
had a tough night (see below), but the young Red Storm proved it could win a conference game, on the road, without big numbers from him.
St. John's is now 10-12 overall, and 4-6 in the conference. DePaul drops to 11-10, and 2-7.
THE SKINNY:
This game was tight early. After being tied at 14, DePaul went on a 17-5 run to make it 31-19 with 4:41 left in the first half, as St. John's went ice-cold shooting the basketball. But then the Red Storm closed the half on an 11-0 spurt, propelled by their full-court pressure defense, to cut it to 31-30 at intermission.
DePaul extended the lead back to as many as nine early in the second half, but St. John's countered with a 13-0 run to turn a 59-51 deficit into a 64-59 lead. The Blue Demons tied it at 64, but then the Red Storm answered with a 9-2 stretch to take their largest lead, 73-66 with just under five minutes remaining, and held them off down the stretch.
IN THE SPOTLIGHT:
Harkless, who was coming off a spectacular 30-point, 13-rebound performance against Duke, suffered a knee to one of his quads early in the first half. He gutted through it the rest of the game, but was noticeably limping at times, and shot just 2-for-15 from the field, finishing with nine points.
Several teammates picked him up.
D'Angelo Harrison
poured in a career-high 29 points -- 21 of them coming in the second half -- shooting 7-for-11 from beyond the arc. (Harrison was one trey short of tying the school record.)
God'sgift Achiuwa
had his best game in quite a while, scoring 15 points and making all seven of his shots from the field, very active around the rim.
Phil Greene
, playing in his hometown, tied his career high with 14 points, shooting 7-for-12 from the field.
Amir Garrett
had 12 points, and
Sir'Dominic Pointer
chipped in eight.
NUMBER CRUNCH:
Talk about a tale of two halves! St. John's shot a woeful 28.1 percent in the first half (9-for-32), and a hard-to-believe 73.3 percent in the second half (22-for-30). Harrison was hot from the perimeter, while the others did a lot of damage off of steals, penetration and the offensive glass.
WHAT'S NEXT:
St. John's faces No. 2-ranked Syracuse, which will reportedly will have starting center
Fab Melo
back in the lineup, on Saturday afternoon at Madison Square Garden. Tip-off is at noon.
October, 14, 2010
10/14/10
5:29
PM ET
D'Angelo Harrison
-- the 15th-best shooting guard and the 44th-best player overall in the Class of 2011, according to ESPNU -- announced on Thursday that he intends to play for St. John's beginning in the 2011-2012 season.
"I'm going to take it all the way to New York and play for St. John's," Harrison said on ESPNU as he revealed his decision. "I just think it's the best fit for me."
Harrison -- 6-foot-3 and 180 pounds -- hails from Missouri City, Texas, and plays for John Foster Dulles High School. His other finalists were Oklahoma State, Baylor and Marquette, but he ultimately decided to come to the Big Apple.
"Harrison is a scoring machine who can put points on the board in a hurry," reads
his ESPNU evaluation
. "When all is said and done Harrison is a guy you put on the floor and things happen. ... There will be nights when this guy can carry you to a win with his offensive skills."
Harrison is the third piece of what's shaping up to be a dynamite recruiting class for
Steve Lavin
. He is the third ESPNU Top 100 player from the Class of 2011 to commit to the Red Storm, along with
Jakarr Sampson
(No. 23 overall) and
Maurice Harkless
(No. 60).