New York Colleges:

Detroit Titans
November, 13, 2012
11/13/12
9:02
PM ET
Here are five more thoughts from St. John's win over Detroit that didn't make
my main story
:
* JaKarr Sampson, the most highly touted of the three St. John's freshmen who made their debuts on Tuesday, had the poorest game. Sampson, who many people regard as an NBA prospect, made just 1 of 7 shot attempts from the floor in 18 minutes, several of them being poor choices.
"He had enough energy and electricity running through his body to light up New York City," said coach Steve Lavin. "And that's natural, when it's your first game. You have those jitters, the nerves, the deer in the headlights (look), and just so much adrenaline. It was coming from a good place, he was amped up, ready to go. And so for him this was a great learning experience."
Added Lavin, "He'll probably never have a game like that again the rest of his college career."
*
D'Angelo Harrison
stepped up his game down the stretch, but I thought he looked lethargic when he first entered the game in the first half, and had trouble getting into the flow of the offense. I think Lavin would be wise to insert Harrison back into the starting lineup -- St. John's won't beat many teams this season without Harrison playing well.
* Freshman guard
Felix Balamou
did not play, but he was in uniform. Lavin said afterwards that he is not planning to redshirt Balamou after all -- Balamou will likely get some playing time in Charleston, with the team playing three games in four days. But senior forward
God'sgift Achiuwa
did not suit up Tuesday, and it sounds like Lavin is going to redshirt him -- he retains that option, as long as Achiuwa doesn't play in a game.
* St. John's started off the game in man-to-man defense, but went to a matchup zone down the stretch, when they came from behind to win the game in the final 10 minutes.
"It's a zone I used the majority of my career at UCLA, and we broke it out this year," Lavin said. "I thought it was very effective because of our length, and it enabled us to contain the dribble. In our man-to-man defense, Detroit was getting inside of us, through dribble penetration, through rebounding, and the zone seemed to slow their attack some, allowed us to level off their dribblers so they weren't getting angles to the paint or the rim, and it seemed to just unnerve or discombobulate them a bit."
* The announced attendance for the game was 3,506 -- Carnesecca Arena has a capacity of 5,602. I know it was a highly unusual tip-off time -- Tuesday at 2 p.m., because the game was part of ESPN's 24-hour College Hoops Tip-Off Marathon. But I thought there would be a better-size crowd for the season opener, especially considering it was Lavin's return.
November, 13, 2012
11/13/12
4:28
PM ET
What it means:
Steve Lavin is back, and his team is off to a promising start.
After missing almost all of last season while recovering from prostate cancer, Lavin officially made his return to the sideline Tuesday afternoon. And St. John's won its regular-season opener against Detroit,
77-74
, at Carnesecca Arena.
Three highly touted freshmen made their St. John's debuts -- forwards
Jakarr Sampson
and
Christian Jones
, and center
Chris Obekpa
. All three made positive contributions -- particularly Obekpa. But the key to the victory was the play of three returning sophomores --
D'Angelo Harrison
,
Phil Greene
and
Amir Garrett
(see below).
The skinny:
This game was very tight for most of the first half. The score was tied at 25 when Detroit first took control, reeling off nine straight to make it 34-25. The Titans led 37-29 at intermission.
Trailing 60-53 in the second half, St. John's went on a 14-2 run, retaking the lead for the first time since the opening half with just under five minutes remaining. Down the stretch, a more experienced Detroit team unraveled, while the younger St. John's squad showed poise and resilience.
St. John's did get a scare in the game's final sequence. Detroit scored a bucket, St. John's gave the ball away, and Detroit's
Juwan Howard Jr.
suddenly had a 3-point shot that would have tied the game. But the shot was off.
Star watch:
Harrison, St. John's leading returning scorer, came off the bench -- he was benched entirely for the team's second exhibition game last week because the coaching staff felt he was having trouble controlling his emotions. Harrison looked lethargic when he first entered the game, but ratcheted up the intensity after halftime, when he scored 15 of his team-high 22 points.
Greene finished with a career-high 20, displaying an improved perimeter shot. Garrett had a double-double, with 15 points and 11 rebounds. And Obekpa had seven points, 11 rebounds and eight blocked shots. (That's a St. John's single-game record, breaking the previous mark of seven, set by Robert Werdann in 1989.)
Number crunch:
St. John's struggled on the glass, giving up 19 offensive rebounds and 20 second-chance points. But the Red Storm had 12 blocked shots as a team. Obekpa is going to be a game-changer on defense.
What's next:
St. John's heads to South Carolina to participate in the Charleston Classic. The Red Storm will play the host team, College of Charleston, on Thursday at 5 p.m. ET. They'll play two more games there as well, on Friday and Sunday.
November, 12, 2012
11/12/12
11:07
PM ET
Here are three things to watch for when St. John's (0-0) faces Detroit (1-0) Tuesday afternoon at Carnesecca Arena.
Tip-off is at 2 p.m., and you can watch the game on ESPN (and ESPN3). Why the unusual start time? The game is part of the network's 24-hour College Hoops Tip-Off Marathon.
[+] Enlarge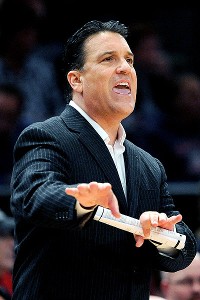 Patrick McDermott/Getty ImagesSteve Lavin's bunch will attempt to avenge last season's loss to Detroit.
OPENING TIP:
You won't see St. John's best player, guard
D'Angelo Harrison
, on the floor when the ball goes up Tuesday. Coach Steve Lavin is going to bring him off the bench, after
disciplining him during the preseason
.
Lavin said Monday that he's been pleased with Harrison's response to the benching, and that he'll receive "starter's minutes" against Detroit. Harrison said he's OK with not starting, and will be ready whenever called upon. Still, this bears watching.
St. John's needs Harrison to score, and score big, to be successful. He is also the emotional center of the team. Is he aggressive offensively once he enters the game, or passive? Does he maintain his composure, as the coaching staff has asked him to do, or does he lose his cool with the referees, or even his teammates? We'll see what happens.
YOUTH MOVEMENT:
The five players Lavin will put on the floor at the start are guard Phil Greene, swingmen
Sir'Dominic Pointer
and
Amir Garrett
, and forwards
Jakarr Sampson
and
Christian Jones
. That's three sophomores and two freshmen, for those of you scoring at home.
Detroit, meanwhile, is expected to start two seniors, two juniors and a sophomore.
To be fair though, the St. John's sophs got loads of experience last season, and the home crowd and cozy confines of Carnesecca will help, too. This should be a close game.
St. John's should look to push the tempo with this bunch, since this isn't a great group when it comes to perimeter shooting (that's where Harrison comes in). If the Red Storm get bogged down playing half-court offense, that's not good. Sampson in particular has shown signs of being an electric finisher, and should become a fan favorite.
REMEMBER THE TITANS:
St. John's is very familiar with Detroit, losing to the Titans 69-63 last December in the Motor City.
Detroit went on to the NCAA tournament, and is picked to finish second in the Horizon League this year. They opened their regular season with an 88-53 victory over Division II Northern Michigan on Friday.
Doug Anderson
, a 6-foot-6 junior forward, led the Titans with 25 points in the season opener. But Detroit's best player is 6-foot-3 junior guard
Ray McCallum Jr.
, son of head coach Ray McCallum Sr., who scored 22.
McCallum is not a great perimeter shooter -- he made just 24 percent of his 3-point attempts last season. But he can fill it up nonetheless. St. John's will likely put Pointer -- a Detroit native, and arguably the Red Storm's best defender -- on McCallum if they play man-to-man. If St. John's goes zone, McCallum will get plenty of attention, too. And rightfully so. Let the lesser players beat you.