New York Colleges:

D'Vauntes Smith-Rivera
March, 15, 2013
3/15/13
10:00
PM ET
NEW YORK -- A quick look at the Syracuse's
58-55 overtime win
over Georgetown in the semifinals of the Big East tournament.
What it means:
It doesn't get any better than that.


Georgetown and Syracuse, the two longtime archrivals, met one last time as fellow members of the Big East conference Friday night. And after 45 thrilling minutes, Syracuse had landed the final punch.
In a game that will be talked about for years to come, played in front of a sellout crowd at Madison Square Garden, the Orange defeated the Hoyas to advance to this year's Big East championship game.
No. 19 Syracuse (26-8, 11-7), which had lost four of five games prior to tournament, has now won three games in three days, previously defeating Seton Hall and Pittsburgh. The Orange will be a higher seed in the NCAA tournament as a result. And they've gotten some revenge after losing to the Hoyas twice in the regular season -- both times by double digits.
No. 5 Georgetown (25-6, 14-4), which had won 13 of its past 14 games, will no longer contend for a No. 1 seed in the Big Dance after this loss. But the Hoyas will still get a very high seed and will be a force to be reckoned with.
How it happened:
Georgetown drew first blood.
Otto Porter Jr.
scored the first bucket of the game and the Hoyas went in front by as many as five and maintained the lead for almost the entire first 12 minutes. But a
James Southerland
3-pointer pulled Syracuse even, 17 apiece, with 8:04 remaining in the first half. That was the first three points of a 13-0 run, making it 27-17, as Georgetown went nearly eight minutes without scoring a point. Freshman guard
Trevor Cooney
, who averaged 3.5 points in 11.7 minutes per game, scored 10 first-half points for the Orange, including a pair of 3s. Syracuse led 29-20 at intermission.
Georgetown gradually clawed its way back in the second half.
Mikael Hopkins
scored the Hoyas' first seven points, and then
Markel Starks
buried three 3-pointers in short order. Georgetown finally tied the game up, 49 all with 1:48 left in regulation, on a pair of
Jabril Trawick
free throws.
Baye Keita
drained both ends of a 1-and-1 to put Syracuse back in front 51-49, but then Porter also made both ends with 7 seconds left to tie the game again.
Michael Carter-Williams
missed a jumper at the buzzer and we moved on to overtime.
Syracuse's
Brandon Triche
scored the first two points of OT on a driving layup, and then Starks fouled out with 3:36 remaining -- a big blow to Georgetown. With 18 seconds left and the Orange in front 57-55, Triche was fouled. He made the first, but missed the second, giving the Hoyas another chance to tie. But after a timeout, Porter was smothered defensively and turned the ball over. With four seconds left, Fair went to the foul line, but missed both free throws. Georgetown rebounded, but Trawick's half-court heave at the buzzer was off the mark.
Star watch:
Triche, Southerland and Keita each scored 13 points for Syracuse. Triche scored 11 of his 13 after halftime. Southerland drained four 3-pointers, giving him 16 for the tournament -- that ties the tourney record. Keita, who averages just 3.3 points per game and was shooting just 48.6 percent from the foul line, made all seven of his attempts from the charity stripe.
Hopkins had 15 points to lead Georgetown. Starks scored 13 and Porter added 12.
Number crunch:
In a box score that reveals a very even game, two things stand out. Syracuse was a little better from beyond the arc, shooting 7-for-18 (38.9 percent); Georgetown was 4-for-18 (22.2 percent). Even more important, Syracuse was 13-for-19 from the foul line (68.4 percent). Georgetown, on the other hand, was just 11-for-20 (55 percent).
What's next:
Syracuse, the No. 5 seed, will play No. 2 seed Louisville on Saturday at 8:30 p.m. ET. Georgetown heads home, licks its wounds and begins preparing for the Big Dance.
March, 14, 2013
3/14/13
2:53
PM ET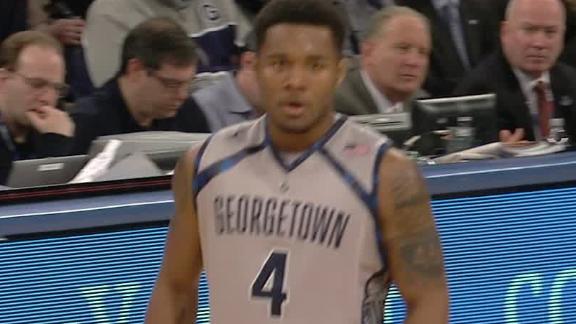 NEW YORK --
What it means:
Georgetown moves on to the Big East semifinals, and remains in play for a No. 1 seed in the NCAA tournament. Cincinnati is currently projected to receive an at-large berth, but it's no lock.


The Bearcats rallied after falling behind big in the first half (see below), but the Hoyas ultimately cruised to victory in the first of four quarterfinals at Madison Square Garden on Thursday,
winning 62-43
.
Georgetown (25-5, 14-4), ranked No. 5 in the country, has now won 13 of its past 14 games. Cincinnati (22-11, 9-9) is listed as a No. 11 seed in the latest edition of ESPN.com's Bracketology, but will have to sweat it out until Selection Sunday.
The turning point:
Georgetown jumped out to a 16-point lead, 24-8, with 5:37 remaining in the first half, after back-to-back 3-pointers by Big East Player of the Year
Otto Porter Jr.
and freshman
D'Vauntes Smith-Rivera
. Cincinnati went more than seven minutes without scoring a single point. But then the Bearcats got hot from deep, making four treys in the closing minutes -- three by
Cashmere Wright
-- to draw within five, 29-24, at intermission.
Cincinnati opened the second half on a 9-2 run, taking a two-point lead, 33-31, on another Wright jumper with 16:22 to play. But then Georgetown scored seven points in a row to re-take control of the game -- five by Smith-Rivera. The Bearcats never got closer than five points again. A putback, again by Smith-Rivera, pushed the lead to 12, 51-39, with 5:14 left. The Hoyas put them away from there.
Star watch:
It was a true team effort by Georgetown. The Hoyas had three players in double figures -- Porter (18 points, 11-for-11 from foul line),
Markel Starks
(14) and Smith-Rivera (13).
Jabril Trawick
chipped in nine points.
Wright led Cincinnati with 14 points, and
JaQuon Parker
added 12.
Sean Kilpatrick
-- the fourth-leading scorer in the Big East this season (17.3 ppg) -- scored just four points, shooting 2-for-12 from the field and 0-for-8 from beyond the arc. It was a day to forget for the Yonkers, N.Y., native, playing very close to home.
Number crunch:
The shooting percentages of the two teams were strikingly similar, until the final few minutes, when Cincinnati was hoisting up quick shots and Georgetown was cleaning up at the foul line. The difference? Georgetown had 10 more attempts from the field, thanks to an 11-7 advantage on the offensive glass, and 15 turnovers by the Bearcats. The Hoyas gave the ball away just nine times.
What's next:
Georgetown, the No. 1 seed, will play the winner of No. 4 Pittsburgh versus No. 5 Syracuse, on Friday at 7 p.m. ET.
Cincinnati returns home to await its postseason fate.