New York Colleges:

James Southerland
March, 17, 2013
3/17/13
1:44
AM ET
NEW YORK -- When the final horn sounded -- when the comeback was complete, when the championship was secured --
Russ Smith
made a beeline for the TV camera, wagging his right index finger in front of his face.
New Yorkers like the spotlight, and Smith is no exception.
The spotlight couldn't have been brighter at Madison Square Garden this week, particularly Saturday night, as we all said goodbye to the Big East conference as we know it.
It was only fitting that two New York City kids were among the brightest stars on the stage.
Smith had scored a combined 48 points in Louisville's quarterfinal and semifinal victories over Villanova and Notre Dame, respectively.
[+] Enlarge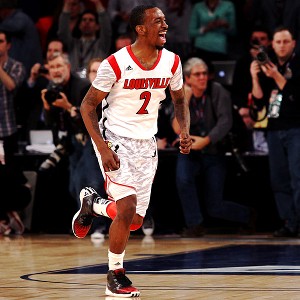 Chris Chambers/Getty ImagesRuss Smith scored 10 points on 2-of-8 shooting but left with a second straight tourney title.
James Southerland
had poured in 53 in the three wins that landed Syracuse in the championship game.
An undersized two-guard from Brooklyn and an oversized three-man from Queens, Smith and Southerland figured to play prominent roles in the tournament finale.
And they did.
Southerland struck first -- and made history in the process. The 6-foot-8 senior with the smooth stroke from the perimeter drained his first 3-point attempt of the game, less than three minutes in, giving Syracuse an early 6-0 lead.
It was Southerland's 17th 3-ball of the week, breaking the record held by former Syracuse guard and current assistant coach Gerry McNamara, as well as former Connecticut guard Albert Mouring.
Southerland hit another one from deep before halftime, and his third triple of the game gave Syracuse its largest lead, 45-29, with 15:51 remaining. He appeared to be on his way to garnering tournament MVP honors.
Seventeen seconds later, he headed to the bench with his fourth foul, and everything changed.
Smith, on the other hand, was practically invisible in the first half. The 6-foot dynamo shot 0-for-4 from the field, collecting just two points from the foul line. But you figured he'd find a way to get involved in the second half.
It didn't take long. He connected on his first attempt after intermission, from beyond the arc. And when Louisville scored 10 consecutive points following Southerland's fourth foul, Smith was involved as well, canning another trey.
The Cardinals eventually surged to the lead, thanks to their smothering full-court pressure. The Orange wilted, at both handling the ball and shooting free throws. The game, shockingly, turned into a rout in Louisville's favor.
Smith, who finished with 10 points, 3 assists and 3 rebounds, was emotional after the game. He has been playing all week in honor of former high school coach, the legendary Jack Curran, who passed away days earlier at age 82.
"It's been just a roller-coaster ride. Especially since the loss of a guy like that, it's had a tremendous effect on me," Smith said. "But wining this tournament cured a lot of the sadness I had, and I'm playing in his name."
Southerland, who finished with nine points and eight rebounds, lamented what might have been.
[+] Enlarge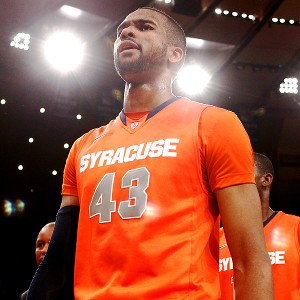 Chris Chambers/Getty ImagesJames Southerland had 9 points and 8 rebounds but also 4 turnovers in Syracuse's defeat.
"I just feel like we kind of made it -- we didn't make some smart plays at the end," Southerland said. "We didn't take advantage of our lead and move the ball around like we should have."
Louisville coach Rick Pitino was thrilled for Smith, and the rest of his team.
"I'm really excited for them that they can be part of basketball history," Pitino said. "I'm really happy that the basketball history took place at Madison Square Garden. And I'm really excited we could do it in (Big East founder) Dave Gavitt's memory, and now Jack Curran's for Russ Smith. It meant a lot for Russ to play well, and he certainly did."
This was the 34th Big East tournament, and the 31st played at Madison Square Garden. There will be a Big East, and a Big East tournament, next season -- but we all know it'll never be quite the same.
St. John's, the city's team, won the first Big East tourney played at the Garden, back in 1983. But the Red Storm haven't played in the championship game since 2000, and were eliminated from this tournament on the first full day.
Someone had to step up to represent the five boroughs.
In the end, two did the job.
The 2013 Big East tournament will be remembered for the classic Syracuse-Georgetown semifinal, and the stunning Louisville comeback in the title game.
But this New Yorker, raised on Big East basketball, will also never forget James Southerland and Russ Smith.
They might not be superstars. Far greater players have played on this stage.
But they were the final act. And they did their hometown proud.
March, 15, 2013
3/15/13
10:00
PM ET
NEW YORK -- A quick look at the Syracuse's
58-55 overtime win
over Georgetown in the semifinals of the Big East tournament.
What it means:
It doesn't get any better than that.


Georgetown and Syracuse, the two longtime archrivals, met one last time as fellow members of the Big East conference Friday night. And after 45 thrilling minutes, Syracuse had landed the final punch.
In a game that will be talked about for years to come, played in front of a sellout crowd at Madison Square Garden, the Orange defeated the Hoyas to advance to this year's Big East championship game.
No. 19 Syracuse (26-8, 11-7), which had lost four of five games prior to tournament, has now won three games in three days, previously defeating Seton Hall and Pittsburgh. The Orange will be a higher seed in the NCAA tournament as a result. And they've gotten some revenge after losing to the Hoyas twice in the regular season -- both times by double digits.
No. 5 Georgetown (25-6, 14-4), which had won 13 of its past 14 games, will no longer contend for a No. 1 seed in the Big Dance after this loss. But the Hoyas will still get a very high seed and will be a force to be reckoned with.
How it happened:
Georgetown drew first blood.
Otto Porter Jr.
scored the first bucket of the game and the Hoyas went in front by as many as five and maintained the lead for almost the entire first 12 minutes. But a
James Southerland
3-pointer pulled Syracuse even, 17 apiece, with 8:04 remaining in the first half. That was the first three points of a 13-0 run, making it 27-17, as Georgetown went nearly eight minutes without scoring a point. Freshman guard
Trevor Cooney
, who averaged 3.5 points in 11.7 minutes per game, scored 10 first-half points for the Orange, including a pair of 3s. Syracuse led 29-20 at intermission.
Georgetown gradually clawed its way back in the second half.
Mikael Hopkins
scored the Hoyas' first seven points, and then
Markel Starks
buried three 3-pointers in short order. Georgetown finally tied the game up, 49 all with 1:48 left in regulation, on a pair of
Jabril Trawick
free throws.
Baye Keita
drained both ends of a 1-and-1 to put Syracuse back in front 51-49, but then Porter also made both ends with 7 seconds left to tie the game again.
Michael Carter-Williams
missed a jumper at the buzzer and we moved on to overtime.
Syracuse's
Brandon Triche
scored the first two points of OT on a driving layup, and then Starks fouled out with 3:36 remaining -- a big blow to Georgetown. With 18 seconds left and the Orange in front 57-55, Triche was fouled. He made the first, but missed the second, giving the Hoyas another chance to tie. But after a timeout, Porter was smothered defensively and turned the ball over. With four seconds left, Fair went to the foul line, but missed both free throws. Georgetown rebounded, but Trawick's half-court heave at the buzzer was off the mark.
Star watch:
Triche, Southerland and Keita each scored 13 points for Syracuse. Triche scored 11 of his 13 after halftime. Southerland drained four 3-pointers, giving him 16 for the tournament -- that ties the tourney record. Keita, who averages just 3.3 points per game and was shooting just 48.6 percent from the foul line, made all seven of his attempts from the charity stripe.
Hopkins had 15 points to lead Georgetown. Starks scored 13 and Porter added 12.
Number crunch:
In a box score that reveals a very even game, two things stand out. Syracuse was a little better from beyond the arc, shooting 7-for-18 (38.9 percent); Georgetown was 4-for-18 (22.2 percent). Even more important, Syracuse was 13-for-19 from the foul line (68.4 percent). Georgetown, on the other hand, was just 11-for-20 (55 percent).
What's next:
Syracuse, the No. 5 seed, will play No. 2 seed Louisville on Saturday at 8:30 p.m. ET. Georgetown heads home, licks its wounds and begins preparing for the Big Dance.