New York Colleges:

Jay Wright
March, 13, 2014
Mar 13
4:15
PM ET
NEW YORK -- New Big East, same old Madness.
Less than 24 hours into the
2014 Big East tournament
, we've already had two stunning upsets and lost the top seed.
On Wednesday night,
Georgetown was defeated by DePaul
for the first time in 20 years. On Thursday afternoon,
No. 3-ranked Villanova fell to Seton Hall 64-63
on a buzzer-beater by sophomore guard
Sterling Gibbs
.
For
Seton Hall
, it's the first win in school history against a team ranked in the top three in the Associated Press poll. The Pirates had been 0-30 against such teams.
[+] Enlarge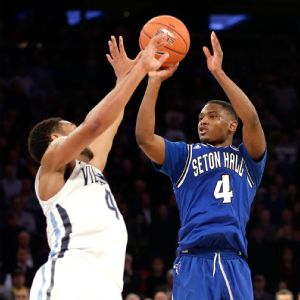 AP Photo/Seth WenigSeton Hall guard Sterling Gibbs proved the new Big East still has the same old flair for the dramatic with his game-winning shot against Villanova.
"It was a great college basketball game," said
Villanova
coach Jay Wright. "They played better. They made the plays at the end."
Seton Hall had just 15 hours to rest and prepare for Villanova following its 51-50 victory over Butler on Wednesday night.
Perhaps the short turnaround helped. Villanova trailed by as many as 15 points in the first half before scoring the final six to make it 34-26 at intermission. The Wildcats shot 7-for-26 (26.9 percent) and missed seven free throws in the first half.
A 16-0 Villanova run fueled by several open-court steals and scores put the Wildcats back in front with just more than eight minutes remaining. But the Pirates did not fold. The game came down to the final minute, when the lead changed hands four times.
Josh Hart
's layup with 41 seconds to play put Villanova up 61-59. Freshman
Jaren Sina
buried a 3-pointer from the corner 20 seconds later to give Seton Hall a 62-61 lead.
Darrun Hilliard
's floater in the lane rolled in with 11 seconds left, pushing the Wildcats back ahead 63-62. And then Gibbs hit the biggest shot of them all -- a step-back jumper from the top of the key as time expired.
"It was supposed to get in my hands, and I was supposed to create a shot for my teammates or create a shot for myself," Gibbs said. "I just stepped back and hit the jumper."
Seton Hall finished the regular season in eighth place in the 10-team Big East but has played nine games decided by a single point this season, going 4-5. The Pirates also have two three-point losses, one in overtime and the other in double overtime.
"One of the referees told me the other night, he said he's never seen a team go through what we've gone through and still come back and play hard every night," said Seton Hall coach Kevin Willard. "I just think it's the character of these guys."
The new Big East now has its first signature moment, and Seton Hall has a berth in the Big East tourney semifinals for the first time since 2001. The Pirates will play either No. 4 seed Providence or No. 5 seed St. John's on Friday.
Seton Hall was swept by St. John's in the regular season, but both losses were by -- you guessed it! -- one point. The Pirates split with the Friars, winning by one in double overtime and then losing by five.
"I really thought if we could get past Butler, we could beat anybody," Willard said. "I was really scared about getting past Butler. It's a tough matchup for us. They defend really well on us, and I thought if we could get past them, we could get some momentum and just keep going."
Villanova, whose three previous losses this season came against ranked teams Syracuse and Creighton (twice), is still
projected to be a No. 1 seed
by ESPN's Joe Lunardi -- as of now. But that could change as the rest of Championship Week unfolds.
"This was not about 1-seeds, 2-seeds," Wright said. "This was about we wanted to come to Madison Square Garden and win the Big East tournament. Winning the Big East tournament would mean much more to us than a 1-seed.
"This is a great tournament. We want to be here until Saturday. I think we're more disappointed about that. The NCAA tournament seedings? My belief is 1, 2, 3 -- it doesn't matter that much. You're going to play great teams."
March, 15, 2013
3/15/13
12:05
AM ET
NEW YORK -- The Big Apple didn't get to see its hometown team play in the Big East quarterfinals Thursday night.
Louisville versus Villanova was a pretty darn good consolation prize.
No, the game wasn't a nailbiter. In fact, it was all but over midway through the second half. But a packed house at Madison Square Garden got to watch a national championship contender at the absolute peak of its powers.
Villanova, which took out St. John's 24 hours earlier to earn a spot in the quarters and had beaten Louisville in late January, was no match for Rick Pitino's club this night, falling
74-55
.
[+] Enlarge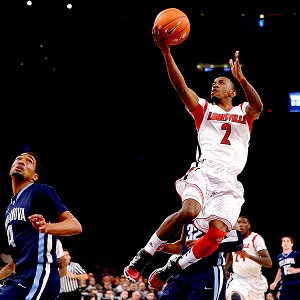 Al Bello/Getty ImagesLouisville's Russ Smith scored 21 of his 28 points against Villanova after halftime.
"We lost last time around for three reasons," Pitino said. "We missed free throws, didn't guard the 3-point line, and didn't cause enough havoc. Tonight we did all three."
"Havoc" doesn't nearly do it justice. Louisville led by only nine at the half, 30-21, but it felt like a lot more. That's what happens when you watch a team commit 18 turnovers in just 20 minutes.
"I think we were just very intense," Pitino said. "We were really quick. We're fast."
Villanova committed only seven more turnovers in the second half. But the Cardinals stepped it up at the other end. After shooting just 35.7 percent (10-for-28) before the break, the Cardinals made 54.2 percent (13-for-24) in the second half -- led by senior guard
Russ Smith
, who poured in 21 of his game-high 28 points after intermission.
"Their guards completely dominated the game," Villanova coach Jay Wright said. "The game was allowed to be played very physical. It was very fair. We just did not respond to the physical play. That's what happens -- you turn the ball over like that."
Smith, a native of Brooklyn, N.Y., dedicated his performance to his former high school coach at Archbishop Molloy, the legendary Jack Curran, whose death at the age of 82 was announced earlier in the day.
Smith admitted shedding tears when he heard the news. "It was almost heartbreaking to think about it," Smith said. "I just wanted to win and do anything I could to win."
Pitino, whose team was already second in the country in steals per game, loved the forced turnover total. But he loved another stat even more: 58 defensive deflections, according to Louisville's calculations. That's the most a Pitino-coached team has ever collected in a single game, even during his stints in the NBA.
"It was an incredible thing to witness," Pitino said.
Last March, Louisville arrived in New York in a slump, losing four of six to end the regular season. But they ended up winning this tournament as the No. 7 seed, and going all the way to the Final Four.
This year, the Cardinals got a head-start. They've now won eight games in a row, a streak that began in mid-February.
Villanova had probably already done enough to sneak into the NCAA tournament field as an at-large. But Louisville is shooting for a No. 1 seed.
"This team could win a national championship," Wright said, of Louisville.
So if New Yorkers are looking for a team to root for in the Big Dance next week -- besides Cinderellas Iona and LIU Brooklyn -- Louisville is a prime candidate.
After all, Pitino is a New York City native and one-time coach of the Knicks. And Smith, a first-team All-Big East performer, is certainly doing his hometown proud.
But as for the rest of the country? Beware.
The Cardinals are picking up some serious steam. You don't want to see them on your side of the bracket.
February, 10, 2011
2/10/11
3:05
PM ET
Both Rutgers coach Mike Rice and Villanova coach Jay Wright participated in the Big East's weekly coaches conference call, a day after Rutgers' stunning 77-76 win over Villanova, courtesy of Jonathan Mitchell's four-point play with 0.8 seconds remaining.

"We had a tough loss last night, but in the Big East you have to respond quickly," said Wright, whose Wildcats next host No. 4 Pittsburgh on Saturday. "We give [Rutgers] credit, but we've gotta move on to the Panthers."

Wright said he wasn't unhappy with the way his team defended on the game-winning four-point play -- but he did see some "little things" he was unhappy with on the tape from the final minutes.

"Some of the 3's they hit late, we had lazy contests on," Wright said. "The shot at the end, I really believe we executed defensively the way we wanted to. The timing was just so perfect."

Wright sounded more concerned about his second-leading scorer, Corey Stokes (14.6 ppg), who had to ask out of Wednesday night's game because of a turf toe injury. "We're trying to evaluate it right now, to see if, can you shut him down, do you have enough time for it to get better? Or do you just have him play through it?" Wright said. "We're trying to look at it right now."

As for Rice, not surprisingly he sounded thrilled with his Scarlet Knights' performance on the day after. "Are you kidding me? I'm doing really, really well," Rice said early on in the conference call.

Of the dramatic comeback, during which Rutgers fought back from a 70-60 deficit with 2:52 to play, Rice said, "It was a crazy two minutes -- but it was more than that. It was a culmination of a lot of hard work and a lot of great practices."

Rice also gave credit to his three seniors: Mitchell, James Beatty and Mike Coburn.

"Last night was a win for our seniors, who will not let us quit, who will not let us stop improving, who continue to fuel the energy and the passion that our team plays with," Rice said. "If we're successful in the years to come in making the NCAA Tournament, it's gonna be because of their hard work."

Rutgers will next host in-state rival Seton Hall on Saturday night -- ESPNNewYork.com will be there.