New York Colleges:

Jeremy Hazell
September, 9, 2011
9/09/11
5:41
PM ET
Former Seton Hall hoops star Jeremy Hazell has signed a contract to play for Lucentum Alicante in Spain.

Hazell's new team plays in the top league in Spain, the ACB League. Also joining Hazell on Lucentum Alicante will be former Duke star Kyle Singler, who was also drafted by the Detroit Pistons.

Hazell finished his career at Seton Hall as just the third Pirate and 30th player in Big East history to score 2,000 career points -- he finished with 2,146. That total also placed him third in school history, and he missed 13 games his senior season because of a broken wrist.
March, 3, 2011
3/03/11
9:20
PM ET
Recap
|
Box score
NEWARK, N.J. -- A quick take on St. John's 84-70 loss to Seton Hall on Thursday night at the Prudential Center, a hard-fought game marred by a St. John's emotional meltdown in the final two minutes (see below for more).
WHAT IT MEANS:
St. John's (19-10, 11-6 Big East) has its six-game winning streak snapped. More importantly, the loss means the Red Storm will almost certainly have to win four games in four days next week in order to win the Big East tournament. If Syracuse beats last-place DePaul on Saturday at the Carrier Dome, the Orange will snatch the final Big East double-bye.
Seton Hall improves to 12-17 overall and 6-11 in the conference. After several close losses to ranked teams at home, the Pirates finally beat one of them -- their cross-river rival, no less.
THE SKINNY:
St. John's jumped out to a quick 7-0 lead, but Seton Hall was the better team for the rest of the first half, leading by as many as seven and 34-30 at the break. The Pirates had 11 first-half turnovers but compensated by shooting 7-for-11 from 3-point land.
The second half was a tight, back-and-forth affair, chock-full of fouls -- both teams were in the double-bonus very early. St. John's regained the lead, by as many as four, courtesy of a
Justin Brownlee
four-point play with 12:20 remaining. But Seton Hall surged back. The Pirates led 70-68 with just less than four minutes remaining. That's when Seton Hall raced out on an 11-0 run to salt the game away.
THE MELTDOWN:
Both St. John's coach
Steve Lavin
and his players lost their composure in the final two minutes. First, after calling a timeout with 1:55 remaining and the Red Storm trailing 77-68, Lavin went after referee
Joe Lindsay
, who subsequently issued a double-technical and threw Lavin out of the game. Then, with 7.6 seconds remaining and the outcome no longer in doubt,
Justin Burrell
was whistled for a flagrant foul and thrown out of the game as well.
SHARP SHOOTERS:
The teams' two leading scorers --
Dwight Hardy
and
Jeremy Hazell
-- both put on a show, particularly during one stretch early in the second half when they were personally trading buckets. Hardy finished with 23 points. Hazell finished with a season-high 31.
BIG NUMBER:
An old bugaboo reared its ugly head for St. John's on Thursday night -- defending the 3-point shot. Seton Hall, shooting just 28.4 percent from beyond the arc coming in (ranking the team No. 342 out of 346 Division I schools), connected on a remarkable 12-for-18 from downtown. Granted, a few of them were well-guarded and tough makes, but many of them were too open. St. John's really got hurt from behind the 3-point line in several losses earlier in the season, and it was the school's downfall again tonight.
WHAT'S NEXT:
St. John's will host South Florida (9-21, 3-14) on Saturday at 8 p.m. ET at Carnesecca Arena. Seton Hall will host Marquette (18-12, 9-8) on Saturday at 6 p.m. at the Prudential Center.
February, 12, 2011
2/12/11
9:08
PM ET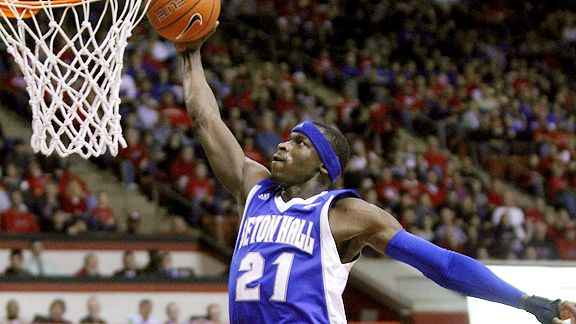 AP Photo/Mel EvansJeremy Hazell reached the 2,000-point mark for his Seton Hall career.
Recap
|
Box score
|
Photos
PISCATAWAY, N.J. -- A quick take on Seton Hall's 69-64 win over Rutgers on Saturday night at the Louis Brown Athletic Center:
WHAT IT MEANS:
Seton Hall improves to 11-14 overall, and 5-8 in Big East play. It's a huge win for the Pirates, after losing to their in-state rival last month in Newark. They were coming off a brutal 61-59 loss to No. 7 UConn last weekend, in which they blew a 14-point lead in the second half. And this win comes on the same day coach
Kevin Willard
kicked reserve guards
Keon Lawrence
and
Jamel Jackson
off the team "due to a violation of team rules and an ongoing pattern of conduct unbecoming of a representative of Seton Hall athletics."
Rutgers drops to 13-12 overall, and 4-9 in the Big East. It's a disappointing loss for the Scarlet Knights after their incredible, last-second win over No. 10 Villanova on Wednesday.
THE SKINNY:
Rutgers raced out to an 11-5 lead early in this one, but Seton Hall controlled things from there to intermission. The Pirates led by as many as eight, 31-23, and led 34-27 at halftime.
Jordan Theodore
had 11 points to pace the Pirates in the first half;
Gilvydas Biruta
had 13 for the Scarlet Knights.
Rutgers scored the first eight points of the second half, surging to a 35-34 lead. But that didn't last for long: Seton Hall countered with a 12-2 stretch, opening up a nine-point lead, its biggest of the game. Rutgers never quit -- in fact, the Scarlet Knights cut the deficit to 54-53 with under 3:39 to play. But then came the biggest shot of the game -- a
Jeff Robinson
trey that put some permanent space between the Pirates and the Scarlet Knights.
STAR WATCH:
The teams' leading scorers --
Jeremy Hazell
for Seton Hall, and
Jonathan Mitchell
for Rutgers -- were both in double-figures. Hazell scored 19, and in the process became only the fourth player in Seton Hall history to score 2,000 career points. Mitchell finished with a game-high 24 points on 10-for-15 shooting.
But the most valuable player of the game was Theodore, who finished with 18 points, six assists and four rebounds. Theodore, who normally starts but came off the bench in this game, shot 7-for-9 from the field and 3-for-5 from 3-point range. Theodore was already an important player for the Hall, but he became even more so after Lawrence and Jackson were dismissed from the squad. Theodore will have to play a ton of minutes for this team the rest of the season.
Also worth noting: Rutgers' second-leading scorer,
Dane Miller
, put up a goose egg, going 0-for-4 from the field.
BIG NUMBER:
Rutgers really hurt itself by not taking care of the basketball. The Scarlet Knights came in ranked No. 42 in the country, committing only 11.9 turnovers per game. But they had 18 on Saturday night against Seton Hall.
WHAT'S NEXT:
Seton Hall will host No. 10 Villanova on Tuesday. Rutgers has a week off, before playing No. 13 Syracuse at the Carrier Dome next Saturday.
December, 2, 2010
12/02/10
10:10
PM ET
In case you missed it, Seton Hall announced Thursday that leading scorer
Jeremy Hazell
had surgery on his injured left wrist on Thursday.
Click here
to read more.
November, 20, 2010
11/20/10
5:02
PM ET
Seton Hall senior shooting guard
Jeremy Hazell
broke the scaphoid bone in his left wrist in Friday's 83-78 win over Alabama at the Paradise Jam in the U.S. Virgin Islands.
Hazell is expected to miss 4-to-6 weeks.
Hazell was averaging 24 points per game in the Pirates' first three games, and scored 27 in the Alabama game. Losing Hazell is a big blow to the Pirates.
"Jeremy has been playing on such a high level to start the season and we feel bad for this to happen to him," Seton Hall coach
Kevin Willard
said. "This however, is an excellent opportunity for his teammates to step up."
Click here
to read more.
October, 4, 2010
10/04/10
8:10
PM ET
Seton Hall senior guard Jeremy Hazell was named to the John R. Wooden Award Preseason Top 50 list on Monday by the Los Angeles Athletic Club.

The award traditionally goes to the nation's top collegiate basketball player.

Hazell was named second-team All-Big East last year, after averaging 20.4 points per game. He averaged 22.7 points per game as a sophomore.

He is also the Big East's active scoring leader, with 1,789 career points. Hazell enters his senior season with a legitimate chance to break Terry Dehere's all-time Seton Hall scoring record of 2,494 career points.