New York Colleges:

Jordan Theodore
January, 10, 2012
1/10/12
11:02
PM ET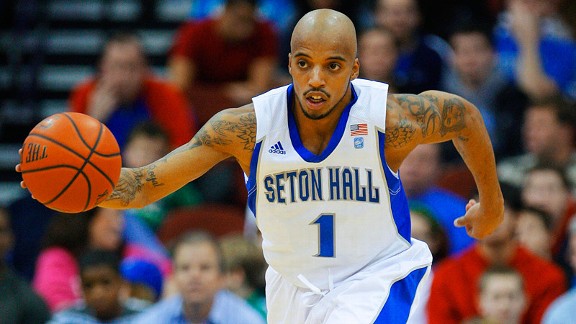 Jim O'Connor/US PresswireJordan Theodore and Seton Hall made easy work out of Big East rival DePaul.
Seton Hall played its first game in 11 years as a member of the Top 25.
The Pirates looked like they belong.
Behind a career-high 28 points from sophomore swingman
Fuquan Edwin
, and 26 points and 11 assists from senior point guard
Jordan Theodore
, No. 24 Seton Hall cruised to victory over DePaul, 94-73, in front of 6,840 fans at the Prudential Center on Tuesday night.
"Whether we're ranked or not, we still gotta go out here and take care of business," Theodore said after the game. "We still gotta win. It doesn't change anything. All it does is put a target on our backs."
Seton Hall, which came in averaging 71.9 points per game, erupted for 51 in the first half alone, making 20 of its 33 shots in opening up a 51-34 halftime lead. Edwin poured in 24 of his 28 in the first half, making nine of his 12 attempts from the field.
After opening up its largest lead of the game, 66-42 with 15:36 remaining, Seton Hall got a little sloppy at both ends of the floor. In the next 8:22, the Pirates scored just one bucket while DePaul whittled its deficit all the way back to single digits, 68-59. That's when Theodore took over, burying three jumpers in a row in a 74-second span to essentially put the Blue Demons away.
"As the point guard, I'm the general, and I'm supposed to control the whole flow of the game," Theodore said. "I can sense when we need a bucket, and when my team needs me to take over, and tonight I was able to do that."
"He's turned himself into one of the premier players -- not only point guards, but players -- in the country," coach
Kevin Willard
said. "That's what good players do."
Seton Hall, picked to finish 13th in the Big East before the season began, is now 15-2 on the season, and 4-1 in conference play. The Pirates, who have won four straight, including an upset of UConn last week, entered the Associated Press Top 25 poll on Monday for the first time since Jan. 30, 2001.
Seton Hall has already won two more games than it did all of last season, and is off to the program's best start since 1992-93.
Willard said he is not concerned about the national ranking affecting his squad.
"The great thing about this team is, I have two seniors who are trying to extend their careers and obviously play at the next level, and the rest of them are just freshmen and sophomores," Willard said. "It's really easy to keep freshmen and sophomores grounded, it really is. And the seniors have something to prove for us. I think that's why this team will keep its focus for the rest of the year."
The seniors, Theodore and power forward
Herb Pope
, have done everything you could ask of them and more this season. Theodore is now averaging 16.5 points and 7.6 assists per game -- the assist number placing him in the top five in the country.
Pope, who posted his 10th double-double of the season against DePaul (11 points, 12 rebounds), is now averaging 17.5 points and 10.8 rebounds per game.
But those two were expected to have good seasons. The reason Seton Hall has been able to make such a leap this year has been the play of the freshmen and sophomores.
Edwin is now averaging 14.9 points per game, almost double his freshman output, including 52 points in the past two games. And on defense, Edwin is leading the nation in steals with 3.1 per game.
"The offense is kinda just coming naturally, because he's playing so hard defensively," Willard said. "When you just concentrate on defense, which he's really doing, you play well on the other end. I think he's got that concept, and I think he's enjoying that concept."
"He's our X-factor," Theodore said. "He's really big-time."
Edwin isn't the only pleasant surprise. For instance, freshman shooting guard
Aaron Cosby
, who came in averaging 7.9 points per game, tallied 15 on Tuesday night, including drilling three treys early in the second half.
"It's pick your poison with [Edwin and Cosby], the way they're shooting it right now," said Willard.
Next up for Seton Hall? Another winnable game, at South Florida on Friday night. In fact, the Pirates' next three games are against unranked opponents -- South Florida, Villanova and Notre Dame. So don't be surprised if Seton Hall stays in the Top 25 for a while.
Some people might still be skeptical of this team. But that could motivate these guys even more.
"As long as we keep winning," Theodore said, "we'll prove all the doubters wrong."
February, 12, 2011
2/12/11
9:08
PM ET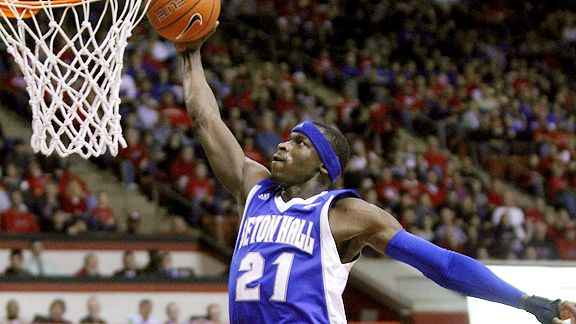 AP Photo/Mel EvansJeremy Hazell reached the 2,000-point mark for his Seton Hall career.
Recap
|
Box score
|
Photos
PISCATAWAY, N.J. -- A quick take on Seton Hall's 69-64 win over Rutgers on Saturday night at the Louis Brown Athletic Center:
WHAT IT MEANS:
Seton Hall improves to 11-14 overall, and 5-8 in Big East play. It's a huge win for the Pirates, after losing to their in-state rival last month in Newark. They were coming off a brutal 61-59 loss to No. 7 UConn last weekend, in which they blew a 14-point lead in the second half. And this win comes on the same day coach
Kevin Willard
kicked reserve guards
Keon Lawrence
and
Jamel Jackson
off the team "due to a violation of team rules and an ongoing pattern of conduct unbecoming of a representative of Seton Hall athletics."
Rutgers drops to 13-12 overall, and 4-9 in the Big East. It's a disappointing loss for the Scarlet Knights after their incredible, last-second win over No. 10 Villanova on Wednesday.
THE SKINNY:
Rutgers raced out to an 11-5 lead early in this one, but Seton Hall controlled things from there to intermission. The Pirates led by as many as eight, 31-23, and led 34-27 at halftime.
Jordan Theodore
had 11 points to pace the Pirates in the first half;
Gilvydas Biruta
had 13 for the Scarlet Knights.
Rutgers scored the first eight points of the second half, surging to a 35-34 lead. But that didn't last for long: Seton Hall countered with a 12-2 stretch, opening up a nine-point lead, its biggest of the game. Rutgers never quit -- in fact, the Scarlet Knights cut the deficit to 54-53 with under 3:39 to play. But then came the biggest shot of the game -- a
Jeff Robinson
trey that put some permanent space between the Pirates and the Scarlet Knights.
STAR WATCH:
The teams' leading scorers --
Jeremy Hazell
for Seton Hall, and
Jonathan Mitchell
for Rutgers -- were both in double-figures. Hazell scored 19, and in the process became only the fourth player in Seton Hall history to score 2,000 career points. Mitchell finished with a game-high 24 points on 10-for-15 shooting.
But the most valuable player of the game was Theodore, who finished with 18 points, six assists and four rebounds. Theodore, who normally starts but came off the bench in this game, shot 7-for-9 from the field and 3-for-5 from 3-point range. Theodore was already an important player for the Hall, but he became even more so after Lawrence and Jackson were dismissed from the squad. Theodore will have to play a ton of minutes for this team the rest of the season.
Also worth noting: Rutgers' second-leading scorer,
Dane Miller
, put up a goose egg, going 0-for-4 from the field.
BIG NUMBER:
Rutgers really hurt itself by not taking care of the basketball. The Scarlet Knights came in ranked No. 42 in the country, committing only 11.9 turnovers per game. But they had 18 on Saturday night against Seton Hall.
WHAT'S NEXT:
Seton Hall will host No. 10 Villanova on Tuesday. Rutgers has a week off, before playing No. 13 Syracuse at the Carrier Dome next Saturday.