New York Colleges:

Manhattan
November, 12, 2011
11/12/11
6:05
PM ET
January, 29, 2011
1/29/11
1:17
PM ET


He's a center ... and the center of attention each time he steps on the court. College GameDay meets Manhattan's Kevin Laue, a Division I scholarship player with a left arm that stops at the elbow.
November, 18, 2010
11/18/10
11:14
AM ET
Besides St. John's and Columbia, who played each other in Queens (
click here
to read my column from that game), the only other local team in action Wednesday night was Manhattan.
The Jaspers, at home, trailed Penn by nine at the half, and by 12 with 7:48 remaining. Little did everyone know, the Quakers had scored their final points of the game. Manhattan ended the game on a 17-0 run,
stunning Penn
, 59-54.
Junior guard
Kidani Brutus
led Manhattan with 14 points and 10 rebounds.
The most prominent game on Thursday featuring a local team will take place at the Puerto Rico Tip-Off in San Juan, where Hofstra will play No. 8 North Carolina at 5 p.m. ET -- the game will air on ESPN2
and ESPN3.com
.
Also on Thursday is the Coaches vs. Cancer Classic at Madison Square Garden, featuring No. 4 Pittsburgh taking on Maryland in the first semifinal, and No. 16 Illinois playing No. 22 Texas in the nightcap.
ESPNNewYork.com will be at MSG for the doubleheader -- look for coverage on the site after the games!
November, 10, 2010
11/10/10
10:55
AM ET
Manhattan College suffered a disappointing loss in an exhibition game on Tuesday night, falling at home 82-80 to Division II Concordia College.
Concordia drained 11 3-pointers, including four in the final 3 minutes and 40 seconds of the game, to help stun the Jaspers at Draddy Gymnasium.
Click here
to read more about the game.
Manhattan, which is rebuilding and was picked to finish ninth in the 10-team Metro Atlantic Athletic Conference, opens its regular season on the road, Saturday at 2 p.m., against New Jersey Institute of Technology.
October, 27, 2010
10/27/10
3:01
PM ET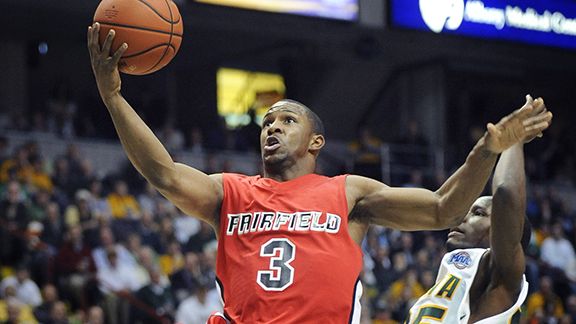 AP Photo/Tim Roskie
Derek Needham is the electrifying sophomore point guard on Fairfield, picked to win the MAAC.
The Metro Atlantic Athletic Conference held its basketball media day on Tuesday at B.B. King Blues Club & Grill in Times Square, previewing what is shaping up to be an exciting year in the MAAC Conference.
Multiple local teams should be in contention. St. Peter's was predicted to finish third in the conference's preseason coaches' poll, with Iona pegged to finish fourth.
Nearby Fairfield is the preseason favorite, with three-time defending champion Siena selected as the runner-up.
Fairfield coach
Ed Cooley
, a former Boston College assistant entering his fifth year at the helm, is very excited for the coming season -- especially after his team came excruciatingly close to making the NCAA Tournament last year, losing the MAAC championship game to Siena in overtime.
"This is my 17th year coaching, and I've never had a group in the summer carry over to the beginning of school and to now fall practice, consistently," Cooley said. "The work ethic and attitude has been 120 percent. I've never had a group with that type of carry-over as a coach. By far, the best I've had. So I don't know if that translates into wins, but it's a lot to talk about when you look at the character of our group."
Siena will be gunning for a fourth-straight MAAC championship -- but they'll be doing it with a new coach.
Fran McCaffery
, who led the Saints to the Big Dance the past three years, is now the head coach at Iowa.
Mitch Buonaguro
, McCaffery's top assistant and
a former Fairfield head coach
, takes over.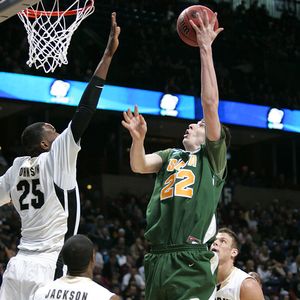 AP Photo/Rajah Bose
Ryan Rossiter -- Siena forward and preseason MAAC player of the year.

Buonaguro has a lot to live up to. It'll help that he'll have the MAAC's preseason player of the year, senior forward and Staten Island native
Ryan Rossiter
, on his side. Rossiter, 6-foot-9, averaged 13.8 points and 11.1 rebounds per game last season. The rebounding mark made him No. 7 in the country.
St. Peter's season could largely depend on the health of
Wesley Jenkins
, the 6-foot-2 senior guard who was the team's leading scorer a season ago (13.8 ppg) and was voted first-team All-MAAC this year. Jenkins partially tore his ACL last month, but is still hoping to play this season.
"We'll know in two weeks," said coach
John Dunne
. "He's gonna go back [to the doctor] for a follow-up. And he's either gonna be good to go, where he should make it back by December, or they'll have to talk about surgery."
Iona, which went 12-6 in the conference and 21-10 overall last season, should be in contention this season as well after returning all five starters. The person who didn't return is coach
Kevin Willard
, who is now at Seton Hall. Instead,
Tim Cluess
will be manning the sideline for the Gaels --
getting his first Division I coaching opportunity
after an incredibly successful career at the high school, junior college and Division II level, most recently at C.W. Post on Long Island. Cluess won 384 games and lost only 111 in his 20 seasons spent coaching at those levels (stat courtesy of Blue Ribbon College Basketball Yearbook).
"Coaching is coaching, and I've been very fortunate to coach really high-level players in high school for many years and even at C.W. Post. So as far as the talent base of coaching, it's no different," Cluess said. "I think the coaches we will go against and the programs we will go against will be very, very tough."
After those top four schools, the rest of the MAAC preseason poll went as follows: 5) Rider; 6) Loyola; 7) Canisius; 8) Niagra; 9) Manhattan; 10) Marist. (
Click here
to find previews of all 10 MAAC teams.)
Manhattan is in a rebuilding year, after losing four of its five starters from a season ago -- including
Rico Pickett
, the MAAC's leading scorer last year, at 17.7 points per game. Fifth-year head coach
Barry Rohrssen
, the former Pitt assistant who was recruited by St. John's coach
Steve Lavin
to be his top assistant during the offseason, elected to remain in Riverdale and continue trying to get the Jaspers back into the NCAA Tournament for the first time since 2004.
"We do have a lot of new guys. There's an excitement to that as well," Rohrssen said. "Competitively, sometimes you're more at an advantage when you have returning players. ... We're excited about the new players that we've brought in. It's a blank canvas for us right now, and we're looking to fill in the spots."
One more thing -- keep an eye on Fairfield guard
Derek Needham
(pictured above) and Iona guard
Scott Machado
-- both were named first-team All-MAAC, along with Rossiter, Jenkins and Siena guard
Clarence Jackson
.
It should be a very competitive season in the MAAC, a below-the-radar conference that's well worth paying attention to. In fact, the MAAC was actually ranked 15th in conference RPI a year ago, and 14th the year before that, out of 32 total conferences -- not too shabby. And six of its 10 schools are within a two-hour drive of New York City -- five of them closer than 90 minutes away.
It's not the big time, but it's quality college basketball.
October, 15, 2010
10/15/10
12:34
PM ET
Manhattan College officially announced on Friday that it has added former Alabama forward Demetrius Jemison to its roster for the upcoming season.

Jemison -- a 6-foot-8, 240-pound forward -- played in 93 games for the Crimson Tide in his first three years there, averaging 4 points and 4 rebounds per game while shooting 47.1 percent from the field. He sat out his senior year due to injury, and will have one year of eligibilty for the Jaspers as a graduate student.

Jemison's best year at Alabama was his sophomore year, when he started 32 of 33 games, and averaged 5.6 points and 5.3 rebounds per game, along with 20 blocked shots.
August, 5, 2010
8/05/10
2:50
PM ET
The brackets for several early-season college basketball tournaments were released Thursday afternoon, and Hofstra and Manhattan can both look forward to matching up against premier programs this coming November.
Hofstra will face North Carolina in the Puerto Rico Tip-Off, being held from Nov. 18-21 in San Juan. And Manhattan will take on Wisconsin in the Old Spice Classic, being held from Nov. 25-28 in Orlando.
The Hofstra-North Carolina game is on Thurs., Nov. 18 at 5 p.m. ET, and will air on ESPN2.
The Manhattan-Wisconsin game is on Thurs., Nov. 25 (Thanksgiving Day) at 2 p.m. ET, and will also air on ESPN2.
Click here
to read Andy Katz's thoughts on the early-season hoops tourneys.
May, 13, 2010
5/13/10
6:09
PM ET
Manhattan head basketball coach Barry Rohrssen announced on Thursday that he has signed one more player to his 2010-2011 recruiting class: Roberto Colonette, a 6-foot-7 forward from Queens who played last season at ASA Institute in New York City, a junior college. He averaged 12.5 points, 8.7 rebounds and 2 blocks per game last season.

Colonette will join the Jaspers next season along with first-team all-CHSAA guard Mike Alvarado from All Hallows, forward Rhamel Brown from Transit Tech, and two other JUCO players -- shooting guard Kidani Brutus, and center Robert Martina from Miami Dade -- in what looks to be a strong recruiting class.