New York Colleges:

Phil Greene IV
January, 15, 2015
Jan 15
12:58
PM ET
In case you missed it,
D'Angelo Harrison
reached a major milestone in St. John's 83-70 win over Providence on Wednesday.
Harrison (1,930 points) passed Felipe Lopez (1,927) to become the third-leading scorer in St. John's history -- rarefied air indeed.
He now trails only NBA Hall of Famer Chris Mullin (2,440) and the late Malik Sealy (2,402), who will probably remain No. 1 and No. 2. Harrison began the season at 1,601 career points, meaning he would have to score 802 points this season to pass Sealy, and 840 to pass Mullin. Harrison's career-high, in terms of points in a single season, is 576, set last year.
Also on Wednesday, Harrison was one of 25 players named to the
Wooden Award Midseason Top 25 list
. The Wooden Award is one of college basketball's player of the year awards. Harrison was the only Big East player on the list.
Fellow senior
Phil Greene IV
also reached a milestone Wednesday, becoming the 49th player in St. John's history to score 1,000 career points.
Greene now stands at 1,110, which puts him past Justin Burrell (1,006) into 48th place. Next up is Bill Wennington (1,021).
January, 16, 2014
1/16/14
10:13
PM ET
NEW YORK -- Some quick thoughts on St. John's' 84-83 loss to Providence on Thursday at Carnesecca Arena:
What it means:
This St. John's season is turning into a disaster.
The Red Storm suffered their fifth consecutive loss to begin Big East play -- and by far their most heartbreaking one -- by falling to the Friars in double overtime.
St. John's dropped to 9-8 overall, 0-5 in the conference. Providence improved to 12-5 overall, 2-2 in the conference.
The turning point:
Steve Lavin went with his ninth different starting lineup in 17 games this season.
God'sgift Achiuwa
opened the scoring with a pair of free throws, but Providence rattled off 14 straight points from there, leading to a St. John's timeout. A late 6-0 spurt by the Red Storm cut the Friars' lead to seven, 36-29, at halftime. St. John's had just one assist in the first half.
St. John's took its first lead since 2-0 at 65-63 on a
D'Angelo Harrison
trey with 3:07 remaining in regulation. In the final seconds, with the game tied at 67,
Orlando Sanchez
had an open look from the top of the key. It missed, as did
Bryce Cotton
's subsequent last-second heave. Overtime.
The Red Storm scored two quick buckets in the first OT, giving them their largest lead of the game, 71-67, but the Friars tied it back up quickly. With the game knotted at 77, after a Cotton miss from deep, St. John's could hold for the final shot. Harrison drove, lost the ball, recovered it, then missed a very tough look from the corner. Double overtime.
A layup by
Phil Greene IV
gave St. John's an 81-79 lead with 2:21 remaining in double OT. Then, in a mad scramble for the ball near midcourt, the Red Storm emerged with the ball, and Harrison raced in for another layup, making it 83-79 with 1:35 left. After Providence's
Tyler Harris
made two free throws to make it 83-82 with 25.6 seconds left, St. John's inbounded the ball to
Max Hooper
, who was tied up for a jump ball -- possession Friars. On the ensuing possession, Cotton drove and drained a runner, plus a foul, with 9.8 ticks left. Cotton missed the free throw, but then Greene drove the lane and missed a layup in traffic. That's your ballgame.
Star watch:
Six players were in double figures for St. John's, led by
Jakarr Sampson
with 16 points. Greene had 15 and Harrison 14.
Cotton scored a game-high 21 points for Providence.
Number crunch:
The Friars entered the game as the No. 1 free throw shooting team in the country at 79.7 percent. They shot 30-for-36 (83.3 percent) on Thursday. The Red Storm shot the same percentage but had significantly fewer attempts, 20-for-24.
What's next:
St. John's plays its final nonconference game of the season Saturday, hosting Dartmouth at 6 p.m. at Carnesecca Arena. It'll be the Red Storm's third game in six days. Providence hosts No. 20 Creighton on Saturday.
November, 8, 2013
11/08/13
11:00
AM ET
St. John's begins its 2013-14 season Friday night against 20th-ranked Wisconsin, in Sioux Falls, S.D. -- by far the most challenging opener in Steve Lavin's four years as coach.
That seems fitting, since this season feels like a final exam, testing whether Lavin really can turn this once-storied program around.
"If we stay injury-free and we continue to develop at the pace that this group has, I feel we'll have the opportunity to do something special come March," Lavin said at the Red Storm's media day on Oct. 10.
[+] Enlarge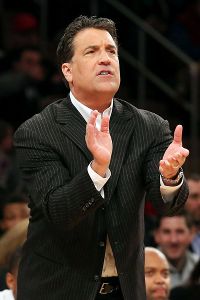 Anthony Gruppuso/USA TODAY SportsSteve Lavin needs to get the Johnnies to the Sweet 16 or he probably never will.
A return to the NCAA tournament would be nice, but that's not special enough. This team needs to make the Sweet 16. Anything less would be a disappointment.
Lavin was hired in March 2010, with St. John's having been absent from March Madness for eight consecutive years. He and his staff did an excellent job with the roster he inherited in year one, guiding the team to a 21-12 record and a return to the Big Dance.
The train went off the rails in year two. Lavin missed most of the season after being diagnosed with prostate cancer. The roster was wafer-thin and full of freshmen. Assistant coach Mike Dunlap did an admirable job under the circumstances, but the team still finished 13-19.
Thankfully Lavin made a full recovery, and St. John's made some progress in year three. The Red Storm improved to 17-16, but again missed the NCAA tournament.
We've now reached year four. The deck is full. No more excuses.
To put things in some perspective, Kentucky, the preseason top-ranked team in the country, has nine players who made ESPN's Top 100 as high school seniors. Michigan State, ranked No. 2, has eight of them.
St. John's is close behind with six -- three juniors (
D'Angelo Harrison
,
Sir'Dominic Pointer
,
Jamal Branch
), two sophomores (
Jakarr Sampson
,
Chris Obekpa
) and one freshman (
Rysheed Jordan
). That group -- along with
Orlando Sanchez
,
Phil Greene IV
,
Max Hooper
and
God'sgift Achiuwa
-- is good enough to make some serious noise over the next five months.
Harrison is one of the best perimeter scorers in the country. Sampson, at 6-foot-8, can score inside and out. Branch is an outstanding passer, and Pointer is an even better finisher. Obekpa led the nation in blocked shots as a freshman, and Jordan is the most-hyped St. John's freshman since
Felipe Lopez
.
They've got talent, they've got balance, and they've got plenty of minutes under their belt, other than Jordan. "It's time to win here," Harrison told me on Oct. 10 -- and he's right.
Wisconsin will be very tough, even on a neutral floor. But after that, St. John's plays its next 11 games in the five boroughs -- either at Carnesecca Arena, Madison Square Garden or the Barclays Center. They should win every one of them, with the exception of a game against No. 8 Syracuse at MSG on Dec. 15.
Big East play commences on New Year's Eve at Xavier, and the Red Storm -- picked to finish fifth in the conference's preseason poll -- can compete with Marquette, Georgetown and Creighton for the league title.
To be frank, barring major injuries, anything less than an NCAA tournament bid would be a disaster.
St. John's hasn't won a game in the Big Dance since 2000. It hasn't won two since 1999, when Ron Artest (now
Metta World Peace
), Marvis "Bootsy" Thornton,
Erick Barkley
& Co. advanced to the Elite Eight, losing by just three points against Ohio State with a chance to make the Final Four.
That team had three players go on to the NBA -- Artest, Barkley and
Lavor Postell
. This team could have even more. But there's no time to waste. Sampson flirted with the idea of leaving after winning Big East Rookie of the Year last season. Harrison could make the leap with another big year. And if Jordan is as good as advertised, he could be one-and-done.
Lavin has proved he can recruit elite talent to St. John's -- an accomplishment in and of itself. But now he needs to coach 'em up.
If he doesn't win -- and win big -- this season with the Red Storm, he probably never will.
October, 10, 2013
10/10/13
9:12
PM ET
St. John's held its annual preseason media day on Thursday afternoon at Carnesecca Arena -- 23 days before its first exhibition game versus San Francisco State, and 29 days before its regular-season opener against Wisconsin.
The players sounded very confident, and coach Steve Lavin was cautiously optimistic --
click here
to read my main story from the event.
Here are some other newsworthy items:

Injury roundup:
D'Angelo Harrison
is sitting out practice right now with a hamstring injury, but neither he nor Lavin sounded very concerned about it. Harrison said he expects to return to practice next week.
On the bright side, fellow junior guard
Phil Greene
said he feels 100 percent, after having surgery to repair a torn labrum in his hip in the spring. Greene played through the hip injury all of last season. And junior guard
Jamal Branch
said he feels 100 percent as well, after suffering a knee injury in February that caused him to miss four games.
When asked what returning player or players have improved the most during the offseason, Lavin immediately singled out Branch, and mentioned Greene as well.
Speaking of Lavin:
The head coach said he feels great, and he sounded fired up as he gets ready to begin his fourth season at the helm of the Red Storm.
This is a pivotal season for Lavin in his tenure at St. John's -- more on that in the coming weeks.
Where's Rysheed?
It was a little disappointing that St. John's did not make freshman
Rysheed Jordan
available to the media Thursday.
Lavin is clearly being protective of his prize freshman. "When you have a player as special as a Rysheed Jordan, who went through some tough times here, just on a personal level, with some issues his mother has faced, in terms of her health, and some other personal items -- it's a little like with your children," Lavin said. "You have a sense, you have a feel, it's instinct, like teaching and coaching, similar to managing people, you know what's best for them in a given situation. So we're just gonna wait."
"He's in a really good place with his academics, his health and his maturation," the coach added. Lavin said he plans to keep Jordan under wraps, mediawise, until around Christmas, right before conference play begins.
Mad Max?
St. John's was one of the worst 3-point shooting teams in the country last season, ranked No. 338 out of 345 Division I schools in 3-point field goals made per game (3.6).
Transfer
Max Hooper
, a 6-foot-6 sharpshooter from Carmel Valley, Calif., was brought in to change that.
Hooper barely got off the bench as a freshman at Harvard two years ago, playing just four minutes in two games. But he's confident he can make a significant impact with the Red Storm.
"I set my bar for what I want to achieve on a daily basis, and as a whole, very high," Hooper said. "But I feel like playing against guys like the roster we have here, guys who are so athletic and talented, I just have gotten so much better on a daily basis. ... I've put in a lot of work, and I'm just excited for the lights to finally be on, and ready to perform."
Encore?
Sophomore center
Chris Obekpa
led the nation in blocked shots per game as a freshman (4.03 BPG). I asked him how he was going to improve on that this year.
His answer? Win the national defensive player of the year award.
He said he's also been working hard on his offensive game, including adding a hook shot to his repertoire. We'll see how much he's improved come November.