New York Colleges:

Providence Friars
March, 13, 2013
3/13/13
2:19
PM ET
What it means:
In the first of four games at Madison Square Garden on Wednesday, No. 9 seed Cincinnati advanced to the Big East tournament quarterfinals, defeating No. 8 seed Providence, 61-44.
The Bearcats (22-10, 9-9) likely sealed an NCAA tournament at-large bid with the win. The Friars (17-14, 9-9) are almost certainly eliminated from NCAA tournament contention.
The turning point:
Cincinnati came out with great energy at both ends of the floor, and Providence couldn't buy a bucket in the early going. The Bearcats led by as many as 18 in the first half, 26-8, after back-to-back treys by
JaQuon Parker
. But the Friars closed the half on a 12-3 run to get back in the game, trailing by just eight, 31-23, at intermission.
Providence scored the first four points of the second half to close within four -- but that's as close as it would get. The Friars hung around for most of the second half, but could never get within one possession. Cincinnati finally expanded its lead to double-digits again, 49-39, on Parker's conventional three-point play with 4:15 remaining. Parker added two more free throws 20 seconds later to make it 51-39, and the Bearcats salted the game away from there.
Star watch:
Sean Kilpatrick
, the fourth-leading scorer in the Big East (17.3 ppg), hit his average, with 12 of his 17 points coming in the second half. Parker finished with 15 points and also had 10 rebounds.
Kadeem Batts
had 14 points to pace Providence.
Bryce Cotton
, the leading scorer in the conference (19.6 ppg), scored just 12, shooting 5-for-17 from the field and 0-for-7 from 3-point range.
Number crunch:
Providence didn't shoot as badly as South Florida did in the opening round Tuesday night -- but it was close. The Friars were 18-for-64 from the field (28.1 percent), and 1-for-16 from beyond the arc (6.3 percent).
What's next:
Cincinnati will play No. 1 seed Georgetown, Thursday at noon. The Bearcats lost at home to the Hoyas, 62-55, on Feb. 15.
Providence likely will receive an invitation to the NIT.
December, 27, 2011
12/27/11
11:05
PM ET
NEW YORK -- On the first night of Big East play in this 2011-12 season, St. John's made some serious noise.
The young Red Storm
blew the Providence Friars out of Carnesecca Arena, 91-67
. And in the process, freshman forward
Moe Harkless
broke a record previously held by
Allen Iverson
.
Not bad for your first Big East conference game, eh?
Harkless poured in 32 points, shooting a sparkling 14-for-17 from the field, and set the mark for most points by a freshman in his Big East debut. Iverson, the former Georgetown phenom and 11-time NBA All-Star, previously held the record with 30 points, sharing it with former Notre Dame standout
Troy Murphy
.
"I don't even know what to say about that," said a stunned Harkless, who was unaware he had broken the record until reporters informed him after the game. "It's an honor to be even mentioned with those guys."
The performance by St. John's overall was stunning as well. The Red Storm (7-5, 1-0 Big East) came in off back-to-back wins, but had to rally late to overcome lowly Texas Pan-American in their previous outing on Dec. 21.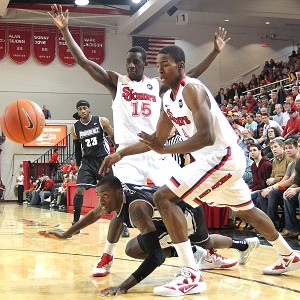 Anthony Gruppuso/US PresswireMoe Harkless set the mark for most points by a freshman in his Big East debut.
Assistant coach
Mike Dunlap
, who continues to run the team in place of the recuperating
Steve Lavin
, said the team actually got a big lift from that tight 66-61 victory four days before Christmas.
"To get [the win] in the last minute, we saw a little bit of a change off that game," Dunlap said. "Where they had a little bit of swagger to them."
The Red Storm looked like a completely different team on Tuesday night -- confident, yet under control, at both ends of the floor. Providence came in having won seven straight, 11-2 overall, but St. John's dominated the Friars from start to finish. The Red Storm led 47-31 at the half, and never by less than 12 after that, eventually pushing the lead to as many as 26.
St. John's shot 35-for-62 from the field (56.5 percent), forced 20 Providence turnovers and gave the ball away just nine times themselves.
"Obviously [I'm] happy that these guys, the young guys, could learn that if they play a certain way they could get a Big East win," Dunlap said. "Two is, what's significant is we were able to score that many points. And three is, we were able to play a team that came in pretty hot and has played some good people."
Providence coach
Ed Cooley
was not exactly thrilled with his club after the game, to no one's surprise. "Credit St. John's, they did a great job. Very long, very athletic," Cooley said. "[But] our kids were just pathetic today, in every imaginable way.
"That was the worst defensive game I have ever coached," he said. "That will be addressed tomorrow morning, at 6 a.m. -- emphatically addressed."
Individually, freshman shooting guard
D'Angelo Harrison
also had an outstanding game for St. John's, with 25 points (8-for-12 shooting), seven assists and zero turnovers in 39 minutes. But it was overshadowed by Harkless' historic performance.
And the 6-foot-8 forward did more than just score. Harkless also had 13 rebounds, four assists, four steals and a pair of blocked shots.
Harkless was the most heralded of all the new players St. John's brought in this season, ranked the 39th-best high school senior in the country last year by ESPN. And he had scored in double figures in nine of the team's first 11 games. But this was, without question, his coming-out party. And he did it in front of a sellout crowd of 5,602 at Carnesecca Arena.
"Not only does he have a skill set, but as you're watching, he's pleasing to the eye because he does things effortlessly," Dunlap said of Harkless. "Sometimes you get after him for not going hard enough, but actually his one step is three of mine or four of mine.
"The one thing with Moe that we're trying to teach him is, if he'll put in at a higher rate on his effort level, he'll do things like he did tonight."
"He's definitely a face of the Big East," Cooley said. "He's a player who'll go down as one of the better players to come out [of the league]."
Last Dec. 29, a St. John's team that had lost to St. Bonaventure and Fordham earlier in the month opened Big East play with a surprising win at West Virginia, 81-71. Dunlap has cited that game as a major turning point -- a win that inspired that team to believe it could accomplish big things.
This victory over Providence could prove to be a season-changer, too. Or it could just be a particularly bright spot for this team of five freshmen and two juniors that is likely to experience some serious ups and downs.
Only time will tell.
Harkless, for one, is thinking positively. "It was just a matter of time for everything to click," he said of his team. "I think we can still get a lot better."
December, 27, 2011
12/27/11
1:36
PM ET
Here are three things to watch for when St. John's (6-5) takes on Providence (11-2) on Tuesday night at Carnesecca Arena.
Tip-off is at 7 p.m., and the game will air locally on MSG. You can also watch the game
via ESPN3
.
THE SECOND SEASON:
This will be the Big East opener for both teams -- in fact, this is the very first night of Big East conference play, with one other game also on the slate (Pittsburgh at Notre Dame).
St. John's had an up-and-down 11-game stretch to start the season, but the Red Storm have won two straight heading into this matchup. The six first-year players in the seven-man rotation will get their first taste of Big East action on Tuesday night.
"Things are coming along," said freshman point guard
Phil Greene
on Monday. "We've been having long, tough practices so we can be ready and be prepared for the Big East. We know it's going to be a challenge, but we're up to the challenge."
SECOND IMPRESSION:
St. John's fans will get their second look at freshman
Amir Garrett
on Tuesday night. The 6-foot-6 swingman only became officially eligible on Dec. 21, just hours before the Red Storm's 66-61 win over Texas-Pan American. Garrett played 15 minutes in that game, despite not even being able to participate in a team practice yet, and contributed three points and two rebounds. (
Click here
for my story on Garrett's debut.)
We should get a little better sense of what Garrett can provide this team in this game, now that he has some practices under his belt. He said Monday that he is feeling more comfortable, particularly at the offensive end of the floor. "I'm coming along pretty quickly," Garrett said. "I think two or three weeks and I'll be where I need to be."
THE OPPONENT:
Providence is off to an impressive start under new coach
Ed Cooley
, a Providence, R.I. native who came over from Fairfield during the offseason. The Friars were picked to finish second-to-last in the Big East in the conference's preseason media poll, but look capable of exceeding expectations. They've won seven straight games since back-to-back losses to Iowa State and Northern Iowa in the South Padre Island Invitational in late November.
To be fair, Providence has played a pretty weak schedule so far, while St. John's has played three ranked opponents, including at Kentucky. (
Click here
for Andy Katz's story on Providence's hot start.)
Four Friars score at least 13 points per game, led by 6-foot-2 junior point guard
Vincent Council
, who is averaging 16.9 points and 6.9 assists per game. Six-foot-four sophomore
Gerard Coleman
(15.8 ppg, 6 rpg), 6-foot-1 sophomore
Bryce Cotton
(15.7 ppg) and 6-foot-6 freshman
LaDonate Henton
(13.1 ppg, 8.8 rpg) are the other key contributors.
One thing Cooley has brought to the program is a renewed emphasis on defense. Last season, Providence was dead-last in the Big East, giving up 79.9 points per game. This season the Friars are allowing just 62.9 points per game so far.
March, 8, 2011
3/08/11
11:42
PM ET
NEW YORK -- A quick take on Marquette's 87-66 win over Providence on Tuesday night at Madison Square Garden.

WHAT IT MEANS: Marquette, the No. 11 seed, advances to the second round of the Big East tournament by knocking off No. 14 seed Providence. The Golden Eagles (19-13, 9-9) likely locked up a bid to the NCAA tournament with this victory. It's the fifth year in a row Marquette has won at least one game in the Big East tourney.

The Friars (15-17, 4-14) are eliminated from the tournament.

THE SKINNY: You can't get off to a much better start than Marquette did in this game, scoring the first 17 points of the contest, as it took Providence over five and a half minutes to get on the board. The Golden Eagles led by as many as 24, 41-17, but the Friars fought back to cut the deficit to 13 at intermission, 46-33.

Early in the second half, Providence closed it to within seven, 50-43, and had a possession to cut it to five (or four). But that was as close as it got. Marquette quickly pushed the lead back into double digits, and except for one brief dip to nine, it remained there the rest of the way.

STAR WATCH: Marshon Brooks -- the second-leading scorer in the country (24.8 ppg) -- had 20 points, on 7-for-18 shooting from the field for Providence. Brooks set the Big East single-season scoring record this year (468 points in 18 conference games), but this was certainly not his best night.

Marquette's dynamic scoring duo of Jimmy Butler (16.2 ppg) and Darius Johnson-Odom (15.9 ppg) performed well -- Johnson-Odom had 23 points, and Butler added 19.

NUMBER CRUNCH: Providence did make 13 3-pointers in this game, of 30 attempts -- 43.3 percent shooting from beyond the arc is pretty darn good.

What's not good is what the Friars shot from inside the arc -- a woeful 11-for-38 (28.9 percent). Ouch.

WHAT'S NEXT: Marquette will take on No. 6 seed West Virginia on Wednesday night at approximately 9:30 p.m. Providence will head back to Rhode Island, its season over.
January, 2, 2011
1/02/11
2:47
PM ET
I had a family function last night, so could not watch the St. John's-Providence game live. Just got done watching the tape:

WHAT IT MEANS: St. John's wins it fourth game in a row and improves to 9-3 on the season. More importantly, the Red Storm are now 2-0 in Big East play for the first time since the 1999-2000 season. And both of those wins came on the road -- a tremendous start in conference play.

Providence drops to 11-4 on the season, and 0-2 in Big East play.

DON'T FORGET PARIS: Paris Horne faced a difficult transition at the beginning of this season. The senior guard started 32 of St. John's 33 games last season, but new coach Steve Lavin elected to demote Horne to the second unit -- surely a tough pill to swallow, although he handled it well when speaking to the media earlier in the season.

Horne only played 16 minutes on Saturday night, but he was the Red Storm's MVP, because of two critical plays he made on back-to-back possessions late. With the game tied at 62 and exactly one minute remaining, St. John's had the ball, looking to take the lead. With four seconds remaining on the shot clock, Horne -- who had only taken two shots in the game -- received a kick-out pass from Justin Brownlee and drained a 3-pointer from the left corner to give St. John's a 65-62 lead.

Then, on the ensuing possession, with Providence's Marshon Brooks penetrating into the lane, Horne stepped in on help defense and took a charge on Brooks, giving the Red Storm the ball back and putting them in the driver's seat. What an outstanding job by Horne, being ready when called upon in critical situations late in the game.

"Paris is always in the gym early and stays late, he works hard on those perimeter drills. He deserves it," Lavin said after the game. "In terms of basketball karma, if someone has earned the right to make that shot, it's Paris Horne."

BEST SUPPORTING ACTORS: Dwight Hardy had yet another excellent game, playing all 40 minutes and scoring 21 points on 8-for-13 shooting from the field. After a slow start, Hardy has now scored 20-plus points in five of his past six games.

Also, Brownlee had 14 points (7-for-13 shooting), Justin Burrell had 13 (third straight game in double figures), and Dwayne Polee had six points and seven rebounds.

St. John's continued its fine shooting from the field as a team, making 29 of its 55 shots from the floor, a 52.7 percent clip.

LINGERING ISSUE: Starting point guard Malik Boothe, who has been bothered by a sore hamstring the past few weeks, played only seven minutes Saturday night -- all in the first half. Boothe has 39 assists and only 13 turnovers this season -- a 3:1 assist-to-turnover ratio, which is outstanding. But Hardy looked fine handling the point -- he still found open looks for himself, and committed just two turnovers in 40 minutes.

WHAT'S NEXT: St. John's will play a huge game on Monday night at the Garden, against No. 9 Georgetown on Big Monday on ESPN at 7 p.m. -- ESPNNewYork.com will be there.

Providence will host No. 6 Pittsburgh on Tuesday.
January, 1, 2011
1/01/11
6:08
PM ET
St. John's will play its second conference game of the season, and its first game of 2011, at Providence on Saturday night at the Dunkin' Donuts Center.
Tip-off is scheduled for 7 p.m. ET, and the game will be available
on ESPN3.com
. The game will also air locally on SNY.
St. John's (8-3) is coming off an impressive 81-71 win at West Virginia on Wednesday night. The Red Storm have shot 60.2 percent from the field in their past two games (the other being a 85-69 home win over previously unbeaten Northwestern). St. John's is now ranked No. 43 in the country, shooting 47.4 percent from the field as a team.
Providence, predicted to finish dead-last in the 16-team Big East prior to the season by Blue Ribbon, is 11-3 thus far. The Friars lost their first Big East game of the season at Syracuse, but they hung tough before falling 81-74 on Tuesday. Their other two losses were by two at Boston College, and by 11 versus LaSalle. They've beaten Rhode Island (by 13) and Alabama (by 12).
The Friars are led by 6-foot-5 senior swingman
Marshon Brooks
, who is averaging 23.4 points and 8.7 rebounds per game. Brooks has scored at least 25 points in each of their past eight games.
Providence is very young, with a roster loaded with freshmen and sophomore, and likes to go up and down -- it's averaging 80.7 points per game as a team, ranking them 18th in the country. Other players to watch include 6-foot-2 sophomore point guard
Vincent Council
, a Brooklyn native, who is averaging 15.6 points and 6.9 assists per game; also, 6-foot-8 sophomore forward
Bilal Dixon
, from Jersey City, is averaging 7.2 points, 9.2 rebounds and 2.6 blocks per contest.