New York Colleges:

Russ Smith
March, 17, 2013
3/17/13
1:44
AM ET
NEW YORK -- When the final horn sounded -- when the comeback was complete, when the championship was secured --
Russ Smith
made a beeline for the TV camera, wagging his right index finger in front of his face.
New Yorkers like the spotlight, and Smith is no exception.
The spotlight couldn't have been brighter at Madison Square Garden this week, particularly Saturday night, as we all said goodbye to the Big East conference as we know it.
It was only fitting that two New York City kids were among the brightest stars on the stage.
Smith had scored a combined 48 points in Louisville's quarterfinal and semifinal victories over Villanova and Notre Dame, respectively.
[+] Enlarge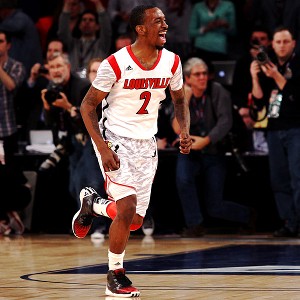 Chris Chambers/Getty ImagesRuss Smith scored 10 points on 2-of-8 shooting but left with a second straight tourney title.
James Southerland
had poured in 53 in the three wins that landed Syracuse in the championship game.
An undersized two-guard from Brooklyn and an oversized three-man from Queens, Smith and Southerland figured to play prominent roles in the tournament finale.
And they did.
Southerland struck first -- and made history in the process. The 6-foot-8 senior with the smooth stroke from the perimeter drained his first 3-point attempt of the game, less than three minutes in, giving Syracuse an early 6-0 lead.
It was Southerland's 17th 3-ball of the week, breaking the record held by former Syracuse guard and current assistant coach Gerry McNamara, as well as former Connecticut guard Albert Mouring.
Southerland hit another one from deep before halftime, and his third triple of the game gave Syracuse its largest lead, 45-29, with 15:51 remaining. He appeared to be on his way to garnering tournament MVP honors.
Seventeen seconds later, he headed to the bench with his fourth foul, and everything changed.
Smith, on the other hand, was practically invisible in the first half. The 6-foot dynamo shot 0-for-4 from the field, collecting just two points from the foul line. But you figured he'd find a way to get involved in the second half.
It didn't take long. He connected on his first attempt after intermission, from beyond the arc. And when Louisville scored 10 consecutive points following Southerland's fourth foul, Smith was involved as well, canning another trey.
The Cardinals eventually surged to the lead, thanks to their smothering full-court pressure. The Orange wilted, at both handling the ball and shooting free throws. The game, shockingly, turned into a rout in Louisville's favor.
Smith, who finished with 10 points, 3 assists and 3 rebounds, was emotional after the game. He has been playing all week in honor of former high school coach, the legendary Jack Curran, who passed away days earlier at age 82.
"It's been just a roller-coaster ride. Especially since the loss of a guy like that, it's had a tremendous effect on me," Smith said. "But wining this tournament cured a lot of the sadness I had, and I'm playing in his name."
Southerland, who finished with nine points and eight rebounds, lamented what might have been.
[+] Enlarge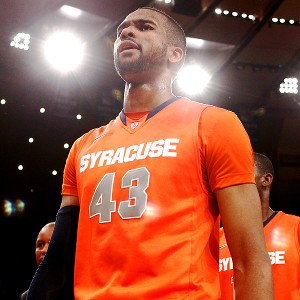 Chris Chambers/Getty ImagesJames Southerland had 9 points and 8 rebounds but also 4 turnovers in Syracuse's defeat.
"I just feel like we kind of made it -- we didn't make some smart plays at the end," Southerland said. "We didn't take advantage of our lead and move the ball around like we should have."
Louisville coach Rick Pitino was thrilled for Smith, and the rest of his team.
"I'm really excited for them that they can be part of basketball history," Pitino said. "I'm really happy that the basketball history took place at Madison Square Garden. And I'm really excited we could do it in (Big East founder) Dave Gavitt's memory, and now Jack Curran's for Russ Smith. It meant a lot for Russ to play well, and he certainly did."
This was the 34th Big East tournament, and the 31st played at Madison Square Garden. There will be a Big East, and a Big East tournament, next season -- but we all know it'll never be quite the same.
St. John's, the city's team, won the first Big East tourney played at the Garden, back in 1983. But the Red Storm haven't played in the championship game since 2000, and were eliminated from this tournament on the first full day.
Someone had to step up to represent the five boroughs.
In the end, two did the job.
The 2013 Big East tournament will be remembered for the classic Syracuse-Georgetown semifinal, and the stunning Louisville comeback in the title game.
But this New Yorker, raised on Big East basketball, will also never forget James Southerland and Russ Smith.
They might not be superstars. Far greater players have played on this stage.
But they were the final act. And they did their hometown proud.
March, 16, 2013
3/16/13
12:01
AM ET
NEW YORK -- A quick look at the
Louisville Cardinals
'
69-57 victory
over the
Notre Dame Fighting Irish
to advance to the Big East tournament finals.


What it means:
Louisville is one victory away from winning the Big East tournament for the second year in a row. Notre Dame was eliminated in the semifinals for the fourth consecutive year.
The No. 4-ranked Cardinals (28-5) have now won nine straight games since losing to the Fighting Irish in that five-overtime classic back on Feb. 9. If Louisville wins Saturday, it almost certainly will be a No. 1 seed in the NCAA tournament.
Notre Dame (25-9), ranked No. 24, heads home disappointed, but helped its cause by upsetting No. 12 Marquette in the quarterfinals Thursday. The Fighting Irish were projected to receive a No. 6 seed in the Big Dance in the latest edition of ESPN.com's Bracketology.
This was also Notre Dame's final game as a member of the Big East. The Fighting Irish will play in the ACC next season. Louisville will join them the following season.
The turning point:
Peyton Siva
nailed a 3-pointer on the very first possession of the game, Louisville went ahead by as many as seven, and led almost the entire first half. Notre Dame briefly tied the game at 22, on a
Garrick Sherman
bucket with 6:03 remaining. But the Cardinals outscored the Fighting Irish 10-3 the rest of the way.
Luke Hancock
drilled a trey from the corner before the buzzer, giving Louisville a 32-25 halftime lead.
Notre Dame drew within three points on three separate occasions early in the second half. And trailing 45-41 with 6:58 remaining,
Eric Atkins
missed the front end of a 1-and-1, with a chance to cut the lead to two. The Fighting Irish drew no closer. The dagger was another Hancock 3-pointer with 4:09 left, pushing the lead to double digits for the first time, 55-44. Louisville put the game away from there.
Star watch:
Russ Smith
, who had 28 points in Louisville's quarterfinal win over Villanova, scored 20 more on Friday to lead the Cardinals. Siva added 12, and he also had 6 assists and 7 steals.
Gorgui Dieng
had 8 points, 12 rebound and 4 blocked shots.
Jack Cooley
and
Jerian Grant
scored 14 points apiece for Notre Dame.
Number crunch:
Notre Dame committed 16 turnovers -- nine fewer than Villanova committed against Louisville on Thursday. But the Fighting Irish shot just 36.5 percent from the field (19-for-52), while Louisville shot 45.5 percent (25-for-55). It's the sixth consecutive contest the Cardinals have held their opponent under 40 percent. Louisville, arguably the best defensive team in the country, is on top of its game.
What's next:
The Cardinals, the No. 2 seed in this tournament, will play No. 5 seed Syracuse in the title game. Tip-off is at 8:30 p.m. on Saturday.
The Fighting Irish head back to South Bend and start preparing for the Big Dance.
March, 15, 2013
3/15/13
12:05
AM ET
NEW YORK -- The Big Apple didn't get to see its hometown team play in the Big East quarterfinals Thursday night.
Louisville versus Villanova was a pretty darn good consolation prize.
No, the game wasn't a nailbiter. In fact, it was all but over midway through the second half. But a packed house at Madison Square Garden got to watch a national championship contender at the absolute peak of its powers.
Villanova, which took out St. John's 24 hours earlier to earn a spot in the quarters and had beaten Louisville in late January, was no match for Rick Pitino's club this night, falling
74-55
.
[+] Enlarge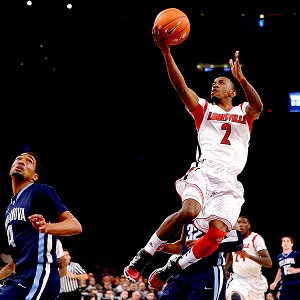 Al Bello/Getty ImagesLouisville's Russ Smith scored 21 of his 28 points against Villanova after halftime.
"We lost last time around for three reasons," Pitino said. "We missed free throws, didn't guard the 3-point line, and didn't cause enough havoc. Tonight we did all three."
"Havoc" doesn't nearly do it justice. Louisville led by only nine at the half, 30-21, but it felt like a lot more. That's what happens when you watch a team commit 18 turnovers in just 20 minutes.
"I think we were just very intense," Pitino said. "We were really quick. We're fast."
Villanova committed only seven more turnovers in the second half. But the Cardinals stepped it up at the other end. After shooting just 35.7 percent (10-for-28) before the break, the Cardinals made 54.2 percent (13-for-24) in the second half -- led by senior guard
Russ Smith
, who poured in 21 of his game-high 28 points after intermission.
"Their guards completely dominated the game," Villanova coach Jay Wright said. "The game was allowed to be played very physical. It was very fair. We just did not respond to the physical play. That's what happens -- you turn the ball over like that."
Smith, a native of Brooklyn, N.Y., dedicated his performance to his former high school coach at Archbishop Molloy, the legendary Jack Curran, whose death at the age of 82 was announced earlier in the day.
Smith admitted shedding tears when he heard the news. "It was almost heartbreaking to think about it," Smith said. "I just wanted to win and do anything I could to win."
Pitino, whose team was already second in the country in steals per game, loved the forced turnover total. But he loved another stat even more: 58 defensive deflections, according to Louisville's calculations. That's the most a Pitino-coached team has ever collected in a single game, even during his stints in the NBA.
"It was an incredible thing to witness," Pitino said.
Last March, Louisville arrived in New York in a slump, losing four of six to end the regular season. But they ended up winning this tournament as the No. 7 seed, and going all the way to the Final Four.
This year, the Cardinals got a head-start. They've now won eight games in a row, a streak that began in mid-February.
Villanova had probably already done enough to sneak into the NCAA tournament field as an at-large. But Louisville is shooting for a No. 1 seed.
"This team could win a national championship," Wright said, of Louisville.
So if New Yorkers are looking for a team to root for in the Big Dance next week -- besides Cinderellas Iona and LIU Brooklyn -- Louisville is a prime candidate.
After all, Pitino is a New York City native and one-time coach of the Knicks. And Smith, a first-team All-Big East performer, is certainly doing his hometown proud.
But as for the rest of the country? Beware.
The Cardinals are picking up some serious steam. You don't want to see them on your side of the bracket.
March, 14, 2013
3/14/13
9:28
PM ET
NEW YORK - A quick look at Louisville's
74-55 victory
Thursday over Villanova in the quarterfinals of the Big East tournament at Madison Square Garden:


What it means:
Louisville is heating up at the right time, and moving closer to securing a No. 1 seed in the NCAA tournament. Villanova exits in the quarterfinals, but should hear its name called on Selection Sunday nonetheless.
The No. 4-ranked Cardinals (27-5) have now won eight games in a row; the defending Big East tournament champs advance to the semifinals.
The Wildcats (20-13) still had a productive trip to New York, picking up their 20th victory of the season against St. John's in the second round. And Villanova's three wins against top-five opponents this season -- Georgetown, Syracuse and Louisville -- should put the Cats over the hump with the selection committee.
The turning point:
Villanova took an early 4-0 lead, but Louisville answered with a 15-2 run to take control of the game. The Wildcats closed the gap to 22-19 with 3:35 remaining in the half, on a
Tony Chennault
jumper. The Cardinals responded with eight consecutive points, including 3-pointers by
Russ Smith
and
Peyton Siva
, to take their largest lead to that point, 30-19. Louisville was up 30-21 at intermission.
The margin was still nine (36-27) when Louisville went on a 10-1 spurt to go up 46-28 with 12:36 to play. Smith scored eight of those 10 points, including two more 3-pointers. Yet another Smith triple pushed the lead to 20, 51-31, two minutes later, and the rout was on.
Star watch:
Smith, the second-leading scorer in the Big East this season (17.9 points per game), scored a game-high 28 -- 21 in the second half. Smith shot 7-for-12 from the field, 4-for-6 from beyond the arc and 10-for-11 from the foul line.
Luke Hancock
chipped in 12 points off the bench, and Siva added 10.
JayVaughn Pinkston
scored 21 points to lead Villanova.
Mouphtaou Yarou
had 13 points and 11 rebounds.
Number crunch:
Villanova committed 25 turnovers -- with 18 coming in the first half. Not a huge surprise, though, when you consider that the Cardinals were second in the nation in steals per game (10.7) and the Wildcats were 318th in Division I (out of 347) in turnovers per game (15.4).
Also, Louisville shot 10-for-24 from downtown in the game (41.7 percent). Villanova was just 2-for-12 (16.7 percent).
What's next:
Louisville, the No. 2 seed, will play No. 6 Notre Dame on Friday night at approximately 9:30 p.m.
Villanova heads home and starts prepping for the Big Dance.
March, 29, 2012
3/29/12
5:27
PM ET
By
Christopher Hunt
| ESPNNewYork.com
Louisville guard
Russ Smith Jr.
, a Brooklyn native, will play the biggest game of his career on Saturday night, a Final Four matchup with top-ranked Kentucky that has consumed the Bluegrass State.
Louisville is David to Kentucky's Goliath in this game in New Orleans, with a berth in the championship game at stake.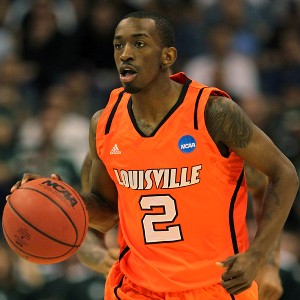 Jamie Squire/Getty ImagesRuss Smith Jr.
Smith, who starred at Archbishop Molloy in Queens, understands the enormity of the moment -- not that he's paying any attention to it.
"Pressure doesn't really bother me," he said. "I look at every game the same way."
If the Cardinals have any chance at chopping down Kentucky, they will need a strong contribution from Smith, a 6-0, 160-pound, score-first player that coach
Rick Pitino
nicknamed "Russ-diculous."
The nicknames have grown on campus, including the "Russeller," "Russell-mania" and, of course, "Russ-sanity."
The sophomore guard is averaging 13.3 points during the tournament and dropped 30 when Louisville lost 69-62 to Kentucky in late December. But it's Smith's propensity to freelance, take risks and maybe have a little too much fun that has made him both sensational and given Pitino headaches, causing the coach to say that Smith is "from a different planet."
When Louisville beat New Mexico to make the Sweet 16, you could see Smith making bunny ears behind Pitino's head during a postgame television interview. Reports have recounted one practice where Smith gave himself props for a pass during a scrimmage, screaming, "Great pass, Russ!"
Florida coach Billy Donovan called Smith's play "crazy" after he scored 19 points to lead Louisville to a comeback win and its first trip to the Final Four since 2005. Smith, known as a scorer, ran the offense for the final four minutes after starting point guard
Peyton Siva
fouled out. Smith relished that moment.
"It was definitely something that everyone kind of dreams of: starting guard is out or fouled out, there's four minutes left and you have to handle all the ball-handling duties. That's the perfect position," Smith said. "That's the position that you wouldn't give anything up for and I'm just really glad I got that opportunity."
Smith would call his father after games last season when, as a freshman, he was stuck to the bench, battling an array of injuries ranging from a broken right foot to two concussions.
He played in 17 games in his freshman season and averaged 5.6 minutes. Smith was used to playing most of game and carrying an offense his entire career.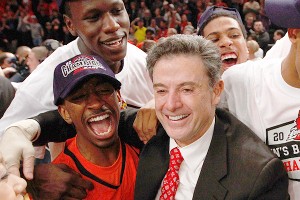 Debby Wong/US PresswireSmith and Pitino used their Big East tournament title as a springboard into a Final Four run.
"It definitely sucked," Smith said. "I don't have a better word for it. It sucked."
Russ Smith Sr. said that his son, despite his reserved off-the-court demeanor, relishes opportunities to shine when the lights are the brightest. Like when he sunk two free throws with 17.8 left to give his team a 71-68 lead over Florida last week, just seconds after he nearly blew the game by getting caught up in the air and passing to the Gators'
Bradley Beal
.
That's who Russ Smith, Jr. is: high risk, high reward.
"It was very difficult to get upset at Russ for any length of time because every time he did something wrong, he came back at you with a big grin on him," said legendary coach
Jack Curran
, who let Russell-mania run wild at Molloy. Curran compared Smith to fellow Molloy alum
Kenny Anderson
because of his ability to beat defenders off the dribble. But Curran had seen few scorers like Smith, for better or worse.
It worked perfectly for Pitino, another New York product who Curran once coached at one of his basketball camps in Queens. Curran said the union between Pitino and Smith is perfect because Pitino was a feisty guard, too. But he is also a perfectionist, something that Smith, at least for now, is not.
"It's like being in a marriage," said Smith Sr. "There's ups and downs, and at the end of the day you're going to love each other. There's no disrespect whatsoever, only confusion."