New York Colleges:

Savon Huggins
November, 6, 2011
11/06/11
2:53
AM ET
Rutgers freshman running back Savon Huggins suffered an injury to his right leg in the second quarter of Saturday night's 20-17 overtime win over South Florida, and it could be serious.

Huggins was able to walk off the field, but did not return.

"Yeah, I'm worried about Savon," Rutgers coach Greg Schiano said after the game. "I don't know factually now, but we'll have to get tests done. I'm more than concerned."

Huggins is arguably the biggest recruit in Rutgers football history -- he was rated the 28th-best player in the country in his high school class, and the fourth-best running back, by ESPN. Coming into Saturday's game, Huggins had 54 carries for 143 yards and five touchdowns on the season.
September, 19, 2011
9/19/11
12:50
PM ET
Don't expect Rutgers running back De'Antwan Williams to return to the Scarlet Knights this season. Coach Greg Schiano said Monday that he thinks Williams to transfer to another school.

"I think he's going to find another place," Schiano said in his weekly news conference. "I'm not 100 percent sure. I think that's where it's headed. We've kind of moved on. I spoke to him before he went home for the weekend and I haven't seen him since."

Williams, a 5-foot-8, 193-pound junior from Woodbridge, Va., started at running back in the team's first two games of the season, rushing for 59 yards on 20 carries. But he was demoted on the depth chart last week during the team's bye week, and subsequently left the squad.

Rutgers is very deep at running back, including super-recruit Savon Huggins, who was ranked the fourth-best running back in the country in his high school class by ESPN.

Schiano did not confirm who will start at running back on Saturday against Ohio (2 p.m on ESPN3.com), but he did say that he expects Huggins to have a bigger workload. So far this season, Huggins has carried the ball 17 times for just 32 yards, but two touchdowns.

As for his decision to makes changes at running back, Schiano said, "You just look at what we've been doing, and the upside … you have to make some calculated decisions on upside and who will get better as the season goes on."
September, 9, 2011
9/09/11
4:05
PM ET
One of the big questions for Rutgers heading into the season was who would shoulder the load at running back. After the first game against NC Central, there is no real answer.
The Scarlet Knights played their four top backs in the opener.
De'Antwan Williams
got the start ahead of freshman
Savon Huggins
.
Jawan Jamison
and
Jeremy Deering
, who were slowed during camp because of injuries, also played. Coach Greg Schiano knows he will have to pare down that rotation heading into their big game Saturday at North Carolina.
[+] Enlarge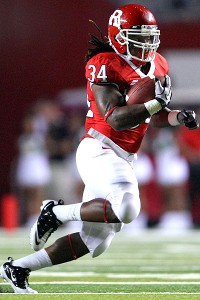 Alan Maglaque/US PresswireDe'Antwan Williams rushed for 44 yards on 11 carries in Rutgers' season-opening win.
But he is not revealing just how he will do that. The answer is not much clearer on the depth chart, either, as Williams and Huggins are listed as potential starters. But Williams has been getting the reps with the first team.
"The goal was to get them all opportunities and see how it played out," Schiano said. "They all had good training camps. Two of the guys were hampered by injuries so they didn't get as many opportunities. We have to hone in and tighten up a little bit."
There were a few nice runs in the opener, but Rutgers did not establish consistency in the run game, averaging just 3.3 yards a carry. The longest run of the day belonged to Jamison -- a 14-yarder. He ended with 17 carries for 54 yards. Williams had 11 carries for 44 yards, while Huggins had 10 carries for 32 yards and two touchdowns. Deering, coming off a head injury, ended with 9 yards on two carries.
"Jeremy is one of those guys that's a holdyourbreath guy, too, when he touches it, as good as we have seen," Schiano said. "He can go the distance. So hopefully we'll try to get him a new more touches.
"In watching the tape, De'Antwan, he ran very good, very well. Savon did some good things. They all did."
For Williams, getting the starting nod for the first time in his career was hugely important. He had been an afterthought the first two seasons of his career, rushing for a total of 346 yards. But he came on strong with an impressive fall camp, which allowed him to hold off the more highly touted Huggins, at least for now.
"Getting the start makes me believe and shows I put in all the hard work and it finally paid off, " Williams said in a phone interview. "I felt like if I sat here and I gave it all I could give, I couldn't be wrong. So I gave it my all and did everything in my power to do what I could do to get the starting job."
The Rutgers running back situation has been in flux for the past several years now. Many have high expectations for Huggins, one of the most highly touted players to ever choose Rutgers. He showed flashes during fall camp as well, but has gone through the freshman learning curve.
Deering, a converted wide receiver, missed 18 straight practices during preseason camp with a concussion, but is completely healthy now and waiting on his chance to make an impression.
"I don't like sitting out and that kind of stuff," Deering said. "For a while, I wasn't in the competition and was just focused on being back. Now I'm feeling good, taking it day by day, working hard to do the best I can do."
The Rutgers offensive line faces a formidable challenge up front. North Carolina has a veteran defensive line, with three starters returning from last season. That includes defensive end Quinton Coples, projected as one of the top players available for the 2012 NFL draft. Being able to establish the run early certainly will make things much easier.
Whether Rutgers relies on a few of its backs or all four remains to be seen.
September, 2, 2011
9/02/11
12:36
AM ET


Savon Huggins is taking this whole college football thing in stride.

Huggins looked calm, cool and collected, clutching a Snickers bar in his right hand as he waited for reporters to descend upon him following Rutgers' 48-0 win over North Carolina Central on Thursday night.

The freshman running back had just scored two touchdowns in his very first college game, but he didn't seem all that impressed with himself. When asked whether he felt any nerves before the game, Huggins said, "Not really."

"I didn't think about it," Huggins added. "I just went out there and played and had fun doing it. And all that hard work in camp I guess prepped me for now, so I really wasn't nervous, and the game seemed slow to me."

Perhaps part of the reason for Huggins' nonchalance was the fact that he scored 35 touchdowns in his senior year of high school alone. The 6-foot, 200-pound tailback from St. Peter's Prep in Jersey City is arguably the most talented recruit in Rutgers history -- the fourth-best running back and 28th-best player in the entire country in his high school class, according to ESPNU's rankings.

Or maybe it's because he is just that focused. After Huggins carried the ball for the very first time as a Scarlet Knight, the crowd of 40,061 at High Point Solutions Stadium cheered when his name was announced, even though it was just a three-yard gain -- yet Huggins said he didn't even notice.

His new coach was impressed with Huggins' inaugural collegiate performance, though.

"Pretty good I think," Greg Schiano said. "It was really good to see Savon, how much burst he looked like he had. The lights were on, he was flying around. Now we gotta get his pads lower, we gotta do a lot of things that we do with our running backs. But you see he's got some pop."

He certainly does. But Huggins was not just handed the starting running back job -- in fact, he didn't enter the game until Rutgers' third offensive series. But once he did, Schiano and offensive coordinator Frank Cignetti called his number four straight times. Then, after an interruption of one passing play, they handed Huggins the ball three more times consecutively. And on carry No. 7, he crossed the plane for a one-yard touchdown.

On Rutgers' very next possession, Huggins tacked on the second touchdown of his Scarlet Knights career, from seven yards out. In the process, he became the first Rutgers freshman to score two touchdowns in his very first game since fellow running back Terrell Willis -- who is second on Rutgers' all-time rushing list (behind only Ray Rice).

Huggins finished the night with modest numbers, besides the pair of scores -- 10 carries for 32 yards -- as Rutgers gave four running backs a chance to carry the ball. But you can expect Huggins to get more and more carries as his freshman season continues.

Why? Well, just listen to the man himself.

"The more carries I get, the better I get," Huggins said. "I just keep wearing defenses down, wearing defenses down."

Is Huggins destined for greatness? It's obviously too soon to tell. But the way he handled himself Thursday night, on and off the field, you're inclined to believe him.