New York Colleges:

South Florida Bulls
March, 13, 2013
3/13/13
12:48
AM ET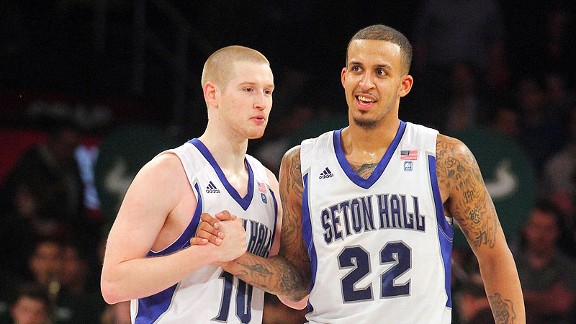 Brad Penner/USA TODAY SportsSeton Hall advances to face No. 5 Syracuse on Wednesday in the Big East tournament.
Seton Hall and South Florida played one of the ugliest basketball games you'll ever see Tuesday night at Madison Square Garden.
The two teams combined for just 88 points -- the second-lowest scoring game in Big East tournament history.
But Seton Hall coach Kevin Willard and his Pirates were delighted with their 46-42 overtime victory.
"These guys have battled all year long," Willard said. "All year long, they gave great effort. Offensively, we were struggling a little bit, but I was proud the way they gave themselves opportunities to stay in the game."
This would have been the lowest-scoring game in tournament history by far, if not for the extra five minutes. Seton Hall trailed 37-29 with less than three minutes remaining, but scored the final eight points of regulation -- capped off by a
Fuquan Edwin
layup with 18 seconds left -- to send the game to overtime.
Edwin scored the game-winning points as well -- another layup with 55 seconds left in OT, putting the Pirates in front 44-42. South Florida had two shots to tie or take the lead in the final minute, but missed both.
[+] Enlarge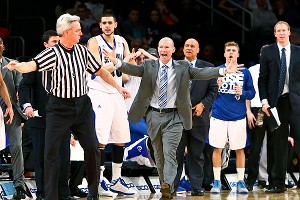 Debby Wong/USA TODAY SportsPirates head coach Kevin Willard watched his team overcome a eight-point deficit in the final three minutes of regulation to force overtime.
Edwin finished with a game-high 17 points -- 14 of them coming after halftime. The junior swingman was the team's leading scorer in the regular season (16.6 ppg), and wanted the ball down the stretch.
"Coach asked in the huddle who wants the shot, and I told him I want it," Edwin said.
"Fu has an unbelievable motor," Willard said. "He can play 40-plus minutes and still go. I think he still had a little juice left."
South Florida dominated Seton Hall on the offensive glass, 27-8. But the Bulls shot just 24.2 percent from the field (16-for-66), and 19.2 percent from beyond the arc (5-for-26).
"It's a tough way to finish our season," said South Florida coach Stan Heath, whose team finished 12-19. "We gave the game away. We certainly had an opportunity to close it out in regulation. I think the wrong guys had the ball, and some of the wrong decisions were being made."
It's been a tough season for Seton Hall (15-17) too, which has seen its roster decimated by injuries. The Pirates had lost 11 of 12, and 15 of 17, entering this game.
But now they have a postseason win to their credit -- even if it was one of the worst games in the Big East tournament's 34-year history.
Next up? A game against No. 5 seed Syracuse on Wednesday afternoon.
The Pirates won't be worried about style points in that one, either.
As forward
Eugene Teague
(14 points, 10 rebounds) said after the game, "A win is a win."
March, 12, 2013
3/12/13
9:23
PM ET
What it means:
In the first game of the 2013 Big East tournament, No. 12 seed Seton Hall advanced to the second round, defeating No. 13 seed South Florida 46-42 in overtime at Madison Square Garden.
It wasn't pretty (see below), but the Pirates improved to 15-17 on the season, and will face No. 5 seed Syracuse on Wednesday. The Bulls' season comes to an end, with a final record of 12-19.
The turning point:
South Florida jumped in front early, and led for almost the entire first half. Seton Hall briefly took the lead, 15-14, on a
Eugene Teague
bucket. But then the Pirates went nearly eight minutes without scoring a single point. The Bulls weren't much better offensively, but led 20-17 at halftime.
The second half was ugly as well, with both teams struggling to score. South Florida equaled its largest lead of the game, 37-29, on a
Zach LeDay
layup with 3:16 remaining. But Seton Hall scored the final eight points of regulation, capped off by a
Fuquan Edwin
layup with 18 seconds left, and we went to overtime.
Edwin hit another layup to give Seton Hall a 44-42 lead with 55 seconds remaining in OT. South Florida had two chances to tie or win the game from there.
Anthony Collins
missed a jumper with 25 seconds left, and after an offensive rebound,
Victor Rudd
missed a 3-pointer that would have given the Bulls the lead. Edwin sealed the win with two free throws.
Star watch:
Edwin scored 14 of his game-high 17 points after halftime. He scored Seton Hall's final six points of regulation, and final four points of OT. Teague added 14 points and 10 rebounds.
LeDay, a freshman, had a team-high 13 points for South Florida -- only his fifth double-figure scoring game of the season. Rudd added 11 points.
Number crunch:
South Florida had a 27-8 advantage on the offensive glass, yet lost the game. Why? The Bulls shot 24.2 percent from the field (16-for-66), and 19.2 percent from beyond the arc (5-for-26).
What's next:
Seton Hall versus Syracuse will be the second game of the Wednesday afternoon doubleheader, tipping off at approximately 2:30 p.m., following No. 8 Providence versus No. 9 Cincinnati at noon.
South Florida heads home to Tampa, and looks forward to next season.
February, 20, 2013
2/20/13
11:11
AM ET
Here are three things to watch for when St. John's (15-10, 7-6 Big East) plays South Florida (10-15, 1-12 Big East) on Wednesday at Carnesecca Arena.
Tip-off is at 7 p.m., and you can watch the game locally on SNY.
WELCOME BACK:
St. John's coach Steve Lavin
will make his return to the bench
after missing the team's past two games following the death of his father. Lavin should get an extra-warm reception from the crowd, and his team should be energized by his return as well.
The Red Storm will not, however, have guard
Jamal Branch
in the lineup. Lavin said Tuesday that Branch -- who has missed the past three games with a knee injury -- feels he is making progress, but still experiences pain when he cuts or does any lateral movement. "Is it another week, is it two weeks, is it wait 'til next year? We just don't really know," Lavin said. "We won't play him until he can go at full speed."
Branch is a key piece. He was third on the team in scoring at the time of his injury and is arguably the team's best ball-handler and passer.
HIGH STAKES:
Every game is important down the stretch, but a loss to last-place South Florida at home could torpedo St. John's chances of making the NCAA Tournament. The Red Storm are currently the No. 3 team on the outside looking in, according to Joe Lunardi, ESPN's resident bracketologist.
Three of the Red Storm's final four regular-season games are against teams currently in the Top 25: No. 20 Pittsburgh, No. 25 Notre Dame and No. 17 Marquette. Two of those three games are at home, so St. John's has good opportunities to pick up more quality wins. But first it must take care of business against South Florida.
This is the final game of the season at Carnesecca Arena. The team's remaining two home games, versus Pitt and Marquette, will be played at Madison Square Garden.
THE BULLS:
South Florida has lost eight games in a row, and 12 of its past 13. But its one conference win came against Georgetown (19-4, 9-3) -- which is currently tied for second place -- 61-58 at home on Jan. 19.
The Bulls are led by 6-foot-9 junior forward
Victor Rudd
, who averages a team-high 11.2 points and 6.9 rebounds per game, and 6-8 senior forward
Toarlyn Fitzpatrick
(10.4 ppg, 5.2 rpg).
South Florida is one of the worst offensive teams in the country -- 328th in Division I (out of 347 schools) in points per game (59.2), and 332nd in field-goal percentage (38.9).
But the Bulls are pretty tough on defense -- 81st in scoring defense (62.6 ppg) and 42nd in 3-point field goal defense (30.4 percent). And they're 21st in turnovers per game (11.2). St. John's is 26th (11.4).
March, 9, 2012
3/09/12
12:07
AM ET
Overview:
Notre Dame is in the Big East tournament semifinals -- and the Fighting Irish are awfully fortunate to be there.
No. 6 seed South Florida had No. 3-seed Notre Dame on the ropes in the final minute of regulation Thursday night, but made several critical mistakes that allowed the game to go into overtime (see more below). And the Irish took care of business from there.


It's a crushing loss for South Florida (20-13), who were looking to go to the Big East semis for the very first time. It also means the Bulls' NCAA tournament status is very much up in the air -- a win against Notre Dame (22-10) would have essentially sealed a bid to the Big Dance.
Turning point:
The first half was a strange one. South Florida hit eight of its first 10 shots, opening up a 20-8 lead -- but then went into a nine-minute, 12-second drought, during which it fell behind 26-20. The Bulls closed to within 28-26 at intermission.
The game remained tight throughout the second half -- and then things went haywire in the final minute. First Victor Rudd turned the ball over with 40 seconds left and the Bulls up 45-42, which led to two Notre Dame free throws. Then the Bulls inbounded the ball, broke the press and found Jawanza Poland for a wide-open layup -- but he missed it.
Poland was fouled in the scramble for the ball, went to the foul line -- and missed the front end of a 1-and-1. Then Poland tried to intercept a pass on defense and was whistled for a foul -- Pat Connaughton made one of two free throws, and we ended up in overtime.
The big play in OT was a trey by Eric Atkins -- who didn't score a single point in regulation -- that pushed Notre Dame's lead from 51-50 to 54-50 with 30 seconds remaining. South Florida's Toarlyn Fitzpatrick hit a 3 with three seconds left to make it 54-53, then Notre Dame was fouled and hit one of two free throws. And on South Florida's last-ditch chance to tie or win the game, having to go the length of the floor with one second left, the Bulls threw the ball out of bounds. A perfect ending.
Key player:
Notre Dame had three players in double figures, but the biggest player of the night was Atkins. The sophomore guard averages 12.4 points per game, but had a goose egg for 40 minutes, and it's tough to stay in a game mentally when you haven't broken through on the scoreboard for that long. But he finally got his chance in overtime, and he delivered when it counted most. Atkins had six points in overtime, and also had six assists in the game.
Rudd had 16 points to lead South Florida.
Key stat:
Notre Dame outscored South Florida at the foul line, 13 to 3. South Florida shot just five free throws on the night.
Miscellaneous:
South Florida point guard Anthony Collins suffered a finger injury on his left hand late in the second half, and sounded like he was in intense pain. He did return to the game with his fingers taped, but that's something to keep an eye on with USF going forward.
What's next:
Notre Dame will play No. 7 seed Louisville in Friday night's second Big East semifinal, which should tip at approximately 9:30 p.m. ET. The two teams met once in the regular season, and it was a thriller -- a 67-65 Notre Dame win in double overtime at Louisville.
For South Florida, it's nervous time, until Selection Sunday rolls around and they see if their name is called.
March, 9, 2011
3/09/11
9:29
PM ET
Recap
|
Box score
|
Photos
NEW YORK -- A quick take on Cincinnati's 87-61 win over South Florida on Wednesday evening at Madison Square Garden:
WHAT IT MEANS:
Seventh-seeded Cincinnati (25-7) used a suffocating defense and strong play inside to top No. 15 seed South Florida. With the win, the Bearcats earn a trip to the Big East quarterfinals for the second straight season. They will face a red-hot Notre Dame team on Thursday night.
The Irish, favored by many to win the tournament, have won 11 of 12 -- but if Cincinnati can duplicate its effort against South Florida on Thursday, Mike Brey's team will have its hands full. The Bearcats held a double-digit lead for the entire second half on Wednesday and limited South Florida to 36 percent shooting. The Bearcats boasts plenty of size (three regulars are at least 6-9) and have won six of seven.
No. 15 South Florida, which upset No. 10 Villanova on Tuesday night in the first round, finishes the season 10-23.
THE SKINNY:
Cincinnati limited South Florida to seven made baskets in the first half, jumping out to a 32-24 lead at the break. The Bearcats slowly and methodically built on their lead after halftime. They used a full-court press to keep South Florida out of sync and got consistent production from
Yancy Gates
and their guards. Cincinnati shot 57 percent from the floor for the game and hit five of 13 attempts from beyond the arc.
STAR WATCH:
Gates was effective and efficient, hitting 10 of 11 shots en route to a game-high 25 points. Guard
Dion Dixon
had 21 and hit 3 of 4 from downtown. White Plains product
Sean Kilpatrick
had 12 off the bench.
August Gilchrist
led the Bulls with 16. He also had 16 in the Bulls' first-round upset over Villanova.
Shaun Noriega
, who had 22 points against Villanova, finished with just 12 points on 4-of-9 shooting.
NUMBER CRUNCH:
South Florida shot 29 percent in the first half and hit just 20 shots of its 55 shots for the game. That kind of defensive effort is nothing new for Cincinnati, which held opponents to a Big East-low 58.6 points per game. That is also the fourth-lowest total in the nation.
WHAT'S NEXT:
Cincinnati plays second-seeded Notre Dame at 7 p.m. on Thursday. The Bearcats lost 66-58 to Notre Dame in South Bend on Jan. 19.
Ben Hansbrough
and
Tyrone Nash
each had 13 to lead Notre Dame. Kilpatrick led Cincinnati with 16.
March, 8, 2011
3/08/11
9:58
PM ET
Recap
|
Box score
|
Photos
A quick take on No. 15 South Florida's 70-69 shocker over No. 10 seed Villanova in the first round of the Big East tournament on Tuesday evening at Madison Square Garden:
WHAT IT MEANS:
Some felt the Wildcats, who were unranked for the first time all season in the latest Top 25 polls and had lost four straight to close out the regular season, needed a win in the first round to lock up an NCAA tournament bid. Now, they'll be sweating on Selection Sunday.
Villanova (21-11 overall, 9-10 Big East) seemed to be in control early on, taking a 16-point lead at the half. But the Bulls (10-22 overall, 4-15 Big East) rallied back late in the second stanza and
Anthony Crater
hit two layups in the final 22 seconds to give South Florida an improbable victory, its first in Big East tournament play.
Crater hit a layup with five seconds to play to put South Florida up one.
Maalik Wayns'
18-footer hit the back of the rim and South Florida celebrated at midcourt, the first big upset of the tournament.
THE SKINNY:
Wildcats coach
Jay Wright
called a timeout 44 seconds into the game after South Florida jumped out to a 5-0 lead. That didn't slow the Bulls, who took a 13-5 advantage on
Shaun Noriega
's 3-pointer. But the Wildcats outscored South Florida 44-20 over the next 15 minutes and used a 7-0 spurt late in the half to take a 16-point lead into the locker room.
Things got interesting when big man
August Gilchrist
's lay-up and subsequent free throw cut the Villanova advantage to 63-62 with 3:33 to play. With Villanova up one and 28 seconds to play, Wayns inexplicably tried to inbound to center
Antonio Peña
in the backcourt. The pass was over Peña's head and stolen by Crater, who converted a layup to put South Florida up 68-67. It was the Bulls' first lead since 9:10 to play in the second half. Crater then converted the lay-in with five seconds to play to seal it for South Florida.
STAR WATCH:
Gilchrist, a 6-10 load, finished with 16 points and four rebounds and gave the Wildcats problems all evening, particularly after Nova 6-11 C
Mouphtaou Yarou
left late in the first half with an undisclosed injury after a collision under the basket. He did not return and was seen with a bandage on his right eye. Noriega finished with 22 points on 6-of-12 shooting from beyond the arc.
Corey Stokes
, who missed the regular-season finale with a hamstring injury, returned and scored 16 points off the bench Wayns had 24.
NUMBER CRUNCH:
South Florida came into play tonight averaging an alarming (15.4) turnovers per game and turnover margin (minus-4.9). They had just eight on Tuesday night. In its final seven games of the season, Villanova shot 39.8 percent from the field and averaged just under 27 points in the first half. The Wildcats had 49 in the opening 20 minutes against USF, but they finished the game shooting an unsightly 4-of-19 in the second half.
WHAT'S NEXT:
South Florida will face No. 7 Cincinnati on Wednesday at 7 p.m. The Bearcats beat the Bulls 74-66 at Cincinnati on Jan. 12. South Florida has won four of the past eight meetings but is 7-22 against Cincinnati all time.
March, 5, 2011
3/05/11
10:26
PM ET
Recap
|
Box score
NEW YORK -- A quick take on St. John's 72-56 win over South Florida on Saturday night at Carnesecca Arena in Queens.
WHAT IT MEANS:
On Senior Night, St. John's finished off what has been an impressive regular season at 20-10, and 12-6 in the Big East. The Red Storm finish tied for third in the conference with Louisville and Syracuse, but will be the No. 5 seed in the Big East tournament because they lost head-to-head against both. This is St. John's first 20-win season since 2002-03, and the first time it has collected 20 wins in the regular season since 1999-2000.
South Florida finishes the regular season at 9-22 overall, and 3-15 in the Big East. The Bulls will be the No. 15 seed in the conference tourney.
THE SKINNY:
St. John's trailed for most of the first half; the Red Storm took the lead briefly late at 30-29 on a
Dwight Hardy
trey, but a
Shaun Noriega
rebuttal gave South Florida a 32-30 lead at intermission. St. John's had a difficult time attacking USF's 2-3 zone -- the Johnnies didn't shoot a single free throw in the first half.
The Johnnies attacked the zone more aggressively in the second half -- they were in the bonus with 13:48 remaining in the game, and were 18-25 from the foul line. The game remained tight through the first 10 minutes -- in fact, South Florida led 47-44 with 9:36 left. But St. John's eventually wore down USF and pulled away, propelled by timely treys by Hardy and
Paris Horne
.
SWEET EMOTION:
The pregame ceremony honoring the nine St. John's senior players, along with four senior managers and former player
Rob Thomas
, was touching.
Justin Burrell
was the most emotional of the players, tearing up and slamming his fist to his chest as the crowd cheered him. A sold-out crowd of 5,602 chanted for each player as he was introduced, and chanted "Thank you, seniors!" at the end.
ONLY APPROPRIATE:
This was one of St. John's most balanced efforts of the season offensively. Four players -- all seniors -- finished in double figures.
D.J. Kennedy
led the way with 16, Hardy had 14,
Justin Brownlee
had 13 and Horne had 11.
Sean Evans
added nine points, and
Malik Boothe
had five assists. St. John's is 10-0 this season when four or more players crack double figures.
WHAT'S NEXT:
St. John's has a bye in the first round of the Big East tournament -- the Red Storm will play the winner of No. 12 seed Seton Hall versus No. 13 seed Rutgers on Wednesday afternoon at approximately 2:30 p.m. at Madison Square Garden. South Florida will play No. 10 seed Villanova on Tuesday at 7 p.m.
March, 5, 2011
3/05/11
11:31
AM ET
Here are three things to watch in Saturday night's game between No. 15 St. John's (19-10, 11-6 Big East) and South Florida (9-21, 3-14) at Carnesecca Arena in Queens.

Tip-off is at 8 p.m. ET, and the game will air locally on MSG.

PREGAME SHOW: SJU vs. USF will be the very last game of the Big East regular season to tip off -- but today's a day to do some scoreboard watching beforehand. The biggest game to keep your eye on is Syracuse hosting DePaul at 4 p.m. -- St. John's would need the Orange to lose to the last-place Blue Demons (not bloody likely!) in order to have a shot at securing the No. 4 seed and a double-bye in next week's Big East tournament.

If Syracuse wins, St. John's will be playing for a tie for fourth place and will be the No. 5 seed -- the Red Storm would play the winner of No. 12 seed Seton Hall and No. 13 seed Rutgers on Wednesday afternoon at approximately 2:30 p.m.

SPECIAL OCCASION: Tonight is Senior Night, and there are a number of special things planned. First of all, Carnesecca Arena is sold out -- and it's being dubbed a "Carnesecca Blackout" because 6,000 black T-shirts are being distributed to fans as they enter the building. The team will be wearing its alternate black uniforms -- St. John's is 0-5 wearing these uniforms, but the players requested to wear them, planning to break the hex. Also, 4,000 Steve Lavin bobbleheads will be distributed tonight.

But most importantly, the nine St. John's seniors who have played such a major role in turning around this program will be honored tonight, in a ceremony approximately 20 minutes before tip-off.

"I think it will be mixed emotions," senior forward Sean Evans said on Thursday. "It's our final game in Carnesecca, but it's not going to be our final game this season. It's going to be tough to let go of Carnesecca, but we know we have more games ahead of us."

"There's been a lot of sweat, blood and tears into this building and into the floor of Carnesecca and Taffner [Field House]," said senior guard Paris Horne. "It's a special night for us."

BOUNCE IN THEIR STEP? St. John's will be looking to bounce back from adversity for the first time in a while, after having their six-game winning streak snapped at Seton Hall on Thursday. The players admitted after that game that they were a step slow and lacking some energy against the Pirates. Let's see if they have the intensity back tonight, particularly in the early stages of the game.

"It's going to help us a lot," Horne said of the Seton Hall loss. "We learn from what we didn't do. We didn't get after the ball, we didn't play our best defense like we usually do."

South Florida's biggest weapon is 6-foot-10 junior Augustus Gilchrist -- he's the only USF player averaging in double figures in scoring, at 13.1 points per game.

But the Red Storm's biggest challenge may be themselves -- handling the emotions of Senior Night, and recovering from an emotional loss to a cross-river rival.

"Coming off a loss like that, one that we think we should have won, will give us a little extra fire to win," Evans said. "Plus it's Senior Night and we want to finish the regular season on a high note."