New York Colleges:

Syracuse
February, 19, 2012
2/19/12
5:18
PM ET
PISCATAWAY, N.J. -- Rutgers lost its fifth game in a row on Sunday -- but the Scarlet Knights get an "A" for Effort.
Facing No. 2-ranked Syracuse, the Scarlet Knights hung right with the Orange for 37 minutes before ultimately losing 74-64 in front of a packed crowd at the RAC.
"I thought as far as the fight, and the compete, it was probably one of the more consistent games we've had in the last month," said Rutgers coach
Mike Rice
. "[We] just didn't finish plays."
The Scarlet Knights attacked Syracuse's trademark 2-3 zone beautifully, entering the ball into the middle at the high post and working from there. Sophomore forward
Gilvydas Biruta
had a monster game, with 21 points (tying his career high) and seven rebounds.
But the perimeter players weren't nearly as effective. Leading scorer
Eli Carter
shot just 3-for-13 from the field, and the team shot just 3-for-18 from the 3-point line.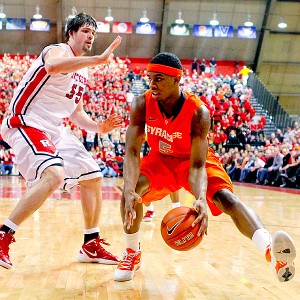 Jim O'Connor/US PresswireGilvydas Biruta (left) and C.J. Fair both scored 21 points on Sunday.
On the other side, forward
C.J. Fair
came up big for Syracuse, with 21 points and eight rebounds off the bench. And senior point guard
Scoop Jardine
was the difference-maker down the stretch. With 2:42 remaining and Syracuse leading by just two, 64-62, Jardine drained a jumper to extend the lead to four. Then he delivered the dagger, a trey with 1:12 left to make it 69-62 and essentially seal Rutgers' fate.
"Scoop made the plays down the stretch -- that's what you would hope [for] from a senior guard," said Syracuse coach
Jim Boehiem
.
"They have an unfair advantage with another college basketball coach in Scoop Jardine running the point," said Rice. "Just so composed, and understanding of what he wants to do."
In comparison, Rutgers started three freshmen guards on Sunday, who faced a huge gap in terms of experience compared with Jardine and and his backcourt mate, junior
Brandon Triche
. Rice thought that showed up at the free throw line -- Syracuse was 21-for-31 from the charity stripe, Rutgers just 9-for-11.
"Whether it was penetration, getting to the basket, drawing the contact -- this team still has young bodies and young minds, and in the Big East you have to seek that contact," Rice said. "So the free throw disparity hurts, and settling for probably too many jump shots."
Sophomore guard
Mike Poole
, who was the only other Scarlet Knight in double figures with 10 points off the bench, would not blame the loss on inexperience. "These guys have played 28 games, they're not freshmen no more," Poole said. "It's just not capitalizing on the shots we need to make, and not finishing the plays we need to finish."
Poole wasn't buying the moral victory argument, either. "Every game we lose, it just feels the same," he said. "When you fight so hard, to come up short, it takes a lot out of you."
Boeheim, although complimentary of Jardine and Fair, was not thrilled with his team, either, despite the Orange improving to 27-1 overall, 14-1 in the Big East.
"I don't think we're playing the way we have to," Boeheim said. "I thought at the beginning of the year we had some really good [offensive] movement in games. We really, I thought, were playing a lot better, particularly on offense."
When asked to explain why he thinks his team is underperforming of late, the coach pointed the finger at
Dion Waiters
. The 6-foot-4 sophomore has been arguably the best sixth man in the country this season, but has only scored in double figures twice in the team's past seven games, including just seven points on Sunday.
"I think Dion's struggled a little bit," Boeheim said. "He really hasn't been shooting the ball very well. And I think he's probably struggled the most."
Nevertheless, Syracuse likely has several more weeks of basketball to look forward to, with the Orange expected to play deep into March and contend for another national championship.
As for Rutgers? Year 2 of the Mike Rice era certainly hasn't gone exactly as he'd hoped -- the Scarlet Knights are now 12-15 overall, 4-10 in conference play.
But there is reason for optimism here. Rutgers doesn't have any seniors. Rice started three freshmen and a sophomore on Sunday, and went toe-to-toe with arguably the best team in the country.
And that's no fluke. This young squad already owns two wins against Top 25 opponents this season -- something St. John's hasn't been able to accomplish, for instance. These guys seem to play better the bigger the stage.
"I think that's growth," Rice said. "Unfortunately in the Big East, growth doesn't always mean victories."
February, 19, 2012
2/19/12
3:06
PM ET


PISCATAWAY, N.J. -- A quick take on Rutgers' 74-64 loss to Syracuse on Sunday afternoon at the Louis Brown Athletic Center, a game much closer than the final score indicates.

WHAT IT MEANS: Rutgers gave Syracuse a heck of a fight at a packed RAC, but couldn't quite take out the No. 2-ranked Orange. It's the Scarlet Knights' fifth straight loss, which drops them to 12-15 overall, and 4-10 in Big East play.

Syracuse survives a scare in a tough road environment, and improves to 27-1 overall, 14-1 in the Big East.

THE SKINNY: The first 20 minutes were tight, with neither team leading by more than six. Tied at 32 with three minutes remaining, Syracuse ended the half on an 8-2 run to make it 40-34 at intermission. Rutgers forward Gilvydas Biruta had 14 first-half points, but he was matched by Syracuse forward C.J. Fair, who had 14 off the bench.

Syracuse extended the lead to seven, 46-39, early in the second half. But Rutgers responded with five straight points, and the game remained close until the final three minutes. With Syracuse leading 64-62, Scoop Jardine hit a jumper to extend the lead to four with 2:42 left. Then Jardine delivered the dagger, a trey with 1:12 left that made it 69-62, and the Orange closed it out from there.

IN THE SPOTLIGHT: Biruta was a monster for Rutgers in this game, finishing with a team-high 21 points and seven rebounds, shooting 9-for-14 from the field. Mike Poole was the only other Scarlet Knight in double figures, with 10 points off the bench.

Syracuse's Dion Waiters has probably been the best sixth man in the country this season, but today his fellow reserve, Fair, was the star. The 6-foot-8 sophomore had 21 points and eight rebounds -- 6-for-8 from the field, 8-for-8 on free throws. And Jardine, the senior point guard, was huge down the stretch, finishing with 17 points and seven assists.

NUMBER CRUNCH: In a pretty even game, the glaring difference was on the foul line. Syracuse outscored Rutgers 21-9 at the charity stripe -- and the Orange missed 10 free throws as well. Syracuse was 21-for-31, while Rutgers was 9-for-11.

WHAT'S NEXT: Rutgers faces a very tough road game, at No. 13 Marquette (22-5, 11-3 Big East) on Wednesday at 8 p.m. Syracuse hosts South Florida (16-10, (9-4 Big East) the same night at 7 p.m.
November, 12, 2011
11/12/11
6:05
PM ET
September, 30, 2011
9/30/11
3:52
PM ET


Here are three things to watch in Saturday afternoon's football game between Rutgers (2-1) and Syracuse (3-1) at the Carrier Dome.

Kickoff is at noon, and the game will air locally on SNY. It is also available via ESPN3.

MO MONEY: Rutgers wideout Mohamed Sanu is coming off a record-breaking performance in the Scarlet Knights' 38-26 win over Ohio last Saturday. The 6-foot-2 junior had 16 catches for 176 yards and two touchdowns, breaking the Big East record for most receptions in a game. On the season, Sanu has 36 catches for 363 yards and four scores. He leads the nation in receptions per game (12.0), and is eighth in receiving yards per game (121.0).

Can Sanu keep this up against the Orange? You know they'll be paying extra attention to him. Keep in mind though, Syracuse has struggled defending against the pass this season. They're ranked No. 106 in the country in passing defense.

WREAKING HAVOC: The Scarlet Knights have forced 13 turnovers in three games -- that makes them tied for third in the country. They'll be trying to force a few more on Saturday, but it won't be easy. Syracuse is led by senior quarterback Ryan Nassib, who has completed 71.4 percent of his passes this season (90 of 126), with nine touchdowns and just one interception. "He's improved quite a bit," Rutgers coach Greg Schiano said this week of Nassib. "He seems so much more confident, so much more quick with his decision-making. He looks physically stronger, thus the ball is thrown physically better. Looks like a guy in total control of their offense."

Also, the Orange should be comfortable playing in the Carrier Dome. The Scarlet Knights, on the other hand, could struggle with the noise. "It's about poise, it's not about noise," Schiano said. "You have to keep your poise when it gets crazy. Young guys that haven't been there, anytime you do something for the first time ... it can be a experience. It's a hard job to prepare them to keep their poise under pressure."

PRESSURE'S ON: This is the Big East opener for both teams. Rutgers won only one conference game last season, so you know they Knights are desperate to start this year off on the right foot. And Syracuse certainly wants to move past a controversial win over Toledo last week, in which the referees mistakenly ruled that a missed extra point was good, allowing the Orange to go to overtime and eventually win the game.

These two teams look pretty even on paper, and both will be fired up. It should be an entertaining game, and could be one of their final meetings, with Syracuse's impending move to the ACC.
December, 2, 2010
12/02/10
2:24
PM ET
Syracuse has accepted an invitation to represent the Big East in the inaugural Pinstripe Bowl at Yankee Stadium, the school announced Thursday.

The Orange (7-5) will play a Big 12 team on Thursday, Dec. 30. The game kicks off at 3:30 p.m. and will be televised by ESPN. This is Syracuse's first bowl bid since 2004.

"This is truly exciting for our football program, the athletics department and the university. We are proud to be part of the New Era Pinstripe Bowl in its inaugural year," Syracuase athletics director Daryl Gross said in a statement. "The Yankees are a class organization with tremendous history and we are excited about participating with them at Yankee Stadium.

"This is a fabulous opportunity for our institution as many alums live in the area and our fans can descend upon New York City for the holidays. We continue to want to represent as New York's college team as we are the only BCS school in the state of New York and plan to paint the city orange."

Syracuse coach Doug Marrone is a Bronx native. His maternal grandfather, Robert Thompson, worked as an usher at Yankee Stadium for nearly 20 years.