New York Colleges:

UCLA Bruins
November, 20, 2012
11/20/12
12:28
AM ET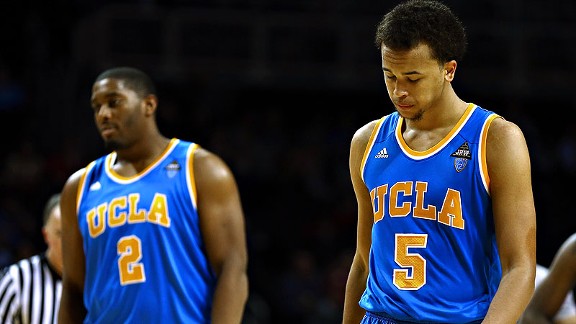 Elsa/Getty ImagesKyle Anderson and Joshua Smith hang their heads after Georgetown upsets UCLA at Barclays Center.
NEW YORK -- The Hoyas crashed the party Monday night.
Actually, to be more accurate, they canceled it.
With No. 1 Indiana and No. 11 UCLA making rare trips to the Big Apple, Georgetown put on the most impressive show Monday night, besting the Bruins in the second semifinal of the Legends Classic, 78-70, at the Barclays Center.
The college basketball world was buzzing about UCLA star freshman
Shabazz Muhammad
, who was making his collegiate debut. But unranked Georgetown put on a clinic instead, and put the kibosh on a much-anticipated Indiana-UCLA matchup in the championship game.
The Bruins knew they were in for a battle from the start, when the Hoyas jumped out to a 10-2 lead. UCLA recovered and went up by four, 24-20, with eight minutes and change before halftime. But a savvy move by Georgetown coach John Thompson III, switching to a 2-3 zone, enabled the Hoyas to retake the lead, 31-29, at halftime.
"It was effective," Thompson admitted. "They were getting a lot of easy baskets in the first half, and I thought it slowed them down just a little bit."
[+] Enlarge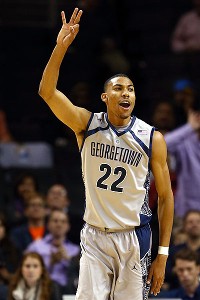 Elsa/Getty ImagesOttto Porter celebrates his 3-pointer in the second half against the UCLA.
"We really were tentative, (we) didn't get it inside," said UCLA coach Ben Howland.
The Hoyas charged out of the gate with 12 straight points after intermission, taking their largest lead, 43-29, with 17:42 left. UCLA clawed back within four points on five different occasions, but could get no closer. Every time the Bruins got within striking distance, the Hoyas had an answer -- often via a backcut and a nifty pass.
Georgetown shot 54.5 percent from the field (30-for-55), and 50 percent from beyond the arc (7-for-14).
"(In) the second half, their offense really, really cut us up," said Howland.
Georgetown was well aware of the hype surrounding Muhammad, widely regarded as the top high school player in the country last year, who was just cleared to play by the NCAA on Friday. Muhammad scored 15 points on the night, but it was an unspectacular 15.
"We knew that he was gonna play," said Georgetown sophomore swingman
Otto Porter
. "We wanted to just kind of keep him contained."
Porter, meanwhile, was the best player on the floor Monday night, finishing with a boxscore-busting 18 points, 11 rebounds, five assists, five blocks and three steals. Not bad for a guy who missed the team's last game with concussion symptoms.
"We're a better team with him on the court," said Thompson, in the understatement of the night.
Georgetown also appears to be a better team than most people expected this season. The Hoyas, after losing their top three scorers from a year ago, were picked to finish fifth in the Big East.
But if they continue playing like this, they could contend for a conference championship.
Porter had plenty of help Monday. Junior guard
Markel Starks
, who averaged 7.1 points per game as a sophomore, scored a game-high 23, shooting 9-for-14 from the field. Sophomore forward
Greg Whittington
chipped in 13.
"I think this team trusts each other, and they trust what we're doing," said Thompson. "A couple of nights ago it was D'Vauntes (Smith-Rivera), tonight Markel scored points, and tomorrow night it may be someone different. This is an unselfish group."
It's also a group with zero McDonald's high school All-Americans. UCLA has three from last year's McDonald's game alone.
But Georgetown will be the team facing top-ranked Indiana on Tuesday.
They've already gotten the country's attention. If the Hoyas pull off another victory in Brooklyn, they'll be the talk of college basketball.
It's only November, folks. But the Madness has begun.
November, 19, 2012
11/19/12
10:18
PM ET
What it means:
We're not going to see Indiana versus UCLA after all.
The No. 1-ranked Hoosiers took care of business Monday, beating Georgia in the first semifinal of the Legends Classic. But the No. 11 Bruins were upset by Georgetown, 78-70, in the second semi, at the Barclays Center in Brooklyn, N.Y.
UCLA freshman
Shabazz Muhammad
made his collegiate debut, after missing the first three games of the season waiting to be cleared by the NCAA. But that was overshadowed by the Hoyas' performance as well.
The skinny:
Georgetown jumped out to a 10-2 lead less than three minutes into the game, but UCLA answered, going ahead by as many as four, 24-20. The Hoyas took a 31-29 advantage into halftime.

Georgetown began the second half on fire as well, scoring 12 straight points out of the gate to lead 43-29 with 17:42 remaining. The Bruins made a run, closing to within four on five different occasions in the middle portion of the half. But they would get no closer, as the Hoyas closed out the game relatively comfortably.
Star watch:
Georgetown junior guard
Markel Starks
was outstanding, finishing with a game-high 23 points, shooting 9-for-14 from the field. Sophomore
Otto Porter
, after missing the Hoyas' last game with concussion symptoms, had 18 points and 11 rebounds.
UCLA was led by freshman guard
Jordan Adams
(22 points) – Adams was less heralded than Muhammad and fellow frosh
Kyle Anderson
and
Tony Parker
, but he's now scored 20 or more points in four straight games to start his college career. Muhammad scored 15 points in 25 minutes off the bench, shooting 5-for-100 from the field – not bad, but nothing sensational.
Number crunch:
Georgetown shot better than 54.5 percent from the field (30-for-55), and 50 percent from beyond the arc (7-for-14). Starks, Porter and fellow soph
Greg Whittington
knocked down some tough shots from the perimeter, but the Hoyas also created plenty of easy baskets with their backdoor cuts and precision passing.

What's next:
Georgetown now gets to play No. 1-ranked Indiana in the championship game, Tuesday at 9:30 p.m.
UCLA will face Georgia in the consolation game, at 7 p.m.
March, 7, 2012
3/07/12
3:21
PM ET
The Legends Classic is moving from New Jersey to the new Barclays Center in downtown Brooklyn this fall, and they've put together a heck of a field, featuring some of the most storied college hoops programs in the country.
UCLA, Indiana, Georgetown and Georgia will participate in a pair of doubleheaders at the Barclays Center, on Nov. 19 and Nov. 20.
Click here
to read more.
February, 18, 2012
2/18/12
5:10
PM ET
NEW YORK -- Don't stick a fork in St. John's just yet. The Johnnies are not done.
Four days after the shorthanded Red Storm lost to Seton Hall by 30 and appeared to be running out of gas, they played with renewed energy and enthusiasm in a 66-63 win over UCLA on Saturday at Madison Square Garden.
"The fact of the matter is, we didn't feel good about the Seton Hall game," said St. John's assistant coach
Mike Dunlap
. "We tried to do something about it."
You could see the extra bounce in their step from the opening tip. St. John's took an early lead, and held it for virtually the entire game -- but never by more than six points. UCLA (15-12, 8-6 Pac-12) had a significant height advantage, starting the 6-foot-10 Wear brothers, Travis and David, plus bringing 6-10
Joshua Smith
off the bench. But the Red Storm snagged 19 offensive rebounds, four more than the Bruins, which led to 26 second-chance points.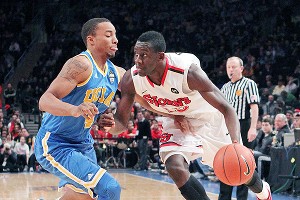 Anthony Gruppuso/US PresswireSir'Dominic Pointer had 13 points and seven rebounds for the Red Storm.
"I think we just played harder than they did," said St. John's forward
Moe Harkless
, who finished with 11 points, 13 rebounds and six steals. "Don't get me wrong, they played well. But I think we just wanted it a little bit more."
Shooting guard
D'Angelo Harrison
had a game-high 22 points -- his 10th 20-point game of the season -- to go along with eight rebounds and four assists. But it was the inspired play of swingman
Sir'Dominic Pointer
(13 points, seven rebounds) and point guard
Phil Greene
(11 points) that pushed St. John's over the top.
Pointer was one point shy of his career-high, and played arguably his best game of the season. Greene made the biggest, and most improbable, play of the day. With St. John's leading 64-62, eight seconds remaining and the shot clock about to expire, Harrison launched a desperation 3-pointer. It missed, but Greene came from underneath the basket to tip it in with five ticks left.
"We needed Phil and Dom to step up," Dunlap said, "and they did."
The win snaps a four-game losing streak for St. John's, which improves to 11-16 overall on the season (4-10 Big East). It also has to be a little extra sweet for St. John's head coach
Steve Lavin
, who held the same job at UCLA from 1996 to 2003.
Lavin watched the game from a luxury box upstairs at the Garden, as he continues to recuperate from prostate cancer surgery, and released a short statement to reporters after the game:
"I'm proud of the resiliency our team demonstrated today," Lavin said. "The collective effort to collapse into the basket area forced UCLA to live mostly with perimeter shots. Offensively the fellas played with both a confident and intelligent approach. The victory is a timely jolt of positive energy for the kids, staff and Johnnies Nation."
Dunlap actually credited his boss with giving the team a boost by attending practice on Friday and talking to the players. "It's good to have the leader back in there," Dunlap said. "He's been working really hard on the recruiting. But that energy, that voice, that frame-up got everybody pepped up, I thought. And it was fantastic for us, as witnessed by the outcome."
But it sounds like Lavin won't make his return to the bench until next season. In an interview with the CBS broadcast crew during the game, Lavin was asked about his return timeline.
"They've told me it's important that we go week-to-week," Lavin said. "I'm going to continue to focus on recruiting. I still come in and watch film with the players and I'm obviously involved in game preparation. I meet with the kids individually and make sure to get a meal with them every couple of weeks. They get to spend time with my wife, because she's more inspiring than I am in terms of their spirits. We're on track to be back next year."
In the meantime, the current six-man squad has four more regular season games in front of them, starting with DePaul on Monday night at Carnesecca Arena. And they sounded reinvigorated after finally getting back into the win column on Saturday.
"It gives us back our confidence, and gives us a little momentum going back into Big East play, and the Big East tournament coming up soon," Harkless said. "We just gotta keep playing hard, and keep working. And you never know, we could make a run."
February, 5, 2011
2/05/11
3:37
PM ET
Recap
|
Box score
WHAT IT MEANS:
St. John's drops to 13-9 on the season and squanders an opportunity to notch one more impressive non-conference win, against a team that will probably be sitting alongside it on the bubble come Selection Sunday. And
Steve Lavin
loses his homecoming game at Pauley Pavilion.
Conversely, UCLA improves to 16-7, and picks up an important résumé-boosting win against a team ranked No. 20 in the RPI coming in.
THE SKINNY:
St. John's surged to a 13-4 lead early, but UCLA stormed back to take a 29-26 halftime lead, with 300-pound-plus freshman center
Joshua Smith
coming off the bench to score 12 points, including four dunks.
Dwight Hardy
scored 16 points in the first half for the Red Storm, on 7-for-9 shooting. But
Justin Brownlee
and
D.J. Kennedy
had only two points apiece.
The second half was a back-and-forth affair, as UCLA would extend to a 10-point lead and St. John's would try to claw back. With under two minutes to go, trailing 62-59, St. John's had two possessions to either move within one or tie the game. Brownlee turned the ball over on the first one, and he could not convert on two shots inside on the second one. Then a
Reeves Nelson
fallaway 3-pointer with the shot-clock expiring and 34 seconds left in the game essentially sealed St. John's fate.
HIGH/LOW:
Hardy was simply brilliant for St. John's on Saturday, pouring in a career-high 32 points on 13-for-24 shooting -- several of his made perimeter jumpers were pretty well guarded, too.
But Hardy got very, very little help -- no other St. John's player scored more than six points. Particularly disappointing was Brownlee, who scored just two points, on 1-for-9 shooting from the field, including those failed attempts late. Hard to say whether the fractured left thumb bothered him or not, but he was definitely more effective playing with the injury on Wednesday against Rutgers, when he scored the game-winning basket.
NUMBERS CRUNCH:
Believe it or not, St. John's had 26 -- yes, 26! -- more shot attempts than UCLA on Saturday, and still lost. How? UCLA shot 41 free throws, St. John's only seven. UCLA was in the bonus less than six minutes into the second half. The Bruins being at home may have helped, but that's too wide a disparity to attribute simply to a hometown whistle. UCLA shot only 27-for-41 (65.9 percent) -- if the Bruins had shot a little better, this game would not have been so tight down the stretch.
On the other side, St. John's shot just 25-for-63 from the field -- 39.7 percent. And the Red Storm had only eight assists on those 25 buckets -- nowhere near the polish they had against Duke last weekend, when they had 21 assists on 32 field goals.
WHAT'S NEXT:
St. John's if off until Thursday, when it hosts No. 7 UConn at Madison Square Garden. UCLA hosts Oregon on Thursday.
November, 25, 2010
11/25/10
12:04
AM ET
Recap
|
Box score
NEW YORK -- A quick postgame take on No. 7 Villanova's 82-70 victory over UCLA at Madison Square Garden on Wednesday night:
WHAT IT MEANS:
Villanova goes to 5-0 on the season, with its first major-quality win, and advances to the championship game of the NIT Season Tip-Off. A rebuilding UCLA team drops to 3-1 on the season, but surely gains some confidence, hanging with one of the top teams in the country.
SPIRITED EFFORT:
Villanova closed the first half on a 14-2 run, taking a 44-29 lead into intermission. But UCLA mounted an impressive comeback, cutting the deficit to just six, 62-56, with 5:30 left to play. But the Bruins never could get any closer than that. They showed a lot of heart though, battling the way they did.
UNSUNG HERO:
When it comes to Villanova, most of the attention goes to its guard play, and rightfully so -- the starting trio was excellent on Wednesday night.
Corey Fisher
poured in 26 points, while
Maalik Wayns
had 19 and
Corey Stokes
16. But 6-foot-10 sophomore
Mouphtaou Yarou
posted a double-double, with 13 points and 16 rebounds -- a great performance by him, doing all the dirty work.
BALANCED, BUT ...
UCLA had four players in double figures, but no player with more than 13 points (
Malcolm Lee
). The Bruins are a tough team to face, but they don't have a top-flight scorer like Nova's Stokes, who they can rely on in the clutch, night after night.
WHAT'S NEXT:
Villanova will play No. 24 Tennessee on Friday in the NIT championship game -- tip-off will be approximately 5 p.m. UCLA will take on VCU in the third-place game, scheduled for 2:30 p.m.
November, 24, 2010
11/24/10
10:53
PM ET
Three observations from the first half of No. 7 Villanova vs. UCLA at Madison Square Garden -- Villanova leads 44-29 at the break:


We expected this to be a clash of different styles -- Villanova likes to play fast, UCLA likes to grind it out and keep the score down with its defense. Well, Nova's clearly winning that battle. The game was actually tight for most of the half -- Villanova led just 30-27 with 4:21 remaining in the half. But the Wildcats closed the half on 14-2 run.


Villanova is known for its outstanding guard play -- well, all three starting guards cracked double figures in the first half. Corey Fisher led the way with 13 -- even though he struggled with his shot, making just four of 12 from the field. Maalik Wayns had 11, and Corey Stokes chipped in 10.


UCLA couldn't clamp down on defense, and they weren't very successful on offense, either. The Bruins shot just 10-for-29 from the field (34.5 percent), and committed nine turnovers. Lazeric Jones led in the scoring column, with eight points.
November, 24, 2010
11/24/10
12:02
PM ET
Last week, three top-25 teams called Madison Square Garden home for two nights in the Coaches vs. Cancer Classic. This week two more top-25 teams are in town, along with two other quality squads, as part of the NIT Season Tip-Off at MSG.
I'll be at both semifinal games Wednesday night -- here are three items on each game:
NO. 24 TENNESSEE VS. VIRGINIA COMMONWEALTH (7 P.M. ET)
HIGH SPEED:
This game will almost certainly be played at a fast pace -- meaning it will be fun to watch. Tennessee likes to go up and down, and VCU employs a full-court press. Both teams are 3-0 -- Tennessee got to the semis by surviving Missouri State 60-56, while VCU overwhelmed Wake Forest 90-69.
WHO TO WATCH:
On Tennessee, freshman
Tobias Harris
-- from Dix Hills on Long Island -- is off to a great start, leading the Volunteers in scoring at 16.3 points per game, and also averaging 5.3 rebounds. The 6-foot-8, 226-pound forward and McDonald's High School All-American has already been named the SEC Freshman of the Week. On VCU, keep an eye on
Joey Rodriguez
-- the 5-foot-10 senior point guard is averaging 18.3 points, 10.3 assists (leads the nation) and 2 steals per game, while shooting 48 percent from 3-point range.
DISTRACTION?
This will be Tennessee's first game since the SEC announced that Vols coach
Bruce Pearl
will be suspended for the team's first eight conference games this season,
for recruiting violations and misleading NCAA investigators
. Pearl will be on the bench Wednesday night, but we'll see if the all the turmoil affects his players, who face a tough game against a team picked to finish second in the Colonial Athletic Association by Blue Ribbon.
NO. 7 VILLANOVA VS. UCLA (APPROX. 9:30 P.M. ET)
CONTRAST OF STYLES:
Villanova (4-0) likes to play fast -- the Wildcats are averaging 80 points per game, and their average margin of victory this season is 28.5 points (albeit against Bucknell, Marist, Boston U. and Lafayette). UCLA (3-0) will try to keep the score down and rely on its defense -- in the Bruins' last game, a 57-44 win over Pacific, they limited their opponents to 25 percent shooting from the field. Under coach
Ben Howland
, UCLA is 80-3 when holding its opponent under 60 points.
WHO TO WATCH:
With
Scottie Reynolds
gone,
Corey Fisher
is now the main man for Nova. The 6-foot-1 Bronx native -- who made waves in the offseason
by scoring 105 points in a summer league game
-- is averaging 16.5 points and 4 assists per game for the Wildcats. For UCLA, 6-foot-8 sophomore forward
Reeves Nelson
has led the Bruins in scoring in each of the team's first three games -- he is averaging 19.3 points per game. He's also averaging 9.7 rebounds.
LOCAL PRODUCE:
Besides Fisher, there are several other players on the Villanova roster with New York/New Jersey roots. Starting guard
Corey Stokes
(12.5 ppg) is from Bayonne; starting forward
Antonio Pena
(10.5 ppg, 7.3 rpg) is from Brooklyn; and reserve guard
Dominic Cheek
(7.8 ppg) is from Jersey City.