October, 2, 2014
Oct 2
8:00
AM ET
The
New York Giants
and
Atlanta Falcons
, a pair of 2013 disappointments with identical 2-2 records and hopes of factoring into their respective division races, play at MetLife Stadium at 1 p.m. ET Sunday. ESPN Giants reporter Dan Graziano and ESPN Falcons reporter Vaughn McClure present their preview:
Graziano
: Vaughn, I'm going to get to the Falcons' defense in a minute, because I have a ton of questions about that. But I'd be remiss if I didn't start by asking: What was tight end
Levine Toilolo
doing at right tackle in the loss to Minnesota, and are they going to have five real offensive linemen to suit up for them Sunday?
McClure
: The Falcons really had no other choice at the end of the Vikings game after three starting offensive linemen -- center
Joe Hawley
(ACL), left guard
Justin Blalock
(back) and right tackle
Lamar Holmes
(foot) -- exited with injuries. Two other linemen were inactive for the game. So, yes, depth is an issue with Hawley and Holmes on season-ending injured reserve. The good thing for the Falcons is that linemen
Gabe Carimi
,
Peter Konz
,
Ryan Schraeder
and rookie
James Stone
are capable of playing multiple positions. The Falcons also promoted guard
Harland Gunn
from the practice squad and signed tackle
Cameron Bradfield
. Konz's performance will be key as he steps in for Hawley, and the Falcons better hope Blalock's back responds well in preparation for Sunday.
I watched the Giants-Redskins game and was impressed with what the Giants were able to accomplish offensively. Can they sustain such momentum, particularly coming off a couple of extra days of rest?
Graziano
: They're hoping so. What the Giants are saying is that the way the offense has looked the past two games represents progress in the new system, and that's why they think it has a chance to be more "real" than what they showed in the first two games. We will see.
What has surprised me is the way the offensive line has held up in pass protection the past two games after looking like a liability in preseason and once the regular season started. If that continues, then
Eli Manning
-- who's releasing the ball about a half-second faster on average this season due to the shorter drops and quicker reads on which the new system is built -- should be in a strong position to succeed. But since they're not a quick-strike downfield offense right now, I wonder what happens if they fall behind in a game and have to get into a shootout with a high-powered offensive team. The Texans aren't that, and Washington didn't put up a fight. Atlanta has all the weapons, but is the passing game where it needs to be right now in order to take advantage of the talent?
McClure
: I think that goes back to our first question, Dan. If quarterback
Matt Ryan
gets adequate protection, he's one of the elite quarterbacks in this league. But it's hard to get that type of protection when you're using tight ends at right tackle.
Ryan actually has done a marvelous job extending plays with his feet, partly due to increased protection up front in the form of veteran right guard
Jon Asamoah
and rookie left tackle
Jake Matthews
. If Ryan can overcome whatever changes are made up front for the Giants, then maybe he'll get the offense back in high gear. That's something the Falcons haven't been able to do on the road, where they've dropped four straight. Ryan needs time to find a playmaker such as
Julio Jones
down the field.
I saw a few unheralded Giants make some plays in the last game. It seems like the Falcons' defense lets no-name players have career games every time out. What do you expect out of some of the Giants' role players?
Graziano
: My guess is that you're referring to tight end
Larry Donnell
, who caught three touchdown passes in Washington. The Giants always believe they can find productivity at tight end on the cheap, so they didn't flinch when everybody was getting on them all offseason for not having one. Donnell runs good routes and can jump high to catch the ball (he's a 6-foot-6 former basketball player), and it's to the coaching staff's credit that that's exactly what they're using him to do. He's not much of a blocker and can't do anything after the catch, but the thing he's good at, he's very good at, and as long as other teams aren't defending it well, they Gians will keep going back to it.
Fundamentally, this offense is built to operate through the run game, and it will continue to do so with an emphasis on
Rashad Jennings
as the lead back. He and rookie
Andre Williams
split carries Thursday because Jennings had 34 carries in the game just four days earlier, and they got a big lead and could ease off the gas. But it'll be Jennings to run the ball and set up play-action, and then it'll be Donnell,
Victor Cruz
,
Rueben Randle
or whoever's open when they throw it. Short stuff, timing-based stuff, and stuff designed to minimize mistakes and put the unimpressive names they have in the best possible positions to succeed.
Which brings me to this: The Falcons' defense seems to be quite good at putting opposing offenses in position to succeed. Any hope of things getting any better, or is this a defense that's going to struggle all year?
McClure
: It's going to be a struggle unless they magically come up with some way to trade for
J.J. Watt
. There are not enough playmakers on the Falcons' defense, with no elite pass-rusher and no ball hawking defensive back who will create a lot of turnovers. Throw in their defensive leader, strong safety
William Moore
, being placed on short-term IR with a shoulder injury, and you have the recipe for disaster.
The defense actually looked respectable against Tampa Bay, but that was because the offense got off to a hot start and the Buccaneers were in desperation mode early. There is no excuse for giving up 558 yards to a Vikings team playing without
Adrian Peterson
and with a rookie quarterback,
Teddy Bridgewater
. The Falcons continue to struggle with their third-down defense and continue to give up explosive plays. Manning and Jennings, among others, should be itching to put up big numbers against this pathetic defense that gives up a league-worst 8.37 yards passing per play and yields 429.8 yards per game, which is second-to-last in the league.
Defensively, how do you expect the Giants to contend with Jones,
Devin Hester
and
Antone Smith
?
Graziano
: The Giants made a change at free safety last week, benching
Stevie Brown
for
Quintin Demps
, who was signed as a kick returner and has good speed on the back end. That change was made because Brown was struggling, but also with an eye toward the speed matchups they had coming up on the schedule --
DeSean Jackson
last week, the guys you mention this week, and
Jeremy Maclin
and the Eagles next week.
Demps will play in the post while
Antrel Rolle
can move up in the box, and they'll likely plaster cornerback
Dominique Rodgers-Cromartie
on Jones and use
Prince Amukamara
on whoever the second receiver is.
Trumaine McBride
, who was a starter last season, has replaced the injured
Walter Thurmond
as the nickel. McBride is a high-effort guy, but you can win physical matchups against him. The Giants rely on Rodgers-Cromartie's and Amukamara's ability to hold up in man coverage, but they believe they have enough speed with Demps and weakside linebacker
Jacquian Williams
to help supplement that as needed. If Rodgers-Cromartie is limited this week with his thigh injury, that could affect things. But as of now, that's the plan.
Good stuff, Vaughn, thanks. Travel safe, and I'll see you Sunday.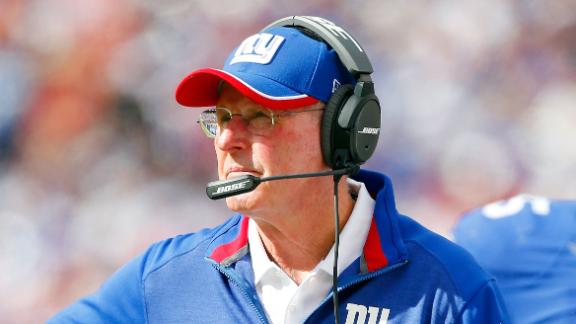 October, 1, 2014
Oct 1
4:40
PM ET
EAST RUTHERFORD, N.J. -- It looks like
Eli Manning
will have a new weapon to throw to this coming Sunday.
Rookie wide receiver
Odell Beckham Jr
., who missed the New York Giants' first four games of the season because of a hamstring injury, practiced Wednesday, and it sounds like he'll play against the
Atlanta Falcons
.
"I feel good," Beckham said, flashing a big smile. "Just looking forward to that opportunity, and getting a chance to finally run out on the field."
[+] Enlarge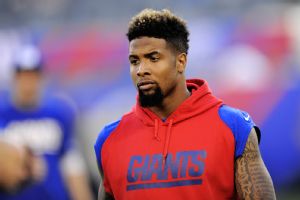 AP Photo/Bill KostrounFirst-round pick Odell Beckham looks to be fully recovered from the hamstring injury that has kept him from making his pro debut.
Beckham was officially listed as limited, but said he did everything. Prior to practice, Giants coach Tom Coughlin said Beckham will be part of the game plan this week.
"We're in that phase," Coughlin said. "What we obviously need to do is to see some hard back-to-back practices, one after the other, which I expect we'll accomplish this week."
The Giants' offense, under new coordinator Ben McAdoo, has looked better as the season has progressed, scoring a combined 75 points in consecutive wins over the
Houston Texans
and
Washington Redskins
.
But there is room for improvement -- the Giants are ranked 16th in the league, right smack in the middle, in both rushing yards (120.3) and passing yards (231.3) per game.
Manning is sixth in the NFL in Total QBR, and third in completion percentage for passes thrown 10 yards or fewer (76.8). But he has completed just two passes of more than 20 yards.
"I hope that he can be a big weapon for us," Manning said of Beckham. "He definitely has a little burst of energy, a burst of speed. He can be a deep threat, can win on some underneath stuff. Can get him hopefully throwing some short passes and he can break it for some big plays. We've got to just keeping working. "
Fellow wide receiver
Victor Cruz
said Beckham has "a ton of ability." Beckham caught a touchdown pass late in practice Wednesday, on a deep post route.
"We just need more of that -- we need more plays like that to be able to keep defenses honest," Cruz said. "I think Odell can provide that, I think Rueben [Randle] as well can provide that, and it's just a matter of us hitting our spots."
The Giants will be facing one of the worst defenses in the league statistically on Sunday. The Falcons are ranked 30th in opponent passing yards per game (276.3), and 28th in opponent rushing yards (153.5).
If Beckham does play, you might see a lot of him, despite all the missed practice time early in the year.
"He's been in every meeting. I would expect him to know everything," Coughlin said. "I wouldn't shy away from that. He's demonstrated an ability to handle whatever's thrown at him, he's done that throughout."
With Beckham back, the Giants are a remarkably healthy team a quarter of the way through the season. Not a single player on the active roster sat out practice Wednesday.
Just three other players were limited: linebacker
Jon Beason
(foot/toe), linebacker
Devon Kennard
(hamstring) and punter
Steve Weatherford
(ankle).
October, 1, 2014
Oct 1
3:50
PM ET
EAST RUTHERFORD, N.J. --
Geoff Schwartz
doesn't know exactly how many calories he consumes in a given day, but it's a lot, because the
New York Giants
guard is 6-foot-6 and officially listed at 340 pounds. Someone that size has to eat a lot simply to make his body work, let alone fuel it to play professional football.
But Schwartz isn't playing football right now, as he's on short-term injured reserve due to a toe injury. And so, as one of the few Jewish players in the NFL, he is not planning to eat anything at all between sundown Friday and sundown Saturday in observation of Yom Kippur, the Jewish day of atonement.
"If I was playing, I wouldn't fast, because I've got to be able to fuel myself to play," Schwartz said Wednesday. "But it's not that tough, really. I'll eat dinner at 5:00 Friday, then I'll go to services and I'll just basically miss breakfast and lunch Saturday. I get grumpy, sure. It's not the most fun 27 hours or so. But it's worth doing."
Schwartz
Schwartz was raised in a conservative Jewish household. His parents didn't allow him or his brother, Mitchell (who plays offensive line for the
Cleveland Browns
), to play football until they were 13 and were finished with their Bar Mitzvah studies. Schwartz has invited college and NFL teammates to celebrate Hanukkah with him during the season. And yes, this time of year, he does his best to observe the high holidays.
"Yom Kippur, everyone's in services and you're all hungry together," Schwartz said. "Everyone's just miserable, but that is the point. You want to feel that way."
Schwartz said his normal breakfast is an omelette with cheese, onions and turkey sausage, and that he eats protein and vegetables for lunch. He also mixes in a few smaller "grazing" type meals during the day that he'll have to skip Saturday. And he won't drink anything, either. Even water.
"The worst part for me is the no water," Schwartz said. "I drink a gallon of water per day. So that's the tough part, wanting to take a sip of water."
Schwartz said he fasted on Yom Kippur starting after his Bar Mitzvah and throughout high school. He wasn't playing on the team when he was a freshman at Oregon in 2004, so he fasted that year too, even though the Ducks had a game that night. He said he remembers feeling sick that night because he hadn't had any water. He didn't fast on Yom Kippur in any of the following three years, because he was training for and playing in games. And he hasn't fasted on Yom Kippur as an NFL player except in 2011, when he was injured and missed the entire season.
This year, Schwartz isn't eligible to return from injured reserve until Week 9, so he'll have plenty of time to refuel after Saturday's religious observance. But he's been through this before, and he knows how to handle it.
"The key is not to eat too much Saturday night when you break the fast," Schwartz said. "Because then you get really sick."
October, 1, 2014
Oct 1
3:43
PM ET
ESPN.com news services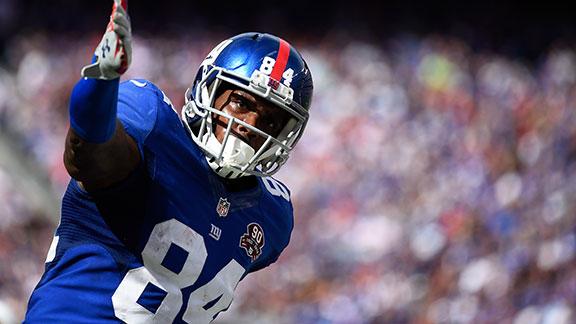 A dream game for New York Giants tight end Larry Donnell in Week 4 quickly turned into a nightmare scenario for at least one fantasy football owner last week: Donnell himself.
Donnell told The Record that he benched himself in favor of San Francisco 49ers tight end Vernon Davis in his fantasy lineup -- and lost as a result.
Davis, who was sidelined by back spasms most of the second half, had two catches for eight yards Sunday. Donnell? A career-best seven catches for 54 yards and three -- count 'em, three -- touchdowns in the Giants' 45-14 win over the Washington Redskins on Thursday.
"Would've won if I played me," Donnell told The Record after practice Wednesday. "During the game, I'm like, 'Really?' That's the honest truth."
Donnell's team, which also features quarterback Drew Brees, running back Frank Gore and wide receivers Anquan Boldin and Mike Wallace, lost by 15 points.
On the plus side, Donnell said his performance last week was enough to earn himself a promotion.
"Oh yeah," he said of his starting lineup this week. "I'm in there."
October, 1, 2014
Oct 1
3:10
PM ET
EAST RUTHERFORD, N.J. --
Osi Umenyiora
returns to the Meadowlands for the first time Sunday, and it sounds like the former
New York Giants
pass-rusher wishes he never left.
Umenyiora spent his first 10 years in the NFL here, before signing with the
Atlanta Falcons
in the spring of 2013. On a conference call with New York reporters Wednesday, he was asked if a part of him wishes he was still here.
[+] Enlarge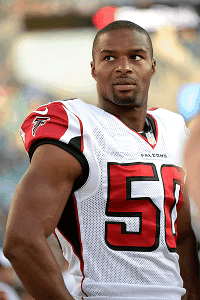 AP Photo/Phelan M. EbenhackOsi Umenyiora is seeking his first sack of the year for the Falcons, who rank 30th in pass defense.
"Um, that's a question I can't really answer," Umenyiora said. "I did what was best for me, and the Giants did what's best for them. That's pretty much the only way I can answer that."
Umenyiora had 75 sacks in nine seasons with the Giants (he missed 2008 due to injury), the fourth most in Giants history. He posted 7.5 sacks in his first season with the Falcons, but has been relegated to a third-down pass-rush specialist role this year.
"Do I feel like I can be helping more? Yes, but I don't have any control of that," Umenyiora said. "So whatever they ask me to do, I'm gonna go out there and do."
Umenyiora doesn't have a sack in 2014, but the Falcons only have three as a team -- tied for the second-worst total in the entire league. Atlanta's defense has been bad in general -- ranked 30th against the pass (276.3 yards per game) and 28th against the run (153.5).
"When you don't stop the run it limits your opportunities to rush the passer," Falcons coach Mike Smith said. "Osi has been playing a role as a pass-rusher in our defense this season, [and] we haven't given him enough swings and enough at-bats to really have an opportunity to affect the game."
Earlier Wednesday, Giants coach Tom Coughlin was asked how Umenyiora looks on film.
"Like Osi," Coughlin said, smiling. "Very, very close on a lot of backdoor plays, which he's very, very good at. Quick, very fast."
Umenyiora was a big part of two Super Bowl-winning teams during his time in New York, but he was also the center of controversy at times because of contract disputes, including a training camp holdout in 2011.
"I dislike some of the things that I did. But I was young, and as you get older you see some of those things -- you're like, 'Man, why did I do that? That makes no sense,'" Umenyiora said. "But I have absolutely zero regrets. I left New York in a great relationship with everybody, from the owners, to the GM, to the coaches, to the players -- I still have a really good relationship with everybody there.
"I'm not looking back or looking to this game as, 'Oh, I'm comin' to get revenge on them,' because it wasn't even like that when I left. I'm just happy to be coming back and seeing some familiar faces."
Umenyiora spoke glowingly about several Giants -- lauding fellow defensive end
Jason Pierre-Paul
for his practice habits and improved technique, left tackle
Will Beatty
for his maturity, and running back
Rashad Jennings
for being very difficult to tackle.
As for quarterback
Eli Manning
, "Well, he's throwing the ball really fast, I see that," Umenyiora said. "He's getting it out of his hands in less than two seconds, it's really amazing. And it seems like he has full command of that new offense they're running down there. They look like a very good team."
Umenyiora was once a big part of this team. Could he be a part of it again? His contract with the Falcons expires at the end of this season. Umenyiora is only 32 (he'll turn 33 next month), and said he wants to play "as long as possible."
"You always want to go out playing well, and if it turns out that I am not playing well or I am not doing well, then obviously I am going to shut it down," he said. "If am still able to perform at a high level, the way I think I can, I am going to keep playing."
The Giants may be in the market for a defensive end next spring, especially if they do not re-sign Pierre-Paul, who will be a free agent.
"I can't even think that far ahead, man," Umenyiora said. "All I can think about right now is this next game that we are playing on Sunday, and whatever happens after the season happens."
Umenyiora will be trying to chase down the quarterback as usual on Sunday -- on third downs, at least. But it sounds like he won't particularly enjoy it.
"Eli's my brother, man," Umenyiora said. "I'm not necessarily looking forward to it, I'm really not. I just gotta approach it like every other game. I have a lot of love for pretty much everybody over there, so I'm not looking forward to going out there and just destroying my former team the way most people would think. I have a job to do, and I have to go out there and execute."
October, 1, 2014
Oct 1
10:28
AM ET
EAST RUTHERFORD, N.J. -- If you think the
New York Giants
are protecting quarterback
Eli Manning
better this year than they did last year, it's not just your imagination.
According to Pro Football Focus, the Giants allowed 86 quarterback pressures and 14 sacks in the first four games of the 2013 season. This year, through four games, they've allowed 30 pressures and just three sacks.
[+] Enlarge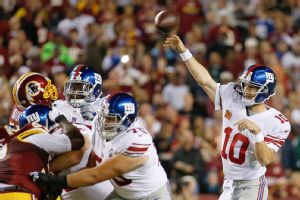 AP Photo/Alex BrandonKeeping Eli Manning on his feet has helped the Giants regain footing in the NFC East.
So yeah.
How are they doing it? Well as is often the case in a team game, it's a combination of factors. First of all, Manning is releasing the ball incredibly quickly this year. The new Ben McAdoo offense incorporates shorter dropbacks and simplified progressions than the ones Manning used in his first 10 years, and the result is that Manning is averaging 2.21 seconds before his pass attempts this season, which is the third-lowest number in the league through four weeks. Last year, he averaged 2.65 seconds, which was 25th-fastest in the league.
When the quarterback is unloading the ball that quickly, the offensive line doesn't have to hold up in protection as long as it used to, either. But it still has to deliver some level of protection in order for Manning to trust the system and himself. In the preseason, it could not do that. And in the first half of the Week 1 loss in Detroit, the line allowed seven quarterback pressures, per Pro Football Focus.
But they allowed only one pressure in the second half, and obviously only 22 in three games since, so something has improved. I spoke with left tackle
Will Beatty
on Monday, and he said the issue was familiarity. Due to injuries and preseason struggles, the current line combination of Beatty/
Weston Richburg
/
J.D. Walton
/
John Jerry
/
Justin Pugh
didn't practice together until the final week of the preseason and didn't see game action together until that night in Detroit. Beatty said a noisy indoor road game is no place for an offensive line to play together for the first time.
"J.D. is calling out the protections, and you really can't hear him," Beatty recalled.
But since they were established as the starting five, those offensive linemen have made it a point to sit in film rooms and meeting rooms and practice those calls. Familiarity with what the call might be helps Walton's fellow linemen figure out what he's saying even if they can't hear it clearly. The Giants also followed that road opener with two games at home, where it's easier for offensive players to hear each other, and the linemen have begun to develop that important feeling of comfort with each other in the intervening weeks.
"It definitely helps a lot," Beatty said. "That's the biggest thing, just a chance to play together and get used to each other."
It's working for the Giants right now, and they'll look to keep it going Sunday at home against the
Atlanta Falcons
.
October, 1, 2014
Oct 1
10:00
AM ET
September, 30, 2014
Sep 30
3:05
PM ET
If I'd told you before the season started that the
New York Giants
would be sitting between the Patriots and the Saints in our Week 5 Power Rankings, you'd have said something like, "Wow! How'd they get into the top five so fast?"
These things are hyper-volatile at this still-early point in the season, and
our latest poll
has the 2-2 Pats at No. 16, the 1-3 Saints at No. 21 and the 2-2 Giants at No. 19.
That's a seven-spot jump for the Giants from last week's rankings, and an 11-point jump from two weeks ago, when they were 0-2 and contending for the dubious title of worst team in the league. The two games they won in five days last week have changed the perception of the Giants around the league, as people now view them as a team on the rise and figuring out its new offense as opposed to a team confused and incapable of scoring points.
The Giants' next three games are at home against No. 17 Atlanta, on the road at No. 6 Philadelphia and at No. 10 Dallas, which looked as good as any team in the league other than the Giants in Week 4. The bye follows, and at that point we'll have a better sense of what we're really watching and where the Giants sit in the league hierarchy. I honestly think it could go either way, and Giants coaches are cognizant of that possibility as well. Left tackle
Will Beatty
told me Monday that the message from the coaches this week is, "Continue to improve, and your bye week is going to be nice. Don't think you're there yet."
September, 30, 2014
Sep 30
11:00
AM ET
A weekly look at what the New York Giants must fix before their next game:
After the game the Giants played Thursday, anything we say here will qualify as a nitpick. But they definitely could be getting more pressure on opposing quarterbacks, and if they don't get to the
Atlanta Falcons
'
Matt Ryan
on Sunday, there'll be no excuse. Atlanta's offensive line troubles run so deep that they had to play tight end
Levine Toilolo
at right tackle in their last game.
The Giants' defensive line has done a good job against the run, but it needs to generate more consistent pressure from more different spots on the line.
Jason Pierre-Paul
is playing well enough at defensive end that he's getting more attention from opposing offenses in the form of double-teams. That should free up
Mathias Kiwanuka
at the other defensive end spot, but, aside from the early sack/fumble in the Washington game, Kiwanuka was a nonfactor in the pass rush. By contrast,
Robert Ayers
had two quarterback hits and one hurry in just 18 defensive snaps, according to Pro Football Focus, which ranks Ayers as the No. 2 4-3 defensive end in the league this season.
Ayers has played on only about 48 percent of the Giants' defensive snaps this season, as compared with 78 percent for Kiwanuka. It might be time for Ayers to see more time on the field if the Giants want to get the most out of their pass rush.