August, 22, 2014
Aug 22
12:00
PM ET
The
New York Giants
(3-0) and the
New York Jets
(2-0) square off in their annual preseason meeting Friday at 7:30 p.m. ET at MetLife Stadium.
1. Time for the starters to show something.
We've said this every week so far, but so far
Eli Manning
and the Giants' first-team offense hasn't shown anything encouraging in the preseason. There's some hope that the game-planning they've done for this game (where they didn't do any for the first three) might help the new Ben McAdoo offense look more in sync, though the Jets' tough defense could negate some of that. Giants coach Tom Coughlin hinted last weekend that Manning and the offense might not be able to take their accustomed breather in next week's preseason finale if he doesn't feel they've played well enough to deserve it. So they certainly should be motivated.
2. The offensive line.
This seemed to be Coughlin's greatest source of consternation in practice this week -- the idea that he still doesn't have a five-man starting line combination with which he feels comfortable. Left tackle
Will Beatty
should play more than he did in his preseason debut last week, but if the Giants retain questions about how much they can expect of him, you wonder if you'll start seeing right tackle
Justin Pugh
over there. Pugh moved to the left side a few times in practice this week, with guys like
Geoff Schwartz
and
Brandon Mosley
getting reps at right tackle and rookie
Weston Richburg
playing guard. Watch to see who gets the snaps and at which positions on the line as the Giants continue to play around with this critical area.
3. Looking for playmakers.
Will we see unproven wide receivers such as
Corey Washington
and
Marcus Harris
, who have been preseason stars, play with the first team at wide receiver? With first-rounder
Odell Beckham Jr
. still sidelined, the Giants are looking for answers on the outside. Not only could guys like Washington and Harris make the team with a strong showing, they could earn surprisingly large roles early in the season. Starting tight end remains up for grabs, and there still could be time for Jerry Reese favorite
Adrien Robinson
to overtake
Larry Donnell
. And there's still a lot to sort out at running back behind starter
Rashad Jennings
. Anyone who plays well in this game will set himself up nicely as roster cuts and other final decisions loom next week.
August, 22, 2014
Aug 22
6:00
AM ET
Forget the Snoopy Trophy. The most important objective in the annual preseason game between the
New York Jets
and
New York Giants
should be staying healthy.
The two teams have suffered major injuries in this game, which is a shame. There's nothing more crushing to a team than losing a star player in a meaningless contest. Consider:
2013: Mark Sanchez suffered a season-ending shoulder injury, a play that will live in infamy. It occurred in the fourth quarter, with Sanchez playing behind the backup offensive line. Rex Ryan made a mistake by inserting Sanchez, who didn't expect to play at that point, and it turned into a disaster. Ryan has remained steadfast in his belief that he didn't screw up, although he regrets his reaction -- i.e. standing sideways in his postgame news conference.
2010: Eli Manning suffered a 12-stitch gash on his head after getting hit by Calvin Pace and Jim Leonhard. He didn't miss any time, but the Jets enjoyed reliving the play. A photo of Manning's bloody head was used on the cover of their playbook when they played the Giants (and lost) near the end of the 2011 season.
2008: Giants defensieve end Osi Umenyiora tore cartilage in his knee and needed season-ending surgery.
2003: Jets quarterback Chad Pennington was tackled and landed awkwardly, dislocating his left wrist and breaking bones in his hand -- a gruesome injury that prompted the trainers to place a towel over his hand as he walked off the field. Pennington missed six games, essentially ruining the Jets' season.
1998: The Giants decided to try star cornerback Jason Sehorn on kickoffs. On the opening return, he was tackled by Chris Hayes and blew out his ACL, ending his season.
August, 21, 2014
Aug 21
2:00
PM ET
EAST RUTHERFORD, N.J. --
New York Giants
tight end
Jerome Cunningham
grew up in Waterbury, Conn., less than a two-hour drive from New York City. So, was he a Giants fan growing up?
"No, I actually have to switch my debit card. Cause I'm a Patriots fan," Cunningham admitted Wednesday. "But not anymore," he quickly added, smiling. "I'm a Giants fan."
Cunningham can certainly be forgiven for what's in his wallet. He's been a little busy the past couple of weeks, trying to learn the Giants' offense on the fly.
[+] Enlarge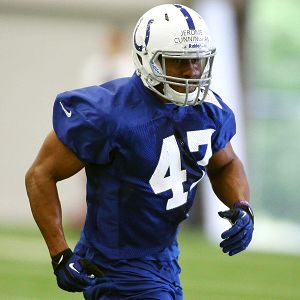 Brian Spurlock/USA TODAY SportsJerome Cunningham could provide the pass-catching threat at tight end the Giants have lacked.
At the beginning of August, Cunningham was working for
Taylor Rental
in Branford, Conn., helping to put up tents for special events. But on Monday afternoon, Aug. 4, Cunningham got a phone call from the Giants, asking him to come down to the team's practice facility as soon as possible.
"My boss wasn't upset, he already knew I had aspirations of playing in the NFL," Cunningham said. "He didn't get mad, he was excited. I was walking around saying my goodbyes, and he just yelled at me, 'Are you still here? Just go!'"
The Giants announced his signing the next day, along with veteran defensive end
Israel Idonije
. But they were barely a blip on the radar, joining the team the day after the stunning announcement that running back
David Wilson
would be forced to retire.
Since then, however, Cunningham has started to make a name for himself. Perhaps the longest shot of the nearly 100 players currently practicing with the Giants to make the final roster, he is beginning to look like a contender at the tight end position.
Cunningham certainly stood out in practice on Wednesday, catching a short touchdown pass from backup quarterback
Ryan Nassib
, and later a much longer TD toss from starter
Eli Manning
, earning audible praise from head coach Tom Coughlin on multiple occasions.
"It felt good," Cunningham said. "It feels good that I'm actually playing faster now than what I was when I first arrived here. Now it's not even thinking, it's just all reacting, and moving as fast as possible."
Cunningham is just the second player in the NFL from Southern Connecticut State University, joining Bills defensive end Ike Igbinosun. In four seasons for the Division II Owls, from 2009 to 2012, he had 61 catches for 690 yards and seven touchdowns.
He went undrafted in the spring of 2013, participated in one of the NFL's regional combines, was brought in for a tryout with the Colts, but wasn't signed. So Cunningham spent the year working and finishing up his college degree.
He also continued to work out, twice a day -- at 5 a.m., prior to reporting to work at 7, and again after work -- not giving up on his NFL dream.
Cunningham participated in another regional combine this past spring, was invited to participate in the rookie minicamps of both the Saints and Cardinals, but didn't stick in either place. The Giants also brought him in for a workout, however, and eventually made that call on Aug. 4. After a second workout, the team handed him his first NFL contract.
At 6-foot-3 and 250 pounds, Cunningham is the smallest of the six tight ends currently on the Giants' roster. But he may also be the fastest, and the Giants desperately need a pass-catching weapon at the position.
None of the other five tight ends have particularly distinguished themselves in training camp. When asked Wednesday if the tight end picture has cleared up at all, Coughlin was particularly vague.
"Well, they've all contributed, so we'll keep asking them to do that," the coach said.
It certainly sounds like there's still an opportunity to win the job, or jobs. And Cunningham believes he has a real shot.
"Even if there was a lead dog, I would still say that I have a chance of making this team," Cunningham said. "You have to have that mindset, you always have to be hungry. Even if I was the lead dog, you still have to have that mentality that you're not the lead dog, so you can stay at No. 1."
Speaking of numbers, Cunningham wore No. 1 in college, but he's wearing No. 48 with the Giants. In fact, he doesn't even own that number -- he's currently sharing it with undrafted cornerback
Chandler Fenner
.
But that may be about to change -- just like his debit card.
August, 21, 2014
Aug 21
10:00
AM ET
In truth, there is very little to tie
Eli Manning
and
Tony Romo
together. One was the No. 1 overall pick, the other undrafted. One has won two Super Bowl MVP awards, the other has become the poster child for blowing it in big games. They play in the same division and are about the same age, but their stories are divergent.
Manning
Romo
Yet there they sit right next to each other, Romo at No. 61 and Manning at No. 62, on this year's #NFLRank list (see chart, below right). And when you see it like that, you start to imagine where they'll be on this list a year from now. It's easy to realize that this is a pretty big season for both of these guys. For different reasons, each faces the question of whether he's in decline.
Romo is 34 years old and has had back surgery twice in the past two years. He's set up to produce big numbers as the quarterback of a
Dallas Cowboys
offense loaded with skill position weapons. For the first time in his career, it appears he has enough elite offensive line talent to protect him. Given the sorry state of the Cowboys' defense, Romo is going to have the opportunity and responsibility to put up a lot of points.
So the question is whether he can, physically, or whether the back issues will continue to be a part of Romo's story from here on out. If they are, the rest of the story likely gets a lot shorter and a lot more uncomfortable to watch.
Cowboys people say they're happy with the progress Romo has made from this year's back surgery and that the priority now is to make sure there are no further setbacks. If there aren't, there's no reason to think there's reason for long-term worry with Romo. He's up one spot from his place in last year's rankings, which indicates that perception of him as a player hasn't changed much. He's set up to succeed on the field as long as he can stay there. For Romo, this season is about proving he's healthy enough to make the next chapter of his career a substantial one.
Manning is in a different spot. As consistently healthy a quarterback as the NFL has, Manning had ankle surgery this spring and missed almost no practice time. He's fully healthy and expecting to play all 16 games, as he has in every season since 2005. The question with Manning is not whether he'll play, but how he'll play.
Manning led the league last season with a career-high 27 interceptions. The Giants' offense fell apart around him so completely that the organization engaged in a full-scale overhaul, bringing in a new offensive coordinator, installing a new offensive system and making sweeping personnel changes at running back, wide receiver, offensive line and tight end.
While some pieces (
Victor Cruz
,
Justin Pugh
) remain in place around him, the most critical constant is Manning, whose 2013 performance was alarming enough to drop him from No. 17 to No. 62 in these rankings. The question hanging over his tousled head as 2014 dawns is whether he was a victim of a system meltdown or an active creator of the mess. Manning is 33, and the way the league is built to preserve quarterbacks now, as long as he's healthy, there's no reason to think he can't play five or six more years, easily.
But Manning has no contract beyond 2015, and the fact that the Giants didn't extend him this offseason, when doing so would have helped them significantly on cap room, indicates that there are questions about his future. They have said, publicly and privately, that they don't consider Manning to be a quarterback in decline. They believe he has and will continue to take to the new offense and help everyone else with the ease of the transition. He's eager to put 2013 behind and play better going forward. He acknowledges his role in the mess and is working to make sure he doesn't repeat it.
However, another bad year could easily change the narrative here. There's no doubting Manning's ability to elevate a team to greatness over a one-month or two-month span, as he has twice, to the chagrin of
Tom Brady
and the
New England Patriots
. But can Manning be a consistent-enough performer in the regular season to shorten the Giants' rebuilding phase and return them to annual contender status? Or are his best days behind him?
The Cowboys and the Giants could be in for rough seasons. Dallas' defense appears noncompetitive on paper, and the Giants' offense is a work in progress that might not be ready for the start of the season. It would be a mild surprise if either team contended for the division title, though it's important to note that the NFC East always surprises to some extent.
Within that framework, though, Romo and Manning face important seasons from individual standpoints. Regardless of their teams' final 2014 records, each is going to emerge from this season having addressed a major question about what to expect from the remainder of his career. Five months from now, we're going to have a lot more information on which to base future expectations for these franchise quarterbacks. Based on the manner in which these players answer these key questions, their teams will either be breathing sighs of relief or addressing huge new questions about the most important position on their rosters.
August, 20, 2014
Aug 20
6:10
PM ET
EAST RUTHERFORD, N.J. -- First-round pick
Odell Beckham Jr
.
was on the sidelines for the second consecutive day Wednesday, but fellow wide receivers
Corey Washington
and
Marcus Harris
continue to impress.
Washington and Harris both got some first-team reps and caught practically everything thrown their way. Washington continues to use his height (6-foot-4) to his advantage, hauling in a couple of touchdown passes on fade routes in the back corner of the end zone.
Washington did have one glaring drop during a two-minute drill at the very end of practice.
Harris made several catches as well on a day in which the Giants' offense looked crisper than it has for much of the summer.
Here are a few other observations from Wednesday:
August, 20, 2014
Aug 20
5:22
PM ET
FLORHAM PARK, N.J. -- The annual preseason game between the
New York Jets
and
New York Giants
may not actually count, but you wouldn't know that for all the verbiage -- and regret -- that comes with it every season.
Jets coach Rex Ryan picked up on Giants running back
Andre Williams
' comments that the Giants were the "real New York team," and then Ryan shot back at the rookie. The teams square off on Friday night.
[+] Enlarge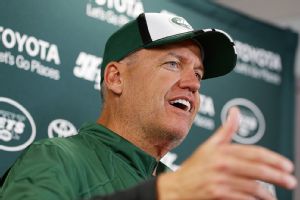 AP PhotoCoach Rex Ryan and the Jets say they're fired up for Friday's preseason game against the Giants.
"Last time I saw him he was getting smoked by Clemson," Ryan said Wednesday,
referring to an Oct. 12 game
between Williams' Boston College Eagles and Clemson, the team Ryan's son Seth plays for. The Tigers won that game 24-14 and held Williams to 70 yards on 24 carries.
"I will say that kid's a good back, though. He is," Ryan said. "I was like, 'Is anybody going to tackle him?' It's great. I have a funny feeling he's going to get some Riddells [helmets] on him, but we'll see. I have a feeling he's going to be pumped up and trust me, our guys are going to be pumped up, too."
Ryan said the back and forth just shows once again that the matchup between the two New York teams means a little more than other preseason games.
"This is the only time you get to play each other," Ryan said, "and I think it amps up a little bit. I really do."
As if to back his coach up, Jets defensive lineman
Damon Harrison
called out Williams via social media.
"See you Friday Mr. Williams...#JetLifeeeeee," Harrison tweeted.
Now for the regret.
Last year, Ryan put likely starter
Mark Sanchez
in during the fourth quarter of the Jets-Giants game. The quarterback took a hit from
Marvin Austin
that resulted in a season-ending shoulder injury.
During his postgame news conference, Ryan got so frustrated by one persistent line of questioning that he turned sideways to answer.
"I got a lot of flak from you guys," Ryan said Wednesday. "Let's face it, they [wanted to] run me out of here. Was that my proudest moment? Probably not. It's kind of funny, I forget who I was sideways with. But you know what? I think I just got a little tired of [the questions]."
The question that got to Ryan that night: Was he ready to name
Geno Smith
as the starting quarterback, given the injury to Sanchez? Ryan said then he wasn't going to answer.
"Sometimes after games," the coach said Wednesday, "we tell our players to cool off a little bit, but sometimes I need to cool off, too."
Ultimately, the Jets put Sanchez on the reserve/injured list as the one player designated to return. Now he's playing backup for the Eagles, and looking a lot better.
Given an opportunity to redo the news conference, Ryan said he would do it differently.
"There's a lot of things you'd take back in life," he said. "That's probably one of them."
August, 20, 2014
Aug 20
5:20
PM ET
EAST RUTHERFORD, N.J. -- There's been so much talk about the
New York Giants
' anemic offense of late, the team's defense has flown under the radar.
That unit was underrated overall last season, and added some very talented players in the offseason, particularly in the secondary. But pressuring the quarterback is still a huge key.
The Giants were tied for 25th in the NFL in sacks (34) last season, and team leader
Justin Tuck
(11) is now with the
Oakland Raiders
.
The team's best remaining pass-rusher is
Jason Pierre-Paul
, and he has been pegged by many as the key to the team's success this season on defense -- including general manager Jerry Reese.
Thus, some might view the fact that Pierre-Paul has yet to record a sack through three preseason games as a concern. But Pierre-Paul himself disagrees.
"It's not important at all," Pierre-Paul said Wednesday. "We only get 25 snaps, that's not a realistic number for me to play. ... You don't get a feel of what the offensive tackle's doing or the inside rusher. I'm not worried about sacks in the preseason. Wait a couple weeks and we'll see."
The Giants are desperately hoping for a bounce-back season from Pierre-Paul, who was fourth in the NFL with 16.5 sacks in 2011, but had just 8.5 in 2012 and 2013 combined.
Health has been an issue the past two years, but Pierre-Paul says he's not limited in any way right now.
"I'm fine," he said. "Every day I'm still working on my technique, that's with everybody too. But as far as health-wise I'm fine. I'm out there every day doing what I can."
The Giants have eight sacks total in the first three preseason games, but none from a player pegged to be a starter come Week 1.
"We've still got work to do as far as the front [four]," Pierre-Paul said. "We've got a lot of work to do. We have a couple weeks left and hopefully we'll get it right."
Later, he expressed confidence we'll see better performances once we reach the regular season.
"I know the guys will pick it up," Pierre-Paul said. "I'm not saying they do slack but come the first game you'll see a big difference in the defense and the offense."
Only time will tell.
August, 20, 2014
Aug 20
4:30
PM ET
EAST RUTHERFORD, N.J. -- The
New York Giants
' first-string offense has looked terrible thus far in the preseason, but one of its stars sees better things ahead.
In fact, he's seen better things already, in the team's three practices this week.
[+] Enlarge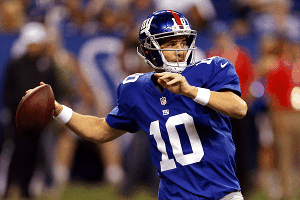 Brian Spurlock/USA TODAY SportsGiants QB Eli Manning has mostly struggled with his passing during the preseason.
"You can see a renewed energy out there on the practice field," wide receiver
Victor Cruz
said Wednesday. "Everybody's getting things done at the right pace, everybody has an energy about themselves to know that we've gotta change the current mood that's around here offensively. We've gotta get things going, we've gotta get on the right track."
The offense did look crisper Wednesday, with quarterback
Eli Manning
connecting with his receivers more often than he has in many practices thus far.
More telling will be Friday night's game against the
New York Jets
, in which Giants coach Tom Coughlin plans to play his starters the entire first half, or close to it.
"Based on last week I would hope that there is a significant production and better quality of play from our [first string], certainly," Coughlin said.
He was very unhappy with that unit following the team's game against the
Indianapolis Colts
last Saturday. Manning completed just 1 of 7 passes for 6 yards, and is 7-for-16 for 49 yards in three preseason games. Cruz has yet to catch a pass in three games.
The coach wants to see more, and "we got the message," said Cruz.
"He has a way of saying it that makes it very loud and very clear," Cruz said, smiling. [But] he didn't even have to say anything for us to know that we had to play better and we had to perform better."
The slow start is a little less surprising given that the team has a new offensive coordinator, Ben McAdoo, installing a new offense.
That being said, the Giants have played three games now, and the regular-season opener is only 19 days away.
The Jets game will likely be the starters' final extended chance to show what they can do, since coaches typically don't play first-stringers much, if at all, in the final game of the preseason.
Learning a new offense isn't the only challenge the Giants are facing. Rookie wideout
Odell Beckham Jr
.
, expected to be a major contributor this season, continues to be sidelined by a hamstring injury. He didn't practice again Wednesday, and has already been ruled out for the Jets game.
Coughlin continues to tinker with his offensive line. Right tackle
Justin Pugh
played some left tackle again Wednesday, for the second straight day.
Geoff Schwartz
, the presumed starting left guard, shifted to right tackle at one point, after playing some right guard Tuesday. The starting five, and their alignment, is far from set in stone.
And the Giants currently have six tight ends on the roster with a grand total of six catches in the NFL last season, and none have emerged as a clear-cut starter or likely major contributor to the passing game.
When asked Wednesday if the tight end picture has become any clearer, Coughlin's response was, "Well, they've all contributed, so we'll keep asking them to do that."
But the Giants still have Manning, a two-time Super Bowl MVP, and Cruz, a two-time 1,000-yard receiver. And Cruz says the Giants still believe in themselves despite the lackluster start.
"We definitely have enough confidence in ourselves, knowing that everybody's gonna be OK," Cruz said. "But from an offensive standpoint, we definitely want to make some plays [Friday], have some success to kind of build on that confidence."
August, 20, 2014
Aug 20
12:00
PM ET
Today we release the No. 71-80 ranked players on offense and defense in our #NFLRank project, and checking in at No. 79 on the defense list is
New York Giants
cornerback
Dominique Rodgers-Cromartie
.
Based on what they paid to sign Rodgers-Cromartie for themselves and keep him from going to the Jets, the Giants hope he's considerably higher on this list next August.
Rodgers-Cromartie ranks 10th among NFL cornerbacks and 23rd among all defensive backs on our list, and he's already moving up. He was unranked when we did this project a year ago and he was coming off the
Philadelphia Eagles
' 2012 meltdown season. But after a strong year helping the Broncos reach the Super Bowl, Rodgers-Cromartie is seen as someone coming into his vast potential.
He's long been viewed as an extremely talented player athletically, but he hasn't always been consistent. The Giants signed him to a five-year, $35 million contract with $13.98 million guaranteed because they believe he's a shutdown cornerback capable of covering the opponent's top wide receiver every week. To this point in his career, he has not shown a consistent ability to be that, but that's the way they plan to use him and they believe he'll flourish in that role under the guidance of Giants safety and former Cardinals teammate
Antrel Rolle
(
No. 83 on this list, as discussed Tuesday
).
Can he do it? The answer will determine a lot about this Giants season and maybe the seasons to come. The Giants love him in coverage. He's aggressive but not overly so, and he uses his speed and athleticism to help himself correct mistakes. They're working with him on his press technique so he's stronger at the line of scrimmage (where you're still allowed to make contact with the receiver), and they believe he's coming along in that area. This could go either way, due to the nature of the player and the position. But my feeling is that Rodgers-Cromartie will either be much higher or much lower on this list when we do it again in 2015.
August, 20, 2014
Aug 20
10:00
AM ET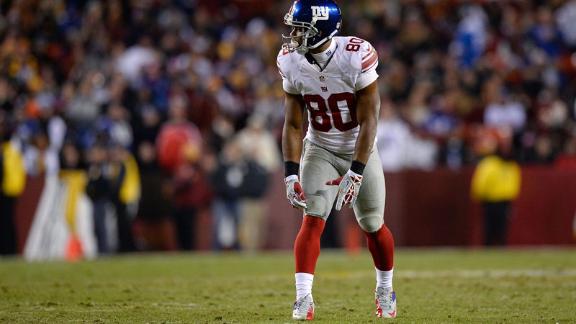 ESPN.com
New York Giants
reporter Dan Graziano says
Odell Beckham Jr
.'s ongoing hamstring trouble might force the team to re-evaluate where
Victor Cruz
will line up for the season opener.
August, 19, 2014
Aug 19
6:00
PM ET
EAST RUTHERFORD, N.J. -- For all of the very legitimate concern over the condition of
Odell Beckham Jr
.'s hamstring, the more pressing matter for the
New York Giants
with the season coming up quickly now is the state of the offensive line. The regular season begins in less than three weeks, and the Giants are still searching for the right starting-five combination of offensive linemen.
What's worse, the preseason has given them some reason to question whether they really are deeper on the line than they were during last season's meltdown.
The first-team line for Saturday's preseason game in Indianapolis was
Will Beatty
at left tackle,
Geoff Schwartz
at left guard,
J.D. Walton
at center,
Brandon Mosley
at right guard and
Justin Pugh
at right tackle. That's what it's been in practice since training camp started, and I think the Giants' ideal plan would be to feel good enough about that line to run it out there Week 1 in Detroit.
Problem is, Mosley has been inconsistent, Schwartz struggled a bit Saturday and Beatty's still recovering from (A) a broken leg and (B) a poor season, so they can't know what they have with him yet. He still needs to take practice reps off, and he did again Tuesday.
Now, the fill-in for Beatty earlier in camp was veteran
Charles Brown
, but he's got a shoulder injury now and was playing poorly even when healthy. With backup tackle
James Brewer
also hurt, the Giants tried something interesting Tuesday when Beatty had to come off the field. They moved Pugh from right tackle to left tackle, kicked Mosley out to right tackle and put rookie second-round pick
Weston Richburg
at right guard.
"They're all playing pretty much everywhere," Giants coach Tom Coughlin said. "You always attempt to be creative and flexible."
The goal is to find the best combination of five and let it play and jell together. But it seems clear at this point that the Giants don't feel they've done that yet. They could elevate Richburg, who's played both guard spots and center this camp, to starting guard in place of Mosley and put him and Schwartz on either side, really. If they ended up having to move Pugh to left tackle, they could play Schwartz at right tackle, where he has some experience, and keep Mosley and Richburg as the guards. Richburg could yet overtake Walton at center, which is the position he played in college.
What's disappointing, after a year in which they scrambled for depth on the line, is the backup situation. Brown was terrible at left tackle, and
John Jerry
has been a non-factor so far at guard. These were the veterans the Giants signed with the hope that they'd have more experience behind the starters this year than they did last year. Brewer hasn't developed and is on the roster bubble. Promising guard/center
Eric Herman
is suspended for the first four games of the season for a drug violation. Injuries to starters on the offensive line have a chance to put the Giants right back where they were when it all fell apart early last season. And in case you don't remember, that wasn't good.
Some other thoughts from Tuesday's practice:
This was a "cards" day, with time spent in preparation for Friday's preseason opponent, the Jets, specifically. So for much of practice, for example, the Giants' offense was running Jets plays. Eli Manning in the pistol, etc. And there were times when it was the defense's job to simulate Rex Ryan's exotic blitz schemes. This is the one preseason game for which the Giants devise a game plan, and it'll be interesting to see whether that helps the first-team offense look better.
Rookie linebacker Devon Kennard managed to tip and pick off a Manning pass in 7-on-7 drills while the defense was in a Jets-specific look. He's a fun player to watch in practice, though the special-teams coaches continue to work with him on technique on the coverage teams.
The Giants have tried the past couple of days to get Mario Manningham more looks on the outside at wide receiver to evaluate him and his balky knee. He does not seem to be performing at a high level. You wonder whether they will start using Victor Cruz outside more if they're not going to have Beckham to start the season, or whether they'll leave Cruz in the slot and use someone like Marcus Harris or Corey Washington on the outside.
August, 19, 2014
Aug 19
4:50
PM ET
EAST RUTHERFORD, N.J. -- The big topic of conversation at Giants camp Tuesday was the absence of first-round draft pick
Odell Beckham Jr.
, who is
back on the sideline
and was ruled out for Friday's game against the Jets.
That's bad news for the Giants, but good news for the young wide receivers battling to make the 53-man roster.
Corey Washington
,
Marcus Harris
and
Julian Talley
all got some first-team reps Tuesday. Washington has received the most attention -- and deservedly so, thanks to his three game-winning touchdown catches in the first three games of the preseason. But Harris has also stood out.
He led the Giants with four receptions (for 49 yards) in the Hall of Fame game against the Bills, and again with four receptions (for 41 yards) last Saturday against the Colts.
[+] Enlarge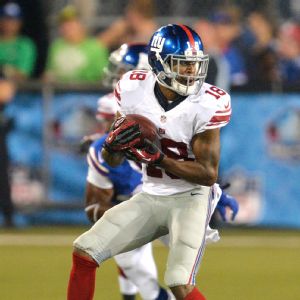 AP Photo/David RichardMarcus Harris has a pair of four-reception games this preseason.
"I think I've had a pretty strong camp, made plays whenever the ball came my way," Harris said Tuesday. "Played pretty good in the games, but always room for improvement."
Harris' nickname is "Soup," short for "Superstar," originally given to him by Eagles wide receiver
Jeremy Maclin
, a former teammate at Kirkwood High School near St. Louis.
But Harris went undrafted in 2011 after four years at Murray State, leaving as the school's all-time leading receiver. The Lions signed him as a free agent, cut him at the end of training camp and then brought him back to their practice squad in late November.
Detroit waived him the following July. He was picked up by Tennessee a week later, but cut again at the end of training camp. Harris ended up playing for Omaha in the UFL and the Iowa Barnstormers in the Arena Football League, with whom he racked up 94 catches and 19 touchdowns.
The Giants signed Harris last August and stashed him on their practice squad for the bulk of the 2013 season. He's yet to play in a real NFL game, but at age 25, he may be on the verge of a breakthrough. It's been a long road, but Harris doesn't view that as a negative.
"It's not tough at all. Especially when you have confidence in your talent," Harris said. "I just keep working every day -- no matter if I bounced around, even if it was Arena [football], I always made plays. It just depends on if the coaches want you. Hopefully I'll stick around this year."
The Giants broke camp last year with only five wide receivers on the 53-man roster, but coach Tom Coughlin indicated Tuesday that he would consider keeping six wideouts this year.
"If they're evaluated as being solid people that can make the club, then perhaps you have to make an adjustment somewhere else," Coughlin said. "Are we against keeping six? No. That's been done before."
Victor Cruz
,
Rueben Randle
and Beckham are the three locks to make the team.
Jerrel Jernigan
has not been impressive this summer, but will probably be retained based on his strong showing late last season. That leaves only one, or maybe two, spots for Harris, Washington and the five other wide receivers currently practicing with Big Blue -- a group that also includes former Super Bowl hero
Mario Manningham
and return specialist
Trindon Holliday
.
Every practice counts and Harris made another impressive play Tuesday, out-leaping reserve cornerback
Ross Weaver
(both are listed at 6-foot-1) to reel in a pass from backup quarterback
Ryan Nassib
in the back corner of the end zone.
Harris is also being utilized in a variety of special-teams roles.
"They said the more you can do, so they're just trying to see if I can do every position on the field," Harris said. "This week I'm playing fullback on punt so it's a new position, but I'm comfortable with it because I practiced it last year on practice squad."
No. 13 won't be out there on Friday night against the Jets, but No. 18 is certainly worth watching.
August, 19, 2014
Aug 19
3:16
PM ET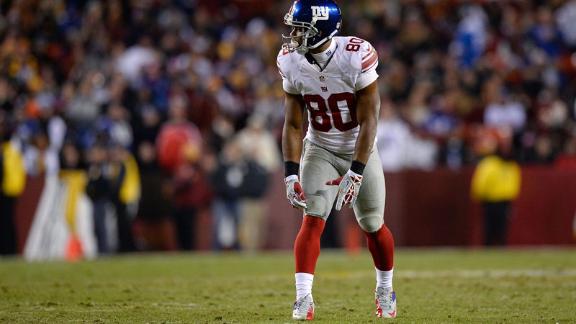 EAST RUTHERFORD, N.J. -- One day after aggravating his hamstring injury in practice, New York Giants rookie wide receiver Odell Beckham Jr. sat out Tuesday and has been ruled out of Friday night's preseason game against the Jets.
Beckham, the Giants' 2014 first-round pick, still has yet to participate in a full team practice since injuring his hamstring on the first day of training camp July 22.
"We have progressively built up my workload," Beckham said in a statement released by the Giants. "I was sore this morning, and I didn't work today because we didn't want a setback, and I don't consider this a setback. I see it as another step in getting back to full strength."
Beckhan has missed all of the Giants' preseason games so far.
"He evidently was sore this morning," Giants coach Tom Coughlin said after practice Tuesday. "They don't feel it's a reinjury, but they're going to continue to be cautious if that's what it takes. They're not saying it's a setback."
They may not be saying that, but since Beckham worked a lot last week, practiced Monday and didn't practice Tuesday, it's obviously not a set-forward. The Giants open the 2014 regular season in 20 days, and at this point they have to wonder whether they can count on Beckham to be a part of their offense at all that night in Detroit.
"He's been at every meeting," Coughlin said. "He knows the offense, knows the terminology. But the stamina, the endurance part of it, those are the things that need to be accomplished."
The Giants' final preseason game will be Aug. 28 against the Patriots.