New York Giants:

Kevin Gilbride
December, 6, 2012
12/06/12
6:15
PM ET
EAST RUTHERFORD, N.J. -- The Giants coordinators met with the media on Thursday. Here are some of the highlights:
OFFENSIVE COORDINATOR KEVIN GILBRIDE
• The Giants offense controlled the clock, racked up yards and moved the ball at will at times against the Redskins Monday night, but only ended up with 16 points. Gilbride pointed to the starting field position as a reason for why they didn't score more.
The best field position the Giants had was their own 24-yard line and they began five drives within their own 15-yard line. In the second half, their best starting position was the 20.
"You have to be just about perfect to put it in; the percentages (aren't high) ... ," Gilbride said. "That's why there's defenses and a lot of defensive coaches in the league that premise their defense on that strategy: you can't drive without making a mistake."
DEFENSIVE COORDINATOR PERRY FEWELL
• In three of the Giants five losses this year (Dallas, Pittsburgh and Washington), the defense has been unable to get the ball back for the offense. Throw in the Philadelphia loss, when the team gave up the go-ahead field goal on the Eagles' final possession, and the Giants have struggled in those final few minutes when they need a stop.
Just like head coach Tom Coughlin said last year, Fewell preaches that the defense needs to be able to finish. Washington was able to pick up three first downs in the final 3:51.
"Obviously we want to close out and be able to finish games. The opponents executed better than we have, so my frustration is our execution," Fewell said. "I think we've been in position to make plays to get off the field and do that, and we have not executed and we have been in position to execute. I think it just comes down to our whole theme, which is: finish. We know how to, we're just not consistent at finishing."
• Fewell believes
Antrel Rolle
's claim that the Giants need to be nastier was a way to try to rally the team for the final four games.
"I think he's trying to send a message that it's time to get going, boys, it's December and we have to do a much better job than we've been doing," Fewell said.
SPECIAL TEAMS COORDINATOR TOM QUINN
• Quinn said that receiver
Domenik Hixon
, who has had success as a return man in the past, could see work as a kickoff or punt returner in the future. He said Hixon could potentially be used more on kickoffs if
David Wilson
sees an increase in play time on offense.
• NFL Commissioner Roger Goodell is considering eliminating kickoffs, according to a TIME Magazine article. Quinn doesn't see a need to make any change.
"It's a good part of the game," Quinn said. "I think kicking off from the 35 has decreased the number of injuries, and we'll continue to see that trend."
November, 17, 2012
11/17/12
8:00
AM ET
EAST RUTHERFORD, N.J. --
Rueben Randle
may have had an NFL-level playing skills when the Giants selected him the second round of this year's draft. But he wasn't ready to be a professional in the NFL.
The wide receiver's work ethic was questioned on a national broadcast earlier in the year, and even Giants wide receivers coach Kevin M. Gilbride acknowledged Monday that the former LSU star needed some work in adapting to life in the NFL.
"He didn't come in knowing how to be a professional," Gilbride said. "It's a long day for these guys as far as how they go about their business and try to prepare for an opponent. And if you haven't been through it in a professional setting, it's different. There's always a little bit of a shock to a rookie's system in that regard."
Through 10 games in Randle's rookie season, Gilbride has noticed improvement in in the way Randle is adapting to all aspects of playing in the NFL. The wide receiver has just 11 catches for 158 yards on the year, but is getting a fair share of touches as the team's No. 3 wide receiver. He's still looking for the first score of his career.
"He's getting better. He's really improving in that area, whether it's his level of focus or his level of understanding and understanding of what it takes to be ready for a game," Gilbride said. "All those facets are improving."
The questions surrounding Randle's work ethic came into play when NBC announcer Chris Collinsworth said during the Giants game against the Eagles on Sept. 30 that the team is hoping Randle grows up and starts acting more like a professional. Even teammate
Victor Cruz
told the New York Post that Randle needs to act like he wants to be here, and improve in certain areas.
To the receiver's credit, the following week he received his first extended playing time and had the best game of his career, catching six passes for 82 yards in a win over the Browns. While Randle has only caught four balls for 72 yards since then, largely because the team's receiving unit is intact, Gilbride believes that game showcased the confidence the youngster has in his play.
"I think his confidence was building and hopefully continues to build as he continues to learn and digest what we're trying to get done, and really, his execution of how we're getting it done," Gilbride said." And it's progressed and needs to continue to progress to help our team down the stretch."
As Randle continues to improve as a receiver, and in handling the grind of the NFL, more opportunities should come. Although he may not finish with eye-popping statistics for the season, there's still plenty of time for Randle to help the Giants get back to the playoffs.
"He's doing a good job, he is running the right routes and he is getting open," Giants quarterback
Eli Manning
said. "We got to figure out ways to get him the ball and get him more involved."
November, 14, 2012
11/14/12
3:31
PM ET
With
six brutal games remaining
, offensive coordinator Kevin Gilbride has some issues to resolve with his unit.
The offense has often stalled out in the red zone. The line has been shaky as of late and, most important, his star quarterback is in
a bit of a funk
.
Here are some highlights from Gilbride's chat with reporters earlier this week:
What's the Diehl:
Gilbride said the pass protection has to give
Eli Manning
more time to throw.
[+] Enlarge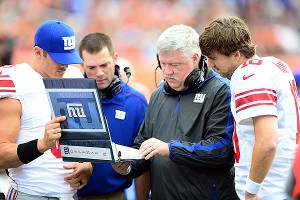 Andrew Weber/US PresswireDavid Carr, Kevin Gilbride and Eli Manning meet on the sideline during Sunday's loss to the Bengals.
He was asked if the insertion of right tackle
David Diehl
into the starting lineup has been a factor in the protection.
"You would love to say it's this one thing or one person or one aspect," Gilbride said. "But it doesn't work out that way. Believe me when I tell you this, it's all of us. We all have to do better.
"Sometimes it's [Eli] trying to force the ball because he's trying to make a play to get us going," Gilbride continued. "Sometimes it's the protection just not being quite as solid as it needs to be. Sometimes it's the receivers. Sometimes it's the call that's not the best call for that defense. It's everything."
Offensive line coach Pat Flaherty also
stuck by the veteran Diehl
on Monday.
Eli's arm:
Gilbride was asked if he sees a tired arm on his quarterback.
"I haven't seen a deadening of the arm, to be honest with you," Gilbride said. "I don't think that's a problem at all. I haven't seen that."
Gilbride said it might be a good thing that Manning is getting away from football for a few days during the bye week.
"I think that's good," Gilbride said. "He's not going to lose his mechanics throwing the ball in that short of a period of time. I think it's all part of the comprehensive 'let me get away from this' thing."
Second-half struggles:
Gilbride said the Giants constantly are trying to figure out a way not to fall into their seemingly
annual November slump
that always seems to happen after quick 6-2 starts.
"Obviously, we haven't quite figured it out yet, or we wouldn't be going through another one that we're looking forward to ending after two games," Gilbride said. "It's something that we look at all the time. You're constantly evaluating everything that you're doing, whether it's a practice structure, whether it's schematic adjustments that can be made.
"Maybe it's the use of different personnel," he continued. "That's something that goes on continuously. We've come up short the last two weeks, so that's what I go by -- not the years past, but what has happened the last couple weeks. And the last couple weeks we haven't played well offensively, so that's been the biggest disappointment for us."
Brown's usage:
The Giants opened Sunday's game against Cincinnati with
Andre Brown
in a hurry-up mode. They did the same in the second half.
Brown was in due to the offensive package the Giants had in.
Gilbride said
Ahmad Bradshaw
is his starting back.
"We thought Andre has deserved some chances," Gilbride said. "When we've given him an opportunity to carry the ball, he's done well. He's catching the ball extremely well. I think it's more a matter of him earning that chance to get on the field. So far, every time we've given him chances, he's come through for us."
No bombs:
The Giants have seen defenses trying to take away the deep ball from them recently.
Gilbride was asked how that affects his scheme.
"It just forces you to go to a different facet of it, and that's where the running game needs to come to the fore," the offensive coordinator said. "I think you look at us statistically, although it wasn't near where we need it to be, you're gaining about six yards a carry [against Cincinnati].
"Problem was it all happened in the second half," he continued. "You have to be able to throw underneath, you have to be able to run the ball effectively. You have to be able to do things where they're more vulnerable defending against the deep stuff, and when you get the chance for the deep stuff, you have to catch the ball."
November, 12, 2012
11/12/12
7:41
PM ET
EAST RUTHERFORD, N.J. --
Hakeem Nicks
is looking forward to having a week off to heal.
"It's going to be very beneficial," Nicks told ESPNNewYork.com. "I plan on coming back stronger than before."
The talented wide receiver has battled injuries all year and is welcoming the break to try and get closer to 100 percent. Nicks has missed three games with a swollen left knee and lingering problems from his surgically repaired right foot, and his production is on pace for career-low numbers.
Sunday, in the 31-13 loss to the Bengals, Nicks caught a team-high nine passes for 75 yards, by far his best game the five contests he's played in since returned against San Francisco on Oct. 14. Nicks has 36 catches for 465 yards with just one touchdown in seven games.
"That's definitely a start," Nicks said of his effort Sunday. "Going in the right direction."
While Nicks has played at less than 100 percent for the entire year, gutting his way through injuries, the wide receiver hasn't been able to play like he has in the past. Since grabbing 10 balls for 199 yards and a touchdown against Tampa Bay on Sept. 16, and then missing the following three games, Nicks had just 13 catches in the four games leading up to Sunday's loss.
Sunday, Nicks finally got into the groove, with the team targeting him frequently and using him in the game plan. He was targeted 14 times, especially in the short and intermediate passing game, and had more catches and yards than he had in the previous two games combined. Nicks only has two games this year when he's caught more than five passes or more than 53 passing yards.
Giants wide receivers coach Kevin M. Gilbride said the injuries have slowed Nicks down, and he continues to need time to heal. He commended Nicks for fighting through the injuries, and is starting to see signs that Nicks can return to the form he's shown during his three-plus years with the Giants.
"Each week, he starts playing a little bit faster. Each week you start seeing the old 88 coming back," Gilbride said. "That's hopefully going to bode well for us down the stretch, because even yesterday, you can look at the catches and the stats, all that, but it's the subtleties of the way he runs his routes, the explosiveness after he catches the ball that you're starting to see come back. It's not quite there yet but it's getting there and that's what we need."
Over the past month, the Giants offense has struggled, with just one passing touchdown in the last four games. Although it hasn't been pretty lately, Nicks is confident the Giants offense will get it going soon and start producing like it was at the beginning of the year.
"Just everybody playing as one, eliminating turnovers and getting back to playing team ball," Nicks said of what needs to be done. "Which I have no doubt we'll do."
November, 8, 2012
11/08/12
6:27
PM ET
EAST RUTHERFORD, N.J. -- Giants offensive coordinator Kevin Gilbride, defensive coordinator Perry Fewell and special teams coordinator Tom Quinn all met with the media Thursday. Here's some of the highlights of what they had to say as the Giants prepare to face the Bengals on Sunday.
GILBRIDE
• The Giants offense has struggled in recent weeks, putting up back-to-back underwhelming efforts against the Cowboys and Steelers. The offensive coordinator acknowledged that not having wide receiver
Hakeem Nicks
and running back
Ahmad Bradshaw
healthy has affected the offense.
"You have, these are the plays you like, and you like them because your players perform them, and defensively, this is what they're vulnerable at," Gilbride said. "The problem is now, certain guys can't do those things, even though you intellectually say, that's the way the scheme (works) and they're vulnerable. It's good, but guess what, he can't do it. Whether it's through injury or a guy that does different things well, there's no question that it impacts, no question about it."
•
Eli Manning
has come under fire recently for his play, as he has thrown just one touchdown in the past 14 quarters and has struggled in the past three games. Gilbride wanted to take some of the heat off his quarterback for the team's stagnant offensive play.
"He gets way too much credit when things go well; he gets way too much blame when things don't go well because that position only performs as well as the guys around them. It's not just him, it's all of us, trust me," Gilbride said. "We all have to do a better job. Of course, it falls on my shoulders. We need to make sure we get those guys in position, that we're asking them to do things where they can be successful."
FEWELL
• Tom Coughlin ripped the Giants' rush defense in Sunday's loss, saying the defense looked soft. The defensive coordinator pointed to lapses in fundamentals
"I thought that we didn't shed well and we didn't tackle well. That was my impression of how we played," Fewell said. "We could've tackled a hell of a lot better. We could've shed a hell of a lot better in that football game to make some football plays."
• The current Giants defense might not be a throwback to the Giants defense of the 1980s, but Fewell believes this group embodies what a Giants defense has historically represented.
"Eleven to the ball, hard-hitting defense. Never say die," Fewell said. "Obviously, we want to take the football away, turn the football over. We want to be relentless in our pursuit and swarm to the football."
QUINN
• After getting gashed by the Steelers in the return game last Sunday, the Giants special teams unit was not too pleased with its effort.
"We're (ticked) about that. The defense bailed us out, take our hats off to them, but we have to do our job," Quinn said. "We didn't do our job, we weren't physical enough, weren't fast enough down the field and we didn't get off any blocks."
• Quinn is pleased with the job
Rueben Randle
has done as the team's punt returner, but would also like to see some more aggressiveness. Randle has just 10 returns on the season for 69 yards, compared to 12 fair catches. The team averages 6.7 yards per punt return.
November, 1, 2012
11/01/12
6:16
PM ET
EAST RUTHERFORD, N.J. -- At the halfway point of the regular season, the Giants are fourth in the NFL in yards per game (396.8), and third in points per game (29.3).
That doesn't leave a whole lot of room for improvement. But offensive coordinator Kevin Gilbride isn't satisfied.
"You're never content, you always want to get better," Gilbride said Thursday. "And I think we can get better, to be honest with you, in just about every area."
In particular, Gilbride referenced the running game. The Giants currently stand 12th in the league in rushing (114.6 yards per game) -- a big improvement over last year, when the team finished dead-last in the league (89.2).
But this year's number is skewed by Week 5, when the Giants racked up 243 rushing yards against the Browns.
"We'd like to be more consistent running the ball," Gilbride said.
Ahmad Bradshaw
is on pace for the second 1,000-yard rushing season of his career, with 126 carries for 570 yards (4.5 yards per carry) at the midway point. But he is yet again playing through a foot injury, practicing one day per week of late.
That, according to Gilbride, could actually pay dividends when it comes to backup running backs
Andre Brown
and
David Wilson
.
"You get a lot of practice time for those other two guys," Gilbride said. "So it's giving them some exposure that they might not normally have gotten in a practice week. And you hope that when the game comes, that if you have to use them an extensive amount that they're able to handle it."
Brown has 46 carries for 236 yards (5.1 yards per carry) and five touchdowns, including a 113-yard game in Week 3 when Bradshaw sat out. Wilson, the team's first-round draft pick, has 17 carries for 88 yards (5.2 yards per carry) in limited action thus far.
"Certainly Andre is looking like he's making the strides necessary," Gilbride said. "David's coming along -- he's still a little bit behind in some areas, but he's improving. The more they expand their knowledge, the more confidence you have that you can depend on them."
October, 11, 2012
10/11/12
6:38
PM ET
EAST RUTHERFORD, N.J. -- Giants offensive coordinator Kevin Gilbride and defensive coordinator Perry Fewell speak with reporters on Thursdays.
Here are the highlights from this week's session with each:
GILBRIDE
• In the NFC Championship Game back in January, the 49ers roughed up
Eli Manning
, sacking him six times and hitting him on six other occasions as well.
Gilbride was asked about the 49ers' front seven, and why they're so tough to block: "Ability. That's it. They have great players. They're tremendous, they're tough. They have great speed on the outside,
(Justin) Smith
is a beast on the inside -- he's strong, he does as good a job (as anybody) of grabbing a hold of offensive linemen and allowing those twists to take place. He never gets called for it so he gets away with murder.
"That, in conjunction with the ability level they have, makes them as formidable as anybody we go against, and we go against some pretty good ones in Dallas' and Philadelphia's. They're as good as anybody up front."
The Giants have only allowed Manning to be sacked five times in five games so far this season. The 49ers have nine sacks, tied for 19th in the league.
• Gilbride doesn't sound too concerned about the fact that two former Giants -- WR
Mario Manningham
and RB
Brandon Jacobs
-- are now with the 49ers and able to share information about Big Blue:
"You certainly wish it didn't happen, but many of the things we do are predicated on what you do defensively. If you're going to sit down because, 'Hey, this is where it's supposed to go,' guess what, we're not sitting down because you're not where you're supposed to be. Most of our big plays take advantage of situations where guys are trying to overplay or cheat on a route. That's when our big plays happen.
"It really doesn't matter what you do -- if we're doing it well enough, we're going to have a chance to get open. It still comes down to, are you good enough to beat a defender and are you good enough up front to provide sufficient time for the quarterback to make those decisions, to sit and see who's open?"
FEWELL
• Through five games, the Giants have just eight sacks as a team -- tied for 24th in the NFL.
Osi Umenyiora
has just two sacks,
Jason Pierre-Paul
just one-and-a-half, and
Justin Tuck
has been shut out so far.
When asked about the D-linemen, Fewell expressed confidence in them, despite the slow start: "They'll get sacks, they'll get hits. I have a lot of confidence in those guys. They'll play, they'll be fine."
Fewell elaborated on the topic later on: "The way the offenses are attacking us right now, sometimes that limits their opportunities. The ball does come out pretty quick on us. The way people are playing us, it doesn't matter. We give them a number of opportunities to do what they do best. Obviously yes, we have to figure out and make the game more one-dimensional. If we do a better job in the run game, we can help them by letting them do what they do best."
• The 49ers lead the NFL in rushing, averaging 196.2 yards per game on the ground.
"They present you a lot of different runs and blocking schemes, a lot of different personnel groups with the formations and adjustments," Fewell said. "They are a little bit unique in what they do."
The Giants are currently ranked 16th in the league in rushing defense, giving up an average of 111.4 yards per game.
• With DT
Rocky Bernard
likely out again this Sunday, Fewell was asked about second-year pro
Marvin Austin
and rookie
Markus Kuhn
, who played in Bernard's absence last week.
Kuhn got 27 snaps against the Browns (47 percent), while Austin got 20 (40 percent).
"I thought Markus Kuhn performed pretty well," Fewell said. "I think Marvin is still a work in progress. He still needs a lot of work; he still needs a lot of reps. The talent is there."