New York Giants:

Prince Amukamara
July, 23, 2014
7/23/14
9:00
PM ET
Here are some photo highlights from Wednesday's practice at
New York Giants
training camp in East Rutherford, New Jersey.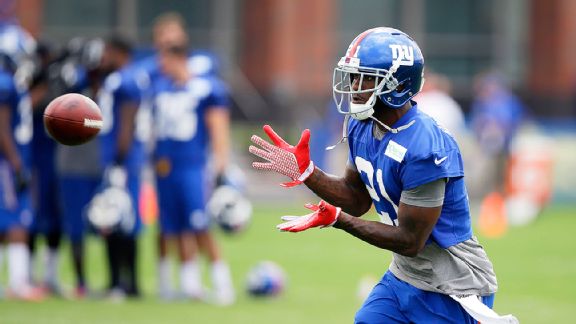 AP Photo/Seth WenigCornerback Dominique Rodgers-Cromartie practicing some momentum-stopping interceptions.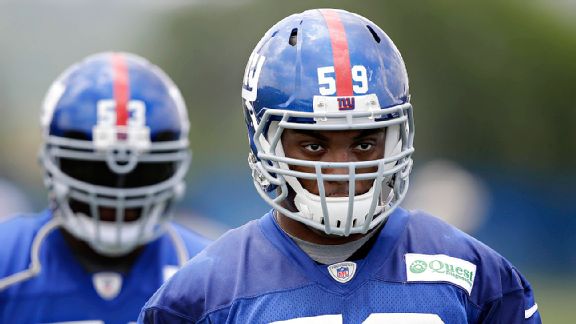 AP Photo/Seth WenigRookie linebacker Devon Kennard looks determined to make it happen.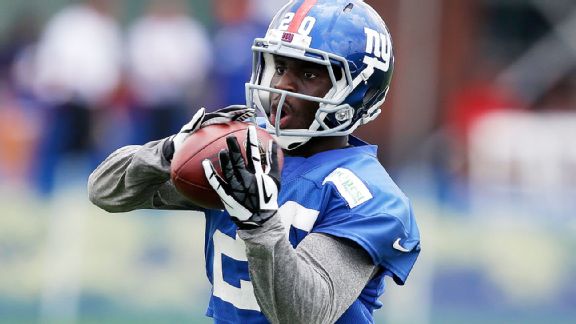 AP Photo/Seth WenigCornerback Prince Amukamara getting in a little pick practice.
December, 21, 2012
12/21/12
3:43
PM ET
EAST RUTHERFORD, N.J. -- With
Torrey Smith
potentially suiting up for the Ravens on Sunday,
Prince Amukamara
had to make sure in practice this week his hamstring could handle streaking down the field with one of the fastest receivers in the NFL.
"I have no problem with that," Amukamara said. "We obviously repped that at practice and I felt well."
Amukamara is probable for Sunday's game after a full week of practice that concluded with a full session Friday. The second-year corner missed last week's 34-0 loss to Atlanta because of the injury, but is "very optimistic" that he will be able to play against Baltimore.
"It's still a little sore," Amukamara said of his hamstring. "I've been running good. Better and better as the week went on."
Amukamara injured his hamstring on Dec. 9 against New Orleans. As he practiced this week, he said that he hasn't felt the hamstring pull. He said he did more running on Friday than he had all week, and he had a lot of burst in his steps. While hamstrings can be tricky injuries, Amukamara is in line to miss only one game.
"I was always going with the flow," Amukamara said of getting back in two weeks. "Whatever the trainers had on the timeline for me I was doing it and they were just going based on what I feel. As I was feeling better, the more I got to do."
Without Amukamara last week, the Giants' secondary was ripped to shreds by Atlanta quarterback
Matt Ryan
. Atlanta was particularly able to have success throwing against Amukamara's replacement, rookie
Jayron Hosley
. While not having Amukamara wasn't the main reason the Giants lost, they didn't look as stout defensively as they do when they have him. Giants head coach Tom Coughlin praised Amukamara for his play this season.
"Naturally, you take a starter out of the game and you're going to notice he's not in the game. He's done a good job, he played the deep ball well the week that he was injured and that's definitely a factor," Coughlin said. "Our cohesiveness is interrupted. We like the young kid, Hosley, but anytime you take a starter out of the game it's going to be a factor."
Unfortunately for Amukamara, injuries have been a problem during his first two years in the league. He missed nine games last year with a broken left foot, and then missed the first two games of the season this year with a high-ankle sprain. He said having to be sidelined during last week's game and watch the secondary struggle was tough.
"Especially just feeling that same feeling last year when I was out for like 10 weeks," Amukamara said. "So I definitely don't want to have that feeling again."
December, 21, 2012
12/21/12
12:15
PM ET
EAST RUTHERFORD, N.J. -- The Giants received mostly good news on the practice field on Friday as every one on the injury report except
Justin Tuck
(shoulder) was practicing during the portion open to the media. Tuck missed his third straight day and it appears he will miss his third straight practice.
Running back
Ahmad Bradshaw
(knee/foot), center
David Baas
(hip/shoulder), guard
Chris Snee
(hip), cornerback
Prince Amukamara
(hamstring), safety
Kenny Phillips
(knee) and wide receiver
Hakeem Nicks
(knee) were all working. It was tough to judge how much Phillips and Amukamara were actually doing but they were on the field.
November, 16, 2012
11/16/12
8:00
AM ET
EAST RUTHERFORD, N.J. -- One week, the Giants shut down the 49ers.
The following week, the Redskins are tallying near 500 yards on them.
It's the inability to stretch together solid outings that's keeping the Giants from being a top defense.
"We're not consistent," Giants defensive coordinator Perry Fewell said Monday. "We've shown at times that we can be a good defense, but we're not a consistent defense. That's what we're striving for: to be a consistent defense. I think that if we can obviously pull together, which we will, and be more consistent with what we do, that we can finish strong."
Fewell, who has been the team's defensive coordinator since 2010, said some of the consistency issue stems from personnel changes. The Giants have a new starting corner this year in
Prince Amukamara
, and safety
Stevie Brown
, who is replacing the injured
Kenny Phillips
, is in his first year with the team. An injury to linebacker
Jacquian Williams
has also limited the team in what it can do with its packages.
Perhaps a bigger reason for the inconsistency, though, is the amount of big plays the Giants yield. For the season, the Giants have allowed nine touchdown passes of at least 25 yards. In their final two games before the byes, both losses, long touchdown passes swung the game.
In the 24-20 loss to Pittsburgh on Nov. 4, the Giants surrendered a 51-yard touchdown to
Mike Wallace
that gave Pittsburgh life in the fourth quarter. Last Sunday against Cincinnati, a coverage mistake by Stevie Brown, as well as
Corey Webster
not recognizing the error, left
A.J. Green
wide open for a 56-yard touchdown in the first quarter that the Giants never seemed to recover from.
"In this league you have to make plays, and players have to make plays, and we as coaches have to put them in position to make plays," Giants defensive backs coach Peter Giunta said. "It's a little frustrating for them and us that we've been in position and we haven't been making those plays."
Giunta also raised the issue of tackling, pointing out how the team had several opportunities to make the tackle but whiffed on Wallace's touchdown. The Giants had 12 overall missed tackles in that game, including a handful on backup running back
Isaac Redman
.
Safeties coach
David Merritt
said when players are preparing to make tackles they need to know where their help is, but can't become too reliant on that help because that leads to what he calls a "passive" type of tackling. He wants his players to visualize that they are the only thing standing between a score.
"Tackling is always an issue in the NFL, not only with the Giants but everybody has a lot of missed tackles," Merritt said. "Especially when you get into November and December, some of these guys don't really want to wrap up and get physical. That's one thing we preach more over the past couple of weeks is that you have to tackle in November and December in order to win football games."
October, 29, 2012
10/29/12
12:26
AM ET
By
Randy Jennings | Special to ESPNNewYork.com
ARLINGTON, Texas -- Giants cornerback
Prince Amukamara
didn't raise a ruckus when a potentially devastating interference flag was thrown with over a minute to play and with New York clinging to a 29-24 lead.
On the contrary.
"I gave him my puppy dog face,'' Amukamara said. "You know, kind of sad. I'm not sure if it worked, but they picked up the flag.''
The Giants held off Dallas, 29-24, to improve to 6-2.
Amukamara had been warned earlier by an official that his coverage was teetering on the edge.
"I was warned, but I'm an aggressive corner, I like to put my hands on them,'' Amukamara said.
He was sure that on the play that produced his puppy dog face, he did not interfere with Dallas receiver
Kevin Ogletree
.
"I couldn't believe it,'' Amukamara said. "He was the one grabbing me. "The ball was overthrown and we were both touching each other. Usually in that situation the call does go to the offense. Thank goodness they reversed it.''
The majority of Cowboys quarterback Tony Romo's 62 throws were of the short, ball-possession variety. The Giants' secondary, nickled and dimed all day, surrendered only one touchdown pass. And that from only one yard out.
Cowboys tight end
Jason Witten
finished with 18 catches for 167 yards.
Witten's superb day was not lost on Giants DE
Justin Tuck
.
"After that one-handed grab he had today, I winked at [Witten],'' Tuck said. "And he smiled. He'll go down in history as one of the greatest tight ends to ever play the game. We all knew coming into this game that Romo's security blanket was Whitten. There were some plays when we double-teamed him and he still caught the ball. Give him credit. He's a hell of a football player.''
Wide receiver
Miles Austin
ran a steady dose of over-the-middle routes and had nine catches for 133 yards.
Romo's 437-yard passing day, helped perhaps by the Giants softening up coverage with a big early lead, was nevertheless offset by four interceptions.
The Giants, it appeared, were willing to give up the short stuff as long as Romo didn't get greedy. Romo won the statistical battle. The Giants won the scoreboard war.
"Hats off to Dallas,'' Aumkamara said. "They kept fighting. But our defense made the plays when it had to.''
October, 10, 2012
10/10/12
7:01
PM ET
EAST RUTHERFORD, N.J. --
Mario Manningham
sounds elated to be in San Francisco.
"Oh, man, I couldn't ask for a better team," Manningham said. "[Couldn't ask for] better teammates, better coaching staff, equipment managers, everybody else. Everybody over here is real cool, and down to earth."
During a conference call with New York reporters, Manningham was upbeat and is excited to play against his former Giants teammates on Sunday. He also may be joined by former Giant
Brandon Jacobs
, who was scheduled to practice on Wednesday, according to head coach Jim Harbaugh.
[+] Enlarge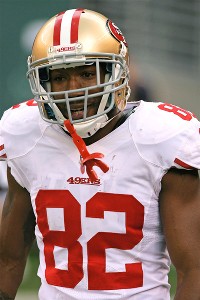 Richard A. Brightly/Icon SMIMario Manningham
"I'm going to go and play my butt off," Manningham said. "Do I have a grudge? No. But am I motivated? Yeah. I am motivated by every game, especially this game. Who wouldn't be motivated by their old team?"
Manningham -- one of the heroes of Super Bowl XLVI -- said he has been in contact with
Hakeem Nicks
and
Ahmad Bradshaw
but he hasn't discussed football with his old mates. He sounded perplexed about the idea that
"he's already talking"
as cornerback
Prince Amukamara
said he heard earlier in the week.
"I talked to Hakeem for like two hours after our game," Manningham said. "We talk back and forth. Ain't nobody going to say their team is going to lose. So, I wouldn't expect that to come out his mouth, you know what I'm saying? I don't even know what you're talking about, about that Prince stuff. We'll see on Sunday, though."
Manningham did say that he teased Bradshaw about his 200-yard game against Cleveland last Sunday.
"I told him, 'You are trying to make up for when we play you all, huh?'" Manningham said. "Just playing with him and stuff and joking around with him. He said, 'Yeah right.' I know he is going to be ready. I bet you four-four is going to be ready."
Manningham said he does plan on sharing everything he knows about the Giants with the 49ers.
"Oh yeah, no question," he said. "I talk to the DBs and talk to my teammates and let them know to give them heads up on what is going to happen here. Things like that.
"I know what is going on," Manningham continued. "Yeah, I share it with them."
Manningham doesn't hold any ill feelings toward the Giants and understands the business and why they did not make an effort to re-sign him in free agency.
So far, Manningham has 19 catches for 186 yards and one touchdown in five games for the Niners. He scored his lone touchdown last week against Buffalo.
"It worked out more than I thought it was going to work out," Manningham said of his role with the Niners. "I am just glad to be blessed to be in this situation. I left a good team and went to a good team."
And he hopes that he will be able to add to his Super Bowl ring collection with San Francisco.
"I just tell my ring to try to hold tight, I hope another one comes near you, that's all," Manningham said. "Try to wipe the dust off it. I got it hidden right now."
Of course, he knows his old team will do everything it can to stand in his way.
"I know they are going to be ready," Manningham said. "I know how they roll over there."
Tell us if you guys miss Mario and how do you think he will do on Sunday below.
October, 1, 2012
10/01/12
10:53
AM ET
PHILADELPHIA -- The Giants' secondary took another hit on Sunday night.
Safety
Kenny Phillips
left in the game in the first quarter with a sprained right knee. He underwent X-rays which came back negative but did not return.
"He is a big part of our defense,"
Justin Tuck
said. "Obviously, when he goes down, somebody has got to step up but without him being out there, it kind of made us gun shy a little bit because (against) those wide receivers and that big-play offense, he is kind of like the anchor, him and Antrel (Rolle)."
The Giants' secondary has been crushed by injuries all season.
Terrell Thomas
had a preseason knee injury that landed him on season-ending injured reserve. Second-year corner
Prince Amukamara
has dealt with a high-ankle sprain that kept him out of the first two games.
Rookie
Jayron Hosley
did not play in the Eagles game due to a hamstring injury.
Michael Coe
was questionable coming into the Eagles' game due to a hamstring injury but is active. Also, Rolle suffered a knee injury last Thursday when he collided with a television camera. He was questionable for Sunday night's game but is active.
Last, though it's not injury-related, safety
Tyler Sash
was suspended for the first four weeks of the season for failing a test for performance-enhancing drugs. Sash is expected to be back this week.
If Phillips can't go next week against Cleveland, Sash is a candidate to replace him.
Also on the injury front, Rolle played through a knee injury and said he came out of Sunday night's game "OK."
"I came out just as well as I walked into it. That's good," Rolle said. "There are always choices you can make. The way I looked at it, I asked myself if this was a Super Bowl game, what would I do? I would play."
PRINCE'S ANKLE IS FINE:
Amukamara tweaked his ankle injury in the second half but said after the game that he was fine. In his first NFL start, the second-year corner helped hold
Jeremy Maclin
to one catch ...
Domenik Hixon
, a fixture on Giants injury reports, finished with career highs of six catches for 114 yards -- and didn't get hurt ... Running back
Ahmad Bradshaw
(13 rushes, 39 yards; 3 catches, 38 yards) said his neck (inflamed) felt OK after the game.
September, 29, 2012
9/29/12
1:56
PM ET
EAST RUTHERFORD, N.J. --
Prince Amukamara
will get his first NFL start on Sunday night in Philadelphia.
While that might seem important to some, it's not a big deal to Amukamara.
"My mentality's always going to be the same -- prepare as a starter and study as a starter," Amukamara said on Friday.
[+] Enlarge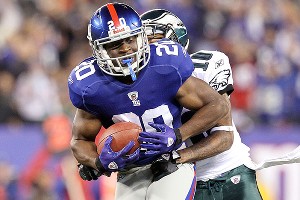 Jim McIsaac/Getty ImagesPrince Amukamara snared his first career interception last season against the Eagles.
Amukamara made his season debut for the Giants last Thursday against Carolina and played a starter's share of snaps.
Jayron Hosley
started the game, but Amukamara came in on Carolina's second play. He ended up playing 43 of the Giants' 58 defensive plays after Hosley left with a hamstring injury.
So, when asked about starting, Amukamara accurately noted, "it's not really much different" from what he did last Thursday.
Fortunately for the Giants, Amukamara seems to be near full health heading into the Eagles game.
His high ankle sprain was taken off of the Giants' injury list for the first time earlier this week. But the rest of the Giants' secondary is fairly banged up.
Corey Webster
will take the field against Philly with a cast on his right hand.
Michael Coe
is dealing with a hamstring injury.
Antrel Rolle
has a knee issue and Hosley is out.
Amukamara insists he's healthy, but admits that he's still feeling soreness in his ankle.
"There's still a little discomfort, a little pain, but it's not really affecting my game," the 2011 first-round pick said. "It gets sore but as I'm running it warms up and feels as good as new."
Amukamara will be lined up Sunday night against Philly, the team he made both his NFL debut and first interception against last season.
His agent, Todd France, recently sent Amukamara a poster of the INT. Amukamara laughed as he told reports about the poster on Friday.
"It's pretty big," he said.
The Giants can only hope that Amukamara makes another poster-worthy play on Sunday night.