EAST RUTHERFORD, N.J. -- Last week, the Giants' offensive line had to deal with an 11th-hour zinger from Packers nose tackle B.J. Raji questioning the squad's toughness. After reaching the NFC Championship Game, the line could feel pretty comfortable about proving a point.
Instead, Pro Bowl guard Chris Snee said he isn't completely happy with the game, even though the Giants put together a 37-20 win over the Packers.
"No, because we still didn't run the ball," Snee said. "Nobody in our offensive line room is satisfied with the way the season turned out. We could win this whole thing but we'll obviously spend this whole offseason worried about the running game."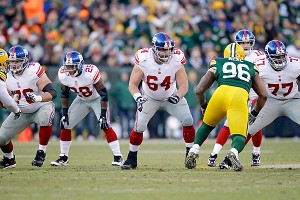 Jeff Hanisch/US Presswire
Chris Snee (76), David Baas (64) and Kevin Boothe (77) excelled in pass protection in Green Bay, but the Giants only ran 27 times for 95 yards.
Although coach Tom Coughlin preaches about a balanced offense, the Giants relied heavily on the pass against Green Bay, particularly in the first half. In total, the Giants had 330 passing yards to 95 rushing yards in win over the Packers.
"We're not saying we're the best group out there," Snee said. "We're just out there to do what it takes to get our team to win, and then we'll make the adjustments in the offseason because there's plenty to do."
Coughlin pointed out the protection on the final drive of the first half, which allowed quarterback Eli Manning the time to pick out wide receiver Hakeem Nicks in the end zone and throw a Hail mary pass.
"We did some positive things," left guard Kevin Boothe said. "We didn't play up to our standards; there was still a lot of things left out there. The consistency is the main thing, still need to become more consistent. I feel like we're taking the right steps, just continue to do that and hopefully we'll play better on Sunday."
The Raji comment was never taken seriously. Snee said he knows Raji, and knew it wasn't an intentional dig.
"Who cares what the doubters say?" right tackle Kareem McKenzie said. "You can't allow yourself to be distracted by something as whimsical as someone's opinion of you."
This week the line knows what it will get in San Francisco, a team that beat the Giants once before.
"They're a good defense, period," McKenzie said. "They play well schematically, they have their key players who find themselves in the right position and obviously they play very well with one another."
But McKenzie also volunteered that the line has work to do.
"There's always room for improvement and we look forward to that challenge," McKenzie said.