Gabriel Bouys/AFP/Getty Images
David Tyree catches the ball during Super Bowl XLII against the New England Patriots.
The man who authored one of the greatest and most breathtaking plays in Super Bowl history admits he was almost speechless on Sunday night when the New York Giants advanced to the Super Bowl.
David Tyree says he was at a loss for words when he saw the Giants were playing the New England Patriots in the Super Bowl again.
"It is kind of spooky," Tyree said of how this postseason run has been so similar to the one the Giants had in 2007-'08. "I am one of those people I don't think anything happens by accident."
For the next two weeks through Super Bowl XLVI, highlights of Tyree's amazing helmet catch from Super Bowl XLII will be played over and over again.

Listen to David Tyree on Tuesday morning's Mike and Mike in the Morning.


For Tyree, it was the defining moment of his six-year career and he's back in the spotlight again now that the Giants and Patriots are facing each other again.
"Knowing that as great as that catch was, as great as the moment was in my career, for a guy like me, I knew whether I was healthy and I continued to play on in my career, the truth of it was I was never going to have a moment ever in my career that was going to eclipse that," Tyree said in a conference call with reporters on Tuesday morning. "I could have gone on and done some things but it gave me a sense of peace as far as moving on and knowing I had a career that I can be satisfied with and knowing something I can hang my hat on."
Tyree, who retired after playing for the Ravens in 2009, is working on his second book with his wife and has been involved in other business ventures. He will be in Indianapolis at some point during the Super Bowl, thrilled to forever be a part of Giants' lore.
Inside a Moment in Time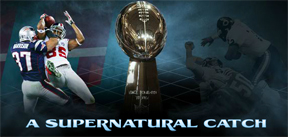 Step inside two iconic images of this historic play in Super Bowl XLVI.Tyree admits that the similarities of this run to the one made by the 2007 squad is eerie. Besides the Giants beating the Niners in the NFC Championship Game on the road in overtime with a field goal to face the Pats in the Super Bowl, Tyree noticed how Hakeem Nicks caught a Hail Mary in the first half against Green Bay with the help of his helmet.
"Yeah, you can't ignore this stuff," Tyree said. "I think there are all kind of variations of the helmet catch since '07. I am one of those guys that I don't think there is anything that happens by coincidence."
Tyree says many people ask him about the parallels between his rise to fame and Victor Cruz's explosion onto the scene. While Tyree did not have the same offensive production as Cruz, both wide receivers are local products from New Jersey who grew up close to where the Giants play and went from being anonymous to household names.
"Lots of little highlights that makes you go hmm," Tyree said of all the similarities between the 2007 and 2011 Giants.
It was especially sweet for Tyree, who made a Pro Bowl as a special teams standout, to see special teams make an impact in the NFC Championship Game. Devin Thomas recovered two fumbles on punts that helped the Giants score 10 points. The last fumble recovery, which was forced by Jacquian Williams, set up the Giants' game-winning field goal in overtime.
Tyree said he ran into Thomas at a diner last Friday.
"He is a guy who has had one of own journeys," Tyree said of Thomas, a former second-round pick who was released by the Redskins and Panthers before becoming a special teams contributor for the Giants. "He had one of those journeys, probably some disappointments and just being a guy going from being something but struggling as a whole … those are some of the things I had to embrace in my career. I can remember going through training camp and coming out as the third wide receiver but then being reduced down to something that you love but you have to learn that I still got a role in this thing and a chance to make an impact."
Tom Coughlin said that he had a feeling that someone who was not normally in the spotlight would make a game-winning play in that defensive battle against the Niners.
Now it remains to be seen whether there will be another Tyree to step up and make the play of a lifetime in this upcoming Super Bowl.
It was a play that helped the Giants pull off one of the greatest upsets in Super Bowl history and one that opened financial avenues for Tyree.
"No boasting myself but there was probably no one more sought after, other than the Strahans and the Elis, as far as somebody being totally anonymous in the sports world to come to the forefront," Tyree said of the attention he garnered after the catch. "It was pretty drastic."
Tyree said if he could change one thing in the aftermath of the catch, it was to do fewer appearances with his wife at home with two newborn twin girls. Tyree said he doesn't do as many appearances with six children but he has used the platform given to him to express his religious views. He sparked controversy by opposing gay marriage in New York last year.
Tyree was asked if he had lost any marketing opportunities because of his views.
"The biggest part I knew what I was going into it from the start," he said. "I don't really value marketability. I value the honor of my God through Jesus Christ. The shame that came from it was the hypocrisy."
"When you talk about this being the state where everybody is entitled to their opinion or has that freedom of speech," he continued. "But the moment you say something that goes against what is relevant to our culture, now you are all of the sudden a bigot. I got tons of flack but I expected that. It is one of those things that I feel so strongly about. When you talk about marriage, I believe it is the backbone of culture."
Tyree said he is not seeking the spotlight again but understands his role he plays in Giants and Super Bowl history.
And he is grateful for it all.
"I wouldn't have any of it if it wasn't for the catch," Tyree said of his business ventures. "That's the truth of it. I would not be a marketable NFL athlete even with a Pro Bowl under my belt as a special teams player. You have to be grateful in knowing that you have something that for me personally you can continue to dig back into the well."
"It is not about the money," Tyree adds. "It is more about for me having a moment that transcends my own personal career, to be a part of Giants history, NFL history, Super Bowl history. That is something that most people who have had far better careers than myself … they never have a moment like that where they can hang their hats on."