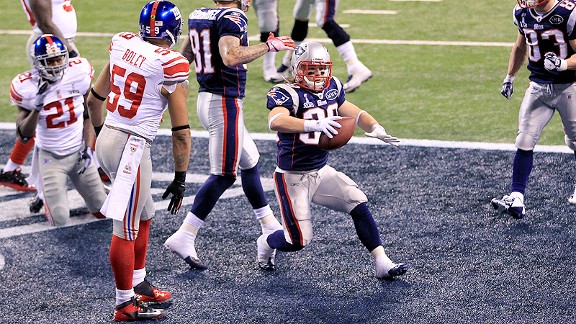 Chris Trotman/Getty Images
The Patriots took a 10-9 halftime lead on Danny Woodhead's TD catch.
INDIANAPOLIS -- Quick thoughts on the first half:
1. Great quarterback play by Eli Manning and Tom Brady. Neither player is taking many chances, mostly underneath stuff, but they've been very accurate and in command. Manning is 13-for-17, 120 yards, and one TD pass; Brady is 15-for-18, 147 yards and one TD. Manning started 9-for-9, but Brady heated up after a slow start (a safety on intentional grounding in the end zone). Brady went 10-for-10 on the Patriots' final drive, a 96-yard gem that may have been their best of the season. Two terrific quarterbacks are playing their best, and it's a treat to watch.
2. This one's for all the "Rudy" stories out there. The only touchdowns were scored by Giants WR Victor Cruz and Patriots RB Danny Woodhead, neither of whom was drafted out of college. Like they say in the scouting business, it's all a crapshoot. It's great to see two guys like this shine on the biggest stage.
3. After a fast start, the Giants' defense started to encounter problems with TE Aaron Hernandez and WR Wes Welker, who have combined for nine receptions. The Giants are mixing up their coverages, but Brady has stayed one step ahead of them, finding the best matchup.
4. Where is the Giants' vaunted pass rush? Jason Pierre-Paul has a couple of bat downs and a tackle-for-loss and Justin Tuck pressured Brady on the safety, but the four-man rush isn't nearly good enough. On the 4-yard TD pass to Woodhead, the Giants actually dropped Tuck and Pierre-Paul into coverage, which made no sense. Defensive coordinator Perry Fewell also made a couple of other ill-advised calls earlier on the drive.
5. The Giants are running the ball fairly well, but they need to put the ball in Manning's hands with three wide receivers, attacking the Patriots' patchwork secondary. They haven't exploited that matchup as well as they should be. All they're doing is playing into the Patriots' hands.
6. Former Jets P Steve Weatherford is having an excellent game, with two punts inside the 20. His first led to the safety. But he wasn't good enough for the Jets. Crazy.