NEW YORK -- Giants fans would have had a hard time booing any pick announced by Michael Strahan, so it was a soft landing in New York for wide receiver Rueben Randle of LSU, who spent the first 10 minutes of his new career standing beside the former Giant, who advised him to stay humble.
That shouldn't be hard given the 24 hours leading up to Randle's selection.
Randle didn't seem to find much consolation in the report that the Giants had considered him as their pick in the first round, and were surprised to see he was still available with the last pick in the second. For Randle, that meant a full day of sitting in the green room with a dwindling number of the original 26 who arrived before the whole event began.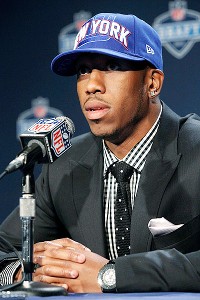 AP Photo/John Minchillo
Rueben Randle
"I wasn't trying to worry myself with the whole situation," Randle said.
But his father, who had the look of a man had been through an exercise in patience he hadn't quite prepared for, was a little more upfront.
"It was kind of, I don't know, tense waiting," Emmett Randle said. "I was ready for the process to be over."
It finally was when Rueben spoke to Giants coach Tom Coughlin on the phone to end the second round.
"He just asked me if I was ready to come in and compete," Randle said.
Randle assured the reporters gathered that he was.
Giants fans Johnny Moreno and his 11-year-old son, Jayson, loved the pick.
"It's a really good pick," Jayson said. "I think he's going to fit real well into the receiving corp with Hakeem Nicks and Victor Cruz."
The Morenos traveled to Radio City Music Hall from Staten Island, and next time they want to go for tickets to the first round. But both were excited they got to see Strahan as a bonus.