Perrilloux hoping to stick for good
May, 13, 2012
5/13/12
12:29
PM ET
Ryan Perrilloux
admits it got confusing at times when the Giants kept cutting him and bringing him back onto the practice squad last season.
But Perrilloux said what kept him from being a nervous and frustrated wreck was knowing that the Giants had him in their future plans
"Sometimes it gets a little confusing, but they gave me stability by letting me know that I would be back this year and that I wasn't doing anything wrong," Perrilloux said. "So I kept a positive attitude and tried to get better."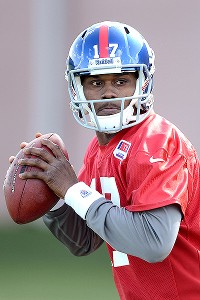 AP Photo/Evan PinkusRyan Perrilloux hopes to stick with the Giants as the backup to Eli Manning and David Carr.
The third-string quarterback was released and brought back to the practice squad so many times that it was dizzying. In fact, he was waived and then either signed to the practice squad or had his practice squad contract terminated a grand total of 22 times last season, including the initial move of waiving him from the final roster at the start of the season.
But Perrilloux showed glimpses in this weekend's rookie camp of why the Giants kept him around. The 6-3 quarterback has a cannon arm and connected on a bomb to
Rueben Randle
on the first day of camp.
"The difference is I have been here a year and I understand the system," Perrilloux said. "You have to over-learn it and this year I feel more comfortable with the play calls and my reads. I just feel more comfortable as a player overall."
Comfort is not exactly something a player would likely feel after being waived or having his practice squad contract terminated 11 times. But Perrilloux felt at ease knowing the Giants wanted to keep him around and had to make the transactions due to injuries. And the fact that they kept signing makes him feel wanted.
"Perrilloux, we like you a whole lot," the quarterback said of what the Giants explained to him about all the moves. "There is nothing you are doing wrong out there, but there are things going on and we have to move guys around a little bit. But we definitely want you here and we definitely want you to be a Giant."
Perrilloux admits that all the transactions did throw his rhythm off a bit and kept him from getting more valuable on-the-field work with the practice squad and extra scout team reps.
"I practiced about six weeks last year and I guess the other 12 weeks I was in and out, continuing to work out and continue to grow in the film room," he said.
Offensive lineman
Selvish Capers
was often the player signed to the practice squad whenever Perrilloux was let go. So it was a bit of a rare sight to see both players together in rookie camp this weekend.
"We practiced the bye week last year and leading up to the St. Louis game," Perrilloux recalled of the times they were together in practice. "But it is definitely good to be out there with him. It has been a long time."
Perrilloux hopes he will be around long enough this season to show the Giants what he is capable of.
"That let me know they were confident in my ability and that they knew I was going to grow into an NFL quarterback," Perrilloux said of the Giants repeatedly bringing him back. "And they knew I was going to continue to work hard and continue to prove to everybody that I can play this position at a high level."