EAST RUTHERFORD, N.J. -- This will be a very different spring and summer for Victor Cruz.
Instead of being a guy fighting for a job in OTAs and training camp, Cruz is a given, after his remarkable 2011 season when he caught 82 passes for 1,536 yards and nine touchdowns.
"It's a unique situation," said Cruz, following the Giants' first organized team workout of the offseason on Wednesday. "Coming into this year, I was like, 'Wow, I'm kind of one of the older guys now. I gotta keep these young guys in mind.'"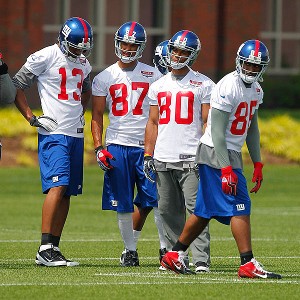 Jim O'Connor/US Presswire
Victor Cruz (80) is no longer just a face in the crowd.
Cruz is still only 25 years old, but he is one of the key cogs in the Giants' offense. He said Wednesday that he expects to continue to play in the slot position in 2012, where had so much success a year ago.
As for talk about a new contract? "I don't have any information on contract stuff," Cruz said.
The Giants will be depending on Cruz to duplicate his success from 2011, especially now that fellow wideout Mario Manningham has moved on to San Francisco.
Cruz said he still feels like he has something to prove, considering he came out of nowhere and emerged as a star last season, after being undrafted out of UMass in 2010.
"I think every time I step on the field I want to show that I'm the same player I was last year," Cruz said. "The same type of hunger, the same type of intensity that you saw last year, I try to bring that on the field each and every time."
He also thinks there are areas he can improve on -- specifically mentioning "getting to the right depth on a certain route consistently," and also "understanding what your route opens up for other people."
One of the candidates to replace Manningham as Eli Manning's third option at wide receiver (after Cruz and Hakeem Nicks) is Rueben Randle, the team's second-round draft pick out of LSU.
Randle and the other rookies joined the veterans on the practice field for the first time on Wednesday.
"He's good, he's tall, he's lengthy, he covers a lot of ground when he runs," said Cruz, when asked about the 6-foot-2 Randle. "For him, it's just a matter of getting the offense and getting comfortable to the point where he doesn't have to think so much, and it's just natural. So we're working with him, and he looks pretty good."
Cruz hopes to become more of a leader this season, now that he has defied the odds and is an established veteran.
"I'd like to think I could have an impression on some of the young guys," Cruz said, "and just let them know that through hard work you can reach your dreams."