ALBANY, N.Y. -- The Giants reported to training camp today and the defending Super Bowl champs packed something heavy to go along with their luggage.
Victor Cruz says the Giants definitely have a chip on their shoulder.
"Coming into this season nobody's picking us to win, everybody's picking us to be last in the division and things of that nature," Cruz said. "Naturally, that puts a chip on our shoulder and we want to come out and prove people wrong, like we essentially have to do every year."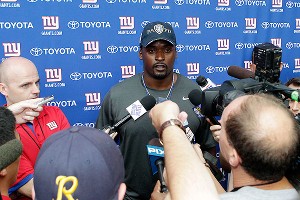 Tim Farrell/The Star-Ledger/US Presswire
Will the Giants be underestimated? Not by their opponents, Mathias Kiwanuka says.
The Giants have noticed people talking more about the Eagles and the Cowboys. And that is just fine by them, since the Giants take great joy in finding motivation from doubters.
But Mathias Kiwanuka knows opponents will set their sights on the Giants.
"Until you lose, you have to be called the best, right?" Kiwanuka said. "It's a new year, it's a new season, but we have the crown and that target on our back and we know it. That's why we're going to look at it that way, not to put ourselves above anybody but just to remember that when we play a team we're going to get their best game, their best shot."
DYNASTY TALK: Justin Tuck mentioned the "D" word long before Michael Vick, did when Tuck said he wanted the Giants to become a dynasty earlier this offseason.
So what does he think of Vick saying the Eagles have the makings of becoming a dynasty of their own?
"I understand what Michael is saying," Tuck said. "Obviously it's gonna get blown out of proportion. I think he was just talking about the belief in his football team. I don't see anything wrong with that."
"It wasn't a slight to any team that's won a championship or anything like that," he added. "He believes in his football team, why shouldn't he say it?"
Is there enough room for two dynasties in the NFC East, though?
"We're not a dynasty yet," Tuck said. "We still got some work to do ourselves. [But] no, there's not [enough room for two dynasties]. Right now there's not one in here yet, hopefully we can become that first dynasty."
GIANTS MOVES: The Giants announced that Ken Sternfeld is the team's new director of pro personnel after spending 10 seasons as the assistant director.
Dave Gettleman, previously the director since 1999, is now senior pro personnel analyst.
Sternfeld, along with pro scouts Matt Shauger and Patrick Hanscomb and department assistant Andrea Wagner, will scout opponents. Gettleman's focus is on individual NFL players.
"Dave has been a great mentor for myself and Kenny," GM Jerry Reese said in a news release. "He is a true professional that knows the business and he has the Super Bowl rings to back it up.
"Kenny is well-rounded, a tireless worker and well-prepared to take over as Director of Pro Personal."
Sternfeld has more than 20 years of pro and college scouting experience and spent 21 years with the New England Patriots, primarily in scouting. He joined the Giants in May 2002.