The final preseason game against the Patriots is tonight. This is a final chance for bubble players to impress the coaching staff. With the Giants trimming their roster down from 75 to 53 on Friday, let's take a look at the defense and special teams, position-by-position, and who might stay or go.
I'll take my stab at who I think will make it and who's on the bubble. Some big individual performances and injuries tonight could always change things. Also, here's my look at the offensive side of the ball.
Tell us who you want to keep and cut below in the comments section.
DEFENSIVE LINE:
In: DE Justin Tuck, DE Jason Pierre-Paul, DE Osi Umenyiora, DT Linval Joseph, DT Rocky Bernard, DT Marvin Austin. (DT Chris Canty is on PUP).
On the bubble: DE Adrian Tracy, DT Shaun Rogers, DT Marcus Thomas, DE Adewale Ojomo, DT Markus Kuhn, DE Matt Broha, DT Dwayne Hendricks, DE Craig Marshall.
My projection: There are going to be some really tough decisions to make on defense, starting with the defensive line unit. I think I went back and forth for an hour on this one. I'm keeping eight defensive linemen on my final roster (not including Canty, who is on the PUP), assuming Austin's back is good enough to return soon.
First, what to do at fourth defensive end? Tracy was heading toward being that guy until he suffered a hamstring injury that has sidelined him. Tracy says he will be ready for the season opener, but he won't play tonight. I have him as the fourth defensive end but could the Giants place him on IR and go with Ojomo?
Ojomo has impressed and what happens if he has another big performance tonight? Keeping five defensive ends will be difficult considering all the injuries at defensive tackle. I have Tracy edging Ojomo out.
At defensive tackle, we obviously don't know how bad Austin's back is. With Canty not eligible to return for at least the first six games, the Giants need healthy bodies. I still have Austin on the active roster, as opposed to IR, hoping he will return soon.
I'd love to keep Rogers and wait for him to come back from a blood clot but a "ray of hope" as Tom Coughlin put it for Rogers' chances of playing again this season is not enough for me to hold onto him simply because of the injuries and the need for healthy backups.
So, I'm keeping Thomas and stashing Kuhn on the practice squad hoping nobody picks him up. And if Rogers can play again this season, perhaps the Giants can re-sign him later.
I'd love to keep Ojomo but the injuries at defensive tackle worry me, forcing me to keep Thomas. If Austin's back flares up, Kuhn can come up if he's on the practice squad. Broha, Marshall and Hendricks have some promise but there aren't enough roster spots. Of course, tonight's performances could have an impact. We'll see.
LINEBACKERS:
In: OLB Mathias Kiwanuka, OLB Michael Boley, OLB Keith Rivers, OLB Jacquian Williams, MLB Mark Herzlich, MLB Chase Blackburn.
On the bubble: OLB Spencer Paysinger, OLB/MLB Greg Jones, MLB Jake Muasau.
My projections: I want to pull my hair out after going through defensive line and now linebacker. Jerry Reese and Coughlin have some hard decisions to make.
Ultimately, I'm keeping eight linebackers with special teams in mind. I am not sure if the Giants will do the same since they could keep seven with injuries at defensive tackle and cornerback to consider.
But I am going to keep Paysinger and Jones as the final two linebackers because of what they do on special teams. I put Paysinger in the "on the bubble" category but indications point to him making the final roster.
Jones might need a solid performance tonight but I think his special teams contributions –- he recovered a blocked punt last weekend –- and ability to play middle linebacker and outside linebacker should help. I think Muasau is a practice squad possibility.
Keep an eye, though, on the linebackers tonight.
DEFENSIVE BACKS: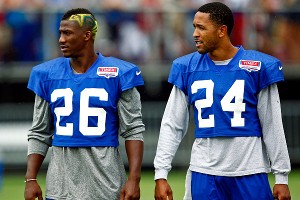 Mark L. Baer/US PRESSWIRE
Antrel Rolle and Terrell ThomasIn: CB Corey Webster, CB Terrell Thomas, CB Prince Amukamara, CB Jayron Hosley, S Antrel Rolle, S Kenny Phillips, S Will Hill. (S Tyler Sash is on the suspended/reserve list for the first four games).
On the bubble: CB Michael Coe, CB Justin Tryon, CB Bruce Johnson, CB Dante Hughes, CB Laron Scott.
My projections: I'm keeping 10 defensive backs, including Thomas. The hope is that Thomas will return at some point this season. He can't be placed on the PUP because he practiced in camp. The Giants could place him on IR because who knows when his twice-repaired right ACL will be strong enough to play this season after he re-aggravated it in camp. But I'll be optimistic and keep him hoping he could be back sometime in the first half of the season.
With Amukamara nursing a high ankle sprain and potentially out for weeks, I'm keeping Coe, Tryon and Johnson. Hughes, though, has looked good at times and a strong showing tonight could make a difference. I may have put Coe in the bubble category but he appears to be the next man up at corner and will likely start in place of the injured Amukamara and Thomas.
If Hosley is healthy, he could and should gain more playing time as the season progresses. Between Rolle, Hosley and Hill, the Giants should have options to cover slot receivers until Thomas is ready. When Sash returns from suspension after the fourth game, the Giants will have to make a roster move.
Of course, there's always the possibility the Giants go out and sign a veteran after teams make their final cuts on Friday.
SPECIAL TEAMS:
In: K Lawrence Tynes, P Steve Weatherford, LS Zak DeOssie.
On the bubble: None.
My projection: Finally, an easy unit to figure out.
David Wilson should be the kick returner and Hosley should be the punt returner after seeing the spark they can provide there.
So, what do you guys think?