Last week, Kareem McKenzie struggled to contain Colts defensive end Robert Mathis on the edge. Sunday against the Titans, McKenzie failed to keep his emotion -- and sense of judgment -- in check.
McKenzie was flagged for two unnecessary roughness penalties in the fourth quarter of the Giants' 29-10 loss to the Titans. In total, there were six personal foul calls against the Giants.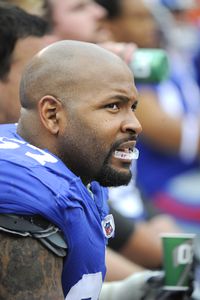 AP Photo/Bill Kostroun
Kareem McKenzie committed two of the Giants' six personal fouls.
"It was a poor showing on my part," McKenzie said. "I showed a lack of judgment. Something that definitively I can't do."
On the first penalty, McKenzie was flagged after Lawrence Tynes missed a 44-yard field goal, and the infraction gave the Titans the ball at their own 49-yard line. Tennessee chewed off more than five minutes of clock on the ensuing possession and kicked a field goal to take a 22-10 lead. McKenzie said the penalty was the result of a lack of discipline.
His second unnecessary roughness arguably killed any chance the Giants had of a comeback. McKenzie was flagged after an incomplete pass on second-and-10 at the Titans 31 with 6:29 remaining and the Giants still trailing by 12. McKenzie's penalty pushed the Giants back to their own 46, and the team could not convert on fourth down and turned the ball over.
The Titans, once again, scored on their next possession.
"If I could clearly think what exactly took place, I wouldn't have done it in the first place," McKenzie said. "It was not clear thinking on my part."
After his second personal foul, McKenzie was pulled from the game and talked to by head coach Tom Coughlin on the sideline. McKenzie characterized his play on the day as poor, and said he was upset with himself.
Fellow offensive lineman David Diehl, who was also called for a personal foul, seemed surprised that it happened twice to McKenzie.
"It's tough. His emotions get the best of him and for it to happen to Kareem -- that is the not the type of guy he is," Diehl said. "He got frustrated and upset and it is a shame that it happened that way, and I know he is upset."