JPP: I'm not having as much fun
October, 4, 2012
10/04/12
7:10
PM ET
EAST RUTHERFORD, N.J. -- The defending Super Bowl champs are off to a tough start, and their best defensive player isn't a happy camper.
"I'm gonna go out there and have fun like I had last year,"
Jason Pierre-Paul
said Thursday. "I haven't been having fun this year."
Those are startling words coming from one of the most happy-go-lucky guys in the New York Giants' locker room. But Pierre-Paul placed the blame squarely on himself.
"I just gotta go out there and run around like a little kid, and just be happy that you're out there," he said. "Cause I feel like when I make the plays, I'm just like, 'OK, that's a good play, on to the next one.' [I need to] have that energy like I had last year."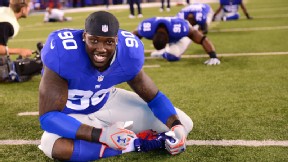 AP Photo/David DrapkinJason Pierre-Paul admits he's not having as much fun this year as he's had in the past.
Philadelphia Eagles in prime time last Sunday, a hard-fought contest against a bitter rival that came down to a missed field goal attempt in the final seconds. They also lost to the Dallas Cowboys, another division rival, on national TV in the NFL's regular season opener.

In between, the Giants managed victories over the Tampa Bay Buccaneers and Carolina Panthers. But the team's vaunted pass rush -- a driving force behind the team's championship run a season ago -- has been underwhelming thus far in 2012.

Through four games, the defensive-end trio of Pierre-Paul, Justin Tuck and Osi Umenyiora -- three former All-Pros -- has a combined total of 3.5 sacks, after recording 30.5 in last year's regular season alone.

Pierre-Paul -- who had 16.5 sacks by himself last season, fourth-best in the NFL -- has just 1.5 so far this year. Tuck is still looking to get on the board.

"I can just say this, I am not having that much fun either," Tuck said Thursday. "When I find out the cause of why I am not having as much fun, I will let you know."

Both the players and coaches say that opposing teams are using different approaches this season, trying to neutralize the Giants' defensive line.

"You're getting formations -- if you saw last week's game, you're getting multiple tight ends, what I call a 'box formation' over there. That's all to reduce the ability of the defensive end to just rush up the field to get to the quarterback," said head coach Tom Coughlin. "When you see those types of formations, typically on passing downs, you're aware of the fact that there is concern."

"When I watch the film on every team, every team is changing the way they play us," said Pierre-Paul. "We could go over something this week -- but the next week, that week we play them, it's totally different. We just gotta come out there and adjust to it."

"Oh yeah, people are doing some different things to try and protect against us," said defensive coordinator Perry Fewell. "They're getting the ball out quick, but you know, no matter what, you have to play the game."

"Each team has been different this year," Fewell added. "Sometimes you just have to whip somebody's ass and make a play."

Injuries haven't helped matters any. The Giants have had more than their fair share -- especially in the secondary, where three of their four starters are currently banged up, including both safeties.

But maybe a little extra effort will make all the difference. At least one player thinks so.

"Even though it looks like I'm doing my job, only you know if you're going hard all those plays -- which I do, but I know I can go even harder, to help my team out," Pierre-Paul said. "And that's what I'm looking for this year. I haven't been doing that the first four games, I've just been going hard. But I want to go even a little bit harder."