EAST RUTHERFORD, N.J. -- Standing 6-foot-6 and weighing 227 pounds, Ramses Barden doesn't look like a prototypical slot receiver.
Granted, it's a role the second-year pro out of Cal Poly feels most comfortable in -- at least when he's out on the practice field.
With All-Pro Steve Smith flourishing in the Giants' offense out of the slot, Barden has had few opportunities to play the position on game days. But after Smith strained his pectoral in Thursday's practice, it may be Barden who gets the chance to fill his role Sunday against the Dallas Cowboys.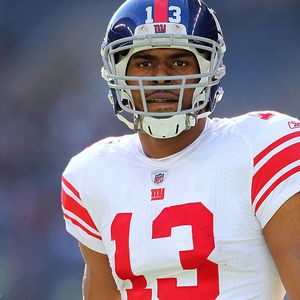 Otto Greule Jr/Getty Images
Ramses Barden could see time in the slot Sunday.
"Every week I try to prepare like I'm an integral part of the offense," said Barden, who has caught just two passes for 30 yards this season. "If my name is called, I'll do it full speed and to the best of my ability.
"I play the slot more than I play outside. It's a challenge, but there's ways to win. You can always win when you're in the slot and that's what's great about it."
Mario Manningham and Duke Calhoun also could see time in the slot, according to head coach Tom Coughlin.
"I'm comfortable with it, I've just never had to do it," Manningham said. "Now I have to. It isn't a big thing, we've just gotta come out and execute and put us in a position to win, that's all."
Hakeem Nicks, the beneficiary of the one-on-one coverage he gets on the outside when teams elect to double-team Smith, said it's up to Barden, Manningham and Calhoun to elevate their play in Smith's absence -- especially if the Cowboys elect to gear their defensive focus toward him.
"Guys just gotta step up," said Nicks, currently second in the NFL with nine touchdowns, "We haven't heard any feedback as far as what's going on. We're just going to approach everything the same until we hear otherwise."
Nicks isn't going to be at 100 percent either. He rolled his ankle last week against the Seahawks, but said he'll be ready to play Dallas.
Big Blue In Review

With the Giants soaring into the second half, ESPNNewYork.com hands out its midterm grades. Guess which QB-crushing unit is at the head of the class?
"I don't think it's something that's gonna hinder me," Nicks said. "I've been dealing with it for a while. It's something that just comes and goes."
Smith, who has caught 47 balls for 517 yards and three scores, is known for being a reliable third-down target -- as well as quarterback Eli Manning's most consistent receiver in a group that features dynamic players like Nicks and Manningham.
"He's the most polished receiver we have," Giants offensive coordinator Kevin Gilbride said. "He's a guy that has really earned the respect of the defense to the point where many of the things they do are designed to stop him and that's what opens up the opportunities elsewhere: whether it's a double team or a two zone or they're manning him up within the zone and bringing the free safety over to help in case it's a double move on his part. I think people basically said it's hard to cover him one-on-one inside, so people have committed other people and additional resources, whether it's another person or a schematic adjustment, so that either opens up running opportunities for us or passing opportunities for other people. It's a huge loss, but we'll make due."
After his interview with the media, Barden was talking with a reporter who mentioned that when he thinks of the best slot receivers in the NFL, the Patriots' Wes Welker is the first name that comes to mind.
"I think of Steve Smith," Barden responded.
Barden may have to pull off his best Smith impression if the Giants are going to win Sunday.