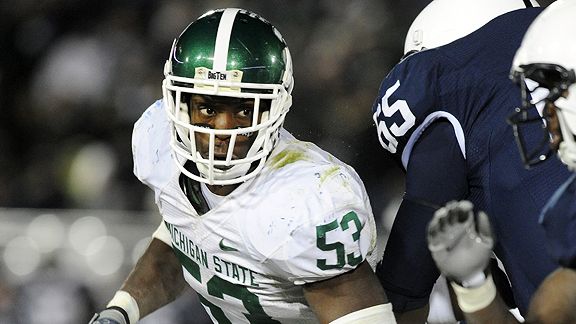 Randy Litzinger/Icon SMI
Greg Jones is ready to join Big Blue after a standout career in Spartans green.The Giants finally took a linebacker with the first of their three sixth-round picks by taking Michigan State linebacker Greg Jones.
PLAYER: Greg Jones
SCHOOL: Michigan State
POSITION: LB
HEIGHT: 6-0
WEIGHT: 242
THE 411: Jones was considered to be one of the top inside linebackers in the country entering his senior season. He has sound instincts, decent closing speed and is a good tackler despite his height. He ran a 4.8, 40 at the combine. He recorded at least 100 tackles in three consecutive seasons for Michigan State. He had 154 tackles and nine sacks during his junior year and was named Big Ten defensive player of the year. He didn't match the lofty statistics from a year ago, finishing with 106 tackles and just one sack as a senior. But he led Michigan State to a share of the Big Ten title and finished as a first-team All-American for the second straight year. Jones has been praised for his leadership skills and effort and his is very durable.
HOW HE FITS IN: The Giants need help at linebacker. Defensive coordinator Perry Fewell used two linebackers often last season with three safeties. They have Michael Boley and Jonathan Goff, but can use a third linebacker to contribute. Keith Bulluck is a free agent and Clint Sintim is coming off an ACL injury. Jones might push last year's fourth-round pick Phillip Dillard in camp.
WHAT THEY'RE SAYING: "Has been incredibly productive over his time at Michigan State," GM Jerry Reese said. "One of the things that the late Tom Boisture taught me is when you scout guys, you respect production. This guy has tons of production. This guy has sacks. He has tons and tons of tackles. He's played at a high level, very instinctive player. Another guy who's going to come in with a chip on his shoulder because I'm pretty sure he feels like he should've been picked a lot higher than where he got picked. He'll come in here with something to prove as well, along with Marvin Austin."
"We think he can play MIKE," Marc Ross, director of college scouting said. "He kind of played all three positions at Michigan State. But we see him as a MIKE, and the way he is built -- compact, thick. And he plays best in there because he is so slippery; real quick laterally. And he has the instincts and vision to play inside."