ORADELL, N.J. -- The Giants continued their week of player-organized workouts as 30 players practiced in what felt like triple-digit heat at Bergen Catholic High School.
With temperatures hovering around 95 degrees and feeling like it was over 100 according to Weather.com, the Giants had a smaller turnout than during the previous two days. Thirty players trained in the sun for about an hour and a half. On Tuesday, 39 players worked out. And on Wednesday, 36 practiced in hot conditions.
While practicing in scorching weather is nothing new for football players, it should be noted that they are doing so without being insured by teams during the lockout.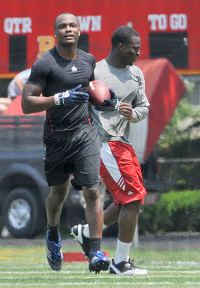 Jeff Skopin/ESPNNewYork.com
Rookie wide receiver Jerrel Jernigan working out at Bergen Catholic HS in Oradell, NJ.
The players continued to go through light non-contact drills, working on plays and timing and technique mostly. And rookies like wide receiver Jerrel Jernigan, cornerback Prince Amukamara, tackle James Brewer and linebacker Greg Jones continue to benefit by being around veterans like Eli Manning and learning as much as they can without having access to a playbook or coaches during the lockout.
Manning did run his receivers and offensive line through some two-minute drills as well.
Since these types of walk-through practices benefit mostly offensive players, the defensive turnout has been smaller this week and there were fewer defensive players here on Thursday.
Also, the player we initially guessed was second-round pick Marvin Austin on Tuesday is actually defensive tackle Dwayne Hendricks, who is on the team's reserve/future roster.
Since we haven't seen all the rookies and reserve/future guys up close during this offseason yet, it's been hard recognizing some of the players from some 100 yards away behind a fence. But for the most part, this is the consensus from the beat writers on who was here on Thursday:
QB Eli Manning
QB Sage Rosenfels
RB Da'Rel Scott
WR Ramses Barden
WR Jerrel Jernigan
WR Victor Cruz
WR Samuel Giguere
WR Darius Reynaud
TE Travis Beckum
TE Jake Ballard
TE Bear Pascoe
OL Jamon Meredith
OL Jim Cordle
OL Shaun O'Hara
OL David Diehl
OL Will Beatty
OL Kevin Boothe
OL Mitch Petrus
OL Chris Snee
OL James Brewer
OL Ike Ndukwe (we believe)
OL Rich Seubert
DT Dwayne Hendricks
LB Jonathan Goff
LB Greg Jones
LB Adrian Tracy
CB Prince Amukamara
CB Bruce Johnson
CB Brian Jackson
P Matt Dodge