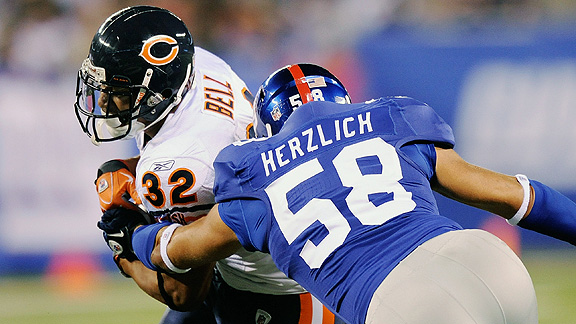 Patrick McDermott/Getty Images
Mark Herzlich took advantage of his opportunity to play on Monday night.Mark Herzlich had a smile on his face -- and a ball underneath his right arm.
The ball had a special significance to Herzlich, representing his first career NFL interception.
Although Monday night's game wasn't meaningful to the standings, it was certainly meaningful for the rookie linebacker, a cancer survivor who has overcome so much just to wear an NFL uniform.
In the fourth quarter of the Giants' 41-13 preseason win over Chicago, Herzlich picked off a Caleb Hanie pass at the Giants' 2-yard line.
"It was awesome," Herzlich said. "You try to get in the right spot and you get lucky. The quarterback threw it near me. I was just making a play."
Herzlich held on to the ball for a bit, but dropped it on to the field as he was heading to the sideline.
That's where teammate Michael Coe alertly came in. He scooped up the ball and brought it over to Herzlich.
"That's a good teammate there," Herzlich said of Coe, a reserve cornerback. "I told him, 'Thank you.'"
Herzlich credits Coe as one of the reasons he joined the Giants in the first place. The two worked out together down in Florida.
"He's a good dude, a hard worker," Herzlich said. "He's the type of person you want to play with."
Herzlich's father, mother, girlfriend and one of his brothers were in attendance at New Meadowlands Stadium on Monday night to watch him play.
"It was awesome to play at home in front of them," Herzlich said.
Herzlich is hoping to make the Giants' roster this season as an undrafted free agent.
"I don't think one interception is gonna make a roster spot," Herzlich said. "It's an accumulation of everything. You take advantage of your opportunities. That's what it's all about."