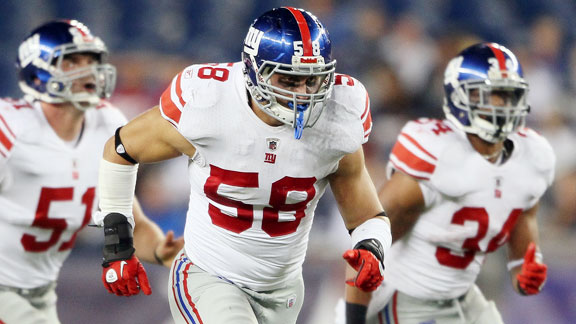 Elsa/Getty Images
Mark Herzlich is one of four rookie linebackers to make the Giants' 53-man roster.Mark Herzlich spent Saturday afternoon in a restaurant in New Jersey, watching his alma mater, Boston College, take on Northwestern in the season opener.
His father, Sandy, was home in Philadelphia, but the two chatted throughout the day -- both on the phone and via text message -- as they counted down to 6 p.m. ET, when NFL teams were required to cut down their rosters to 53 players.
And when that fateful hour passed without any word from the New York Giants, both father and son knew what had happened -- Mark had made the Giants' 53-man roster.
"One of joy," is how Sandy described his reaction, when reached by phone Saturday evening. "I thought all along Mark was playing great and deserved a spot."
Mark, as many of you know by now, was diagnosed with a rare form of bone cancer in his left leg in 2009. The ACC Defensive Player of the Year in 2008 beat the disease, and came back to play his senior season at BC in 2010. But he wasn't selected in the NFL draft this past April.
The Giants took a flyer on him, bringing him to training camp as an undrafted free agent. And he has turned out to be the feel-good story of the summer, especially now that he has officially made the team.
"Herzlich didn't bat an eye the whole camp," Giants coach Tom Coughlin said Saturday. "Physically, he did everything you asked and more. I saw him improve literally week by week. He can play multiple positions. He's very smart. He does an outstanding job on special teams. He's told one time and he goes and does it. He deserves it."
"It's been a series of starts and stops," the elder Herzlich said. "Mark played great at BC, then he got sick. He fired it back up again and had a really good senior year, but then he doesn't get drafted. The NFL has a lockout, but then he signed as a free agent. It felt like constant starting and stopping, but we never lost confidence that he was a great football player, and he deserves everything happening to him."
Herzlich's parents were traveling to New Jersey to take their son out to dinner on Saturday night to celebrate. And Mr. Herzlich said he is grateful that the Giants have given his son this opportunity.
"The Giants really went out on a limb to give him a shot," he said. "That wasn't an easy thing to do. Any team that took him ran the risk of being the team that cut the guy coming back from cancer. Fortunately Mark was good enough that the risk paid off for them. And I think it will pay off for them for many years to come."