Watch your back, Eli. A former Giants legend is coming for your job.
At practice Friday, coach Tom Coughlin asked Y.A. Tittle, who was visiting for the day, if he could still backup Eli Manning.
Fifty Greatest Giants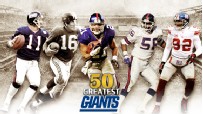 Choosing the 50 Greatest Giants was a big challenge. ESPNNewYork.com rose to the occasion. Top 50

Rank 'Em »
"Backup? Hell!" Tittle told Coughlin.
"He still thinks he's a starter," Coughlin said.
Tittle, 85, retired after the 1964 season with seven Pro Bowl selections, three All-Pro selections and the 1963 AP NFL MVP award. He played for the Colts, Giants and 49ers. The only thing missing from his Hall of Fame résumé? A championship.
• Coughlin was asked about Brandon Jacobs' candid comments about having to leave the Giants to showcase his skills. "I didn't read them," Coughlin replied. "I have no idea what he said."
• Although Prince Amukamara isn't going to play on Sunday, the rookie cornerback continues to impress his coach in practice.
On Friday, Amukamara had another pass breakup.
"It was a plant and drive on the ball," Coughlin said. "He got there as the ball arrived and knocked the ball out.
"Hopefully he wasn't guessing. Could've fooled me though."