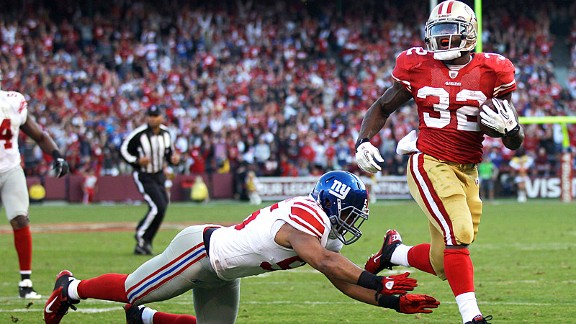 AP Photo/Marcio Jose Sanchez
Spencer Paysinger couldn't get to Kendall Hunter on the Niners' final touchdown.Giants linebacker and defensive play caller Michael Boley strained his hamstring at the wrong time and against the wrong team.
With the veteran Boley sidelined, the 49ers pulled a couple of fast ones on rookies Greg Jones and Spencer Paysinger in the Giants' 27-20 loss at San Francisco.
Boley is so important to the Giants' defense, it takes two players to replace him. Paysinger went in to play Boley's Will linebacker spot, but rookie Jones took on the more immense task of calling plays and making the last-second adjustments. That would be a tough challenge for any player, but particularly for a rookie who's still learning the nuances of his own position.
The matchup-obsessed 49ers took note of Boley's absence and they went right after Paysinger and Jones, scoring two touchdowns within a 65-second stretch of the fourth quarter. The scores proved decisive when another spirited Giants comeback ultimately fell short.
The first touchdown came on a 31-yard pitch-and-catch to tight end Vernon Davis. The 49ers lined up with a tight bunch of three receivers to one side. Every time they showed that formation in the first half, Davis charged down the field.
But this time, Davis streaked across the field and nobody followed him. He caught a 6-yard pass from Alex Smith, turned toward the end zone and vaulted at the 4-yard line into the arms of safety Antrel Rolle. The momentum carried both Davis and Rolle over the goal line.
Jones expected Davis to go up field with his route.
"I should have taken him carrying it across," Jones said. "That is something we went over. We communicated. I have to take full responsibility on that one."
The play also occurred so fast, it caught Jones flat-footed.
"It happened kind of fast for me," Jones admitted.
If Boley is out for a considerable amount of time, Jones will have to become more comfortable with calling the plays. Giants coach Tom Coughlin wasn't sure when Boley might be back. "How bad it is, I don't know," Coughlin said.
If Boley misses games, Paysinger will need to bring a veteran's acumen to the position. "He goes in and tries hard," Coughlin said of Paysinger. "He goes in with the look in his eye and goes to work."
On the 49ers' second touchdown of the fourth quarter, a 17-yard bolt by rookie running back Kendall Hunter, Paysinger admitted he got caught in the 49ers' motion. San Francisco likes to pull its guards, and Paysinger went with the "pullers" on the play. When Hunter cut back, there was no one there and he had a relatively free pass into the end zone.
"They are pulling guards, pulling fullbacks and tight ends, but that's their offense," Paysinger said. "We have a good defense they just got us on that one play."
Without Boley, Paysinger and Jones are likely to become targets -- something Coughlin knows all too well.
"[With] your starting middle backer out, the guy that calls all the defenses, was having an outstanding year, you are going to miss him," Coughlin said.