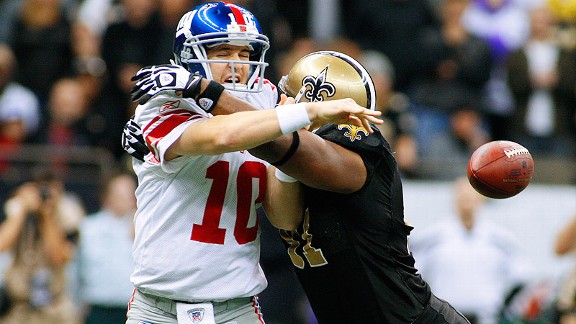 John David Mercer/US Presswire
Eli Manning and the Giants are riding a three-game skid after their 49-24 loss in the Big Easy.NEW ORLEANS -- Eli Manning may want to avoid the Superdome on his next trip home.
In his only two appearances in his hometown of New Orleans, the Giants' quarterback has suffered losses by 25 and 21 points to the Saints.
"We are getting the ball into scoring position but we are just making mistakes," Manning said. "We are having a drop, a missed throw -- just different things that are costing us points. We know when you have an opportunity to score points on a team like the Saints you've got to do it. You can't go backwards."
Manning did manage to walk away with an impressive stat line, completing 33 of his 47 pass attempts for 406 yards and a pair of touchdowns. It was Manning's second career 400-yard-plus performance; he recorded a career-best 420 yards in a loss earlier this season to Seattle.
Without the benefit of a lead or a strong running game (averaging just 3.3 yards per carry), the Giants leaned on Manning to carry the offensive load. He did so without the services of injured starting receiver Mario Manningham, running back Ahmad Bradshaw and left tackle Will Beatty.
Victor Cruz hauled in nine catches for 157 yards, including a 72-yard touchdown when he got behind and then outran the entire Saints secondary.
Manning completed passes to eight different receivers.
Still, it was a first-quarter interception to New Orleans' Will Herring in the end zone, on a pass intended for Jake Ballard, that Manning spent the most time discussing after the game.
"The defender just made a good play," Manning said. "We had the right play called down the seam and I threw it up there and the defender made a great play on the ball."