New York Giants:

2012 nfl training camp
August, 20, 2012
8/20/12
1:30
PM ET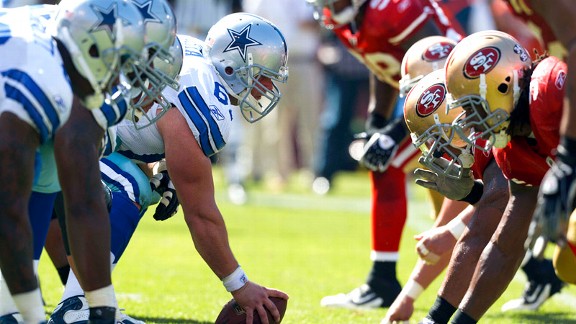 Jason O. Watson/US PresswireLike its NFC East rivals, Dallas is shuffling and searching for ways to solidify its offensive line.
The NFC East leads the league in hype. The huge media markets in which the teams play, the history of success, the rivalries ... all of it combines to create a perception that the NFC East is the best, most competitive and toughest division in the NFL. That the defending Super Bowl champion
New York Giants
play in it -- and are not the clear-cut favorites to win it again this season -- only adds to the perception, as does the growing excitement over an NFL regular-season opener between the Giants and the
Dallas Cowboys
16 nights from tonight.
But while Giants-Cowboys is fun, and each of those teams has something pretty intense going with the division's other two teams -- the Giants' recent struggles with the
Philadelphia Eagles
and the Cowboys' longstanding rivalry with the
Washington Redskins
-- the stats don't back up the NFC East as the league's toughest division anymore. The division is, by many measures, coming off its worst season ever. Last season was the first regular season in NFC East history in which no team won at least 10 games. Only the Giants finished over .500, and they gave up more points than they scored. Their Super Bowl run might have saved the division's honor, but it also disguised the troubling fact that the NFC East is no longer the Beast it used to be.
A large part of the reason for this, I believe, is the state of the division's offensive lines. We all know offensive line play is important, but in the NFC East these days, concern about the lines affects too many things. Teams that are strong on the line can control games. Teams that aren't cannot.
Eli Manning
and the Giants have been talking for months about wanting to not have to come back in the fourth quarter as much as they did last season, and the best way to avoid that is to control games from the start. Given the issues with their offensive line, they could find that a challenge once again.
But they're not alone. As we look ahead to 2012 and start assessing everyone's biggest questions, offensive line stands out as an issue for each of the NFC East's four teams. To wit:
The NFC has no shortage of star power. It has three great quarterbacks and one, Washington rookie
Robert Griffin III
, who's getting as much hype as any of the other three these days. It has some of the great wide receivers in the league in veterans such as
Hakeem Nicks
,
Miles Austin
and
DeSean Jackson
as well as rising stars such as
Victor Cruz
,
Dez Bryant
and
Jeremy Maclin
. The Eagles'
LeSean McCoy
ranks with the game's great running backs. And on defense, of course, the division is known for its great pass-rushers. Each team can rattle off names that give opposing quarterbacks heartburn.
DeMarcus Ware
.
Jason Pierre-Paul
.
Justin Tuck
.
Trent Cole
.
Jason Babin
.
Brian Orakpo
.
All of that makes the NFC East very exciting. But very often in the NFL, excitement and hype can conceal issues of quality. And if the NFC East really wants to be the best division in football again, it's not the quarterbacks or the wide receivers or even the pass-rushers that will bring it there. The NFC East's teams all need to start paying more attention to their offensive lines, because as those continue to erode, so will the division's annual claim to Beastliness.
August, 17, 2012
8/17/12
3:20
PM ET
By
Dan Graziano | ESPN.com
If you live within 100 miles of where I live, you're well aware that the
New York Giants
' preseason game Saturday is against the
New York Jets
. They play every year in preseason, which is sensible because it eliminates a trip for each of them. But this year, I don't know if you've heard, the Jets have
Tim Tebow
on their team. Yeah, I know. It's hard to find any information about it. I had to dig and dig.
[+] Enlarge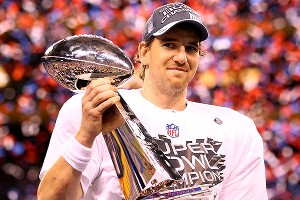 Al Bello/Getty ImagesEli Manning has delivered peace of mind and titles to the Giants, while the Jets endure a media circus.
Anyway, as a result of the foolish acquisition of Tebow to cast a massive, undeserving shadow over their already-insecure young starting quarterback,
Mark Sanchez
, the Jets have become a full-blown circus this offseason. Every move Tebow makes, shirtless or otherwise, is the topic of relentless debate. The media have been charting and reporting on each throw Tebow and Sanchez have made during training camp practices, in spite of the team's denial that they're in a competition with each other. The public appetite for Tebow is insatiable -- he's a ratings-driver and a page-views-driver -- and so the coverage has consumed the Jets' preparations for their 2012 season. We all knew it would. The Jets were either too ignorant to believe it, or too arrogant to care.
Either way, my point here on the NFC East blog about all of this is that one look at what the Jets are going through should make the Giants and their fans grateful for
Eli Manning
. Sure, his two Super Bowl titles have made them grateful enough already, but the Giants' proximity to the Jets' situation underlines the dramatic difference between the peace of mind Manning offers the Giants, and the sheer insanity that can envelop your franchise when you're unsettled at quarterback.
We've discussed this many times. If you get your quarterback situation right, you are set up. You're a perennial playoff team and, if the guy's got the right stuff, a championship contender. If you get quarterback wrong, you're flailing. Nothing else seems to work. You can't get your feet set and run the rest of your organization, because the most important part of it is a question mark.
The Giants have Manning, a former No. 1 overall pick who's been everything they could have imagined and more. The Jets have Sanchez, who was the No. 5 pick in the draft and has actually had some success at the NFL level, but they've mismanaged him horribly. After reaching the AFC Championship Game in each of his first two seasons, Sanchez saw his team allow his offensive line, running game and wide receiving corps to erode. Then, when blame for a disappointing third season was falling on his shoulders, they brought in a backup quarterback whose cult following is intense enough to make him the focal point of a team whether he's playing or not.
So as a result either of Sanchez not being as good as they'd hoped or their own mismanagement of him, the Jets have a murky mess at quarterback. And as a result of Manning being everything they'd hoped and their own development of him and the group around him, the Giants have one of the most solid and reliable quarterbacks in the league. It really can be that simple. And when you watch the Giants and the Jets play Saturday, if you're a Giants fan, you're going to be looking at Tebow and Sanchez and thinking, "I'm glad that's not my team." It's worth looking at Manning as the reason you're glad the Giants are.
July, 30, 2012
7/30/12
6:57
PM ET
The news out of
New York Giants
training camp in Albany on Monday was not good. The team announced that cornerback
Terrell Thomas
, who is attempting to come back from a second tear of the ACL in his right knee, has suffered another injury to that ligament. They have not announced that it is torn again -- only that he'll have arthroscopic surgery to determine the extent of the injury. But should they go in there with the scope and find that it's torn again, Thomas will have to miss the 2012 season and possibly worry about the remainder of his career.
Thomas
"Terrell re-injured his ACL," Giants senior vice president of medical services Ronnie Barnes said in a statement released by the team. "At this point, he will most likely undergo an arthroscopic procedure to determine the extent of the injury to the ACL. However, no decision has been made at this point. Terrell is going to consult with Dr. (Arthur) Ting, who performed an allograft reconstruction of the ACL in September."
The first and most important thing to note about this is that it would be awful news for Thomas personally. The main reason players generally don't come back from a second torn ACL is that most of them aren't able to get through the grueling, one-year rehab for a second time. Thomas did that and went to training camp determined to reclaim his status as a Giants starter and an emerging star cornerback. If he's torn it again, he'll be devastated, and the prospect of a third rehab just for a chance at a comeback will appear staggeringly difficult. No matter who your favorite team is, if you're human, you have to hurt for a guy in this situation. The game is just very cruel.
As for the impact on the team, the Giants are actually fairly well positioned to handle the loss of Thomas again. It's not ideal, certainly, and one of the main reasons they so easily parted company with free-agent
Aaron Ross
(who started in Thomas' place last season) was because of their belief that Thomas would come back healthy. But they always knew there was a chance he wouldn't, and 2011 first-round pick
Prince Amukamara
waits in the wings as the most likely replacement. The Giants also drafted cornerback
Jayron Hosley
in the third round of April's draft, and have depth on the roster in the form of guys like
Michael Coe
,
Justin Tryon
and
Antwaun Molden
.
There's also the chance that they could bring back veteran safety
Deon Grant
, who re-signed during training camp last season once injuries began to deplete the secondary. After Grant signed last year, they were able to use safety
Antrel Rolle
as their nickel cornerback with Grant and
Kenny Phillips
at safety. So keep an eye on that possibility.
As for money, the only guaranteed money in Thomas' new contract,
per Mike Garafolo
, is his $1 million signing bonus. The contract was structured in such a way as to protect the Giants financially in case Thomas got injured again.
Obviously, their preference would be for the news to come back better than expected so they could pay him the full amount of his contract to start and play for them. But right now, it doesn't sound good.
July, 30, 2012
7/30/12
12:15
PM ET
I promised you guys more from my time at New York Giants training camp, and I keep these kinds of promises. I'm going to keep going through my notes and rolling out posts that I think are interesting, based on the interviews I did while there. As long as Camp Confidential was, not everything fit in there. So while I'm at Redskins training camp the next two days and Eagles the two days after that, you're still going to get some of my Giants reporting from late last week. Enjoy.
ALBANY, N.Y. -- Giants quarterback
Eli Manning
is keenly aware of the fact that he has two star wide receivers who do not carry themselves in any way that resembles the stereotype of the star wide receiver.
Hakeem Nicks
, who has been on the sideline for training camp practices so far as he recovers from his spring foot injury, and
Victor Cruz
, who is working on an encore to his brilliant 2011 breakout season, are as humble as they come.
Cruz

Nicks
"I'm very fortunate," Manning told me in an interview before Saturday's practice. "Both of them are great guys. They've worked extremely hard. They're humble. They're best friends. They room together here at training camp. They cheer for each other's success. And they know I don't have favorites. I'm going to the guy who's open. And I expect you to work hard and I expect you to know what you're doing and I want everybody to have success. Just that attitude and the way they practice, both of those guys, that's what I appreciate. That's why both of them have had great success."
Nicks, already established last year as the Giants' best receiver, took Cruz under his wing, and the pair became best friends, texting each other late at night on topics ranging from film study to parenthood. Where another star wide receiver might have feared the possibility of Cruz encroaching on his territory, or taking catches away from him, Nicks was determined to help Cruz get better. With several players, including rookie
Rueben Randle
, fighting for the No. 3 wide receiver spot vacated by
Mario Manningham
, Cruz now wants to pay that forward.
"I'm just putting myself in a position where, whatever young guys or whatever guys need help or want to talk or need any advice on the plays, I'm here for them," Cruz said. "Because I've been through the plays, I've gone through this offense, this is my third year, so I know a lot of this stuff. So I just want to be here and be a voice for the young guys or whoever needs help."
I wouldn't expect a letdown year for Cruz, or a slow start for Nicks following his injury. I think both of these guys are the real deal, are humble and driven and will continue to produce as long as they remain healthy. I also think their personalities are a key part of the leadership structure that allows the Giants to believe they can regenerate their roster from within. The young guys who come into this system learn how to play and how to carry themselves from the guys who are already there. And examples like the ones Nicks and Cruz set can only be helpful.