New York Giants:

2013 Week 10 OAK at NYG
November, 10, 2013
11/10/13
8:27
PM ET
EAST RUTHERFORD, N.J. -- Tom Quinn's hunch became a reality.
All week, the
New York Giants
' special teams coach had stressed to the team, particularly rookie defensive end
Damontre Moore
, that a blocked punt was a possibility Sunday against the
Oakland Raiders
.
[+] Enlarge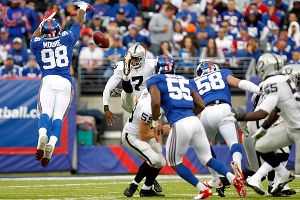 William Perlman/THE STAR-LEDGER/USA TODAY SportsDamontre Moore's blocked punt was a huge play in the Giants' win over the Raiders.
Early in the first quarter, the Raiders lined up in the specific tight formation the Giants saw vulnerabilities in. Moore had an opportunity to prove his coach correct.
"He was like, you just get down there, fire off on the ball and do exactly what we say and you're going to get you a block," Moore said. "He was right once again."
Moore's blocked punt was returned for a touchdown and a tie game in the Giants' eventual
24-20 victory
against the Raiders. Rookie safety
Cooper Taylor
returned the ball 21 yards for the score. It marked the Giants' first punt block for a touchdown since Sept. 5, 1988.
The play made up for an earlier special teams blunder when
Jerrel Jernigan
fumbled the opening kickoff, setting the Raiders up at the Giants' 5-yard line for the first touchdown of the game.
"It was big to get it locked at seven early," Taylor said. "When you have a play like that at the beginning of the game, it can definitely sway the momentum, but to have another big special-teams play like that, kind of redeem ourselves as a special-teams unit that early in the game, definitely helped us build confidence as the game went on."
The Giants' special teams unit has been up and down all season long, and that continued Sunday. Jernigan's fumble led to a Raiders touchdown just two plays later, and Giants punter
Steve Weatherford
averaged just 30.5 net yards per punt on the day, including having one deflected. Moore and Cooper's big play, however, redeemed the unit.
On the block, Moore busted through the Raiders 'line and hit
Marquette King
's punt with his forearm. The ball bounced toward the Oakland end zone before Taylor, with four other Giants nearby, scooped it up and took it to the house.
"I was so excited, just the way it happened, the way it unfolded, the time of the game, it changed the momentum," Taylor said. "No words can express. I was ecstatic. I loved every minute of it."
Moore, who also blocked a punt against the
Pittsburgh Steelers
back in the preseason, was excited to see Taylor return the block for the score.
"That's what really made happy. He was my roommate during training camp and we were really good friends. We had a really good bond," Moore said. "He scored and it was like a one-two punch, old roommates again. I think that was honestly what made it special."
Almost each week, it seems, the Giants' special teams units are involved in some type of highlight play. Most afternoons, the highlights usually show the Giants allowing a return for a touchdown. The unit had its mistakes Sunday, but this time the Giants made the biggest play.
"It's been a difficult year. But I think it's definitely a learning process," Taylor said. "A lot of guys are contributing every week on special teams trying to get better. I think that we're starting to show that we're a unit that can really, really make things happen."
November, 10, 2013
11/10/13
7:30
PM ET
EAST RUTHERFORD, N.J. -- Three straight wins are nice, no matter what they look like, but the
New York Giants
' special teams are still a trash fire and
Eli Manning
doesn't look right at all. The Giants' defense, however ... they may have a little something going there.
They finally gave up a touchdown on defense Sunday after 10 quarters without allowing one, but even that has to come with an asterisk, since it was on an
Oakland Raiders
"drive" that started on the five-yard line after Jerrell Jernigan fumbled the opening kickoff. The other touchdown the Raiders scored was on an interception return, and the next time they got near the goal line, the Giants kept them out of the end zone. At the tail end of a long second-half-opening drive, faced with a first-and-goal from the one-yard line, the Giants held and forced the Raiders to settle for a field goal.
"We always talk about, give us a yard, and it's our job to make sure they don't score," defensive end
Justin Tuck
said. "Today we had opportunities to prevent scores, and we did a good job of it."
A touchdown at that point, more than halfway through the third quarter, would have put the Raiders up 24-14 and left the Giants still reeling from
Tracy Porter
's return of Manning's interception at the end of the first half. Instead, it was only 20-14, and two possessions later Giants cornerback
Terrell Thomas
intercepted Raiders quarterback
Terrelle Pryor
and returned that one to the five. The Giants punched it in three plays later to take a 21-20 lead they would not relinquish.
"We started talking about it at halftime: Who's going to be the guy to make the play?" linebacker
Jon Beason
said. "We knew it was going to be somebody. We were determined."
They're also a lot more nimble and flexible on defense than they were earlier in the year. Beason's presence,
Will Hill
at safety and Thomas' remarkable recovery from his third ACL surgery have enabled the Giants to do much more on defense. There were plays Sunday on which safety
Antrel Rolle
rotated into the middle linebacker position while Beason rolled out to take on a guard or a tackle. The Thomas interception, they all said, was on a play he intercepted in practice earlier in the week. They rotate "spies" on the speedy Pryor in their linebacker corps, with
Keith Rivers
making an impact for the first time this year.
Jason Pierre-Paul
got a sack for just the second time in 16 games.
The Giants are clicking on defense right now, and while one must wonder how much the substandard lineup of opposing quarterbacks (
Josh Freeman
,
Matt Barkley
and Pryor) has factored into the three-game winning streak, they can only play the schedule they have, and they're doing a fine job with it.
"Our defense rose up in the second half," coach Tom Coughlin said. "Goal-line stand, that was huge. On offense, when we didn't get in, we kicked a field goal and we were fortunate enough because of field position and our defense to be able to hang in there and win the game."
Onward to next Sunday, and a home game against the Packers and third-string quarterback
Scott Tolzien
. No reason to think the defense can't play another good one.
November, 10, 2013
11/10/13
6:25
PM ET
EAST RUTHERFORD, N.J. --
Andre Brown
needed a ride to the
New York Giants
' game Sunday morning, so he called rookie right tackle
Justin Pugh
, who picked him up and delivered him to MetLife Stadium. In the hours before his first live game action since he broke his left leg in the Giants' final game of the preseason, Brown warmed up and chatted with teammates on the field. He had the team's trainers wrap an Ace bandage around the small, carbon-fiber shin guard he'll wear for the rest of his career over the spot where his fibula has snapped twice.
He slipped into his white uniform pants, blue jersey and a pair of red-and-white spiderweb-pattern gloves, strapped on his helmet complete with bright blue mouthpiece, and then he went to work.
And man, did he work.
"I carried it 30 times?" Brown exclaimed after the game, a question to which the answer was affirmative. "It felt like 50."
If the game had kept going long enough, it might have been. So excited were the Giants to have one of their preseason "co-starters" back at running back that they kept handing the ball to Brown as he rolled up a cool 115 yards and a touchdown. It was the best running-back performance of the season so far for the Giants, who improved to 3-6 with their third straight victory,
24-20
over the
Oakland Raiders
, and it was the culmination of an excellent comeback story for a guy who's broken the same leg in the same place twice in the past calendar year.
[+] Enlarge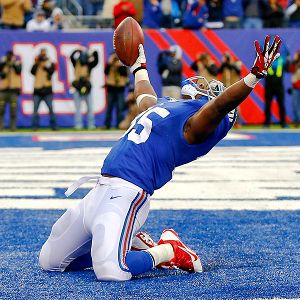 Jim O'Connor/USA TODAY SportsIn his first game back from a broken leg, Andre Brown ran 30 times for 115 yards and a touchdown.
"Very impressive, and he had four and five guys jumping on his back there for a while," said Giants coach Tom Coughlin, who'd joked earlier in the week about giving Brown 40 carries and jokingly apologized to reporters Sunday for having "misled" them. "I think the way the rules are set up, allowing him to get those three weeks of practice in before being activated, really helped him build his confidence and his stamina."
Brown had been on the injured reserve/designated for return list, which required him to miss at least six weeks of practices and eight weeks of games. Had the Giants not been on bye last week, they could have activated him for a theoretical Week 9 game. Regardless, he'd been practicing since Oct. 14, and was raring to go Sunday.
Peyton Hillis
was announced as the starter at running back, but his fumble after catching a screen pass in the first half likely helped keep him pinned to the sideline, as did the way Brown was playing.
"Andre played great," quarterback
Eli Manning
said. "He ran hard, and he also hit some big runs, which was nice. And obviously on that last possession, we knew we were going to need two first downs to run out the clock, and that's exactly what he was able to get."
Coughlin has spoken in recent weeks about the importance for the Giants of piling up rushing attempts, if not rushing yards, to help set up the play-action passing game. But for a team that entered the game 30th in the league in rushing offense, it was nice to see, as Coughlin described it, "not only balance, but also some production."
Brown played it cool after the game, talking about how he was sore and tired and would need some cold-tub time in the coming days. But he was obviously thrilled to be back on the field after so long. In the preseason, he and
David Wilson
were supposed to author a dynamic Giants run game. But Wilson's out for the year with a neck injury, and Brown's season is only just now getting started. After an early-career roller-coaster that's seen him tear his left Achilles, get cut from the Giants, re-sign with the Giants and work his way back up the depth chart only to keep breaking his leg in the same place, Brown is thankful for everything.
"It's a good feeling right now," Brown said. "You can't think about or dwell on an injury. You've just got to continue to move forward and remain positive. If I looked back on all the injuries I've had, I probably wouldn't be here right now."
He thanked Ronnie Barnes and the Giants' training staff for putting up with his singing during the long hours while they helped him heal. He thanked his offensive line for opening holes and said he planned to buy them all dinner at some point this week. He got a nice hug from Pugh, who suggested they carpool again next Sunday, and maybe for the rest of the year, since it worked so well the first time. And then he went off with a huge smile on his face, in search of that cold tub.
November, 10, 2013
11/10/13
6:08
PM ET
EAST RUTHERFORD, N.J. --
Terrell Thomas
had been waiting for this play all game.
In his preparation for Sunday, Thomas had familiarized himself with the
Oakland Raiders
' two-by-two formation, recognizing that it indicates a slant is coming. He even recorded an interception on the play in practice.
Late in the third quarter, Thomas saw that formation being used. And he was more than prepared.
"They haven't run it all game, so when they motioned I kind of knew it was coming," Thomas said. "I stayed inside, and I jumped it."
[+] Enlarge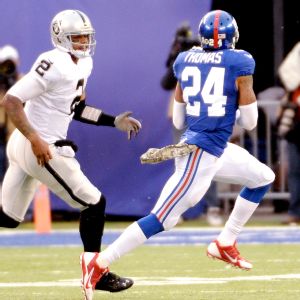 Robert Deutsch/USA TODAY SportsTerrell Thomas returned this interception 65 yards down to the Raiders' 5-yard line.
Thomas' interception proved to be the game-changing play, as it led to the go-ahead touchdown in the
New York Giants
' 24-20
win
over the Raiders at MetLife Stadium. Thomas returned the pick to the Raiders' 5-yard line before
Andre Brown
scored from 1 yard out to put the Giants in front 21-20.
"We knew we needed a turnover as a defense," Thomas said. "[The] offense was struggling at first, we were turning the ball over and we were playing good defense, but we weren't getting the ball. We needed a big play."
Because of three first-half turnovers, the Giants trailed the Raiders 17-14 at halftime. Inside the locker room, the defensive players talked about creating a turnover that could galvanize the Giants. Thomas was one of the most vocal players.
With the Giants trailing 20-14, Thomas made the play the Giants so desperately needed. After picking off the pass at the Giants' 30-yard line, he zigzagged his way 65 yards toward the end zone, making several defenders miss. But Thomas couldn't quite outrun all the Raiders, as he was eventually dragged down at the 5-yard line. The ball squirted loose, but it was ruled that Thomas was down first.
"If he doesn't make that play, there's no telling what would have been the outcome in this game," safety
Antrel Rolle
said. "Terrell Thomas, we all know him, we all know what he's capable of. He's just a great veteran player, and more important, his heart is the size of Texas."
Thomas' play this year has been one of the most pleasant surprises for the Giants in what has otherwise been a rough season. He entered the season coming off his third ACL tear, aiming to become just the second NFL player to make it back after suffering that injury three times.
He started slowly, but Thomas has turned it on in recent weeks. He won NFC Defensive Player of the Week honors two weeks ago for his play against the
Philadelphia Eagles
.
"Sometimes when you get something taken away from you so much, you really appreciate when you have the opportunity to go back out there. He's leaving no stone unturned," linebacker
Jon Beason
said. "A lot of times when guys have those big injuries teams give up on you, but because of the person he is and the way he's come back and battled back is the reason I think he's making these plays."
Thomas said his knee is at about 80-90 percent -- it still hurts and gets swollen, but he feels like he's turning the corner. To make up for that 10-20 percent he believes he's lacking, Thomas has hit the books harder than ever to make up for what his body can't deliver.
On Sunday, that studying paid off.
"I'm just blessed. I just thank God for putting me in this position, giving me the grace to come back from three ACL surgeries and play in the fashion I am," Thomas said. "I can't thank the Giants enough, my teammates and everybody that believes in me."
November, 10, 2013
11/10/13
5:05
PM ET
EAST RUTHERFORD, N.J. -- Observed in the locker room after the
New York Giants
' 24-20
victory
over the
Oakland Raiders
:
Brown
Tired guy:
Running back
Andre Brown
's eyes got very large when I asked him whether he'd expected to carry the ball 30 times in his first game back from a broken leg. "I carried it 30 times?" he asked. "It felt like 50." But Brown said he'd expected to be sore and has no doubt he'll be ready for next Sunday's game against the Packers. "It's football," he said. "Just cold-tub it up and let's rock."
Feeling fine:
Defensive end
Jason Pierre-Paul
recorded his second sack of the season but injured his shoulder on the next play and left the game for a while. He did return to game action, and after the game he said he had a stinger but, "I'll be fine" for next week.
Trick or treat:
Coach Tom Coughlin was happy with the win, but when asked about
Peyton Hillis
' fumble on a screen pass he said, "I could write a book about screen plays this year. I mean what in the world is going on? Is it Halloween every Sunday now?"
November, 10, 2013
11/10/13
4:00
PM ET
EAST RUTHERFORD, N.J. -- A few thoughts on the
New York Giants
' 24-20
victory
over the
Oakland Raiders
at MetLife Stadium:

What it means
: Three wins in a row for a Giants team that started the season 0-6. They are now 3-6 on the season and have tied the
Washington Redskins
for third place in the NFC East.
Stock Watch:
Running back
Andre Brown
, up. Lots of questions coming into this game about how -- and how much -- Brown would play in his first game since breaking his left leg in the preseason finale. Well, maybe it was
Peyton Hillis
' early fumble that prompted this or maybe it was the plan all along, but Brown was by far the primary ball carrier and looked better than any other Giants back has this season. He ran fast. He ran with vision. He gained yards after contact. He became the second Giants back this season to have a 100-yard rushing game, and if he can stay healthy, he looks like a potential answer at a position that has flummoxed them all season.
Some sloppiness
: They'll obviously take the win, but quarterback
Eli Manning
continues to look bad. His second-quarter interception, which
Tracy Porter
returned for a touchdown, raised Manning's league-leading total to 16, although he hadn't thrown one in either of his previous two games.
T2 comeback rolls on:
The play that tilted the momentum back in the Giants' favor was a
Terrell Thomas
interception of
Terrelle Pryor
that Thomas nearly returned for a touchdown in the third quarter. It set up a Brown touchdown run that put the Giants on top 21-20. Thomas was NFC Defensive Player of the Week in Week 8, and his comeback from a third ACL surgery on his right knee is one of the feel-good stories of the Giants' season.
What's next:
The Giants play at home next Sunday against the
Green Bay Packers
, who lost starting quarterback
Aaron Rodgers
to injury last week and backup
Seneca Wallace
to injury Sunday.
Scott Tolzien
could be the man taking snaps for the Packers at MetLife in this one. Reminder: The time for that game has been moved up four hours to 4:25 p.m. ET.