New York Giants:

2013 Week 11 GB at NYG
November, 18, 2013
11/18/13
10:37
AM ET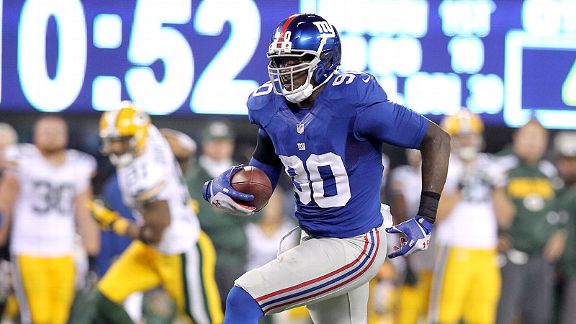 Brad Penner/USA TODAY SportsJason Pierre-Paul thwarted the Packers' comeback hopes with his interception return for a TD.
EAST RUTHERFORD, N.J. -- It wasn't long in the making, but
Jason Pierre-Paul
's interception gave the
New York Giants
a two-touchdown cushion over the visiting
Green Bay Packers
with 10:49 left to play in a 27-13 victory.
Before Pierre-Paul's pick-six, the momentum had been swinging the other way. The Packers had just scored, when rookie running back
Eddie Lacy
bulldozed into the end zone on a 4-yard run. Green Bay was only down 20-13 with 10:55 left in the fourth.
After a three-and-out for the Giants that included two sacks, the Packers had the ball again at their own 30-yard line. It was an advantageous position to be in.
But on the first play from scrimmage, Pierre-Paul recognized the formation -- he even said so in the huddle, telling the other Giants that he was going to pick off the ball. His teammates didn't really react at the time, and
Antrel Rolle
said he thinks Pierre Paul might have just spoken it into existence at that moment.
The ball was snapped and Green Bay quarterback
Scott Tolzien
threw a screen pass toward
Andrew Quarless
. Pierre-Paul jumped right toward it, caught it and used that momentum to go straight into the end zone like he was the intended receiver.
And there was a bonus: Pierre-Paul backed up his own prediction.
Technically the drive took no time off the clock and included zero plays, but it took the Giants from protecting a vulnerable lead to a 4-6 record after a difficult start to the season.
Pierre-Paul has proven to be a valuable asset to the defense, but against the Packers, he might have been just as valuable to the offense.
November, 18, 2013
11/18/13
8:00
AM ET
EAST RUTHERFORD, N.J. -- An examination of four hot issues from the
New York Giants
'
27-13 victory
against the
Green Bay Packers
:
Pierre-Paul
Anatomy of a game-changer:
Linebacker
Jon Beason
said part of the scouting report on the Packers'
Scott Tolzien
was that the ball came out of his hand on a low trajectory. So if the Packers were going to be taking three-step drops all night, as they were, the Giants' pass-rushers were instructed to get their hands up quickly to try to bat down the ball.
Jason Pierre-Paul
knew this, and he said he also knew, right before that fourth-quarter play, that Tolzien was going to throw a screen pass to his side of the field. So Pierre-Paul stayed home instead of rushing and threw his hands up in the air. But he didn't want to bat down the ball; he wanted to catch it. Which he did. And then he ran 24 yards for the game-sealing touchdown.
Don't blame Eli for this one:
Eli Manning
's second-quarter interception was his league-leading 17th of the year, but it was clearly not his fault. Wide receiver
Louis Murphy
was supposed to break inside -- Giants coach Tom Coughlin said there was no option on the route, and that Murphy just blew it. What was weirder, though, was that Murphy was on the field instead of
Hakeem Nicks
, who appeared to hurt himself on a play earlier in the drive on which
Tramon Williams
was called for pass interference. Nicks sat out a few plays, and after the Murphy blunder some teammates went over to talk to and encourage Nicks, who returned to the game on the next drive and didn't want to talk after the game about what was bothering him.
Getting the ball:
After allowing an average of only 206.3 yards per game during the first three games of their winning streak, the Giants gave up 394 to the Packers on Sunday. But they also got three turnovers, giving them a total of 11 during their four-game winning streak after forcing only seven during the first six games of the year. They have won the turnover battle in three of their past four games.
Looking ahead:
Pierre-Paul said of the Cowboys, who come to town next week, "We're going to put it on them, man."
Brandon Jacobs
said, "Playing the Cowboys is always good. That's one of the opponents I love to play more than anybody in the National Football League. It means something to our football team." The Giants moved the ball against a relatively full-strength Cowboys defense in Week 1 but lost mainly because they turned it over six times. They are eager for revenge against a Cowboys defense that will be without middle linebacker
Sean Lee
. If the Giants' offensive line can protect Manning, the game could be a shootout. That's a big "if," but Manning's 279 passing yards Sunday were his most since Week 5, his 71.4 completion percentage was by far his highest of the season and his 92.4 passer rating was his highest since the opener in Dallas.
November, 17, 2013
11/17/13
11:15
PM ET
EAST RUTHERFORD, N.J. -- Nobody has to tell the
New York Giants
what this all means. A four-game winning streak piled on top of a six-game losing streak means the
Dallas Cowboys
come to town next week for a game that suddenly has weight. This Giants team is well-equipped to understand both the significance of its opportunity and the still-precarious nature of its self-inflicted circumstances.
"We know the motivation is going to be there," linebacker
Jon Beason
said. "It's the Cowboys. The winner's going to go on and still have a chance, and the loser is probably done. So this is going to be short-lived."
Beason's "this" was the excitement over Sunday's victory -- a
27-13
defeat of
Scott Tolzien
and the
Green Bay Packers
that fit the mold of the rest of New York's winning streak. The Giants were better Sunday than they'd been earlier in the season but still not great enough to make you think they're going to spend the final six weeks tearing through their schedule. They are hot, but they are also 4-6. Things are better, but not necessarily fixed.
"We're getting there," coach Tom Coughlin said. "We're moving toward it. Any time you win four in a row, there are some good things happening. And there are some things, as a coach, I would like to clean up, too."
The Giants have a week to clean up whatever still needs cleaning. Because things get tougher starting Sunday.
See, the fact that it was Tolzien and not the injured
Aaron Rodgers
directing the visiting team's huddle Sunday leaves the Giants open to questions about how much of this streak has to do with the relative quality of their opponents. They have beaten
Josh Freeman
,
Matt Barkley
, an injured
Terrelle Pryor
and now Tolzien during their streak.
The defense has been excellent, forcing 11 turnovers in the past four games and holding opponents to an average of 253 yards per game, even with the 394 the Packers got Sunday. But the offense -- especially the passing game -- still hasn't clicked the way it used to, and the caliber of opponents has left open questions about how "real" the defense's accomplishments are.
Starting next week, that is no more. From here on out,
Eli Manning
won't be the best quarterback on the field just because he showed up. The quarterbacks remaining on the Giants' schedule are
Tony Romo
,
Robert Griffin III
,
Philip Rivers
,
Russell Wilson
,
Matthew Stafford
and Griffin again. All have their flaws, but they're all obviously much better than the guys the Giants have beaten over the past month. Which means the defense will be tested to an extent it has not been tested in some time.
Which means the offense has to do better. The running game is coming around with
Andre Brown
healthy, and the passing game looked a bit better Sunday in spite of some second-quarter hiccups.
"We still haven't had quite that breakout game where everyone is clicking and everyone is doing the right thing, but I think we're back on track," said wide receiver
Victor Cruz
, who was brilliant Sunday with 110 yards on eight catches. "This is how we want to play and this is what we want to do, so we're excited about that."
The Giants need for Cruz to be correct about this -- the idea that the passing game is beginning to click at this point in the season. Because if the Giants are going to keep this miracle idea of playoff contention alive for another week and into December, that's what it's going to take. Their great players are going to have to play great.
[+] Enlarge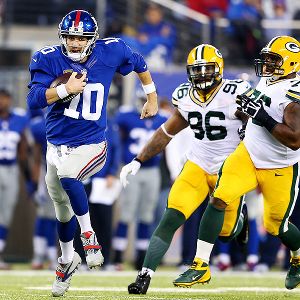 Elsa/Getty ImagesEli Manning and the Giants charged past the Packers. The Cowboys will be next to visit MetLife Stadium.
Jason Pierre-Paul
offered a glimpse of it on defense, as he intercepted a Tolzien pass and ran it back 24 yards for a touchdown in the fourth quarter. Pierre-Paul is the kind of player who, if he elevates to his true potential, could make the Giants truly great at a vital part of the game. Manning and Cruz and
Hakeem Nicks
, wherever he is, fit the same description on offense. They can be great. They have been great, in the past, when the Giants have needed them to be great to win the biggest of games.
They need to be great again, and it needs to start Sunday. Because the 27 points they got against the Packers on Sunday are the most they've scored in a game since Week 1. And they're not going to beat the Cowboys, Redskins, Chargers, Lions or Seahawks unless they're at least capable of scoring in the 30s.
It's there for them next week if they want it. Dallas is a mess of injury and incompetence on defense, allowing a league-worst 440 yards per game and playing without injured star middle linebacker
Sean Lee
, among others. The Giants' best offensive performance of the season came in their season-opening 36-31 loss in Dallas -- a game they lost because they turned the ball over six times, not because they couldn't move it. Add in a defense that has a bellyful of confidence after feasting on the schedule these past four games, and you know these Giants have a chance.
"We're going to put it on them, man," Pierre-Paul said. "I'm pretty sure the offense is going to get going. The defense is going to get going even more. And the special teams will contribute to it. It's going to be a fight. It's going to be a dogfight. There's going to be a lot of blood spilled out there."
There is little doubt the Giants will be mentally and psychologically ready for next Sunday and, if they win, for what lies beyond. The remaining question is whether they -- and specifically Manning and the passing game -- can make good on the opportunity in front of them. As good as they're feeling about themselves after winning four in a row, they're going to have to be even better if they're going to make that streak any longer.
November, 17, 2013
11/17/13
10:05
PM ET
EAST RUTHERFORD, N.J. -- To put as much pressure on Packers' quarterback
Scott Tolzien
, who made his first career start Sunday, the Giants knew they needed to shut down running back
Eddie Lacy
.
"It's like basic football. As long as you take care of the run, they're going to be forced to pass to get more extra yardage," Giants defensive tackle
Mike Patterson
said. "We were looking forward to that."
[+] Enlarge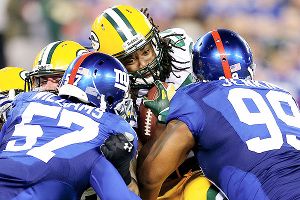 Elsa/Getty ImagesPackers RB Eddie Lacy had little room to run against the Giants' much-improved defensive front.
The Giants continued their stretch of being stout against top running backs as they held the rookie phenom to just 27 yards on 14 carries in their 27-13 win on Sunday at MetLife Stadium. The Giants held Lacy to his fewest rushing attempts in a game in which he wasn't injured.
"We did a great job against (their rushing attack), which we have done all year against the run, against a very good back, and a very good offensive line as well," Giants coach Tom Coughlin said.
Lacy has been one of the league's best rookies this season as his physical, downhill running style has made him a nightmare for opposing defenses. With Packers quarterback
Aaron Rodgers
sidelined, Green Bay hasn't shied away from feeding the youngster and hoping he can help carry their offense.
The Packers tried establishing Lacy early Sunday, giving him the ball on first and second down on both of the first two Packers' drives. But the Giants filled the holes and didn't let him get to the second level of their defense. Lacy was usually swarmed by a group of defenders as soon as he broke the line of scrimmage, and didn't have much room to work with all game. His longest run was just five yards.
Lacy did have an impressive run in the fourth quarter, when he carried defensive tackle Cullen Jenkins into the end zone for a four-yard score that sliced the Giants' lead to 20-13 with 12:43 remaining. Lacy had 48 total yards and he also caught two passes for 21 yards. The 48 combined yards are at least 25 less than his rushing yards in each of his past six games.
"I think everyone played pretty well up front physical-wise. They have some big offensive lineman, can't count them down, those boys out there playing real well," Patterson said. "Up front everyone did well staying low, using our hands, playing the keys, and everything kind of came out our way."
When the Giants prepared to face the Vikings on Oct. 21, they entered that weekend's game ranked 26th in the league against the run. Over the past month, as they've shut down top running backs like Lacy,
LeSean McCoy
and
Adrian Peterson
, the Giants improved to 11th entering Sunday's game.
Linebacker
Jon Beason
complimented the defensive line for its work in the trenches Sunday.
"You get those guys lined up collectively, they're as good as anyone, and I really believe that," Beason said. "It's like having windshield wipers out there. If they're going to make all the plays, that's fine with me. I'll stand in the second level, watch and enjoy the popcorn."
November, 17, 2013
11/17/13
9:33
PM ET
EAST RUTHERFORD, N.J. -- His fantasy football owners may not be as forgiving, but
New York Giants
running back
Andre Brown
was just fine with
Brandon Jacobs
scoring the one-yard touchdown at the end of the Giants' long third-quarter drive Sunday.
"B.J., he's a big back, and last year I played most of the short yardage and goal line, so I was on the other end," Brown said after the
27-13 victory
against the
Green Bay Packers
. "This week it was Brandon coming to get me, where last year I was coming to get
Ahmad Bradshaw
out. So it's all good as long as we get the score. B.J., he keeps that pile moving, and we're good."
Jacobs hadn't played since injuring his hamstring rushing for 106 yards in the Week 6 loss to the Bears. Brown made his season debut in last week's victory against the
Oakland Raiders
, rushing for 115 yards on 30 carries in his first game back since breaking his leg in the preseason. With Jacobs active for Sunday's game,
Peyton Hillis
went to the bench and the Giants pummeled the Packers with two huge running backs. Brown ended up with 66 yards on 18 carries. Jacobs had only nine yards on five carries, but two of those carries converted short fourth-down attempts and another was a touchdown.
"We're just going to hit everybody in the mouth, and that's what it is," Brown said. "B.J., he's a spark out there. He's a leader. He's the guy. He's going to keep me motivated, keep the whole offensive line motivated, and that's what we're going to do. We're going to go out there and bang it up."
A reliable running game is critical to the success of the play-action passing game with which the Giants have struggled for so much of this year. It's critical to improvements in pass protection, which has been a trouble spot all season. But the actual production they're getting with Brown as the lead guy in the backfield is a major plus as well.
"The balance part of the thing is what we were striving to accomplish," Giants coach Tom Coughlin said. "And I think we are accomplishing that to a certain extent."
Brown is just happy to be playing, and to be the main man in the backfield after sharing the stage with
David Wilson
in the preseason and watching the first nine games of the regular-season from the sidelines. So if Jacobs is going to get his touchdowns, you're not going to hear him complaining about it. Brown got eight of them last year in only 10 games. Right now he's playing, on a team that's winning its games, and that's all that matters.
November, 17, 2013
11/17/13
8:17
PM ET
EAST RUTHERFORD, N.J. -- Observed in the locker room following the
New York Giants
' 27-13
victory
over the
Green Bay Packers
:
Pierre-Paul
The second "P" stands for "prescient"
:
Justin Tuck
interrupted
Jason Pierre-Paul
's postgame news conference to inform reporters that Pierre-Paul had predicted his game-clinching interception in the huddle prior to the play. Pierre-Paul said he saw the Packers' formation, figured out that they were running a screen pass to his side, and jumped at the line to get both hands on a pass he knew was coming. He returned the interception 24 yards for a touchdown that set the final score at 27-13. "I told him I'd only seen one other guy make that play, and it was another No. 90," said linebacker
Jon Beason
, referring to his former
Carolina Panthers
teammate,
Julius Peppers
.
Team game:
Running back
Andre Brown
said he didn't care that
Brandon Jacobs
vultured his goal-line touchdown because he [Brown] did the same thing many times last year to
Ahmad Bradshaw
. "As long as we get the score and B.J. keeps the pile moving, it's all good."
Aw, shucks
: Told that his teammates gave him credit for the in-season turnaround of the defense, Beason grinned and said, "Well, they're nice guys."
November, 17, 2013
11/17/13
7:15
PM ET
EAST RUTHERFORD, N.J. -- A few thoughts on the
New York Giants
'
27-13 victory
over the
Green Bay Packers
:

What it means:
The Giants are now on a four-game winning streak after starting the season 0-6. They sit a game and a half behind the NFC East-leading Eagles, who they don't play again, and one game behind the second-place Cowboys, who come to town next week. Whatever you think of the level of competition they have faced during the streak, or how shaky
Eli Manning
still looks, the math puts them in a position to make a run for the postseason if they can play better than they have so far.
Stock watch:
Jason Pierre-Paul
, UP. After Pierre-Paul suffered a shoulder injury in last Sunday's game and missed two days of practice, there was some doubt as to whether he'd play in this game. Play he did, about two-thirds of the Giants' defensive snaps, and it was his leaping interception and return for a touchdown in the fourth quarter that put the Giants ahead by two touchdowns and finally put the game away after the Packers had cut down the lead.
Points:
Wide receiver
Victor Cruz
was the offensive star of the game with eight catches (including some acrobatic ones) for 110 yards, though
Rueben Randle
caught the touchdown pass to raise his team-leading total to six for the season.
Andre Brown
looked good running the ball, especially in the first half, but
Brandon Jacobs
stole the rushing touchdown from him. Jacobs also picked up two short fourth-down conversions. All in all, the offense looks better. And though Pierre-Paul provided some of his own, the Giants' 27 points represented their highest single-game total since Week 1.
What's next:
The Giants host the 5-5 Cowboys next Sunday at MetLife Stadium. The Cowboys had a bye this week and are hoping to be healthier on defense when they return from it, but star middle linebacker
Sean Lee
is likely to miss the game due to his hamstring injury. The Cowboys beat the Giants 36-31 in the regular-season opener in Dallas.
November, 17, 2013
11/17/13
5:58
PM ET
EAST RUTHERFORD, N.J. -- I mean, the
New York Giants
should be leading this game by a considerable margin. They are not. They lead it 10-6 over
Scott Tolzien
's
Green Bay Packers
after a first half in which they possessed the ball for 19:59 of a possible 30:00. Nothing I've seen so far indicates that they should lose to a Packers team that isn't covering very well and isn't protecting its third-string quarterback and isn't opening holes for its running game, but ... in spite of it all, the Giants' lead is only four points and the Packers are getting the ball to start the second half.
Things looked very good for the Giants early. They took a 7-0 lead on their second possession, as
Eli Manning
found
Rueben Randle
open over the middle for a 26-yard touchdown catch. They held the Packers to three-and-outs on each of Green Bay's first two possessions. They went up 10-0 early in the second quarter on a 40-yard
Josh Brown
field goal and looked for all the world as though they'd run away with this game and win their fourth in a row.
Which they still might.
But that second quarter didn't continue to go well, did it? As they were going in for what looked like another touchdown, Manning threw his league-leading 17th interception of the season. It didn't appear to be his fault, as wide receiver
Louis Murphy
didn't do what he was supposed to do and the ball sailed into the hands of Packers cornerback
Tramon Williams
. Murphy was in the game because
Hakeem Nicks
appeared to get injured on a play where he got hit on a pass interference call, but after some teammates talked to him on the sideline, Nicks returned for the Giants' final possession of the half. He couldn't convert on third down, though, and the Giants punted it away with enough time for the Packers to move into position for a 57-yard field goal by
Mason Crosby
as time ran out.
So it's 10-6, as I said, and I really don't know what to make of it. At one point, I'd have told you Manning looked as comfortable under pressure as he has at any point this year, but then he started missing on throws, including one that could have been a
Victor Cruz
touchdown up the right sideline six plays before the interception. The Giants are doing a good job against the run, holding Packers running back
Eddie Lacy
to 14 yards so far on seven carries, but Tolzien has found some open receivers and begun to move the ball.
Giants running back
Andre Brown
looks fantastic again, with 40 yards on eight carries so far to go with a 12-yard reception, and
Brandon Jacobs
converted a couple of short fourth downs. So there's reason to believe the Giants can control the second half with the run game if they can hold the lead. But after a great first quarter, the second kind of shook your confidence that the Giants are good enough to put a game like this in their pocket. We shall see.