New York Giants:

2013 Week 17 WAS at NYG
December, 29, 2013
12/29/13
8:00
PM ET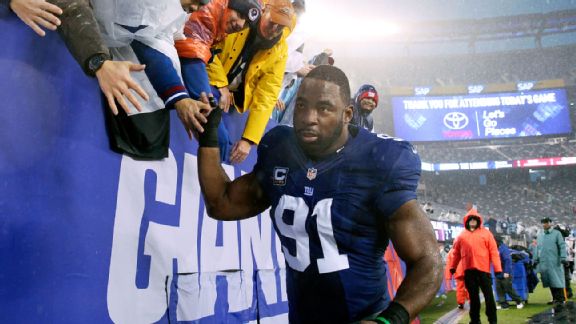 AP Photo/Peter MorganJustin Tuck, a two-time Super Bowl champion for the Giants, heads into a winter of uncertainty.
EAST RUTHERFORD, N.J. -- This season set up as a
make-or-break year
for
Justin Tuck
, and you never know which way those are going to go. The two years the
New York Giants
' veteran defensive end had before this one were disappointing and injury-riddled enough to make some wonder whether he was washed up at age 30. As he entered the final year of his contract, the Giants were anticipating moving on without him in 2014 and beyond.
Tuck knew all of this, and the perception that he was finished irked him somewhat. He's an easygoing fellow for whom life has been pretty sweet, but as he readied for this season, he knew what was being said and planned, and he was eager for a chance to change the narrative.
Well, it says here he did it. And when the Giants start sifting around and looking for the corner and side pieces to their complex offseason puzzle, they should decide to bring back Tuck after all. He has earned it.
"I think everybody knows I can still play this game at a high level," Tuck said in his matter-of-fact way after picking up two more sacks Sunday to finish the season with 11, including 8.5 in five December games. "When I'm healthy, I think I'm one of the best to do it. And this year, I was blessed to be healthy."
This, Tuck insists, was the key. And the counterargument to giving him a new deal involves the possibility that he won't be reliably healthy in his 30s, or the possibility that he won't remain as motivated as he was this year to prove people wrong and get a nice, new contract. The first is legitimate, since it's football and guys get hurt. The second is possible, but what Tuck has given the Giants over nine seasons merits the benefit of the doubt.
"He played well all year," Giants coach Tom Coughlin said Sunday after a season-ending, 20-6 victory over the
Washington Redskins
. "He did what I had wanted him to do and what he wanted to do. He was just an example, and he played hard. I thought he was an excellent example for our younger players. He practiced hard, he played well. He really kept his mouth shut most of the year. He responded well and had a very good year."
The Giants don't generally allow emotion to govern their offseason decisions, and that's good. It would be easy to fall apart as a franchise if you clung too long out of loyalty to people who helped you win championships. The decay of the Giants' roster over the past couple of seasons, however, is not due to that phenomenon. They've been good about saying goodbye to beloved champions when the circumstances or the market have dictated they should. The sorry state of the Giants' roster has more to do with draft and/or development failures than it does to poor decision-making with regard to veterans. So you can expect the Tuck decision to be a sober one, because that's the way they do it.
But even if you take emotion out of it, re-signing Tuck makes sense. Unlike fellow free agents such as
Linval Joseph
and
Hakeem Nicks
, who are looking to cash in with the most significant deals of their careers, Tuck isn't likely to stick up the Giants for the last possible buck. He has made more than enough money, and he has made it clear that he wants to be back. He spent a good chunk of his Sunday evening news conference discussing the off-the-field benefits of playing in the New York market -- the platform it offers him to do the charity work he loves so much, etc.
Relative to some of the other, thornier contract situations the Giants confront this offseason, Tuck's should be easy to resolve if both sides want the same thing.
They should. The Giants need to rebuild the pass rush, don't get me wrong.
Jason Pierre-Paul
has established himself as a health question with two years of physical ailments.
Mathias Kiwanuka
doesn't bring the same kind of explosive changeup
Osi Umenyiora
did in 2011 as the No. 3 in the defensive end rotation. And
Damontre Moore
is clearly still in the project stage. Adding another pass-rusher to the mix makes sense even if they keep Tuck. If he goes, they'll need two.
So why not just keep him? Are they going to be able to find a similarly established veteran of similar age who's coming off an 11-sack season in Tuck's likely price range? Doubtful. And if they did, they couldn't be certain that person would fit into the locker room and provide the calming leadership they already know they get from Tuck, one of their team captains. This is a player and a person they like, who has shown he can still be productive and who won't tie them into the kind of ultra-pricy, long-term commitment that would deprive them of the flexibility they'll need to deal with Pierre-Paul's situation or incorporate a high draft pick into their system.
"It's out of my hands," Tuck said of his chances to return. "I think I did the best I could do warrant being back."
I agree. The Giants should, too. Tuck wants to be back. He deserves to be back. The Giants should make this an easy and early part of their offseason plan and re-sign him.
December, 29, 2013
12/29/13
7:35
PM ET
EAST RUTHERFORD, N.J. --
Will Beatty
entered the 2013 season with high hopes. Having signed a five-year free-agent contract last offseason to be the
New York Giants
' franchise left tackle, Beatty planned to build off his strong 2012 campaign and show he was worth the commitment. He did not. Beatty struggled through a miserable season along with the rest of the Giants' offensive line.
Beatty
The low point of Beatty's year, until Sunday, was the Dec. 1 game in Washington, in which Redskins linebacker
Brian Orakpo
toyed with him and harassed
Eli Manning
all day. Beatty said after that game that he was looking forward to another shot at Orakpo in Week 17. But he didn't get that either, as Orakpo missed Sunday's season finale at MetLife Stadium with a groin injury.
But Beatty's season came to a literally painful end Sunday when he suffered a broken leg in the third quarter of the team's season-ending victory over the Redskins and had to be carted off the field. Beatty was jumping to try to corral (or maybe bat down) a tipped pass from
Curtis Painter
when he took a direct hit on the leg from a Redskins player. The leg snapped instantly, as a gruesome replay showed, and Giants coach Tom Coughlin said he didn't know the extent of the injury.
"That's a fracture of some type," Coughlin said. "I'm not exactly sure, tib[ula], fib[ula] or just one of those. I don't have that information for you, but he's hurt."
If Beatty's injury is severe enough to threaten his offseason or even the start of the 2014 season, the Giants would be in major trouble. They already need three new starters on the offensive line, with
Kevin Boothe
and
David Diehl
set to hit free agency and
David Baas
and
Chris Snee
potential cap cuts. If Beatty is a question mark for 2014, right tackle
Justin Pugh
would be the only set starter as of now.
December, 29, 2013
12/29/13
7:15
PM ET
EAST RUTHERFORD, N.J. -- In a span of nine quarters,
Jerrel Jernigan
went from a draft bust to a potential viable receiving option for the
New York Giants
in 2014.
Jernigan continued his hot play since
Victor Cruz
was lost for the season by torching the Redskins for 147 total yards and two touchdowns in the Giants'
20-6 win
over Washington on Sunday at MetLife Stadium. Jernigan caught six balls for 90 yards and a score, and rushed twice for 57 yards and a touchdown.
[+] Enlarge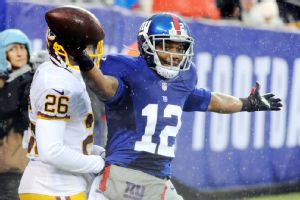 AP Photo/Bill KostrounJerrel Jernigan scored twice against the Washington Redskins.
"I wouldn't say I proved anything but this is why the Giants drafted me here, they know what I can do, they seen me in college," Jernigan said. "That's why they drafted me to come here and make plays like this and it was just a matter of time before I get out there and proved to them I can do it at this level."
Before Cruz went down in the third quarter against Seattle on Dec. 15 with a concussion and a bruised MCL that would require surgery and end his season, Jernigan was more of a roster filler than a contributor during his time with the Giants. The 2011 third-round pick had just 10 catches on the season for 92 yards entering that game, and just 13 catches in his career. He had yet to find the end zone.
Once Cruz got hurt, the Giants plugged Jernigan into the slot, and he showcased some of the play-making ability that intrigued the Giants on draft day. He caught six passes in the fourth quarter against Seattle, and finished with a team-best seven catches for 67 yards against one of the best defenses in football. Last week in Detroit, he hauled in six passes for 80 yards and his first career touchdown.
Sunday, he had his best performance to date. He made a tough catch between two Washington players for a 24-yard touchdown in the second quarter to put the Giants ahead 7-3. On the final play of the third quarter, Jernigan took a handoff and broke tackles for a 49-yard score to put the Giants ahead 17-6.
Jernigan acknowledged the team probably looks at him in a different light for 2014 now than it did heading into the Seattle game, as he averaged 98 yards from scrimmage in the final three contests. Giants coach Tom Coughlin was impressed with what he saw from Jernigan to end the season.
"I was really pleased with him. The way in which he played and the way he finished," Coughlin said. "He grew into a guy that wanted the ball and did things with the ball when he got it. ... His play time increased and he responded very well to it and I was happy for him."
The Giants may have to replace
Hakeem Nicks
in the receiving corps next year, as he is a free agent, and the team will need Jernigan and
Rueben Randle
to step up if Nicks departs. Jernigan knows he will have his best shot at a bigger role, and he's ready for a grander opportunity.
The wideout suddenly might be a key fixture in the Giants passing attack.
"There's a big opportunity whether Hakeem comes back or not," Jernigan said. "I'm just out here playing, trying to let them know I can contribute to the offense next year with Victor coming back."
December, 29, 2013
12/29/13
5:50
PM ET
EAST RUTHERFORD, N.J. -- If you were looking for a definitive answer on whether or not Tom Coughlin would be back as head coach of the
New York Giants
next year, there was none to be had in the wake of Sunday's season-ending
20-6 victory
over the Redskins at MetLife Stadium. Fresh off his first losing record since his 2004 debut season in New York, Coughlin refused to entertain a postgame question about if he expected to return.

Coughlin
"Don't ask me that," Coughlin said gruffly. "I'm not answering that type of question right now. There'll be an evaluation of everything, I'm sure, and we'll go from there."
Coughlin is likely to meet with Giants ownership and the front office in the coming days to discuss his own status, that of his coaching staff and other matters pertaining to the offseason and 2014. Neither GM
Jerry Reese
nor owner John Mara offered comment after the game. Coughlin and Reese are both expected to address the media Monday at the Giants' team facility, and there's a chance Mara could as well, though that's not currently scheduled. Mara has not commented on Coughlin's status. Indications are that, while disappointed with the 7-9 record, ownership is pleased with the way Coughlin held the team together following an 0-6 start.
It's widely believed that Coughlin will return. But he is the oldest coach in the NFL at 67, and with only one year left on his contract it's possible he himself could decide to retire. There's been no indication from Coughlin or anyone else close to the situation that he's considering that, but during the season Coughlin convincingly insists that he's not thinking about anything but the current week's game. With the season over, it's possible he could evaluate the situation from a big-picture perspective and make a surprise decision. It's possible Mara and Reese could as well. It's also possible there could be some disagreement between Coughlin and the front office about coordinators and assistant coaches, and that those discussions could change Coughlin's situation.
"I'd be very surprised," free-agent defensive end
Justin Tuck
said when asked if he thought Coughlin might not be back. "Shocked. You tell me somebody who does it better than he does."
Said
Antrel Rolle
: "I want him back. I wouldn't want to play for anyone else. He's an outstanding coach and more of a phenomenal person. This is exactly what we need in this locker room. I think it's been proven. We just got off to a real slow start. It had nothing to do with coach Coughlin. We got off to a real slow start and we started picking it up as time went on.
"It's not my call to make, only thing I can hope and wish for is that he'll be back."
The final answers on this shouldn't be too far away now. But they did not come Sunday night, which is at least a small surprise in and of itself.
December, 29, 2013
12/29/13
4:30
PM ET
EAST RUTHERFORD, N.J. -- A few thoughts on the
New York Giants
' season-ending
20-6 victory
over the
Washington Redskins
:

What it means
: The game result couldn't possibly mean any less. But the injury toll in the Giants' finale was alarming. Quarterback
Eli Manning
and wide receiver
Hakeem Nicks
left in the second quarter with sprained ankles. Guard
James Brewer
and wide receiver
Rueben Randle
left earlier in the game with injuries. And left tackle
Will Beatty
had to be carted off the field in the third quarter with a broken right leg. The Giants have eight months before their next meaningful game, but obviously they'll hope none of those injuries is serious enough to affect the players' offseason preparations. You'd have to think Beatty's is, at least.
Stock watch:
Justin Tuck
and
Jerrel Jernigan
, UP. Tuck added two more sacks to give him six in two games against the Redskins this year and 11 total -- the third-highest single-season total of his career. Jernigan caught a first-half touchdown pass and ran 49 yards for a rushing touchdown in the third quarter, and his emergence as a legitimate weapon was one of the few feel-good stories of the latter part of the Giants' rotten season.
What's next
: The Giants head into the offseason with a ton of questions on both sides of the ball. They have 24 unrestricted free agents and will pick somewhere in the No. 9-15 range in the first round of the draft in May. They need three starting offensive linemen (maybe four, depending on how bad Beatty's injury turns out to be), a wide receiver, a tight end, a running back, a cornerback and assorted linebackers and defensive linemen. Time to get to work.
December, 29, 2013
12/29/13
2:46
PM ET
EAST RUTHERFORD, N.J. --
New York Giants
quarterback
Eli Manning
might have thrown his final pass of the 2013 season. Fittingly, it was intercepted.

Manning took a big hit from Redskins defensive lineman
Chris Baker
late in the
first half
of the game and was limping badly when he was helped to his feet by an official. He stayed in the game, but two plays later a tipped pass was intercepted. Manning took a long time to walk off the field, and limped directly to the locker room with the help of a member of the training staff. The team announced he was being treated for an ankle injury.
No official word yet, but it seems unlikely he'd play in the second half of this meaningless Week 17 game.
Also injured earlier in the game were guard
James Brewer
and wide receivers
Rueben Randle
and
Hakeem Nicks
. Randle has been ruled out for the game with a knee injury, and Nicks is being called "questionable" to return with an ankle injury. If Nicks can't return, the Giants could be playing the final half of their season without any of their top three wide receivers -- Randle, Nicks and
Victor Cruz
, who has missed the final two games following knee surgery. They also could be without Manning to throw to anyone.
Fortunately for them, wide receiver
Jerrel Jernigan
looks great. He has caught all six of the passes thrown his way for 90 yards and a touchdown. Jernigan has been a revelation since Cruz's Week 15 injury as the slot receiver, and is likely improving his chances of playing more next season, whether it's for the Giants or for someone else.
Also having a big game is defensive end
Justin Tuck
, who is playing with energy against the run as he has all season, and has collected his 10th sack of the season. It's Tuck's fourth career double-digit-sack season, and his first since 2010. He has drastically improved his chances of returning to the Giants in 2014.
Running back
Andre Brown
hasn't returned to the game since his second-quarter fumble led to the first three points of the game for the Redskins. That fumble and Manning's interception have raised the Giants' league-leading turnover total to 43.