New York Giants:

2013 Week 3 NYG at CAR
September, 22, 2013
9/22/13
9:30
PM ET
CHARLOTTE, N.C. -- Going into Sunday's game, things looked bright for
Eli Manning
and the
New York Giants
' passing game. The
Carolina Panthers
were playing without their two starting safeties and one of their starting cornerbacks because of injury. Universally, fantasy football analysts were advising you to start your Giants, because big numbers were in store.
Not what happened.
Manning finished the game 12-for 23 for 119 yards, his lowest yardage total since a Dec. 28, 2008 game in Minnesota in which he had 119 in the first half and didn't play in he second. He threw no touchdowns, but you already knew that if you saw the 38-0 final score. He completed three passes for 25 yards to
Victor Cruz
and no passes at all to
Hakeem Nicks
, who was targeted only once in the game -- late in the fourth quarter after it had been decided.
What went wrong? Well, if you think of the Giants' passing game as a fancy sports car, they couldn't get it out of the garage Sunday. The Panthers delivered consistent, crushing pressure with their four defensive linemen, sacking Manning seven times in the game and six times in the first 17 minutes. As the Giants teams that have won the franchise's two most recent Super Bowls can tell you, that kind of pressure with only four guys is a pretty significant help to any secondary, no matter how banged up.
"When you can drop seven guys and rush four and get pressure, it's going to make it hard for any offense to have a successful passing game," Manning said. "They were able to accomplish that."
Manning isn't the kind of quarterback who's going to sell out his offensive line after a terrible game. But he is the kind of level-headed team leader who's not afraid to deliver a team-wide message that things need to improve. The Giants are 0-3 for the first time since 1996, and in serious danger of missing the playoffs for the fourth time in five years. One of the main reasons is that they haven't played well enough on the offensive line. While that manifested itself through a disappointing running game in the first two weeks, it was the pass protection that really stunk Sunday.
"We have to find ways of slowing down the pass rush, whether that's running the ball, with screens or getting the ball out quicker," Manning said. "They won the physical battle today."
September, 22, 2013
9/22/13
8:45
PM ET
CHARLOTTE, N.C. -- Got to give
New York Giants
left tackle
Will Beatty
points for honesty and accountability. I'm sure Giants fans would rather have given him more points for, you know,
playing tackle
Sunday. But after a
38-0 loss
to Carolina for which he was largely responsible, the 28-year-old who signed a five-year contract last offseason to be the Giants' franchise offensive lineman wasn't shy about discussing what had gone wrong.
"The first sack took up way too much of my thought, way too much of my time," Beatty said. "I kept thinking about it. I couldn't just let it go, and you have to. Because it becomes like a snowball effect. You're out there talking to yourself. You messed up. Why did you mess up? Then you just messed up again. And it gets worse and worse."
[+] Enlarge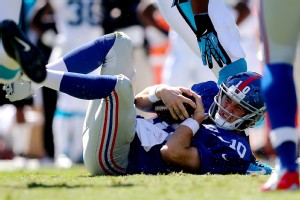 Streeter Lecka/Getty ImagesEli Manning was sacked six times in the first 17 minutes of the Giants' loss to the Panthers.
Giants quarterback
Eli Manning
was sacked seven times in the game, including a stunning six times in the first 17 minutes when the score was still close. Not all of the sacks were on Beatty, of course. The offensive line problems were expansive and comprehensive for the Giants on Sunday. Carolina's front four got into the backfield routinely on run plays, too. For Beatty, the low point may have even been the holding penalty that got
David Wilson
's 17-yard touchdown run called back.
"That's the kind of game you never want to even think about," Beatty said. "You never want to even dream of or think about your team having a game like this. I can't allow this game to, by any means, say that's what Will Beatty is all about. That can't be me. That's not the way I play. That's not the way I like to end a game or walk into this locker room."
The rest of the offensive line felt the same way. First-round rookie
Justin Pugh
, who's been thrown into the fire as the starting right tackle following a preseason injury to veteran
David Diehl
, was beaten for at least one of the sacks as well and was upset with himself after the game.
"I expect more of myself," Pugh said. "We're only as strong as the five guys we have up front, and personally I know I need to be better."
The result of the line's bottoming-out (which of course they hope it was) was that the offense couldn't get anything going because the quarterback spent the entire first half on his back. While the Panthers were able to get their offense going as the game went along, the Giants never were.
"That's not New York Giants football," center
David Baas
said. "Especially not on offense. We're expecting to go out there and lead on offense. That's what we've always done. We take a lot of pride in keeping Eli clean, and that was definitely not the case today."
After throwing a league-leading seven interceptions in the season's first two gams, Manning added just one to his total Sunday. Backup
Curtis Painter
threw another in late-game relief work, and the Giants also lost a fumble. They have committed 13 turnovers this year and taken the ball away from their opponents a mere four times.
September, 22, 2013
9/22/13
7:10
PM ET
CHARLOTTE, N.C. -- There was talk, late Sunday afternoon, of expectations not met. These shell-shocked
New York Giants
, in the wake of the
38-0 loss
to the
Carolina Panthers
that dropped them to 0-3 for the first time in the Tom Coughlin/
Eli Manning
era, said they expected more from themselves. Even if they weren't expecting anything great.
"I thought," defensive tackle
Cullen Jenkins
said, "that we could at least be competitive."
A modest goal, to be sure. But the Giants' failure to meet it says an awful lot about where they are as a franchise right now. They are not an underachieving team. They are one of the very worst teams in the NFL. They might take a while longer to come to grips with that, and it's possible they never will. But from the outside looking in, it's getting more and more obvious all the time.
Yes, they are 0-3 this year and have been outscored 115-54 (an average of 38.3 to 18 per game). And that's bad, but this runs deeper. Going back to Halloween of 2012, when the Giants were 6-2 and thinking of themselves as one of the best teams in the league, they have lost eight of their past 11 games.
[+] Enlarge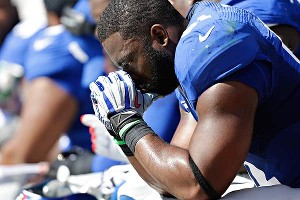 AP Photo/Bob Leverone"We are a desperate football team right now," Giants veteran Justin Tuck said.
Sunday's loss was the third-worst shutout loss in franchise history, but it was only four points worse than the one they took in Atlanta last Dec. 16 when they still had a chance to repeat as NFC East champions. Over their past six games, the Giants are 1-5 and have been outscored by an average of 31.5 to 18.3.
This is worse than a slow start. This is an alarming, systemic trend.
"I thought that we were in a position today that we would be able to put our best foot forward," a stunned Coughlin said. "But we never gave ourselves a chance, competitively, to be in the game."
This is something the Giants like to believe never happens to them. They believe they're in every game, and that they have a chance to beat any team in the league if they play their best. For a long time, and with the help of a couple of dream Super Bowl runs, they had evidence to support this belief.
But that is no longer the case. There are too many examples, over the past 11 months, to the contrary. These Giants are a hollowed-out fašade of what they once were. They have some nice-looking skill-position guys at quarterback and wide receiver and running back and defensive end. But they don't have enough good players at the key positions that would allow them to dictate the course of football games. They are heavily committed to a left tackle,
Will Beatty
, who played as poorly as a left tackle can possibly play Sunday and was a key culprit in the six sacks of Manning the Panthers were able to rack up in the first 17 minutes of the game.
At a time when this game, between two teams that came in 0-2, was begging for someone to take control of it, the Giants were overmatched and overwhelmed in the most humiliating way possible.
"We didn't win the physical battle against Denver either," Coughlin said, referring to the Giants' Week 2 loss. "And clearly, offensively, we lost the physical battle today as well."
The defense is getting off a bit easy here. The Giants made some nice plays in the secondary, but Carolina quarterback
Cam Newton
gashed them with runs on the first touchdown drive and
DeAngelo Williams
was able to put the game away in the second half on the ground. The Giants aren't winning enough physical battles up front on defense, either. It's just more glaring on offense.
"We are a desperate football team right now," defensive captain
Justin Tuck
said.
The problem is, they're not a good enough football team to pull themselves out of this mess. The Giants aren't going to suddenly start playing tougher in the trenches, because they don't have the right players with which to do it. Beatty isn't a big, mauling left tackle. He needs to be sound in his technique and win with his athleticism if he's to succeed. Sunday showed what happens when he doesn't. Right tackle
Justin Pugh
is a rookie. Right guard
Chris Snee
is on the downside. Center
David Baas
hasn't been what they signed him to be, really ever.
[+] Enlarge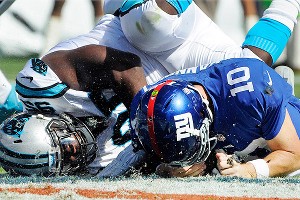 AP Photo/Mike McCarnThe line couldn't block. Receivers couldn't get open. As a result, Eli Manning was sacked seven times.
On the defensive side, Tuck goes in and out,
Jason Pierre-Paul
disappears and
Linval Joseph
is the only interior lineman who shows up in the other team's backfield. They have nothing at linebacker, at all. There just isn't enough, talent-wise, to make this redeemable. The Giants aren't going to go 0-16, but they're not going to contend for the division or the playoffs either.
"I expect everybody in that room to fight with the same passion I have," Coughlin said. "And I'll be looking hard for those who are not."
No doubt, but the path the 2013 Giants are on leads to an offseason of overhaul. Two-time Super Bowl champions will start to feel as though they're on a farewell tour. Coughlin himself isn't going anywhere -- he'll coach the team as long as he wants to coach it. But this is starting to set up as the kind of year that makes you wonder how much longer he'll want to. These Giants, because of the deterioration they've allowed to happen on their offensive line and in their defensive front seven, are on the cusp of a rebuilding project. There's no other way to view what they've put on tape for the past calendar year.
This isn't a 2013 problem. This is deep-seated, foundational rot. And the Giants aren't getting any better any time soon.
September, 22, 2013
9/22/13
4:16
PM ET
CHARLOTTE, N.C. -- A few thoughts on the
New York Giants
'
38-0 loss
to the
Carolina Panthers
:

What it means:
Well, it means huge trouble from a statistical standpoint. The Giants are 0-3 for the first time since 1996. Since the current playoff format began in 1990, only three of the 115 teams that have started 0-3 prior to this year reached the playoffs. No one's done it since 1998. So the odds of this year's Giants playing in the postseason are less than good.
Stock watch:
Pick someone, pretty much anywhere on the Giants' roster, and their stock is down. But a good place to focus is on the offensive line.
Eli Manning
was sacked six times in the first 17 minutes of the game Sunday. Left tackle
Will Beatty
was incredibly overmatched by Carolina's pass-rushers, and Beatty's linemates weren't much better. Carolina was in the backfield on every pass and run play the Giants called in the first half, and as a result of the relentless pressure, the Giants' offense was never able to get anything going, even during the part of the game in which the Panthers were struggling to score as well. By the time
Cam Newton
got going, the Giants had been manhandled too much to recover.
Don't let the defense off easy:
The Giants' offense has been so erratic and mistake-riddled this year that it's provided some measure of cover for the Giants' defense. And it's easier on the defense to find positives. They are tackling well at the second and third levels, for instance. But the fundamental problem is the number of those tackles they find themselves having to make as a result of their failures up front.
Mathias Kiwanuka
's early sack was a sign that things might be about to improve, but as the clock ran down in the fourth quarter it was still holding up as the Giants' only sack of the day and their sixth in their last eight games. Meanwhile, Newton and
DeAngelo Williams
were doing basically whatever they wanted to do in the run game. The Giants aren't tough enough right now on either line.
What's next:
Things don't get any easier. The Giants travel to Kansas City next week for a 1 p.m. ET game against the 3-0 Chiefs, who beat the Eagles on Thursday night and will have had nine days off prior to the game.