New York Giants:

2013 Week 4 NYG at KAN
September, 29, 2013
9/29/13
8:24
PM ET
KANSAS CITY, Mo. -- Had he been in a joking mood,
New York Giants
wide receiver
Hakeem Nicks
might have explained his own disappointing performance in Sunday's
31-7 loss
to the
Kansas City Chiefs
by pointing out that
Eli Manning
can't catch the passes himself. After being targeted only once last week, Nicks dropped a couple of catchable balls this week and took ownership of his own role in the loss that dropped the Giants to 0-4 for the season.
"Definitely, on my end, I felt like I could have come down with two or three that I didn't come down with," Nicks said. "That's on me, and I know I have to play better. As an offense, I know we can play better. It wasn't that long ago we were all out there making big plays. I still believe we will bounce back."
And the truth is they probably will. The Giants' skill-position players on offense are very talented. The line is awful right now, but offensive lines have a way of improving as the season goes along. And next week's opponent is the
Philadelphia Eagles
, whose defense is far more vulnerable than those against which the Giants have played their first four games. Nicks and the Giants are justified in thinking things will get better for the offense, if for no other reason than they can't get worse.
Where Nicks is wrong, though, is in his expectation of what "bounce back" means. Inside the Giants' locker room, as there should be, remains hope that something can still be made of this season. They are professionals, still getting paid, and they will continue to work and believe until the math tells them to stop.
But the long view says it's over, before October has even hit. Only one team ever has made the playoffs after an 0-4 start. The Giants right now have so many problems at so many positions that it's impossible to imagine them replicating the 1992 Chargers' 11-1 finish. And even if the NFC East persists in its top-end mediocrity of the past three seasons and can be won with eight or nine wins, and even if the Giants could go 8-4 the rest of the way and pull off something like that, it only would obscure their larger problems. This is a team in need of major work. And with this season lost, it's time for the Giants to start thinking about 2014 and beyond.
So, yeah, Nicks might "bounce back" and post big numbers the rest of the way. He's a talented-enough player to do it, and if he did, it wouldn't be a surprise. But the Giants are going to be watching very closely to see whether he can, or whether the leg injuries of the past few seasons have diminished him as a player. The Giants are going to have a decision to make on Nicks, who's a pending free agent. The final 12 games of this season are a chance for him to show he's healthy enough to deserve the big-money deal he wants.
And he's not the only one. The Giants are going to have offseason decisions to make on decorated veterans such as
Justin Tuck
,
Chris Snee
,
Corey Webster
and
Antrel Rolle
. And while some of those decisions seem obvious from here, it's not crazy to think they could be affected one way or the other by what those players show in terms of health and productivity over the final 12 games of this season.
They have a decision looming not long from now on
Jason Pierre-Paul
, who has one sack in his past 11 games. The Giants still believe Pierre-Paul is a special-enough talent to be a foundation piece for their defense. But if he continues to languish through the final three-quarters of this season the way he has since the midpoint of last season, they may find themselves re-evaluating that assessment.
[+] Enlarge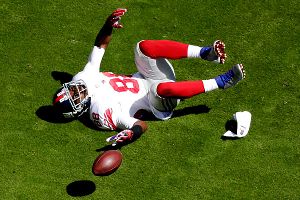 AP Photo/Charlie Riedel"It wasn't that long ago we were all out there making big plays," receiver Hakeem Nicks said.
They are stuck with
Victor Cruz
(who's playing great) and
Will Beatty
, but the performances of those players in the next 12 games could help them determine how much and what sort of help the team needs to find at their positions next spring. If Beatty, for example, doesn't play like a franchise left tackle (and to this point, he certainly has not), do they think about drafting one next year and using Beatty on the right side (and
Justin Pugh
at guard) long-term? Personally, I think they need to give
David Wilson
the ball as their feature back the rest of the season and find out whether he's a keeper or whether they need to find someone there, too.
And, yes, of course, there are coaches to evaluate. Tom Coughlin gets to coach the team as long as he wants, and he's earned that right. But it's entirely possible the performance of the team over the final 12 games could cause Coughlin and/or Giants management to re-evaluate the coordinators and other assistants. The Giants prefer to wait until the end of the season to make those decisions, and with no obvious replacements on staff, one has to believe offensive coordinator Kevin Gilbride and defensive coordinator Perry Fewell get these final three months to keep the team convinced they're the right men for their respective jobs.
Manning is 32 years old, so there's plenty of window left for him. Heck, his brother is 37 and making a mockery of the league. The questions are about what kind of team the Giants can put around him, and how quickly they can retool at the most important spots. The issues on the offensive and defensive lines are the result of a failure to develop replacements for aging veterans, and now general manager Jerry Reese and the front office have two things to do: figure out which current members of the team look like important parts of its future, and then go out and find replacements for the ones who don't. That's a bitter realization for a team on Sept. 29, but that's where the Giants are, and that's what they have to do.
September, 29, 2013
9/29/13
7:50
PM ET
KANSAS CITY -- The postgame question was not a plant, but it was one for which
New York Giants
coach Tom Coughlin sure was ready with a multi-layered answer: Where has the offense gone? What do you see as the problem?

Coughlin
"There's no continuity, no rhythm," Coughlin said, following the
31-7 loss to the Chiefs
that dropped his Giants to 0-4 for the season. "We don't make any first downs. Playcalling is like throwing a dart at a board. There's no real feel in terms of the ball being moved continuously down the field."
Coughlin isn't going to single out one position group, especially one as injury-ravaged, inexperienced and overmatched as his offensive line is right now. But the issues for the Giants' offense all start there, because the line play doesn't allow anyone to operate comfortably. Coughlin wasn't calling out offensive coordinator Kevin Gilbride with the dart-at-a-board comment. He was expressing his (and, surely, Gilbride's) frustration that the state of affairs doesn't allow the playcalling to get into a rhythm.
"No, I'm not saying it's bad playcalling," Coughlin said when asked to explain. "What I'm saying is, when you make first downs and get into a rhythm, it's a lot easier than it is when you always have third down. Let's face it: We're not doing much with third downs. When you don't do that, your first downs are minimal and you've got issues with establishing any kind of drives."
The Giants made 11 first downs Sunday, to the Chiefs' 21. For the season, they have made 70 first downs, which puts them in the bottom third of the league. (Based on the fact that they were tied for 17th entering the game and posted a below-average number). They were 1-for-14 on third down Sunday and are just 11-for-48 (22.9 percent) on third down for the year -- one of the absolute worst figures in the league, if not the worst, pending other Sunday outcomes.
Manning
"On first and second downs, our production is bad," quarterback
Eli Manning
said. "We're going backwards. (Sunday) we lost yards on a pass on the first play. The next play we throw it away and we have third-and-11 right out of the game. So, if you're living in that world... you can convert some, but that's a world you don't want to live in."
It is the Giants' current world, as is their 0-4 record. But what's most alarming, as you assess the long-shot chances for a comeback in a division whose lead is only 2-2, is that they're really not in their games. I mean, they're in their games at halftime, but in the second halves, when real NFL teams make adjustments and put games away, they've been outscored 73-14 in their last three games. They and their opponents spend the first half feeling each other out, then the opponent goes into the locker room and says, "OK, well, they can't do anything, so here's how we win by 25." The Giants are barely even participants in the second halves of their games.
"We've still got the same guys who can still make plays," wide receiver
Hakeem Nicks
said. "We believe we can fix this."
Maybe they can. But there's a heck of a lot to fix.
September, 29, 2013
9/29/13
5:30
PM ET
KANSAS CITY, Mo. -- Observed in the locker room after the
New York Giants
' 31-7
loss
to the
Kansas City Chiefs
:

Coughlin
Dart-throwing:
Giants coach Tom Coughlin said it's been impossible for the team's offense to get into any kind of rhythm, and as a result, "play-calling is like throwing a dart at a board." He also used the word "debacle" to describe the offense's performance in the second halves of games so far this season.
Rock bottom?
Defensive end
Justin Tuck
described the feeling around the 0-4 Giants as "low as you can get" but said the only thing to do was get back to work and try to beat the Eagles next week. "What else can we do?" he said. "Can't run and hide. We have to try and right this ship, or die trying."
Second-guesses
: Wide receiver
Victor Cruz
said he wished Coughlin had allowed the Giants to go for it on fourth-and-inches from their own 30-yard line late in the third quarter with the score still just 10-7 Chiefs. Coughlin said it would have been "a foolish error" if he'd gone for it and not made it at that point in the game and at that spot on the field.
September, 29, 2013
9/29/13
4:16
PM ET
KANSAS CITY, Mo. -- A few thoughts on the
New York Giants
'
31-7 loss
to the
Kansas City Chiefs
:
What it means
: The Giants are 0-4 for the first time since 1987, when they lost the first three games of the strike-shortened season with replacement players and their first five overall, and went on to finish 6-9. The last time they were 0-4 in a non-strike season was 1979, when they started 0-5 and finished 6-10. The 1992
San Diego Chargers
are the only team to reach the playoffs after starting 0-4 and winning 11 of their final 12. So while it's not, technically,
over
for the Giants, it's all but. The Giants have lost nine of their past 12 games.

Stock watch
:
Hakeem Nicks
, DOWN. It's wrong to single out one player, given the breadth of the issues the Giants have on offense right now. But we'll get to all of that. For now, let's take note that Nicks isn't helping enough in the passing game. The leg injuries of recent seasons look to have taken a major toll on him. He can't get separation from defenders the way he used to, and he had a couple of shaky-looking drops. His chances of scoring that big free-agent contract next spring are fading by the week.
All about the blocking
: The issues with the offensive line and with the overall blocking are crippling the Giants' offense. Right before
Dexter McCluster
's punt-return touchdown, they elected not to go for it on fourth-and-1 because they can't trust their line to get any push. There was a third-and-1 run by
David Wilson
to the right side on which they got no outside blocking by the tight ends.
Eli Manning
and the offense can't establish anything offensively because they can't trust that they'll have time and space in which to operate.
What's next
: The Giants will host the
Philadelphia Eagles
at 1 p.m. ET Sunday at MetLife Stadium. The Eagles are 8-3 against the Giants the past five years but are obviously under new management with Chip Kelly having replaced Andy Reid as head coach. After winning in Week 1 in Washington, the Eagles lost two straight heading into Sunday's late game against the Broncos.
September, 29, 2013
9/29/13
2:42
PM ET
KANSAS CITY -- Not saying they should make parade plans or anything, but the first half of Sunday's game against the Chiefs in Kansas City didn't go as horribly bad for the
New York Giants
as (a) many people feared it would or (b) the rest of their season has gone to this point. They trail the Chiefs
10-7
after
Josh Brown
missed a 44-yard field goal attempt with two seconds to go. And yes, 69 of their 182 yards came on a single play -- an
Eli Manning
touchdown pass to
Victor Cruz
. But if you're a Giants fan looking for positives as the team tries to avoid an 0-4 start, you're not bereft.

The offensive line is a shambles, with
Jim Cordle
starting at center and
James Brewer
at right guard for injured starters
David Baas
and
Chris Snee
. And it's not as though the healthy tackles are playing especially well. But it's not as bad as last week in Carolina, when the Panthers' defensive linemen were in the backfield instantaneously on every play, run or pass. Manning has faced significant pressure and been sacked twice, but he's actually been able to complete six passes to Cruz and three to
Hakeem Nicks
. When compared with last week's passing-game output, this is more or less the 2007 Patriots. And in the run game, they're averaging 4.7 yards per carry on their nine carries.
Defense? Again, nothing award-winning, but some stuff to make you not want to claw out your eyes. The Chiefs are picking on
Aaron Ross
like crazy, whether it's
Dwayne Bowe
or
Donnie Avery
lined up on him. And they did march an easy-looking 98 yards for their touchdown. But the tackling has been sound on the edge, with especially strong efforts by linebackers
Spencer Paysinger
and
Mark Herzlich
. And rookie
Damontre Moore
has been a disruptive tackling and punt-blocking force on special teams. The Giants even managed to collect the Chiefs' first turnover of the season, off a bad snap.
Oh, and the Giants get the ball back to start the second half.
So yeah, that's about it. I'm not saying it looks as though they'll win and everything will be okay from here on out. The odds are still that the unbeaten Chiefs can control the ball and the clock in the second half and win the game. But Kansas City's not the kind of team that runs away with the game. And the Giants have already shown today that they can hit a big play to keep themselves in it. If you came into this day thinking there was no way for the Giants to win, you now have at least some reason to feel otherwise.
And the way this September has gone, that's about all you can ask.