New York Giants:

2013 Week 7 MIN at NYG
October, 22, 2013
10/22/13
12:00
PM ET
An examination of four hot issues from the
New York Giants
' 23-7
victory
over the
Minnesota Vikings
:
[+] Enlarge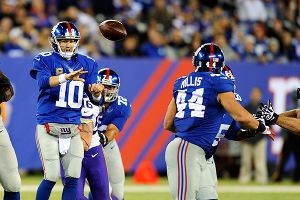 AP Photo/Bill KostrounPeyton Hillis had 18 carries and a touchdown in his Giants debut.
The impact of Jon Beason:
What's amazing is that Beason was only available in trade because he'd lost his starting outside linebacker job in Carolina to Giants castoff
Chase Blackburn
. After two games in New York you can make a legitimate case that Beason is the best defensive player on the team.
Justin Tuck
called him a "godsend" and spoke of Beason's impressive football knowledge and ability to direct traffic and get guys positioned on defense before the snap. Beason also plays fast and finds his way to the ball quickly. He looks like a very good middle linebacker, and it may be that he needed to be in the middle instead of on the outside where Carolina was using him. The extent of the upgrade he represents over what the Giants had been using at linebacker prior to his arrival speaks ill of the decision not to prioritize the position in the offseason.
What a little pressure can do:
The Giants got only one sack, raising their league-worst team total to six for the season, but they did pressure Vikings quarterback
Josh Freeman
and it did matter.
Antrel Rolle
's interception came on a play on which
Shaun Rogers
was draped around Freeman's ankles. Tuck's sack came on third down. Both plays deprived the Vikings of at least field goal chances. The Giants' pass rush has been absent all year and must resurrect itself if they are going to win more games. It was encouraging that
Jason Pierre-Paul
(who now has one sack in his past 14 games) looked quicker off the ball in the first half, but he has to carry it through the game.
The Peyton Hillis thing:
The newly signed Hillis made his best contribution as a receiver out of the backfield, catching five passes for 45 yards. He ran for a touchdown, but he had only 36 yards on 18 carries and the Giants averaged only 2 yards per rush attempt as a team. They didn't have to do much on offense to beat a Vikings team that looked as though it wasn't trying to score. And Hillis is a neat story if he really is making a comeback of any sort here. But to think the run game woes are suddenly solved would be a mistake.
Whither Hakeem Nicks?
He was once again the Giants' most-targeted receiver, as
Eli Manning
threw his way 10 times. But Nicks caught only two passes for 28 yards. He can't seem to get separation from defenders, at all, anymore, which means he has to outfight them. And while he's capable of that, it's no way to go through a game and help your quarterback. Increasingly, Nicks looks like a guy who's not worth the No. 1 wide receiver money he seeks. And if he's still seeking it in March, he's not likely to be a Giant next year.
October, 22, 2013
10/22/13
10:00
AM ET
Little bit of slim pickings here on this. Monday night's game was horribly played by both teams, as you've no doubt heard. The "drive" on which the
New York Giants
took control was a two-play, three-yard job in the third quarter after the Vikings fumbled a punt. So for the Drive of the Game, we go back to the second quarter, with the Giants trailing 7-3 having given up their third punt-return touchdown of the year and still wondering if they'd ever get to win and feel good about themselves again.
With 13:07 left in the first half, the Giants got the ball at their own 18-yard line.
Eli Manning
hit fullback
John Conner
for a seven-yard pass to start it. Two plays later, a 12-yarder to
Victor Cruz
converted a third down (something the Giants hadn't done at all in their first five games but have done better in the last two). Manning hit Cruz again on the next play for 11 to get them near midfield, and a couple of so-so run plays set up a third-and five from the Vikings' 47.
Manning then aired one out to struggling wide receiver
Hakeem Nicks
, who could not come down with the ball but did draw a pass interference penalty against Vikings safety
Xavier Rhodes
. That moved the ball to the 24-yard line, and on the next play Manning threw it toward
Rueben Randle
in the corner of the end zone.
Now, Randle was "covered" on the play by Vikings cornerback
Chris Cook
. And the ball was underthrown, to an extent that would have allowed Cook to intercept it or knock it down if he'd seen it. But Randle saw it first, leaped in the air behind Cook and reached down to pluck the ball out from in front of Cook's face. Great play by Randle, saving Manning from an interception and giving the Giants a 10-7 lead they would never relinquish.
October, 22, 2013
10/22/13
2:30
AM ET
EAST RUTHERFORD, N.J. -- This was Thursday afternoon, in the quiet of the
New York Giants
' locker room after practice and before meetings as an 0-6 team was grinding its way through the weekly drudgery it hoped would finally yield a different result. Cornerback
Terrell Thomas
gave voice to the desperation.
"We just need to win a game," Thomas said. "I don't care how. Even if it's lucky. Even if the other team hands it to us. Even if the refs blow the game. I don't care. We just need to get a win."
Flash-forward 3½ days, to the wee hours of Tuesday morning, with the MetLife Stadium scoreboard reading
Giants 23, Vikings 7
. Giants quarterback
Eli Manning
, who'd spent six weeks exhausting nearly every hangdog look in his substantial catalog, stood at a podium smiling. He had made it through a game, for the first time this season, without throwing an interception. His completion percentage of 59.0 had been his highest since the season opener. He'd picked up a key first down with his legs, which is rare but always fun. But more important than any of that, Manning and the Giants had won the game.
"It's good to be smiling and to have a little excitement in the locker room," Manning said. "When you play and you don't win, after a while you kind of forget that winning feeling. So it's good to get one right here. We needed it."
Oh, did Manning need this. After a week in which the topic of benching him had actually come up (on the Vikings reporters' conference call with Giants coach Tom Coughlin, who dismissed it immediately) and his frustration with the losing and the criticism had begun to show, Manning desperately needed a game in which he didn't turn the ball over. He needed a game in which the opposition couldn't get out of its own way and he never felt as though it was up to him to do something heroic in the fourth quarter. He needed a game after which everyone would be talking about the defense and about
Peyton Hillis
and about what in the world the Vikings were thinking throwing the ball 53 times with a quarterback they'd just met instead of handing the ball off to the league's MVP.
Manning and the Giants needed this, because some of their simple, foundational principles were starting to feel unsteady.
"You put so much work in, and you don't always get the results you want," Manning said. "We're doing all the right things. Our preparation has been good every week. We just have to keep doing it, and if we do the right things, it will come around."
They believe that, the Giants do. They base their entire week of work on that idea, every single week -- that no matter what has come before, if they do things the way they know how to do them, they will get the results they seek. The extent to which Coughlin preaches this concept -- and Manning demonstrates it -- is what has kept this whole thing afloat for a decade now and resulted in two Super Bowl titles along the way.
This year, though, the team has been wobbling on its axis. The Giants are more deeply flawed than they ever considered they might be, inept and undermanned on both lines to an extent that has crippled their ability to establish the kind of consistency and rhythm they need to feel like themselves.
Manning has been a mess, in large part because he hasn't been able to trust his protection or his run game. He's not making excuses and shouldn't, because his own poor play was one of many significant factors in the 0-6 start, but the mess of this season has its roots in a capsized comfort level. Even Monday, he was shaky at times, throwing at least three balls that could easily have been picked off if the Vikings' defensive backs could catch. But like Thomas said Thursday, the Giants needed a couple of breaks. Manning maybe most of all.
So Monday night was a tonic. Not a cure, mind you, just a tonic. The Giants still aren't going anywhere this year. There are many more losses on the schedule -- many games left against teams that will do crazy things like start their best quarterback and try to use their best players. The Giants aren't good enough to beat the better teams in this league this year, and truth be told they're not good enough to be sure they can beat the worst. They're going to have to wear this and come back next year to try to fix it.
But when they do, Coughlin will still be the coach and Manning will still be the quarterback. And slogging through week after week of interception-pocked losses is no way to convince yourself it'll all be OK at some future time. Monday night, for the first time all season, Manning got to feel that way.
"He had good vision tonight, I thought," Coughlin said. "Eli saw things tonight very well, and obviously he was concerned about taking care of the ball. He did a nice job of that."
Nothing major or heroic was done, required or expected. All the Giants wanted out of this game was to win it and to be able to move on to Sunday's game in Philadelphia with a different feeling than the one they've been carrying with them for the past month and a half. Mission accomplished, and maybe the next time Manning finds himself needing one of those big fourth-quarter, game-winning drives, he'll be in a better frame of mind to throw the ball to his teammates instead of his opponents.
October, 22, 2013
10/22/13
2:25
AM ET
EAST RUTHERFORD, N.J. -- If you live for special teams, Monday was your type of football.
The
New York Giants
' special teams unit turned kick and punt returns into can't-miss television. Big Blue forced two turnovers, but also gave up a punt return for a touchdown and lost a fumble in the
Giants' 23-7 win over the Vikings
on Monday night.
[+] Enlarge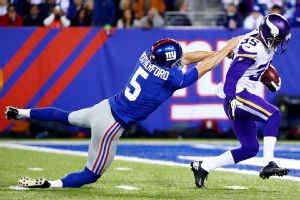 Al Bello/Getty ImagesMarcus Sherels' return of Steve Weatherford's punt was the only touchdown the Vikings scored.
"That punt return was disappointing and frustrating, but that was the only seven points we gave up tonight," Giants punter
Steve Weatherford
said. "Obviously we didn't do what we wanted to do there. But we had [eight] more punts and I think we did a good job the rest of the way."
Despite dominating the first quarter, the Giants trailed after the first 15 minutes due to a special teams blunder. Leading 3-0, Weatherford punted the ball to Minnesota's
Marcus Sherels
, who found a lane down the left sidelined before cutting across the field. Weatherford gave a valiant effort, but Sherels made it to the end zone before Weatherford got him with a horse collar tackle that drew a flag.
"I tried to kind of play basketball with him and slow him down so people could catch up from behind," Weatherford said of the 86-yard touchdown. "It's disappointing, but we got the win."
Rueben Randle
later fumbled away a punt return in the third quarter, but the Vikings did not capitalize as
Josh Freeman
threw an interception deep in Giants territory. The special teams unit made up for its mistakes later when it forced a fumble on a punt, setting up a one-yard
Peyton Hillis
touchdown in the third quarter that put the Giants up 17-7, and recovered a fumble on a kickoff in the fourth quarter.
"I think that was the game-changer right there," Weatherford said of the forced fumble on the punt.
TRIO FOR RANDLE:
The end zone is becoming a frequent hangout spot for Randle.
The second-year receiver scored a touchdown for the third straight game as he hauled in a 24-yard pass to give the Giants a 10-7 lead in the second quarter. He caught three passes for 40 yards in the win.
"I just want to make plays," Randle said. "It's nothing special. I just want to go out there and compete and perform at the best of my abilities and that's what I'm trying to do."
Randle's touchdown was perhaps the highlight of the night as he managed to go over the top and snag the ball from Minnesota's
Chris Cook
. Quarterback
Eli Manning
perhaps under threw his receiver, but Randle bailed out his quarterback and made an acrobatic play.
"I knew he had to go over the defender to make the catch. I know that's something he can do," Manning said. "He can go up and make plays and sometimes that's what you need from your receivers -- to go up and make a play for you at times. That was a big touchdown right there."
October, 22, 2013
10/22/13
2:15
AM ET
EAST RUTHERFORD, N.J. --
New York Giants
center
David Baas
missed three games with a neck injury, returned to start Monday night's game against the Vikings and ... limped off the field during the first drive of the game and didn't return. Baas injured his left knee and will have an MRI on Tuesday, but he did not sound optimistic about the results.
Baas
"We think we have an idea what it is," Baas said. "Hopefully it's not what we think, but we'll see. Obviously it's frustrating, because you feel like you can't catch a break. But it is what it is."
If "what it is" is a torn knee ligament, obviously the Giants could be without Baas for the remainder of this season.
Jim Cordle
took over at center and would be the most likely replacement.
Defensive end Justin Tuck
left the game briefly in the fourth quarter in a lot of pain, but returned shortly thereafter. Tuck said the problem was a dislocated finger, but that he was fine as soon as he popped it back into place. This is, apparently, something that happens to him with some sort of frequency. He went for X-rays after the game, but he should be okay to play Sunday.
Tuck also got a sack in the game. He had a half a sack in the season opener in Dallas but was shut out in that category since. He did his trademark bow after bringing down
Josh Freeman
on Monday.
"I almost forgot how to do it, honestly," Tuck said.
Running back Brandon Jacobs
was inactive for the game after rushing for 106 yards in Week 6 in Chicago and injuring his hamstring last week. Jacobs said he was told Monday morning he wouldn't be playing. He hopes to be able to play Sunday in Philadelphia.
"I'm hoping and praying," he said. "I think they made the right call (Monday). The medical staff said I could have gotten out there and pulled it, and it could have ended up being worse."
Newly signed running back
Peyton Hillis
rushed for 36 yards on 18 carries and a touchdown and caught five passes for 45 yards. Rookie
Michael Cox
rushed for 23 yards on 11 carries and caught two short passes.
October, 22, 2013
10/22/13
2:10
AM ET
EAST RUTHERFORD, N.J. --
Peyton Hillis
felt like Roy Hobbs on Monday night.
"It seems like the movie 'The Natural,'" Hillis said after his Giants debut. "Where he's out of the game for 10 years, he comes back and he starts doing well for the team. It just feels like that."
Hillis may not have knocked the lights out at MetLife Stadium, but his season debut went well as he totaled 81 yards and a touchdown in the
Giants' 23-7 win over the Vikings
. Hillis, signed Wednesday, carried the ball 18 times and also caught five passes out of the backfield.
[+] Enlarge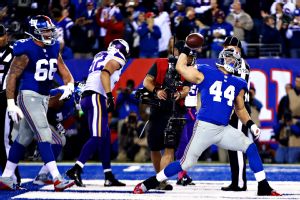 Al Bello/Getty ImagesPeyton Hillis scored his first touchdown since Dec. 2, 2012 on a 1-yard scamper in the third quarter.
"It feels like I've been beat around here for the past couple years and really never getting an opportunity," Hillis said. "When I got this call, when I thought my career was over, I went out and was like I'm going to give it all I can and see what happens. I felt that I did OK."
With
David Wilson
and
Andre Brown
sidelined, and
Brandon Jacobs
nursing a
hamstring injury that forced him to miss Monday's game
, the Giants signed Hillis, a former 1,000-yard rusher with the Browns.
Hillis, who spent training camp with the Buccaneers, said he had a three-week period when he believed his career was over before the Giants called him.
Despite having less than a week to prepare, Hillis started and received the majority of the carries. He only rushed for 36 yards, but did some solid work in the passing game as he tied the team-high by catching five passes for 45 yards. Hillis had a nice play in the fourth quarter when he spun off a defender and picked up 9 yards for a first down.
In the third quarter, he scored his first touchdown since Dec. 2, 2012, when he rushed in from 1 yard out to give the Giants a 17-7 lead. He outrushed Minnesota running back
Adrian Peterson
, who had 13 carries for 28 yards on the night.
"It was a great feeling. Something that I needed for a long time," Hillis said of the touchdown. "It meant a lot to me. It felt like I was achieving something on the field that I haven't done in a very long time."
Hillis' role could lessen next week against Philadelphia if Jacobs returns, but he's looking forward to showing what he can do in the upcoming weeks. He admitted his legs felt like "Jell-O" on Monday due to him not having much time to get back in football shape.
"I still believe if you give me a couple more weeks and I get the grasp of the offense and get my legs underneath me, I can show you some glimpses," Hillis said. "I just need some time and hopefully I'll have that time to be here and show that."
Hillis wasn't the only Giant to get his first carry of the season on Monday. Rookie seventh-rounder
Michael Cox
rushed 11 times for 23 yards. Cox was announced before the game as the starter but wasn't in for the first snap, although he had the first carry of the game.
"I got a lot to work on," Cox said. "Hopefully just me being in the game, giving the coaches more confidence in me, more chances in the future."
October, 22, 2013
10/22/13
2:05
AM ET
EAST RUTHERFORD, N.J. -- One of the worst defenses in the NFL had its best day in a long time.
The
New York Giants
entered Week 7 giving up a league-high 34.8 points per game. But their defense pitched a shutout in a
23-7 win
over the
Minnesota Vikings
on Monday night.
The Vikings' only points came on a
Marcus Sherels
86-yard punt-return touchdown late in the first quarter.
"It was outstanding," Giants coach Tom Coughlin said of his defense. "It was an outstanding effort."
[+] Enlarge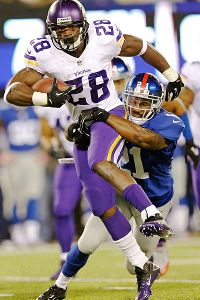 AP Photo/Julio CortezThe Giants held Adrian Peterson to a season-low 28 yards rushing.
Adrian Peterson
, who rushed for 2,097 yards last season en route to winning the NFL MVP award, was limited to 28 yards on 13 carries.
Josh Freeman
, making his Minnesota debut, completed 20 of 53 passes. The Vikings accumulated just 206 total yards.
Multiple Giants admitted they were surprised Peterson didn't get more opportunities. But when he did get the ball, he only averaged 2.2 yards per carry. The Giants' focus entering this game was squarely on shutting down No. 28.
"It was definitely tough sledding," Peterson said. "Those guys were bringing some stunts, doing a lot of movement up front. Nothing we haven't seen before, but it kind of put us in an uncomfortable position."
Everywhere Peterson went, he seemed to be surrounded.
"I said to the defense before we went out, I said, 'How 'bout this? No solo tackles. Assists -- which means there's so many guys around the ball, that you can't determine who was there first,'" said middle linebacker
Jon Beason
. "And we did that. No one had any big numbers, but collectively we got around, we swarmed everybody."
Nineteen different Giants were credited with at least one tackle. Beason, acquired via trade from the
Carolina Panthers
earlier this month and making just his second start for the Giants, led the way with nine.
"He's been a godsend, honestly," defensive end
Justin Tuck
said of Beason. "That guy -- just his passion for the game, and his knowledge. There's so many times out there on the football field, he sees things before they happen, he's putting guys in the right spots, and very vocal."
Tuck also had a big game, with two tackles for loss, including a 14-yard sack of Freeman in the third quarter that knocked the Vikings out of field-goal range. Tuck, who had a half-sack in the season opener against the Cowboys, hadn't had one since, and got to trot out his trademark bow after taking Freeman to the turf.
"I almost forgot to do it, honestly," Tuck said. "It's been a long time coming. But hopefully you'll see a whole lot more of that around here."
That was the Giants' only sack of the game, but they did record 13 quarterback hits, including three from Tuck and a team-high four from reserve tackle
Shaun Rogers
. And in the secondary, safety
Antrel Rolle
made a big play as well, with an acrobatic tip and interception of a Freeman pass on the Vikings' first drive of the second half.
"I was definitely ecstatic," Rolle said of his emotions walking off the field. "I think we played a good game. Defensively I think we went out there and we did what we thought we could do, which is go out there and be dominant."
The Giants' defense was indeed dominant, but let's not get carried away. Yes, the unit did a wonderful job against the best running back in the league. But Freeman played poorly enough earlier this season that the
Tampa Bay Buccaneers
cut him after Week 4. And he was making his first start with a new team, with very little in the way of preparation.
Tuck and Rolle, among others, made big plays. But Freeman also missed open receivers. In fact, according to ESPN Stats & Information, Freeman had 16 overthrows -- the most overthrows by a quarterback in a game in the eight years the group has charted overthrows.
The Giants defense isn't suddenly a juggernaut again. But its members can feel good about themselves heading into Sunday's game in Philadelphia.
"Hopefully tonight is something we can build on," Tuck said. "It's still a long way to climb out this hole, but this is a good start."
October, 22, 2013
10/22/13
12:50
AM ET
EAST RUTHERFORD, N.J. -- Observed in the locker room after the
New York Giants
' 23-7
victory
over the
Minnesota Vikings
:
Manning
Sweet relief:
There were smiles. There was chatter. There were willing interview subjects as far as the eye could see. For the first time this season, the Giants had won a game, and they felt as though a weight had been lifted. "It's good to be smiling,"
Eli Manning
said. "It's good to have that feeling in the locker room again."
Surprise, surprise:
The Vikings ran 54 pass plays and 14 running plays, in spite of the fact that their running back,
Adrian Peterson
, is the reigning NFL MVP and their quarterback,
Josh Freeman
, has been on the team less than two weeks.
Justin Tuck
said the Giants' defense was surprised. "A little bit. A little bit, yeah," Tuck said. "Especially with Josh just being there a couple of weeks, we were really prepared to see a lot of No. 28."
Hurt again:
After missing three games with a neck injury, center
David Baas
injured his left knee on the first series and sat out the rest of the game. He'll have an MRI on Monday but isn't optimistic. "I can't catch a break," Baas said.
October, 21, 2013
10/21/13
11:58
PM ET
EAST RUTHERFORD, N.J. -- A few thoughts from the
New York Giants
' 23-7 "Monday Night Football"
victory
over the
Minnesota Vikings
:
What it means:
That the Giants aren't going to go 0-16. I know, I know. That sounds simplistic, but it's true. The result of Monday night's game doesn't mean that all of their problems are solved or that they can still make the playoffs. They aren't, and they can't. This just means that, no matter how bad things have been or how bad they'll be again for the rest of this season, the Giants are not going to go through the whole year without winning a game. You may have
believed
that prior to Monday, but you'd seen nothing to prove it, and now you can be certain. It's something. It matters.

Stock Watch: Defense, UP
.
Jon Beason
is a difference-making presence at middle linebacker, and his high-energy performance since ascending to the starting role is a huge part of the reason the Giants aren't winless anymore. He has sideline-to-sideline speed. He has a nose for the ball, even when league MVP
Adrian Peterson
is carrying it and needs to be brought down. He got the helmet with the speaker in it so he could make the calls, and the defense looked as good as it's looked all year. The Giants even got a quarterback sack -- something they'd done only eight times in their previous 11 games coming in. Problems and issues remain, but the Giants' defense looked inspired against an overmatched opponent Monday, and that can help build confidence.
Run for the Hillis
:
Michael Cox
was listed as the "starting" running back, but
Peyton Hillis
was in on the first snap and for some reason receiver
Jerrel Jernigan
was in on a good number of third-down plays. Hillis looked irretrievably slow in the first half, but he got his legs under him in the second, especially as a receiver, and helped the Giants move the ball. They like to run ugly, and he may be the perfect stopgap solution while their better running back options heal.
Clean Eli:
This was the first game this year in which Giants quarterback
Eli Manning
did not throw an interception.
What's next:
The Giants will play the Eagles in a 1 p.m. ET game Sunday at Lincoln Financial Field in Philadelphia. The Eagles beat the Giants 36-21 at MetLife Stadium in Week 5. The Giants' bye week follows Sunday's game.
October, 21, 2013
10/21/13
10:17
PM ET
EAST RUTHERFORD, N.J. -- Well, let's see. The
New York Giants
... let me check... yes, they lead the
Minnesota Vikings
10-7 at the half here at MetLife Stadium.
Eli Manning
has ... right, has
not
thrown an interception. His touchdown pass to
Rueben Randle
surely could have been intercepted, or at least knocked away, had Vikings cornerback
Chris Cook
ever laid eyes on it. But Randle saw it first and made a great play to leap in the air and scoop it out from in front of Cook's face. That's the difference-making play in an awful game so far, and the Giants have their first halftime lead of the season.
Gonna go right to the bullet points, because my eyes hurt:
The Giants' opening drive took 9:36 off the clock with 17 completely uninspiring plays and resulted in a Josh Brown field goal when they failed to convert their fourth third-down attempt of the drive. They were sharp, if unexciting, on the previous three third downs, and an interesting game-plan issue revealed itself. They were using Peyton Hillis some and Michael Cox some at running back on early downs, but they don't seem to trust either in pass protection, so when they get to third down they either go empty backfield or, a couple of times, have lined up wide receiver Jerrel Jernigan back there. Imperfect solutions, to be sure, but Cox and Hillis are the fifth and sixth tailbacks they've had to try this year due to injuries, and perfect solutions are unavailable at the present time. I did think Cox looked good on a couple of inside runs early, and I am at a loss to explain why a slow-footed Hillis got the bulk of the second-quarter work.
After missing three straight games with a neck injury, center David Baas returned to the lineup but limped off with a knee injury during the first drive. Can't make this stuff up. Jim Cordle is back at center.
In the first five weeks of the season, three different Giants opponents were named their conference's Special Teams Player of the Week. Minnesota's Marcus Sherels continued the misery with an 86-yard punt return for a touchdown in the first quarter to put the Vikings ahead 7-3. The Giants have been so awful at so many things this year, but it's possible their coverage on punts has been their worst thing.
The thing the Giants do best is stop the run between the tackles, and Adrian Peterson's nine yards on eight carries in the first half are evidence that this aspect of the Giants' game is no joke. The Vikings need to get Peterson going if they're to come back and drop the Giants to 0-7, because new quarterback Josh Freeman looks very new and uncomfortable back there. He has not, however, been sacked. Coming in, the Giants as a team had five sacks for the season and only eight in their last 11 games.
Jared Allen's sack of Manning right before the end of the half was unlike any I've ever seen. He had his arms wrapped around the waist of Giants left tackle Will Beatty and yet still managed to grab Manning's jersey on the other side and hold on long enough to bring him down. Embarrassing for Beatty, incredible by Allen.
The Giants should win this game, which says a lot about how awful the Vikings are. But the Giants are pretty awful too. Let's settle in and see who's less awful in the second half.
October, 21, 2013
10/21/13
10:00
PM ET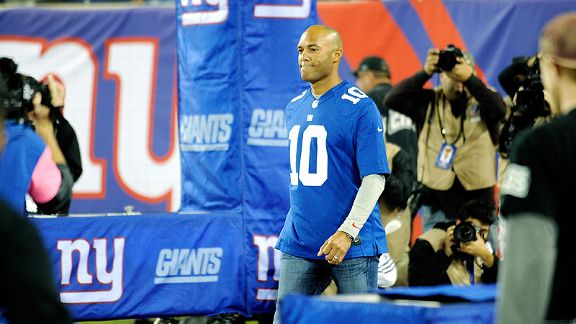 AP Photo/Bill KostrounBaseball's all-time saves leader, Mariano Rivera, made an appearance at MetLife Stadium on Monday.
EAST RUTHERFORD, N.J. -- The
New York Giants
are still hoping to save their season, and they turned to Major League Baseball's all-time saves leader Monday night to help them.
Mariano Rivera, the legendary closer of the New York Yankees who retired last month, was honored at MetLife Stadium prior to the start of the Giants' game against the
Minnesota Vikings
.
Shortly before the opening kickoff, after a Rivera highlight video aired on the stadium's giant television screens, Rivera jogged in from one of the end-zone tunnels out to midfield with his customary entrance music, Metallica's "Enter Sandman," playing over the loudspeakers.
Rivera wore an
Eli Manning
No. 10 jersey and participated in the opening coin toss. He didn't bring the Giants luck, however -- the Vikings won the toss, electing to defer.