New York Giants:

2014 Hall of Fame
August, 3, 2014
Aug 3
12:10
AM ET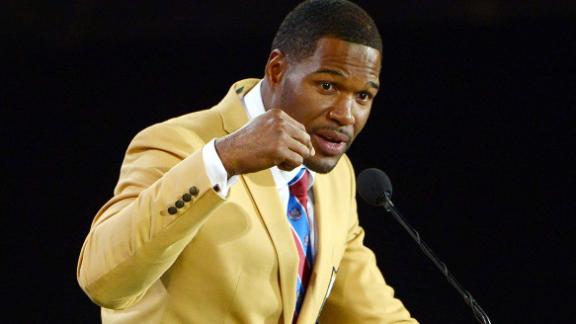 CANTON, Ohio -- In a sprawling, 34-minute induction speech Saturday night at the Pro Football Hall of Fame, former
New York Giants
defensive end Michael Strahan invoked Jane Fonda workout tapes, said he still doesn't understand "Coughlin Time" and told longtime rival Jon Runyan that he knew his tells. It was all over the map, but it was kind of fitting for a guy whose life could be described the same way.
The final speaker of the seven new Hall of Famers on Saturday, Strahan began his speech with his memory of being a husky 13-year-old living in Mannheim, Germany, and ended it by singling out his "TV wife," Kelly Ripa, who was in the audience to watch his enshrinement ceremony. He opened by calling himself "an improbable Hall of Famer, an improbable football player" and closed it with these words:
[+] Enlarge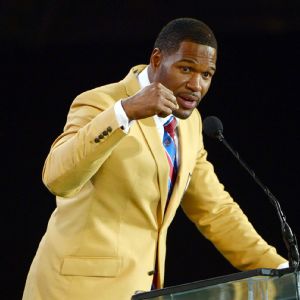 Kirby Lee/USA TODAY SportsMichael Strahan's Hall of Fame speech was like his New York Giants career: a whirlwind of success and entertainment.
"Improbability means nothing, because absolutely anything is possible."
Strahan is a testament to that, an amalgamation of circumstance, influence and wildly varied success. He's a huge international TV superstar who seemed truly touched by the weekend's celebration of his football career. As he and his bronze Hall of Fame bust showed his famous gap-toothed smile, he told the following tales, among others:
The one about how his brothers made fun of him for being fat when he was 13 and living in Germany because their military father was stationed there. They called him "B.O.B.", which stood for "Booty on Back," and the ribbing inspired him to go out and purchase those Jane Fonda workout tapes. He eventually moved on to Herschel Walker ones, but he says it all worked.

The one about getting drafted out of Texas Southern by the Giants and "going to the scariest city I could ever imagine -- New York City."

The one about how he hurt his foot on a sack dance as a rookie and the late Giants co-owner, Bob Tisch, gave him rides to practices after he saw him walking there on crutches.

Meeting Lawrence Taylor, Phil Simms and O.J. Anderson in the Giants locker room and thinking, "I watched these guys when I was 6 years old. They're still here?"

"When I was a rookie, I was scared of you," he said to Taylor, who was among the returning Hall of Famers on stage. "And now, I'm retired and up here with you wearing this yellow jacket, and I'm still scared of you."

He spoke warmly of current Giants coach Tom Coughlin, with whom he feuded early but bonded late in his career. He said, "I still don't get" why a coach insists that someone arrive at 7:55 for an 8:00 meeting, but he also said, "You made me a better man, Coach Coughlin," and Coughlin's grin was as wide as the end zone.

He also spoke warmly of Eli Manning, who hammed it up by keeping a straight face as Strahan kidded him for never showing emotion. Strahan said he used to walk around the locker room before games trying to pump everyone up but couldn't figure out how to do it for Eli. "I used to say, 'How am I going to reach this boy?' And then I realized I didn't have to. He was already reached. What I learned from Eli was that you don't have to be outwardly excitable to be inwardly combustible."

He singled out former opponents Erik Williams and Runyan, telling Runyan (who was in the crowd) that his right foot gave away everything.

He told fellow Hall of Famers John Randle, Chris Doleman, Bruce Smith and Howie Long that he "stole" techniques from all of them, including Randle's practicing pass-rush moves on shopping carts and Smith's obsession with the StairMaster. "I am a mixture of all of you," he said.
And that might have been the Strahan line of the night. This is a guy who lived through three very different Giants eras until the final game of his career was the most improbable of all -- the Super Bowl XLII victory over the unbeaten
Patriots
. This is a guy who once said on the air, as a guest on Ripa and Regis Philbin's show, that he hoped someday to replace Regis … and did.
Strahan said Friday that "I don't really get excited about many things, because every day is a continuous cycle of interesting stuff, but this is unlike anything else."
He will leave Canton, Ohio, and return to his fabulous and fascinating life. But to hear Strahan speak is to listen to a man who truly appreciates how wild and crazy it's all been. And it's fun to listen to someone like that.
August, 2, 2014
Aug 2
7:20
PM ET
CANTON, Ohio -- A large
New York Giants
contingent is on hand Saturday for the enshrinement of former Giants defensive end Michael Strahan into the Pro Football Hall of Fame. The leader of that contingent is Giants owner John Mara, who remembers Strahan as a Hall of Fame practice performer.
"That's a once-in-a-lifetime guy, a guy that makes other people better," Mara said on his way into the ceremony at Fawcett Stadium. "And you'd just watch him practice, going up and talking to different players. He was always encouraging guys, but he'd also get on guys if he felt they were slacking off and not doing their jobs. And that's one thing I always appreciated."
Strahan said Friday that he doesn't get to East Rutherford, New Jersey, as often as he likes to, but he will show up periodically throughout the season to talk to Giants players. There are only three remaining Giants who played with Strahan, but it's not hard for him to get everyone's attention.
"He has a huge impact when he comes in, because he's got the credibility because they know he was such a great player," Mara said. "And what was great about him, I've said this a million times, is that he practiced just as hard as he played, and he set such a great example. So that type of influence is what you want.
"We're very proud to be here to support him."
August, 2, 2014
Aug 2
5:30
PM ET
Welcome to ESPN.com's coverage of the Pro Football Hall of Fame enshrinement ceremony! Seven NFL greats -- Derrick Brooks, Ray Guy, Claude Humphrey, Walter Jones, Andre Reed, Michael Strahan and Aeneas Williams -- will be honored Saturday night and ESPN.com reporters Mike Rodak, Dan Graziano, Pat Yasinskas and Vaughn McClure will bring you live updates.
August, 1, 2014
Aug 1
5:20
PM ET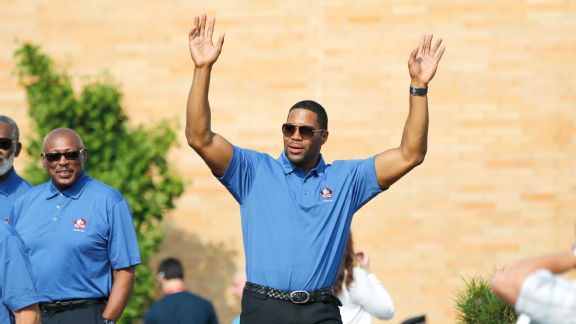 AP Photo/Ben LiebenbergMichael Strahan is back to feeling like a rookie during Hall of Fame weekend.
CANTON, Ohio -- It's not easy to impress Michael Strahan, whose post-football life is basically a traveling theme park. But this weekend he's spending here being inducted into the Pro Football Hall of Fame ... this is getting it done.
"I don't really get excited about many things, because every day is a continuous cycle of interesting stuff," the former
New York Giants
defensive end said Friday afternoon, hours before putting on his gold Hall of Fame jacket for the first time. "But this is unlike anything else."
To name a few of the things in Strahan's head when he says something like that, the Giants' all-time sacks leader is currently the co-host of Fox's Sunday NFL pregame show as well as "Live with Kelly and Michael" and, on occasion, "Good Morning America." He has been a pitchman for submarine sandwiches and men's skin care products, among other things. He hosted Nickelodeon's Kids' Choice Awards this year. He is a huge, world-famous star -- by far the biggest and best-known of any in this year's Hall of Fame class. Yet on Friday, he felt like an awed rookie all over again.
"You can't buy your way in here. You can't trick anybody into getting you in here. You can't bribe your way in here," Strahan said. "This is something you truly have to earn. And you're here with guys you watched play football when you were growing up, and now you're in the same room with those guys? It's overwhelming."
Friday afternoon brought the Nitschke luncheon, to which all of the current Hall of Famers wear their gold jackets, but the class of 2014 wears light blue polo shirts. The newbies aren't supposed to talk during the Nitschke luncheon -- just listen to the wisdom of the men who've been enshrined in years past. They have to accept being the butt of their jokes, and hearing their stories again even if they've heard them before.
"You've got to humble yourself," Strahan said. "Because everybody here has had their moment. This has nothing to do with TV now or what you do outside of this. This is what you did for those 15 years, and these guys are here for what they did on the field."
Strahan said it's an especially proud weekend for him because it's about football, and there are people who know who he is but don't even realize he played football. He told a story about former teammate Keith Elias, who told his wife he'd be seeing Strahan this weekend because he's going into the Hall of Fame. Elias' wife responded, "He played football?"
"It's cool, because it means that I've done something right, and I view it as a compliment," Strahan said. "But I appreciate that people recognize the football stuff, because that was such a big part of what I was, and I wouldn't have what I have now if it hadn't been for football. I'm very realistic about that."
Friday night Strahan gets his jacket. ("The biggest thing for me is going to be not sleeping in it. That's going to be the biggest challenge.") Saturday, he gets to unveil his bronze bust and make his acceptance speech. And as the night's biggest star, he gets to be the last of its seven speakers.
"I know I'm not going to be the first one to cry, because I'm going to be the last one to speak," he joked Friday.
For Strahan and his fellow 2014 Hall of Famers, the whirlwind weekend was just beginning. But the experience already had his attention in a special way. And with Michael Strahan, that's no small feat.
August, 1, 2014
Aug 1
9:00
AM ET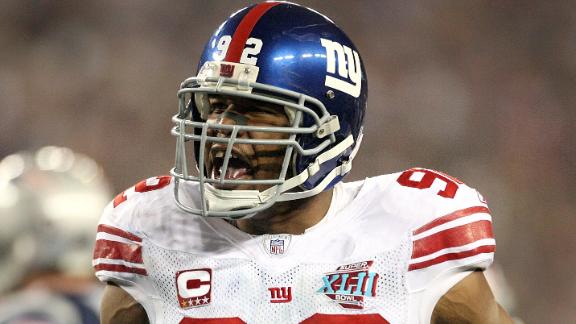 ESPN.com
New York Giants
reporter Dan Graziano says Michael Strahan, who will be enshrined in the Pro Football Hall of Fame on Saturday, fostered a positive, upbeat vibe that still pervades the Giants' organization.
July, 31, 2014
Jul 31
6:15
PM ET
EAST RUTHERFORD, N.J. -- Much of the buzz around
New York Giants
camp has been about the impending enshrinement of Michael Strahan in the Pro Football Hall of Fame this weekend. But while he has plenty of love and respect for that great former Giant, punter
Steve Weatherford
is also enjoying the fact that former Raiders punter Ray Guy is going into the Hall of Fame this weekend. Guy will be the first punter ever enshrined.
Weatherford
"Being a punter, it may sound silly for me to say it, but I think it's about time," Weatherford said before Giants practice Thursday. "He's the best player at his position ever. He deserves it."
Weatherford was a soccer player who took up punting at age 15, and he said Guy was the name everyone knew when it came to punting. So it's not just that a punter is going into the Hall of Fame; it's that it's this particular one.
"He's the guy that everybody thinks of," Weatherford said. "He was the person that made people start to care about that position and think it was more than just a body on the team. Really revolutionized the position, and you can't say enough good things about not only what he was able to do for his franchise, and all the Pro Bowls and records, but really for the position itself."
Weatherford enjoys being a punter at a time when the fans and the game place unprecedented value on the position. He said he encounters Giants fans who still commend him for the brilliant game he had against the 49ers in the NFC championship game three seasons ago and the performance he delivered in the Super Bowl against the Patriots two weeks later. He believes Giants fans have special reason to appreciate the importance of his position.
"Just Jeff Feagles," Weatherford said, invoking the name of one of his close predecessors here. "He wasn't out there hitting 65-yard punts, but he was so good at keeping the ball away from the returner and just a really, rock-solid, steady punter. And this is a really difficult place to punt -- very windy, can get nasty, can get cold. And he just did a great job for an incredibly long time.
"I think he's one of the greats, and they don't really appreciate him until we brought a rookie in here and it really went to show you how difficult a place this is to play. Not only the conditions, but this place, if you don't play well, the fans will eat you up."
The reference there is of course to poor Matt Dodge, the rookie famous for kicking the ball to
DeSean Jackson
at the tail end of the Eagles' miracle comeback over the Giants in December 2010. Dodge lost his job to Weatherford in training camp the following season, and after the Super Bowl victory, the Giants rewarded Weatherford with a five-year, $12.5 million contract, of which about $4 million was guaranteed.
"You've got punters in the NFL now that are making $4 million a year and you've got some running backs on your team that are making less than $1 million," Weatherford said. "That just goes to show you, when you do find a really good punter, you've got to hang onto him. Because you never appreciate the punter until you don't have one that you can trust and depend on."
It's a good time to be a punter in the NFL, and for that reason Weatherford and his brethren will salute Ray Guy when he gets that gold jacket.
July, 23, 2014
Jul 23
2:35
PM ET
By
Mike Mazzeo
| ESPNNewYork.com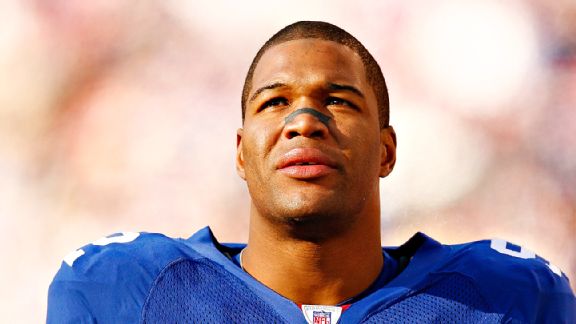 Rob Tringali/Getty ImagesGiants great Michael Strahan says his goal at the start of his career was "just to make a little money."
When his NFL career began, Michael Strahan was not thinking about the Hall of Fame.
In fact, being enshrined in Canton was the furthest thing from his mind. "My goal when I first started was just to make a little money so I didn't have to move back to my parents' house," Strahan said Wednesday. "I just didn't want to live with my parents."
He didn't have to. Strahan made millions.
He ended up in the Hall of Fame, too.
Strahan, one of the most dominant pass-rushers in NFL history, will be enshrined in Canton on Aug. 2.
"It's overwhelming, to be honest with you, because obviously (late New York Giants co-owner) [Wellington] Mara was there when I was drafted," Strahan said. "He'd come to practice every day, the face of the NFL and more so the Giants, one of the original founders of the game. It's such a rich history. And on top of that, Harry Carson being a great friend of mine as well as L.T. [Lawrence Taylor] being a great friend and the one guy I looked up to when I came in. Just so much history on the side of the Giants."
During his 15-year career, Strahan racked up a franchise-record 141.5 career sacks which puts him fifth on the all-time list. He went to seven Pro Bowls and set the NFL's single-season sack record in 2001 (22.5). He also went out a champion, winning Super Bowl XLII in his last game as a pro.
"I'm just honored," Strahan said. "Because it's something, it's nothing I had in my brain, nothing I imagined when I started out, that I'd be joining these guys in the Hall of Fame."
February, 1, 2014
Feb 1
7:25
PM ET
NEW YORK -- The really special part of rooting for a team that wins a championship is the way it lives in your memory. That's the stuff that lasts. The game itself is a thrill, and you feel great when it's over and the next day and right on through the parade. But the "WE WON!" feeling fades, and what you're left with is the memory of how much fun it was. And memories fade. So when something happens to stir that memory, it's the feeling of the ultimate sports-fan payoff coming back to you years later. That's a treat.
For
New York Giants
fans of a certain age, Saturday's election of
Michael Strahan
to the Pro Football Hall of Fame is such a moment. It's not as though you ever forgot Strahan, or anyone else who helped knock off the unbeaten Patriots and deliver that improbable Super Bowl XLII title. But a night that celebrates Strahan's greatness is a night that brings back the memories of that game and reaffirms for the current generation of Giants fans their ownership of that particular place in NFL history.
Your fathers and grandfathers had Frank Gifford and Y.A. Tittle, Bill Parcells and
Lawrence Taylor
. Those are Giants Hall of Famers who meant something to the fans who watched them deliver their own great moments. They mean something to you if you appreciate your team's history, but if you're under, say, 40 years old, they're not really
your guys
. Your guys are Strahan and
Eli Manning
and Tom Coughlin and
Justin Tuck
and
Brandon Jacobs
and
David Diehl
and that indestructible offensive line. Your great Giants moments were written by
Victor Cruz
and Ahmad Bradshaw. Those are the guys you'll think of when you remember the greatest times you had as a Giants fan. When one of them makes the Hall of Fame, it gives you the chance to smile as it all comes rushing back to you.
It's hard to know how many of the players from the two most recent Giants championship teams will have a night like Strahan had Saturday. Not all of their résumés are yet fully written. But getting Strahan in gives this generation of Giants fans another chance to remember some truly great times. And those opportunities are always welcome.
January, 29, 2014
Jan 29
12:00
PM ET
NEW YORK -- A friend called
Michael Strahan
last year on the night before the Super Bowl and told him he hadn't been elected to the Pro Football Hall of Fame on the first ballot. Strahan's reaction?
"All right, let's go get something to eat," the former
New York Giants
defensive end recalled Tuesday.
One of 15 finalists in this year's election, the results of which will be announced Saturday night, Strahan continues to insist that he doesn't give his Hall of Fame chances much thought until someone asks him about them. As the co-host of the syndicated morning talk show "Live! with Kelly and Michael," and a member of Fox's NFL pregame show, Strahan's card is extremely full these days. So he uses that fact to support his claim that he hasn't even imagined what it would feel like if he got a call this year telling him he made it.
"To be honest with you, I don't have enough time right now to imagine things," Strahan said. "I wake up, I work, I go to sleep and I wake up and do it again."
Strahan spoke Tuesday as part of Fox's pre-Super Bowl media availability with its on-air personalities. Earlier in the day, Hall of Famer
Warren Sapp
created a stir by saying he didn't think Strahan's case stacked up with those of others on this year's ballot. Strahan waved off Sapp's criticism by mentioning his 15 years in the the league, his 141.5 career sacks (a figure that ranks fifth in league history) and his belief that his career didn't tail off toward the end the way many do. And he said he believed making the Hall of Fame would be about more than just himself.
"This is about my family, my teammates, my coaches, the people who helped me get to this point," Strahan said. "I'm just trying to teach a lesson here that it isn't about yourself. I don't hang onto statistics from football. I've done everything I could do. So it's not up to me to vote whether I make it to the Hall of Fame. It's not up to the opinion of another player. It's howling into the wind, because who cares?"
If Strahan gets the votes he needs this time, he admits he could be singing a different tune come Saturday night. But if he doesn't, he's got plenty to do to keep his mind off of it for another year.
January, 29, 2014
Jan 29
8:30
AM ET
Yeah, the old
Michael Strahan
-
Warren Sapp
feud
resurfaced Tuesday
, which means it must be Super Bowl week. Strahan is up for Pro Football Hall of Fame election Saturday for the second year in a row, and Sapp, who got in last year, doesn't think he should make it.
I'm with Strahan on this one, in that I don't understand why Sapp would make this a cause of his. Part of it may be that he'd like to see his friend and former teammate
Derrick Brooks
get in instead, but this venom is too much to assign away simply to that. It's clear Sapp hates that Strahan holds the single-season sack record and that he believes
Brett Favre
handed it to him. But to hold that grudge for 12 years? And to continue it even after you got into the Hall of Fame first? Doesn't make a lot of sense to me. Maybe Sapp wanted to be the new Regis and is jealous that Strahan got the job instead.
Anyway, we'll have more on Strahan and his thoughts on the Hall of Fame later today, and of course we'll let you know what happens with the election Saturday night.
Meantime, as Jordan Raanan points out, there was
a smattering of a Giants presence
at Super Bowl Media Day, even without the Giants themselves here. I didn't watch the broadcast to see how P.R. man Pat Hanlon acquitted himself as a commentator. I hope he was as open about his feelings and opinions
as he is on Twitter
.