New York Giants:

2014 NFL owners meetings
March, 26, 2014
3/26/14
1:00
PM ET
ORLANDO, Fla. -- The
New York Giants
lost some key players in free agency, none bigger than
Justin Tuck
, a heart-and-soul player from their last two Super Bowl-championship teams. They figured they had a "realistic" chance to re-sign Tuck, according to Tom Coughlin, but they never came close to matching the two-year, $10 million he received from the
Oakland Raiders
.
The Giants will miss Tuck's intangibles in the locker room.
[+] Enlarge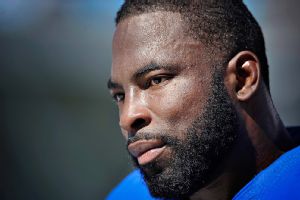 Ronald C. Modra/Getty ImagesThe Giants had the interest, but not the funds, to re-sign defensive end Justin Tuck.
"We're going to miss Justin Tuck, period," Coughlin said Wednesday at the NFL owners' meetings. "The body of work last year was very solid."
Coughlin said he didn't know the particulars of the negotiations, just that the Raiders have a ton of cap room. He said the "last number was difficult (to match). We certainly tried to extend the interest. ... The Raiders have a tremendous amount of money to spend."
Hakeem Nicks
' departure came as no surprise. Coughlin praised Nicks, calling him "one of the best receivers in the NFL" in 2012. Which begged the question: Why not re-sign him? Coughlin chose his words carefully, explaining that Hicks simply failed to meet expectations last season. He signed a one-year deal with the
Indianapolis Colts
.
"The production isn't what it should've been last year," Coughlin said. "We wish Hakeem success, nothing but the best for him. Perhaps this is what he needed, the change he needed -- the reality of our business. If he re-establishes himself in Indianapolis, they'll have one heck of a football team."
The Giants are counting on Rueben Randle to fill the void and -- this may surprise some folks --
Mario Manningham
. He's back with the Giants after two injury-plagued seasons with the
San Francisco 49ers
, but this isn't nostalgic signing. Coughlin expects Manningham, 27, best known for his sensational catch in Super Bowl XLVI, to be an important player.
"I told him, 'If we're going to be the team we want to be, (you) have to come back and make a very strong contribution,'" Coughlin said. "And he's excited about that chance."
Other takeaways from Coughlin's 60-minute session with reporters:
Backfield help
: He gave a glowing scouting report on running back Rashad Jennings, whom they signed from the Raiders. They did in-depth tape study, determining he has home-run ability even though he's 230 pounds. Coughlin: "We just think he's an all-purpose player. He has a great attitude, he's in tremendous shape, he's a solid 230, he has speed and he's a good receiver out of the backfield. The more we looked, the more we liked." Of course, he's never rushed for more than 733 yards, and that was last season.
DW update:
The Giants are cautiously optimistic about the return of running back
David Wilson
(neck surgery). Coughlin: "I'm planning that he's there until they tell me different." That said, Coughlin said he'd be reluctant to use Wilson as a kickoff returner.
New offense, new attitude
: Coughlin reiterated what he said at the scouting combine, saying it's "stimulating" to have a new offensive coordinator (Ben McAdoo) and a new system to learn.
"I think it's good for everybody," he said. "Hopefully, it's going to provide a little fire for everyone. I know it will for Eli (Manning). I know he'll be excited about it."
It's a new world for Manning, who has to learn new terminology, but he's smart enough to pick it up quickly, according to Coughlin. The key, he said, is re-establishing the running game. As Coughlin noted, "Balance has always put Eli at his very best. So what do we need to do? Get the balance thing going again, run the ball with some consistency."
In a tight spot
: The coach sounded concerned about the tight-end position: "We have a couple of young guys that are totally inexperienced that have talent, but we have to make something happen at that spot." North Carolina's Eric Ebron, an ultra-athletic tight end, could be a possibility with the 12th pick.
Smiling Tom
: Coughlin was in a great mood at the early-morning media session, starting off with stories about his former college classmate, Syracuse baskettball coach Jim Boeheim. Coughlin, 67, who recently signed a contract extension, joked that he feels like he's 35. Answering the annual "how-long-do-you-plan-to-coach?" question, he declined to give a timetable, saying he still enjoys the job and still has the required energy to handle the tough schedule.
He spoke briefly about his legacy. Asked if his resume (two Super Bowl titles) is good enough for the Pro Football Hall of Fame, he said, "I think it merits consideration, yes, but that's as far as I'll go. I don't think about it every day."
March, 26, 2014
3/26/14
11:50
AM ET
ORLANDO, Fla. -- Before visiting with the
New York Giants
,
Dominique Rodgers-Cromartie
spent time at the
New York Jets
' facility, meeting with team officials. Giants coach Tom Coughlin wasn't worried about losing the free-agent cornerback to his local rival.
Rodgers-Cromartie
"It seemed as if he was going to continue to visit until he found what he wanted," Coughlin said Wednesday at the NFL owners meetings.
Rodgers-Cromartie found it with the Giants, who gave him a five-year, $35 million contract that includes $13.98 million guaranteed. Putting the money aside for a moment, the Giants believe they landed the talented corner by providing two important elements: A specific plan for him on defense and stablity.
This will be DRC's third team in three years, and he wants to settle down with one team, according to Coughlin. The Jets didn't provide that opportunity, reportedly offering what amounted to a one-year contract for about $6 million.
"To be honest with you, he was looking for a place to sink his roots and become a guy who represented a team and stayed there, and worked his way through some things," Coughlin said. "He wanted to be part of something instead of one year here, one year there. ...He jumped on that. He wanted to be a guy who's associated with a team and be recognized."
Rodgers-Cromartie is a talented, but inconsistent player. He played well last season for the
Denver Broncos
, but he was a disappointment in the two previous seasons with the
Philadelphia Eagles
. Coughlin said the Giants' coaches studied him closely, formulating a plan to maximize his strengths. He wouldn't divulge the plan.
"We have a young man that really wants to be coached," he said. "We studied and we saw some areas we can help him in, and we were very specific about how that would happen. He was very open and receptive to it. We did a good job of it. Our coaches worked their tails off. They spent a lot of time on it, a lot of time."
And the Jets still have a gaping hole at cornerback, with general manager John Idzik taking heat for failing to address a need.