New York Giants:

2014 NFL Preseason Week 3 NYG at IND
August, 17, 2014
Aug 17
1:30
AM ET
INDIANAPOLIS -- They said all the requisite things about how much fun it was to score 27 unanswered points in the fourth quarter and come back to beat the Indianapolis Colts 27-26 in Saturday night's preseason game. But the New York Giants still aren't happy about the way their first-team offense has performed this preseason, and honestly they shouldn't be.
[+] Enlarge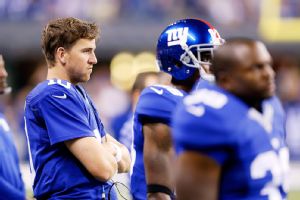 Joe Robbins/Getty ImagesEli Manning will probably have just one more opportunity in the preseason to get the Giants' offense in shape.
"We are realists, and looking at what looked to be a very poor performance in the first half with the 1s that didn't really get a lot better once the 2s came in," Giants coach Tom Coughlin said. "It wasn't impressive at all. We didn't get a whole lot done. There's no production. There's nothing to look at from a production standpoint."
Quarterback Eli Manning was 1-for-7 Saturday night after going 0-for-2 in the preseason game a week earlier against the Pittsburgh Steelers. The first-team offense looked lost once again, with most of the short-range and mid-range passes missing their targets. They tried a few downfield shots with mixed results. Victor Cruz caught one but fumbled it away, and then the whole thing was nullified by a Colts penalty. Jerrel Jernigan seemed to have his man beat a few plays later, and Manning threw to him, but the defender caught up with Jernigan and knocked the ball away.
The run game didn't do much this time either. And in spite of the return of left tackle Will Beatty from his leg injury rehab, the offensive line looked once again like a group still working on coming together -- which is what it is.
"Still figuring out what's going to be our style of football, which concepts are going to work the best for us and all of those things," Manning said. "Each game, something comes up that's new, and we've got to make sure we're on the same page as [offensive coordinator Ben McAdoo] and we're seeing eye to eye."
Manning said he does see progress, even though it's not readily apparent to those of us watching from the outside.
"I think there's progress being made, just in understanding the offense," Manning said. "We made some checks and some calls today that got everybody on the same page. We've just got to execute it at a higher level. But the mental capacity of it, speeding it up, I think those things are getting better. I think we were just a few plays from being OK tonight."
The question is whether three more weeks will be enough to get the offense in shape for games that count. The Giants open the regular season with a Monday Night Football game Sept. 8 against the Lions in Detroit. Manning is likely to play somewhat extensively in Friday night's preseason game against the Jets, but perhaps not at all in the following week's preseason finale against the Patriots. So he has one more chance to show himself, his team, his coaches and the rest of the outside world the way that progress looks when it comes to fruition against a live opponent. Otherwise, it's going to be a leap of faith once the regular season begins.
August, 17, 2014
Aug 17
12:10
AM ET
EAST RUTHERFORD, N.J. -- The
New York Giants
' first-team offense was not sugarcoating things after Saturday night's preseason game. They have been terrible so far this preseason and they know it. But the Giants' locker room wasn't a downcast place, and the reason was that the backups had just scored 27 points in the fourth quarter and won the exhibition game, 27-26.
No, these games don't count, but that doesn't mean teams don't want to win them. The Giants thought it was awesome that the backups came back and improved them to 3-0 in the preseason.
"Some of us could take some lessons on how to move the ball down the field and score," starting left tackle
Will Beatty
said with a smile.
We shouldn't make too much of preseason games one way or the other, good or bad. And the Giants' fourth-quarter comeback Saturday was a comeback by third-stringers against third-stringers, so you can make the case that even less should be made of it than usual. But there are always players worth highlighting in these situations, so here are a couple of them:
Adrien Robinson
Robinson
In the spring, he looked like the leading candidate to start at tight end. But when camp started, he was buried at No. 5 on the depth chart and has barely seen the field at all in the first halves of the preseason games. But he caught two seam passes over the middle from
Ryan Nassib
on the game-winning drive, using his size and height to take the ball away from defenders on a play we've seen work a few times with him and Nassib in practice.
"He used the advantage of going up top, which was very smart in my opinion, given the way they're calling things out there," Giants coach Tom Coughlin said.
It's possible a showing like this could help Robinson's chances for more responsibility in the offense. It's not as though
Larry Donnell
has run away with the starting job while playing with the first team.
"It's my third year, so I need to go out there and make plays if I want to stay around," Robinson said.
Ryan Nassib
He was demoted this week from second to third string, so he didn't enter the game until
Eli Manning
and
Curtis Painter
had left it. It was 26-14 Colts when Nassib first got the ball. He was 11-of-15 for 158 yards and the game-winning touchdown pass to Cory Washington. He completed a fourth-down pass to
Marcus Harris
on the drive that cut the lead to 26-21 and a 27-yarder to
Travis Harvey
just before that
Michael Cox
touchdown run. He was 6-of-8 on the game-winning drive, including the 26-yarder to Robinson fourth down and 16.
"He did a lot in very difficult circumstances, which was impressive," Coughlin said.
Cory Washington
Third straight game with a game-winning touchdown catch, this one a 4-yarder on which Nassib read the all-out blitz and lofted it to Washington in the end zone. The 6-4 rookie went up and got it, and his chances of making the roster continue to improve.
"I just want to practice the way I play, and keep showing the coaches I belong," Washington said, his smile growing larger by the week.
Kerry Wynn, Justin Anderson and Spencer Adkins
Anderson forced the fumble and Adkins recovered it in the end zone for the touchdown that cut the Colts' lead to 26-14 one play after the Giants scored their first points of the game. Wynn, the rookie defensive end out of Richmond, helped pressure Colts backup quarterback
Chandler Harnish
throughout the fourth quarter. These guys are all long shots to make the team, obviously. But they wouldn't mind getting something on tape that might help them make
some
team. And honestly, in the meantime, their spirited performance is inspiring the sluggish first-teamers.
"When we start the game the way we're finishing them," Beatty said, "it's going to be a sight to behold."
August, 16, 2014
Aug 16
10:35
PM ET
INDIANAPOLIS -- The
New York Giants
still have three weeks to practice before their regular-season opener on Sept. 8 in Detroit. Saturday's improbable 27-26 exhibition victory over the
Indianapolis Colts
was a preseason game, its results utterly devoid of meaning and relevance to the larger picture. It is important that you read everything I'm about to write with that in mind.
Because, my goodness, does the Giants' first team look horrible right now.
Eli Manning
and the offense generated 45 yards on 23 snaps. Manning was 1-for-7 passing. They averaged 3.2 yards per carry as a team in the first half, and with
Curtis Painter
under center in the second half they showed no improvement.
Painter did have a fourth-quarter touchdown pass before giving way to
Ryan Nassib
, who led the furious rally. Nassib passed for 158 yards and the winning touchdown, a 4-yarder to
Corey Washington
.
The Giants said coming into this game that they wanted to have some success moving the ball with their first-team offense. By no means can they claim they did.
Here are some other thoughts on the Giants' third preseason game: