New York Giants:

Aaron Rodgers
November, 26, 2013
11/26/13
8:00
AM ET
Your daily morning check-in on news and notes about and of interest to the New York Giants
The news of the day
: The Giants are always professionals in the locker room, so while they were glum and disappointed Monday, they came out and spoke openly about their circumstances. "We have to deal with reality," coach Tom Coughlin said. "We are what we are. We've created this situation for ourselves." They're not waving any white flags, and you can count on them to play the remaining games on their schedule with a hard and honest effort to win them. But the situation to which Coughlin refers is the extremely uncomfortable one in which the Giants can't afford any more mistakes at all... and would still need a mountain of help even if they managed to be perfect the rest of the way. Coughlin did say he wasn't happy to hear about all the chirping his players did last week and
would address it in a meeting
Wednesday. And he seemed rather aggravated about the Hakeem Nicks situation, which continues to remain
one of the weird mysteries
of this season. He also said Jason Pierre-Paul is
playing hurt
, which it seems as though he'll be doing the rest of the year at this point. Pierre-Paul played fewer than half of the Giants' defensive plays Sunday due to his shoulder injury.
Behind enemy lines
: Impressions from "Monday Night Football": If the Giants can generate a pass rush with their front four, which has been a trouble spot for them for much of this year due in part to Pierre-Paul's health problems, they should be able to cause problems for the Redskins' offense Sunday night. Robert Griffin III just looks horrible. And while he's making more than his share of poor throws and decisions, a huge part of his problem in Monday's loss to the 49ers was a seemingly complete lack of protection. Don't get me wrong: The Giants would still have to score enough points to win, which is no sure thing. Just saying they won't be the only team on the field with big problems Sunday night in Landover, is all.
Around the division:
The Cowboys won the big game against the Giants on Sunday and move into a tie for first place with the Eagles, but that doesn't mean they think all their problems are solved. They want DeMarco Murray to be more aggressive in the way he
finishes his runs
. And they'd like Dez Bryant to be a little bit
less greedy
about the yards he's trying to pick up after the catch. These are contrasting sentiments, but both problems were on display Sunday.
Around the league
: The NFC East has taken a lot of well-deserved abuse for the overall lack of quality it's put on display this season. But
as John Clayton pointed out
in the wake of Sunday's games, no one seems to want the NFC North either. What an opportunity the Lions have blown with Aaron Rodgers injured and the Packers weakened.
November, 7, 2013
11/07/13
8:00
AM ET
Your daily morning check-in on news and notes about and of interest to the New York Giants
The news of the day
: Two weeks after saying he believed he'd need a full offseason to get back to full strength following back surgery, an ebullient Jason Pierre-Paul said Wednesday that he's feeling real good and is
primed for a big second half
. We shall see. Dude still has just one sack in his last 15 games and is correct when he says he hasn't looked like his old self. As we have discussed here before, a return to elite form by Pierre-Paul is the kind of thing that could really elevate the Giants and make them not just a competitive team but a very difficult team to play the rest of the season. And no, that doesn't mean "playoff contender," because they're not and it would still take a string of miracles to make them one. But if you yearn for the days when the Giants justifiably felt they could beat any team on any given week, a full-strength JPP could help restore that.
Behind enemy lines:
On the other side of the defensive line, Justin Tuck could be lining up Sunday against a
rookie right tackle
, as injuries may be pushing Menelik Watson into his first NFL start. Banged-up at tackle and without starting running back Darren McFadden, the Raiders will have to rely an awful lot on young, speedy quarterback Terrell Pryor and a defense that just got absolutely torched by the Eagles at home last week.
Around the division
: The Eagles are getting set to play a Green Bay Packers team they believe to be "
at a significant disadvantage
" due to the injury to star quarterback Aaron Rodgers. This is relevant to the Giants because they get the Packers a week later and Rodgers is likely to still be out for that game as well. Rodgers' absence unquestionably makes these games tougher for Green Bay to win, but I'd caution against assuming sub-.500 teams like the Eagles and Giants have already won them. Mike McCarthy will come up with some sort of effective game plan for Seneca Wallace, and it's not as though there aren't areas of weakness for even the undermanned Packers to attack when they play the NFC East's teams.
Around the league:
Permit me a shameless plug for
this week's MVP Watch
, which continues to include no Giants but does include a cameo by their quarterback in his brother's blurb. Enjoy it in good fun.
November, 5, 2013
11/05/13
1:36
PM ET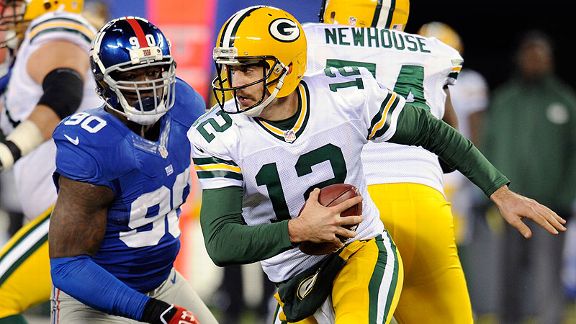 AP Photo/Bill KostrounJason Pierre-Paul likely won't have to chase Aaron Rodgers on Nov. 17.
You're forgiven if, as a
New York Giants
fan, your reaction to
Aaron Rodgers
' injury Monday night was excitement over the suddenly improved winnability of the Giants' Week 11 game against the
Green Bay Packers
. Rooting for injuries is an ugly thing, but you weren't rooting for it; you were reacting to it. And the sports fan's forgivable first instinct is to think of everything that happens in terms of how it affects his or her favorite team.
So in light of the news that
Rodgers could miss three weeks
with an injured collarbone, go right ahead. Yes, if
Seneca Wallace
is the starter for Green Bay, that's a much more winnable game -- and it would also continue a potentially remarkable run of opposing-quarterback luck for the Giants.
The Vikings started a clearly unprepared
Josh Freeman
against the Giants in Week 7 and the Eagles went with an obviously injured
Michael Vick
and a woefully inexperienced
Matt Barkley
in Week 8. These are the two biggest reasons the Giants have their two wins, and it's possible this run could continue.
Oakland Raiders
quarterback
Terrelle Pryor
left his game Sunday with a knee injury, so the Giants could face a gimpy Pryor or backup
Matt McGloin
this Sunday at home. And then possibly Wallace a week later.
If you want to look at all of this and imagine the Giants at 4-6 and on a four-game winning streak going into their Nov. 24 game against the NFC East-leading Cowboys, go right ahead. I can't tell you not to dream.
My only reminder is this: More important than whatever opportunity is presented to the Giants by their schedule or their division rivals or their opponents' quarterback woes is the ability of the Giants to take advantage of those opportunities. And while the victories over the Vikings and Eagles were real, legitimate victories that can't be taken away, they didn't do much to inspire confidence that all is suddenly well with Big Blue.
Eli Manning
hit Minnesota defenders in the hands multiple times, and if the Vikings' defensive backs had been able to catch, that game may have gone differently. In Philadelphia six days later, the Giants didn't score a touchdown. This is still a team with significant problems, and assuming the Giants will beat the Raiders or the Wallace-led Packers would be an error. Could they win those games? Sure. Do the injuries to the opposing quarterbacks make it more likely? Of course. But I think a lot of people are imagining these 2013 Giants in an outdated way -- as a good team built to take advantage of other teams' misfortune.
They are not that. They have one of the worst offensive lines in the league. They have no running game to speak of. They have the fewest quarterback sacks of any team in the league, even after getting four in their last game. Their best receiver is in a season-long funk. Their quarterback still leads the league in interceptions, even though he hasn't thrown one in more than three weeks.
The Giants have won two games ugly and are coming off a bye. They have players and coaches in their building who know how to win important games in which they are not favored. But they are also 2-6, and even if they do win these next two -- heck, even if they do that and then beat Dallas to really make it a race -- they still face a December schedule that includes trips to Detroit and San Diego, a home game against Seattle and two games against the division-rival Redskins.
The long-term reality of the Giants' opportunity is less exciting than the Rodgers injury makes the short term look. And regardless, this is a team that has to play considerably better than it has -- yes, even in its victories -- if it's to take advantage of any opportunity at all.