New York Giants:

adrian peterson
January, 22, 2014
Jan 22
11:00
AM ET
As you likely know by now, our team of NFL Nation reporters surveyed 10 players on each team, on the condition of anonymity, and asked a series of questions. In recent weeks, we've revealed the NFL's most respected player, the player most of his peers would pick to start a team and which player is the most feared. We have much more to come, and it's all very interesting, but the question whose answer we reveal today is:
Who's the player (active, non-teammate) you'd most like to see in the Super Bowl?

The winner, with 59 of the 320 votes, is
Minnesota Vikings
running back
Adrian Peterson
. He won by three votes over retiring Falcons tight end
Tony Gonzalez
. Seahawks quarterback
Russell Wilson
was fourth with 15 votes, but you can scratch him off the list in 10 days, when he participates in Super Bowl XLVIII.
The only Giants player who got even a single vote was defensive tackle
Shaun Rogers
, with one.
Players were asked to vote for a player who hasn't played in the Super Bowl, and most of the players on the Giants have.
Justin Tuck
,
Eli Manning
and
Victor Cruz
would likely feel that their championship rings are more valuable than getting recognized on this particular question.
January, 16, 2014
Jan 16
10:00
AM ET
We continue to unveil piece-by-piece results of our NFL Nation Confidential poll of players. We surveyed 10 players on each team, on the condition of anonymity, and asked a variety of questions. Today we offer the results from the question, "Which player do you respect the most?"
Denver Broncos
quarterback
Peyton Manning
was the landslide winner with 86 of the 320 votes.
Tom Brady
and
Adrian Peterson
tied for second with 24 votes apiece.
I can't tell you who won the
New York Giants
' team vote, because the results were supposed to be completely confidential. But I can tell you that only one Giants player got a single vote in the poll -- linebacker
Jon Beason
, who got one.
Part of what made this whole exercise interesting was the open-ended nature of some of the questions, including this one. "Respect" for a fellow player may be something at which different players arrive via different paths. My guess is that Manning has earned respect due to his performance (which reached all-time highs during his record-setting 2013 season), his longevity, his obviously significant role on the operation of his offense (OMAHA!) and his comeback from multiple neck surgeries and an injury that could have ended his career. It's no surprise he's the winner.
December, 12, 2013
12/12/13
10:00
AM ET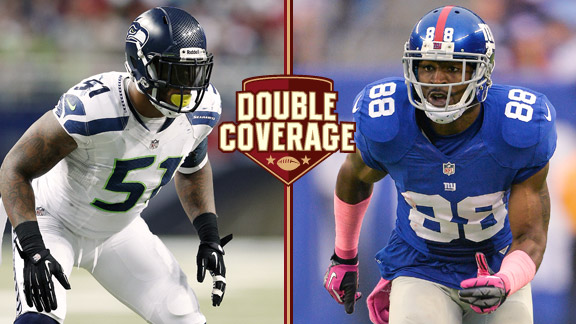 AP PhotoBruce Irvin and the Seahawks are beatable on the road. Can Hakeem Nicks and the Giants win?
The 11-2
Seattle Seahawks
have had their playoff spot wrapped up for a couple of weeks already and have their eyes on the top seed in the NFC. The 5-8
New York Giants
were eliminated from playoff contention Sunday and openly admit that they're playing for pride from this point forward. These two teams meet Sunday at MetLife Stadium -- a place the Seahawks hope to return to in early February for the Super Bowl.
ESPN.com Seahawks reporter Terry Blount and Giants reporter Dan Graziano break down the matchup between the league's best team and one of its most disappointing teams.
Graziano:
Terry, let's start with Seattle's exciting young quarterback. The Giants this year have seen
Terrelle Pryor
,
Cam Newton
and
Robert Griffin III
, who are the only quarterbacks with more rushing yards than
Russell Wilson
has. From your standpoint, what sets Wilson apart from those other mobile quarterbacks?
Blount:
Dan, there are so many intangibles about him that defy description. Some obvious ones are his character, his attention to every detail in his preparation and his underrated skills as a passer. But more than anything else, Wilson has the unusual ability to perform at his best when things appear to be at their worst. I've never seen him rattled, and he rarely makes a careless mistake. He has led the team to nine game-winning drives in his short career, and he almost did it again Sunday at San Francisco. As for his mobility, one thing that clearly sets him apart is his ability to make accurate throws downfield while he's running in either direction.
Speaking of quarterbacks,
Eli Manning
got off to a really rough start this season. What happened, and where is he now compared with seasons past when he was playing at a Pro Bowl level?
Graziano:
Manning's biggest problem at the start of the season was his protection. The offensive line, never great to begin with, was hit with injuries to key starters and never got the kind of blocking help it received in past years from supplemental positions like running back and tight end. Manning has already taken more sacks (33) than he has ever taken in a full season, and there are three games to go. He also had no running game whatsoever for the first half of the season until
Andre Brown
got healthy. And top wide receiver
Hakeem Nicks
has had an awful season in the final year of his contract. Manning obviously could play better, and he'd admit he has missed his share of throws. But I think he's a quarterback who really needs to be comfortable with his surroundings, and this year that hasn't been possible for him.
The Seahawks are so dominant at home, but while they've been good on the road they are clearly not
as
good. We know about the home crowd and the advantage it gives them, but are there on-field things they don't do as well on the road?
Blount:
One noticeable difference in the past three road games is that Wilson hasn't run much because defenses are trying to keep him in the pocket. Wilson had one carry for 2 yards last week at San Francisco, and only 38 yards on seven carries in the past three road games combined. They won two of those three games, however. Still, after Wilson ran for 102 yards at Indianapolis in Week 5 (ironically, one of Seattle's two road losses) teams have focused on not allowing him to beat them with his feet. He's running well at home (he rushed for 47 yards against New Orleans two weeks ago) but not so much on the road.
If the Giants pull off the upset Sunday, they'd send a message that despite a disappointing season, they still have the ability to get it done against the best of the best. Do you get the sense that they'll have a little added fire against a team that many people believe is Super Bowl-bound?
Graziano:
I do. A few of the Giants have already talked about that in the wake of the loss Sunday that eliminated them from postseason contention. There's a lot of talk around East Rutherford about "playing for pride," and that's not hollow with this group. They held together after the 0-6 start and have been professional in their play and their preparation since. This isn't a team that has or will quit on its season. It's just a team that's not very good. I don't think they have the personnel to hang with the Seahawks on Sunday, but if they lose it won't be for a lack of effort.
They do have a tendency to seek and drum up external motivation, and Seattle's excellent record will provide some of that. Tom Coughlin said Monday that they looked forward to measuring themselves against a team like this. The only dissenter so far is wide receiver
Victor Cruz
, who said he'd be "even more disappointed" if the Giants won this game, since it would tell him they had the capability to play with top teams all year and just didn't.
San Francisco had a strong game on the ground Sunday, and the Giants' run game has been considerably better in the second half. Is it possible to run on the Seahawks, or was that a one-game fluke by
Frank Gore
?
Blount:
Some Seattle fans might say it was a one-play fluke, the 51-yard run by Gore on the final drive that set up the game-wining field goal. Take that off the table and the Seahawks did OK against the 49ers' rushing game. However, one stat is a little scary. Of San Francisco's 163 yards on the ground, 137 were before contact, including Gore's big run. The Seahawks have been up and down on this all season. They held
Adrian Peterson
to 65 yards and allowed only 30 yards rushing at Arizona, but also had back-to-back games in which they allowed 200 yards rushing. Now they have to get it done without linebacker
K.J. Wright
, who had 80 tackles this season. He's out with a broken foot. It's hard to predict, but the Seahawks are so focused on the pass rush that they can get burned sometimes on the ground.
The Giants have struggled to stop the run, and
Marshawn Lynch
is one of the best backs in the league. I'm guessing the Seahawks are going to give him the ball early and often, especially if the weather is bad. Will the Giants load the box to try to stop Lynch?
Graziano:
Actually, stopping the run is one of the few things the Giants have done well. They've held down some top backs, such as Peterson,
LeSean McCoy
,
Alfred Morris
and
Eddie Lacy
. Until the Chargers got 144 yards on 40 carries against them Sunday, this had been a fairly consistent strength. So they'll be keyed on Lynch for sure.
Before the Packers game a few weeks ago, I asked
Justin Tuck
if Lacy reminded him of anyone. He said, "a bigger Marshawn Lynch," and then complained that they had to deal with Lynch again a few weeks later. They stacked the box against Lacy that day, but they weren't scared of
Scott Tolzien
's ability to beat them downfield even if they used single coverage on his receivers. Wilson is likely to make them think twice about committing as much to the run as they did that day, and they'll likely rely on the guys in their strong defensive-tackle rotation to get off of blocks better than they did in San Diego.
October, 24, 2013
10/24/13
8:00
AM ET
Your daily morning check-in on news and notes about and of interest to the New York Giants.
The news of the day
: Lots of talk around the Giants about wide receiver Hakeem Nicks and the tough year he's having. Tom Coughlin said Wednesday that Nicks needs to
be more reliable
. And while Nicks said he thinks his game is the same as it ever was and people are just focusing on him more because he's in a contract year and has been mentioned in trade rumors, it seems obvious to anyone watching that Nicks isn't the same player he was before the leg injuries of 2012. Maybe he gets better as the year goes along. Maybe the legs never come back. Either is a possibility, as are several outcomes along the middle part of that spectrum. Whatever happens, assuming they don't trade him by Tuesday, Nicks remains
one of the big issues
facing the Giants for the remainder of this season and into the offseason. ... In other news, the Giants placed starting center David Baas on season-ending injured reserve with a knee injury, meaning Jim Cordle takes over as the
starting center
. Cordle has improved since the start of the season, and has started as many games this year as the injury-plagued Baas has, but the Giants are struggling against defensive pressure on the interior of the offensive line, and they would prefer a healthy Baas. They just don't have one, and likely won't ever again.
Behind enemy lines:
Giants coaches and players spoke Wednesday about how much improvement they believe the Eagles have shown on defense since they played them in Week 5, but one of the Eagles' starting cornerbacks is
missing practice time this week
with an injury. Bradley Fletcher wasn't the most exciting free-agent signing of the offseason, but he's covered pretty well and is a key aspect of the Eagles' improved ability to limit opponents.
Around the division:
The Cowboys are feeling good about themselves these days as they've won a couple of games in a row and moved into first place in the NFC East. But they have a big test of a game this week against the Detroit Lions, and one of the biggest keys will be the ability of Dallas defensive back Brandon Carr to
limit the damage
done by Lions star receiver Calvin Johnson.
Around the league:
Greg Garber's look at the
NFL trade deadline
was a fun read, and he proposed some potential doozies, including
this off-the-wall idea
of the Giants trading for Minnesota's Adrian Peterson. Don't sweat it, Giants fans. Not possible, for salary cap and a whole bunch of other reasons. Probably fun to imagine, though.
October, 22, 2013
10/22/13
12:50
AM ET
EAST RUTHERFORD, N.J. -- Observed in the locker room after the
New York Giants
' 23-7
victory
over the
Minnesota Vikings
:
Manning
Sweet relief:
There were smiles. There was chatter. There were willing interview subjects as far as the eye could see. For the first time this season, the Giants had won a game, and they felt as though a weight had been lifted. "It's good to be smiling,"
Eli Manning
said. "It's good to have that feeling in the locker room again."
Surprise, surprise:
The Vikings ran 54 pass plays and 14 running plays, in spite of the fact that their running back,
Adrian Peterson
, is the reigning NFL MVP and their quarterback,
Josh Freeman
, has been on the team less than two weeks.
Justin Tuck
said the Giants' defense was surprised. "A little bit. A little bit, yeah," Tuck said. "Especially with Josh just being there a couple of weeks, we were really prepared to see a lot of No. 28."
Hurt again:
After missing three games with a neck injury, center
David Baas
injured his left knee on the first series and sat out the rest of the game. He'll have an MRI on Monday but isn't optimistic. "I can't catch a break," Baas said.
October, 21, 2013
10/21/13
10:17
PM ET
EAST RUTHERFORD, N.J. -- Well, let's see. The
New York Giants
... let me check... yes, they lead the
Minnesota Vikings
10-7 at the half here at MetLife Stadium.
Eli Manning
has ... right, has
not
thrown an interception. His touchdown pass to
Rueben Randle
surely could have been intercepted, or at least knocked away, had Vikings cornerback
Chris Cook
ever laid eyes on it. But Randle saw it first and made a great play to leap in the air and scoop it out from in front of Cook's face. That's the difference-making play in an awful game so far, and the Giants have their first halftime lead of the season.
Gonna go right to the bullet points, because my eyes hurt:
The Giants' opening drive took 9:36 off the clock with 17 completely uninspiring plays and resulted in a Josh Brown field goal when they failed to convert their fourth third-down attempt of the drive. They were sharp, if unexciting, on the previous three third downs, and an interesting game-plan issue revealed itself. They were using Peyton Hillis some and Michael Cox some at running back on early downs, but they don't seem to trust either in pass protection, so when they get to third down they either go empty backfield or, a couple of times, have lined up wide receiver Jerrel Jernigan back there. Imperfect solutions, to be sure, but Cox and Hillis are the fifth and sixth tailbacks they've had to try this year due to injuries, and perfect solutions are unavailable at the present time. I did think Cox looked good on a couple of inside runs early, and I am at a loss to explain why a slow-footed Hillis got the bulk of the second-quarter work.
After missing three straight games with a neck injury, center David Baas returned to the lineup but limped off with a knee injury during the first drive. Can't make this stuff up. Jim Cordle is back at center.
In the first five weeks of the season, three different Giants opponents were named their conference's Special Teams Player of the Week. Minnesota's Marcus Sherels continued the misery with an 86-yard punt return for a touchdown in the first quarter to put the Vikings ahead 7-3. The Giants have been so awful at so many things this year, but it's possible their coverage on punts has been their worst thing.
The thing the Giants do best is stop the run between the tackles, and Adrian Peterson's nine yards on eight carries in the first half are evidence that this aspect of the Giants' game is no joke. The Vikings need to get Peterson going if they're to come back and drop the Giants to 0-7, because new quarterback Josh Freeman looks very new and uncomfortable back there. He has not, however, been sacked. Coming in, the Giants as a team had five sacks for the season and only eight in their last 11 games.
Jared Allen's sack of Manning right before the end of the half was unlike any I've ever seen. He had his arms wrapped around the waist of Giants left tackle Will Beatty and yet still managed to grab Manning's jersey on the other side and hold on long enough to bring him down. Embarrassing for Beatty, incredible by Allen.
The Giants should win this game, which says a lot about how awful the Vikings are. But the Giants are pretty awful too. Let's settle in and see who's less awful in the second half.
October, 21, 2013
10/21/13
10:30
AM ET
As they continue to look for their first win of this miserable season, the 0-6
New York Giants
will host the 1-4
Minnesota Vikings
in a "Monday Night Football" matchup at 8:30 pm ET on ESPN. I will of course be there, as will Vikings reporter Ben Goessling and many others, to chronicle all that needs chronicling from this game. But as you look beyond your workday and count the hours until kickoff, here are a couple of things that'll be worth watching once toe meets leather in East Rutherford, N.J.


Can the Giants knock over Josh Freeman?
This is, for me, the most glaring thing about the way the Giants play now. As a team they have eight sacks in their last 11 games. That's not a trend anymore; it's almost an ethos. The Giants in their current form simply are not the type of team that effectively puts pressure on an opposing quarterback. It is very easy for a quarterback to feel comfortable when playing against them, and as a result their defense is unable to dictate the flow of a game or get stops when it needs them. The last time they saw Freeman, they sacked him twice and intercepted him twice in a wild 41-34 victory over the
Tampa Bay Buccaneers
in Week 2 of last season. This is Freeman's first game as a Viking, after the Bucs cut him earlier this year. So Minnesota likely will try to run the ball as much as possible with
Adrian Peterson
. But when they do throw, the Giants need to find ways to make Freeman move his feet, and maybe once or twice bring him to the ground.
What to do about Peterson:
The reigning NFL MVP, Peterson is coming off a tough game and has been dealing with an off-field tragedy following the death of his 2-year-old son. He will play, though, and he'll have to be a focal point for the Giants' defense. The Giants have actually done a decent job limiting between-the-tackles running this year thanks to their strength at the defensive tackle position. But while they're allowing opponents only 3.9 yards per carry (15th in the league), they're giving up more rush yards per game (123.3) than all but five teams in the league. They've struggled to contain outside runners, and surely Peterson and the Vikings have seen them on tape. What gives the Giants hope that this can improve is the encouraging debut performance of middle linebacker
Jon Beason
11 days ago in Chicago. If he's going to be as quick and athletic as he looked in that game, that will go a long way toward shoring up that problem. No tougher test than this one.
Obviously, the interceptions
: Giants quarterback
Eli Manning
leads the league with 15 interceptions, and the team's league-high 23 turnovers are a huge reason they're 0-6. But the Vikings offer some hope. They only have seven interceptions this season, and two of those belong to safety
Harrison Smith
, who's on injured reserve and not playing Monday night. If they can keep Manning upright, this could be a game in which he's not punished as badly for mistakes as he has been in the first six.
Another new runner?
It sounds as though
Brandon Jacobs
, who rushed for 106 yards in the Chicago game, will either miss this game or be limited due to his hamstring injury. That likely means carries for newly signed veteran
Peyton Hillis
and/or rookie
Michael Cox
, neither of whom has a single carry as a Giant. As vulnerable as the Minnesota secondary is, the Giants will still look to run and establish an offensive balance that relieves some of the pressure on Manning. The extent to which they have success with this early could determine whether they're playing from ahead or behind in the second half.
October, 18, 2013
10/18/13
5:38
PM ET
EAST RUTHERFORD, N.J. -- There's a little more excitement for Giants linebacker
Jon Beason
when he goes against one of the best running backs in football.
Enter Minnesota's
Adrian Peterson
on Monday night.
"That's how you define yourself," Beason said. "It's all about what you do against 'the man.' If he's the standard, then you want to see where you measure up."
If the Giants want to win their first game Monday, they're going to have to slow down Peterson, the reigning NFL MVP. Peterson enters the game fourth in the league with 483 rushing yards, while the Giants are one of the worst teams in the NFL against the run -- 26th, to be exact, allowing 123.3 yards per game.
"He's a great back," linebacker
Spencer Paysinger
said. "Almost say a perfect package of a back."
Peterson isn't producing like he did last season, when he rushed for 2,097 yards and almost single-handedly propelled the Vikings to the playoffs, but he's still been quite good. Despite shaky quarterback play, Peterson is averaging more than 96 yards a game and has five rushing touchdowns.
Giants defensive coordinator Perry Fewell said Peterson is the most dangerous back in the league, and Paysinger complimented Peterson for his elusiveness. The linebacker said Peterson has great power and speed, and he can make great cuts and hit the edge as well as any of the fastest backs in the NFL.
The Giants also complimented Peterson for his ability to break off long runs with ease.
"I see guys hit him, tackle him, punch him and he just keeps coming. He's got an iron wheel, and he's a strong runner, and he's got a great determination to make those yards," Fewell said. "We'll all have to be on the same page. We'll all have to swarm tackle, gang tackle. See what we hit and hit what we see."
Peterson is coming off his worst game of the season, a 10-carry, 62-yard effort against the Panthers last week, but the Giants are expecting they will see a heavy dose of him Monday as the Vikings break in new quarterback
Josh Freeman
. Freeman, who quarterbacked the Buccaneers earlier this year, signed with the Vikings on Oct. 8, giving him less than two weeks to learn the playbook.
The Giants' rush defense has done well in holding marquee backs like
LeSean McCoy
,
Jamaal Charles
and
Matt Forte
in check, but they still have allowed more than 100 yards in each of their past five games.
"Everyone knows Adrian Peterson is a special player. I like to tell people he should be playing on the defensive side of the ball with his determination, the way he plays every down like it's his last," Beason said. "I love to watch him play football. It's a big challenge, but it's an opportunity to do something great."
One Giants defender, though, wasn't singing Peterson's praises. Cornerback
Terrell Thomas
, who has torn his ACL three times, told Newsday he didn't find inspiration in watching Peterson tear his ACL in December of 2011 and win the MVP the following season.
"I was happy for his success, but it didn't help me," Thomas told Newsday. "What he went through, I already did that. I came back off an ACL. Came back and had a great year. Came back in four months and ran a 4.3, blah blah blah. I did all that."
October, 18, 2013
10/18/13
12:00
PM ET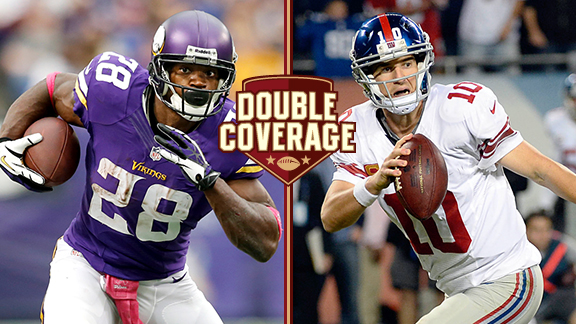 USA TODAY SportsAdrian Peterson and Eli Manning will likely have to carry the offenses on Monday night.
This time last year, the
New York Giants
and the
Minnesota Vikings
were both 4-2 and headed for winning seasons. But as they get set to square off on "Monday Night Football" at MetLife Stadium, the Vikings are 1-4 and the Giants an even more miserable 0-6.
ESPN.com Giants reporter Dan Graziano and ESPN.com Vikings reporter Ben Goessling break down the matchup of NFC disappointments.
Dan Graziano
: Ben, the Giants only have four interceptions and five sacks, so I imagine there were a lot of people in the Vikings locker room interested in playing quarterback in this game. Why did the Vikings pick newcomer
Josh Freeman
, and what do you expect their offense to look like with him running it for the first time?
Ben Goessling:
A lot of this, I think, is an attempt to make a quick-course correction after things with
Christian Ponder
didn't pan out. If it works, GM Rick Spielman can make people forget about the Ponder pick, the Vikings might win a few games to keep coach Leslie Frazier's job and they could have a solution to their quarterback problem for next season. If it doesn't work? They're only out $3 million.
As for Monday night, I'd expect the Vikings to try to limit how much they put on Freeman, so I expect we'll see plenty of
Adrian Peterson
(not that we wouldn't anyway). Considering how bad the Giants have been at stopping the run, that could be a good approach for the Vikings. They're always better when they can get a lead and let Peterson go to work, and they haven't done a good job of controlling the clock so far this season. This matchup might give them a shot to do that.
Now back to the quarterbacks: We know
Eli Manning
has a tendency to turn the ball over, but this has been strange even by his standards. What has been his biggest problem?
Graziano
: Yeah, 15 interceptions in six games is stone-cold ridiculous, and I think it speaks to a general lack of comfort for Manning, who for years has thrived on comfort and routine and familiarity. The Giants started the season with major problems on the offensive line, and they have continued (and in some cases worsened) as the year has gone along.
The inability to establish any kind of run game, combined with the early-season failures in pass protection, rattled Manning, and even though the protection has improved overall and
Brandon Jacobs
managed to rush for 106 yards against Chicago, Manning still just doesn't seem right. He's not making those great, deep sideline throws he used to make, he's missing too many easy throws, and even when he's throwing well, he's staring down receivers and isn't setting his feet. He's just been erratic, and the result the past couple of weeks has been interceptions in the worst possible spots. The Bears didn't really pressure him that much, but he coughed it up anyway in the clutch. Just not himself.
Will he have a chance to get comfortable at all Monday night? How's that Minnesota pass rush these days?
Goessling
: It hasn't been up to the Vikings' normal standards, which has been one of their biggest issues on defense. In the past, the Vikings have been able to survive because their pass rush generated enough pressure to mask issues in the linebacking group and the secondary. But the Vikings have just 10 sacks this season, and what's worse, they've had to bring pressure to get some of them -- three of the 10 are from linebackers
Chad Greenway
and
Erin Henderson
. They shouldn't have to bring extra pressure with
Jared Allen
,
Brian Robison
,
Everson Griffen
& Co. on the defensive line, and having to do so exposes a porous secondary, which might be even worse this week with
Harrison Smith
battling turf toe. So, yeah, I think this might be a good week for Manning to get on track.
The Vikings also haven't been as good as they're accustomed to being against the run. Is Jacobs in line to hurt them, or do you see his game against the Bears being a fluke?
Graziano
: Got to be a fluke, Ben. The Bears are down to third-stringers in the middle of that defensive line, and the Giants' game plan wisely took advantage of it for Jacobs' throwback-to-2008 game. His 106 rushing yards against Chicago represent 26 percent of the Giants' team total for the season. And, perhaps, most importantly, both he and
Da'Rel Scott
injured their hamstrings in that game. Scott has been released, and Jacobs didn't practice Monday. Even if he does play, they may not want to work him as hard as they did in Chicago.
The backups are rookie
Michael Cox
, who doesn't have an NFL carry yet, and
Peyton Hillis
(yeah, same guy), who signed Wednesday and is no sure thing to even get a uniform for this game. New fullback
John Conner
looked to be an asset as Jacobs' lead blocker in Chicago, so it's possible things are getting better for the Giants in the run game. But based on their options for carries, this has to come down to Manning and the passing game getting on track.
But I'd like to get back to something you said in your last answer. Ten sacks! That's twice as many as the Giants have. Oddly, in spite of the overall yardage totals, one thing they have done well on defense is stop the run up the middle. They're allowing just 3.9 yards per carry and have held
Matt Forte
,
LeSean McCoy
and
Jamaal Charles
to 67, 46, 65 yards, respectively, in the past three weeks. Peterson is obviously his own special case, but he didn't have a big game Sunday. Do you think the off-field tragedy was or could be a factor in his performance?
Goessling
: I didn't see that as a huge issue on Sunday, though I'm sure it was on his mind. It had more to do with the Panthers' stout run defense and the inability of an offensive line that was pretty good last season to open holes for Peterson. As a result of that, he has gotten anxious at times, trying to turn every run into a big play, and he just hasn't looked as fluid this year as he did last season. Missing
Jerome Felton
, his Pro Bowl fullback, for the first three games didn't help, but now that Felton is back, Peterson has everything he had last year.
If the Giants have been able to hold the point of attack up the middle, Peterson might not have as much success as I would have initially thought. He's obviously capable of breaking a big run at any time (he has touchdown runs of 78 and 60 yards this season), but we're still waiting for him to control a game like he did so often last season.
To wrap this up, complete this sentence for me: The Giants will win on Monday if they ...
Graziano
: Get some pressure on Freeman and don't turn the ball over more than once. I'm not holding my breath. Thanks, Ben. This has been fun. See you Monday night.
.
October, 18, 2013
10/18/13
8:00
AM ET
Your daily morning check-in on news and notes about the New York Giants.
The news of the day:
So much attention has been paid to the running back situation and to
Eli Manning
's interceptions that a lot of people have been missing the most significant problem that's keeping the Giants from playing the way they believe they can play. Kieran Darcy checks in on the
Giants' absentee pass rush
, which
Justin Tuck
still believes can make an impact. The Giants won't be able to control games in any way until they start knocking down quarterbacks again.
Behind enemy lines:
Adrian Peterson
, the Vikings' star running back, was
limited in practice
Thursday with a hamstring injury. Obviously, with the game not until Monday night, the Vikings have time to get Peterson right. But if he's to be limited in any way, it will severely hurt a Vikings' offense that's keyed around Peterson and the running game. The Vikings are starting quarterback
Josh Freeman
, who just joined the team a couple of weeks ago after being cut by the Buccaneers, so it's more likely than ever that they want to pound the ball with Peterson to take pressure off a quarterback who's still settling in.
Around the division:
Michael Vick
and
Nick Foles
playfully decided to
address the media together Thursday
, which is nice that they're getting along and all. But this is a quarterback controversy (or "conversation," as some would prefer it be called) that's likely to linger all year. Given that Vick's not exactly a quick healer, I imagine the Giants will be planning for Foles this time next week, since they face the Eagles in Week 8. Long-term, I still think Chip Kelly would rather go with Vick, but I am no mind-reader.
Around the league:
We will talk Cardinals-Seahawks, the Eagles' quarterback situation, maybe some Giants and a whole bunch of other topics this afternoon at 3 pm on "NFL Insiders" on ESPN. I have a nice suit and tie picked out, and I hope you will tune in.